Cold Weather Recipes
Cold weather recipes have been at the top of my list recently. What a time we have had here in Florida lately! I don't remember the last time we were above freezing at night. We still have a couple more days before the temperatures are suppose to rise. This has been quite abnormal for us to have so many consecutive days being this cold. Saturday morning, we even had snow on the ground. I remember seeing a few snowflakes in the past but never having it cover the ground, roofs, cars and everything else. It was not a heavy covering, about ¼ to ½ inch, but that is too much for me.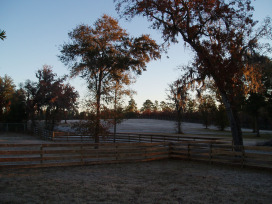 Believe me, we have been wanting anything and everything to warm us up from hot coffee, hot tea or hot soup recipes. Any of those cold weather recipes were a welcome site. On top of these cold temperatures, our power went out and our "dependable" generator decided not to come on. I guess it was too cold for it also! Thanks to our good neighbors Bill, Nadine and son, Shawn we were able to get the generator back in operation. The first thing was a hot pot of coffee and a hot pot of tea to warm us. It didn't take long to heat up the kitchen when we started breakfast of bacon, eggs, biscuits and sausage gravy. Actually, it turned out to be quite nice because normally we never have enough time to visit.
Our friends, Don and Anita have been in Ecuador. Of course, they emailed to tell us the temperature there has been in the low 70's. They are on their way home so they will get a taste of our weather before it warms up, I am happy to say! You can bet that Anita will drag out some of those cold weather recipes that she brought to Florida from Britain.
Speaking of Ecuador, I want to tell you about one of the Quito Ecuador hotels; an old name but a new hotel. Quito is one of the major cities of Ecuador and is where the airport is located. Mansion del Angel has been moved into a newly remodeled Palace in Quito. It is very beautiful and will be a special treat to stay when in Ecuador.
For those of you who have visited or will be visiting Ecuador, you probably know of the abundance of cocoa trees that are grown there. Many products from the cocoa trees are used in Ecuador; not just for desserts but cold weather recipes like sauces with various spices and peppers. Like many of you, I have a special place in my heart for "chocolate". I treasure the opportunity whenever I can learn more about food and cooking but especially about chocolate. During this cold spell, I have been spending a lot of time studying this wonderful course on chocolate. I really thought I knew about everything there was to know on chocolate. I was thinking I could finish this forty week course in one or two weeks, just by reading through it. Not so!
For starters, I now understand the difference between a chocolate maker and a "professional" chocolate maker. Having already gained (the best) 4 ½ pounds from tasting, I am still not finished. I know there is a lot more valuable information to learn, but I already have several experiments I want to do in my kitchen. (Michel & Jorge at La Mirage are sending me some "cocoa nibs" with Don & Anita so I can try some new recipes.) With this course I received many good chocolate recipes; some cold weather recipes for sauces and gravies. I will keep you updated on how it is going in my newsletters and also on my website.
The cold weather seems to be lingering around in many parts of the US and world. Use this time to try some of your favorite cold weather recipes. Some of my favorite carrot recipes are for breads, muffins, cookies and cakes. I am sure you are not surprised! Nadine brought me the most delicious piece of carrot cake with coconut in it. It tasted almost like my recipe, so I just added coconut to mine.
CARROT CAKE RECIPE
3 Cups flour
2 ½ Cups sugar
2 Teaspoons baking powder
2 Teaspoons cinnamon
1 Teaspoon soda
½ Teaspoon salt
1 ¼ Cups vegetable oil
2 Cups grated carrots
1 Cup chopped walnuts
1 Cup crushed pineapple, drained
3 Eggs
2 Teaspoons vanilla
½ Cup flaked coconut
Preheat oven to 350F degrees.
Grease and flour 3 8 inch cake pans.
Combine and sift in a large mixer bowl the flour, sugar, baking powder, cinnamon, soda, and salt.

Add eggs and oil; mix well.
Add carrots, nuts, pineapple, coconut and vanilla; mix until well blended.
Divide equally into three prepared pans.
Bake for about 35 to 40 minutes or until pick comes out clean. Cool and then frost.
Cream Cheese Frosting
¾ Cup soft butter
8 Ounces cream cheese
6 Cups powdered sugar
2 Cups flaked coconut
½ Cup raisins
Mix butter, cream cheese and sugar until fluffy. Add coconut and raisins and blend well. Spread frosting on layers and top of cake.
---
HEARTY SAUSAGE SOUP

 is a warming cold weather recipe
From my cold weather recipes is one of many hearty soup recipes. A hot bowl of this will warm anyone on a cold winter day.
8 Slices bacon
1 Pound hot Italian sausage
1 Pound Polish sausage
1 Large onion
3 Carrots, peeled
4 Medium potatoes, diced
1 Large green pepper, chopped
2 Cloves minced garlic
10 Cup chicken broth
2 Cans (15 ounces each) great northern beans
2 Large cans diced tomatoes
4 Teaspoons fresh chopped basil
Salt/pepper to taste
Brown bacon until crisp, crumble and set aside. Remove all drippings except for 2 tablespoons. Cook Italian sausage until done and remove from pan. Add onion, green pepper and garlic and cook until tender. In a large soup pot combine the chicken broth with the cooked onion mixture, carrots, potatoes, tomatoes, beans and basil. Simmer for 40 minutes or until carrots and potatoes are tender. Add cooked Italian sausage, polish sausage and bacon. Season to taste with salt and pepper. Simmer another 15 to 20 minutes.
---
SLOW COOKER BRUNSWICK STEW RECIPE
1 Medium chopped onion

1 Small green bell pepper chopped

2 Cans (16 ounces) crushed tomatoes

1 Pound shredded barbeque pork

2 Cans whole kernel corn

1 Can cream style corn

½ Cup barbeque sauce

½ Teaspoon salt

1 ½ Teaspoon pepper

1 Tablespoon sugar
Combine all ingredients in a slow cooker and cook on low 5 to 6 hours with lid on.