Cooking Frozen Turkey 
Cooking frozen turkey can be done if it was frozen without giblets and neck. They can be roasted, braised or stewed when solidly frozen. Most turkeys that you buy already frozen have the giblets already frozen inside the turkey cavity so this may be a problem. If you purchase a fresh turkey, it is always best to remove the giblets and neck before you freeze it. Thoroughly wash the giblets and neck; then freeze them separately. Turkey parts can also be roasted without thawing. The turkey should be cooked in a preheated oven at 325F degrees.
Cooking turkey giblets and the neck is a very simple process and they make a great broth for the stuffing, gravy, noodles or anything else. Place all the pieces, except the liver in a large saucepan and cover with water. If you are going to use the broth for noodle or the like, you might want to chop a little onion and a little celery in the pot for added flavor. Bring the liquid to a boil, reduce heat and simmer until tender; about 1 ½ hours. Add the liver to the pot during the last half hour of cooking. If you do want to make a broth, you can throw the pieces in the baking pan when you are cooking frozen turkey.
If you are cooking frozen turkey and want to speed up the time, they can be thawed in the microwave. Check the microwave manual to see what size will fit in your microwave. If you choose to thaw the turkey first in the microwave, it must be cooked immediately; not refrozen or refrigerated. Unwrap the turkey first and place it skin side down in a baking dish to catch all the drippings. A frozen turkey breast can be easily defrosted in the microwave. Like a whole turkey, unwrap it first and place skin side down in dish. Defrost 3 to 6 minutes per pound at 50% power. Rinse breast in cool water and let set to cool 5 to 10 minutes.


COOKING FROZEN TURKEY UPDATE 2012: I have often said that I like cooking frozen turkey just as well as I do the fresh turkeys; that was until now. After buying 60 to 70 turkeys for my personal use in my lifetime, this year I have decided never to purchase a frozen turkey again. After thawing my turkey this year, I discovered a "real butchering job" was done on this turkey. The cavity was enormous and the leg was almost cut off. Immediately I knew a nice presentation would be out of the question.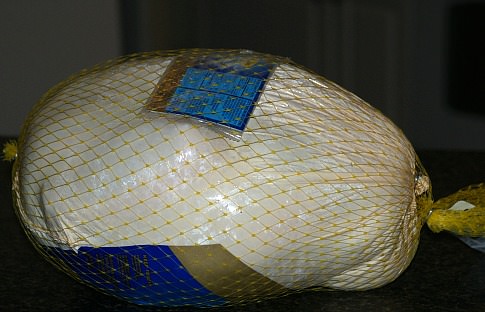 Frozen Turkey
After cleaning and tying this turkey quite tightly to prevent any more spreading I proceeded to roast the turkey. After the turkey finish roasting, the amount of water which drained from the turkey was extreme. I say water because it WAS NOT the rich broth which I normally had. My 21.86 pounds of turkey looked quite small now. I decided to weigh it; my turkey now weighed 14 pounds. I know some of this was natural juices which I like for my gravy and stuffing, but not this much. At eighty eight cents a pound, this liquid cost me $6.91.

It is obvious to me that too much water is being pumped into the frozen turkeys now. I discussed this problem with a few other people across the country and it seems they also experienced similar problems with their turkeys and of not having a good taste. Everyone said they never had this problem before.
CHART for COOKING FROZEN TURKEY

12 to 16 pounds

16 to 20 pounds

20 to 24 pounds

Half breast

Drumsticks/quarters/thighs

7 ½ to 8 ½ Hours

8 to 9 ½ Hours

9 to 10 Hours

4 ¼ to 6 ¼ Hours

2 to 3 ¼ Hours
---
TURKEY BRINE RECIPE

for cooking frozen turkey
If you choose (opting not to be cooking frozen turkey) to thaw your turkey first, here is a delicious turkey brine recipe.
1 Cup salt

1 Cup sugar

1 Can (12 ounces) orange juice concentrate

3 Cans water plus enough water to cover turkey

1 Can (6 ounces) orange juice concentrate mixed to directions

Place 12 to 14 pound thawed turkey in a large leak proof bag or a container large enough to hold turkey.
Mix salt, sugar and 12 ounce can orange juice with 3 cans water.
Pour over turkey and add enough additional water to cover turkey.
Tie bag and shake to mix liquid; refrigerate for 24 hours.
As turkey cooks baste with remaining orange juice.

---
HOW TO COOK TURKEY BREAST FLORENTINE
If you are cooking frozen turkey breast, it will have to be thawed first for this recipe.
5 Slices bacon

½ Cup chopped onion

3 Tablespoons flour

1 ½ Cups milk

½ Teaspoon dried tarragon

¼ Teaspoon pepper

1 Package (10 ounces) frozen chopped spinach thawed

1 (3 pounds) boneless turkey breast thawed

1 Jar (2.5 ounces) sliced mushrooms drained

1 Tablespoon melted butter

1/3 cup shredded process American cheese

Chop 2 slices bacon and cook until crisp; drain reserving drippings in skillet.
Add onions to drippings; cook and stir until tender.
Add flour and milk; gradually stir until thickened.
Stir in tarragon and pepper; reserve ½ cup sauce and chill remaining sauce.
Cook spinach according to package direction; drain and press out water between paper towels.
Remove and reserve breast skin; flatten breast with meat mallet to ½ inch thickness.
Combine cooked bacon, ½ cup reserved sauce and mushrooms to spinach; mix well.
Spread mixture in center of turkey breast to within 1 inch of sides.
Roll up like jellyroll starting with long sides.
Wrap with reserved turkey skin; wrap at 2 inch intervals with string.
Place turkey on a rack in a roasting pan; brush with butter.
Bake uncovered in preheated oven at 350F degrees for 1 ½ hours.
Remove string and arrange remaining bacon slices crosswise over turkey.
Bake 45 minutes longer or until thermometer reaches 180F degrees; set 10 minutes before slicing.
Combine remaining sauce and cheese in a small saucepan; stir over medium until cheese melts.
Serve with turkey.

---
HOT BROWN RECIPE
Cooking frozen turkey will allow plenty for great leftover recipes like this hot brown recipe.
8 Slices bacon

8 Slices bread, crust removed and slices toasted

1 Pound sliced turkey breast cooked

4 Slices tomato

Cheese sauce (recipe below)

½ Cup grated Parmesan cheese

Cook bacon in large skillet until partially crisp; remove bacon and set aside.
Cut 4 slices of toast in half diagonally.
Place 1 cut slice (2 pieces) down on oven proof plate and 1 whole slice in the center on top.
Repeat with remaining toast; 1 cut piece of toast and 1 whole piece on three more oven proof plates.
Top toast with turkey, tomato, cheese sauce, bacon and Parmesan cheese.
Bake at 400F degrees until bacon is crisp and sauce is bubbly; about 15 minutes.

Cheese Sauce:

2 Tablespoons butter

2 Tablespoons flour

2 Cups milk

½ Teaspoon Worcestershire sauce

¼ Teaspoon salt

¼ Cup shredded sharp Cheddar cheese

Cup grated Parmesan cheese

Melt butter in heavy saucepan over low heat; add flour and stir until smooth.
Cook 1 minute gradually stirring in milk, Worcestershire sauce and salt.
Cook and stir until mixture is thickened and bubbly; add cheeses stirring until cheese melts.

---
TURKEY WINGS RECIPE
4 Pounds turkey wings, separate at joints (do not use wing tips)

Vegetable oil

1 Can condensed cream of celery soup1 /teaspoon salt

½ Teaspoon paprika

¼ Teaspoon pepper

Parsley for garnish

Deep fry wings in hot vegetable oil until brown on all sides; arrange in 10 X 15 roasting pan.
Combine soup, salt, paprika and pepper; spoon mixture over wings.
Cover pan and bake in preheated oven at 350F degrees for 2 ¼ hours or until very tender.