Cooking Ribs by Smoking and Barbequing with Sauces
For the best in cooking ribs, I want you to meet my brother Larry. He was born in 1937 also with the ability to cook. As a little girl, I remember Larry as being very good looking and I was so proud to have him as a brother.
As we were growing up we lived by a canal. Larry and one of his friends from our neighborhood built a little house on the other side of the canal. I could see it when I walked down the road but I couldn't get to it. My brother probably would have chased me off anyway! I thought that was the neatest thing to have your own little house.
When I was in the fourth grade, Larry joined the Navy. My pride of him even grew more. I was telling all the teachers and everyone I came in contact with that they should write him a letter. If he had known it, he would have been really upset with me. It is funny what goes through a kid's mind!
While Larry was away in the Navy he would send records home. I remember playing all of them on our little phonograph. I probably wore out "Blueberry Hill". In the summertime when the family was in the backyard cooking ribs our front porch became our dance floor. Those were the good old days!
Mom would pace the floor as far back as I can remember thinking about my brothers being away from home. It was especially bad if they were out of the country and if some kind of conflict was going on. Larry spent some of his military duty in Cuba where I am sure he got some experience cooking; maybe even cooking ribs! I remember Mom praying for his safe return as she did for all the brothers. We were blessed because they all came home safely.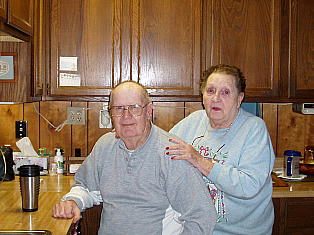 After Larry finished his time in the Navy, he met and married Pat. They have three children, Sandy, Sharon and Laura. When I was in high school, Pat took me shopping for a homecoming dress. After I married we shared recipes none of which were cooking ribs. One year we made Christmas cookies and candy together "over the phone". We started cooking for Christmas right after Thanksgiving. Each day we reviewed the day's recipes over the telephone. We started with chocolate covered cherries, coconut balls and peanut butter balls. We probably prepared fifty recipes. I think that was Pat's last big Christmas cooking! It did her in!
After Kelly and I moved to the farm, we had to learn to use and maintain our tractor. That was not easy even though it was new. We had a problem hooking up the attachments, especially the mower. The first thing we did was call the dealership. They came out and showed us how to do it. The next time we couldn't get it hooked. After months of problems with the tractor, I called Larry. He said "go down and buy a little file and some oil. File off those new little burrs and then oil it and the attachments will slide right on. We did it and it worked. Why couldn't the maintenance man tell us this? I cannot tell you how many other problems Larry has helped me to solve. It takes a brother!
Our whole family grew up cooking on the stove in cast iron skillets. Larry's fine cooking really excels when he is outside at his smoker cooking ribs. It really doesn't matter if it is how to cook bbq ribs, how to cook bbq chicken or how to cook bbq beef ribs, nothing is a problem even if he is cooking for a crowd. I have seen Larry cook thirty to fifty pounds of meat with his large quantity recipes. I am telling you he makes the best barbeque you could ever hope to eat.
The following is Brother Larry's secret way of cooking ribs by smoking them. It works for chicken, beef or pork. Pat found him a nice Flowmaster sprayer in the lawn and garden section at Walmart. Larry says it is nice because you can pump it up and your hand doesn't get tired from spraying.
SMOKING RIBS RECIPE
the favorite way of cooking ribs
Build a hot fire in one end of the smoker and cook the meat on the other end. Larry plans cooking the meat for 4 to 5 hours until it is very tender.
Fill a spray bottle with 1 bottle ( 10 ounces)Worcestershire sauce, 10 Ounces white vinegar and 10 ounces water. Mix Salt, pepper and garlic powder in a bowl.

After laying the meat on the rack, spray with liquid and dust with salt mixture. Spray about every half hour with liquid while cooking. Occasionally dust with salt mixture.
This would be nice to do when the weather gets better. Maybe you would want to add cooking ribs to your Memorial Day recipes. Thanks Larry for sharing your secret recipe with us. I love all of you and am so happy to be in the same family.
---
PLUM SAUCE RECIPE #1
When cooking ribs, there are many different flavors of sauce which go quite well with pork and can be used as a marinade, glaze or an accompaniment to the meat. The following are a few.
2 Tablespoons butter
¾ Cup chopped onion
1 Jar (10 ounces) red plum preserves
½ Cup firmly packed brown sugar
1/3 Cup chili sauce
¼ cup soy sauce
2 Tablespoons lemon juice
2 Teaspoons prepared mustard
3 Drops hot sauce
(OR) USE SAME DIRECTIONS FOR BOTH PLUM SAUCE RECIPES
PLUM SAUCE RECIPE #2
2 Tablespoons butter
½ Cup chopped onion
1 Can (17 ounces) purple plums
1 Can (6 ounces) frozen lemonade concentrate, thawed and not diluted
¼ Cup chili sauce
¼ Cup soy sauce
2 Teaspoons prepared mustard
1 Teaspoon ground ginger
1 Teaspoon Worcestershire sauce
Cut ribs into serving portions; put ribs in large pot covered with salted water.
Simmer 45 to 50 minutes or until ribs are tender; drain.
(Recipe #2) Drain plums, remove pits, reserve liquid; blend plums and reserved juice to puree.
Cook onions in butter in large saucepan over medium high heat; stir until tender.
Add remaining ingredients to either recipe.
Simmer over medium heat for 15 minutes; stir often (do not cover)
Place ribs on gas grill or 4 to 6 inches from low coals.
Cook ribs 25 minutes or until done basting frequently with plum sauce recipe.
Baste ribs frequently last 20 minutes of grilling time.
---
BARBEQUE COUNTRY STYLE RIBS
1 Small finely chopped onion
1 Cup finely chopped celery
1 ½ Tablespoons bacon drippings
1 Can (15 ounces) tomato sauce
¾ Cup honey
½ Cup water
¼ cup dry red wine
2 Tablespoons lemon juice
2 Tablespoons Worcestershire sauce
1 Teaspoon salt
½ Teaspoon black pepper
½ Teaspoon garlic powder
1 Cup water
2 Tablespoons white vinegar
4 Pounds country style boneless pork ribs
Cook onion and celery in bacon fat in large pan over medium heat until tender; stir constantly.
Add tomato sauce, honey, ½ Cup water, wine, lemon juice, Worcestershire, salt, pepper and garlic.
Bring mixture to a boil, reduce heat and simmer for 1 hour stirring frequently; reserve 1 ½ cups sauce.
Combine vinegar with 1 cup water in spray bottle.
Cut ribs apart and place over medium hot coals (300F to 350F degrees).
Cover with lid and cook 1 to 1 ½ hours spraying with vinegar mixture turning ribs occasionally.
Baste ribs with remaining tomato sauce mixture after 30 minutes.
Serve with reserved tomato sauce.