Cooking Salmon
When cooking salmon it is best to know what kind of fish you are working with. Some fish are drier than others and some have more oils. Different cooking methods are used to ensure that the fish turns out moist and flavorful.

Salmon is one of the fish that has enough oil to make the flesh darker, richer and stronger tasting than that of the very lean saltwater fish. This saltwater fish is prized for its firm flesh and distinct flavor and recognizable by its pink to red color.


Many recipes for cooking salmon are made by using canned salmon. Although fresh salmon is very delicious, the canned and smoked are readily available in the groceries and also make great simple recipes. For years, before I found I could order fresh salmon (Inland it is hard to get good fresh salmon)   I have used the canned, for all kinds of recipes. It works well in casseroles and many appetizers.

SALMON WITH DILL SAUCE
4 Salmon steaks
1 Teaspoon salt
1 Medium sliced onion
1 Teaspoon chicken bouillon
1 ½ Cups water
1 Tablespoon lemon juice
Dill sauce (Recipe below)
Combine in a large skillet salt, onion, bouillons, water and lemon juice; bring to a boil.

Add salmon steaks in 1 layer; cover and simmer for 10 minutes or until fish flakes.
Remove salmon to a platter; spoon dill sauce over fish to serve.
Dill Sauce
2 Tablespoons butter
1 Tablespoon finely chopped onion
2 Tablespoons flour
1 Teaspoon salt
1 Teaspoon dill weed
1/8 Teaspoon pepper
1 ½ Cups milk
In small saucepan, cook onion in melted butter until tender.

Stir flour, salt, dill and pepper in saucepan.
Whisk in the milk; stir and cook until mixture boils and thickens.
---
DIJON HONEY SALMON STEAKS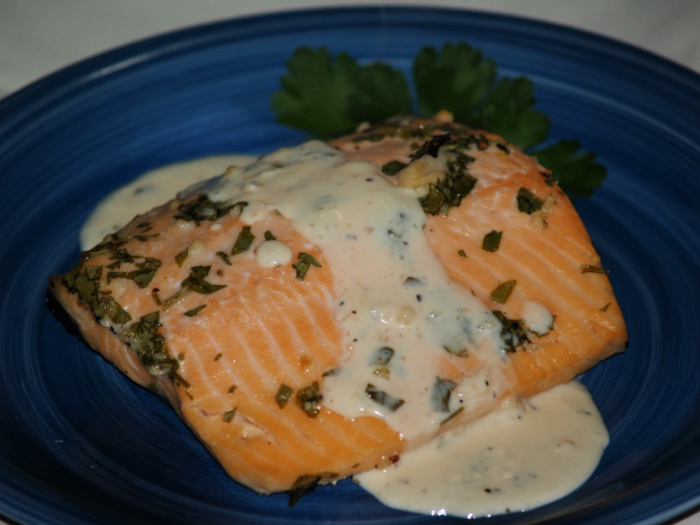 Dijon Honey Salmon Steaks
2 Salmon steaks
½ Tablespoon garlic powder
1 Tablespoon parsley
1 Tablespoon Dijon mustard
½ Cup lemon juice
Coarsely ground black pepper
Salt to taste
½ Cup white wine
3 Tablespoons honey
Sauce
Drippings from pan
½ Cup light cream
2 Tablespoons sherry
Place salmon in a shallow dish;

Combine and mix remaining ingredients; pour over the salmon.
Cover and refrigerate for 45 minutes; set out 15 minutes at room temperature.
PREHEAT OVEN TO 400F degrees.
Place salmon in oven and bake about 8 minutes turning over one time.
Remove salmon from baking pan to a warm platter.
Place drippings from baking pan into a saucepan; add cream and sherry.
Bring JUST to a boil; pour over the salmon to serve.
---
SALMON AND SWEET POTATO BAKE
2 pounds sweet potatoes, cooked
2 Cups low fat milk
2 ½ Tablespoons cornstarch
1 Small onion finely minced
¾ Teaspoon thyme
½ Teaspoon salt
¼ Teaspoon black pepper
1 Pound salmon fillets
¼ Cup plain bread crumbs
1/8 Teaspoon ground red pepper
1 Tablespoon butter cut into pieces
2 Tablespoons grated parmesan
Preheat oven to 350 degrees.

Grease a 7x9 inch baking pan
Lay peeled and drained sweet potatoes in the bottom of the prepared pan.
In a medium saucepan, whisk the milk slowly into the cornstarch. Add the onion, thyme, salt and pepper and mix.
Place on medium heat and bring to a boil stirring constantly. Reduce heat and stir until mixture has thickened, about 3 to 4 minutes. Remove from heat.
Mix together the bread crumbs and red pepper.
Cut into 1 inch pieces.
Lay the fish on top of the sweet potatoes.
Spread the sauce evenly over the sweet potatoes and salmon.Sprinkle the bread crumbs evenly over the sauce.
Dot the crumbs with the butter.
Bake for 15 to 20 minutes or until fish is done.
Sprinkle with parmesan cheese and return to oven 1 to 2 minutes longer.
---
SALMON LOAF
1 Can pink salmon drained
1 Can celery soup
1 Cup plain bread crumbs
2 Beaten eggs
½ Cup chopped onion
1 Tablespoon lemon juice
Preheat oven to 350 degrees.

Grease a loaf pan.
Mix all ingredients together and dump into prepared pan.
Bake for 1 hour.
---
COOKING SALMON STEAKS
1 Pound salmon steaks
2 Tablespoon orange juice
¼ Cup soy sauce
1 Clove minced garlic
1 Tablespoon butter
Mix together in a saucepan the orange juice, soy sauce, garlic and butter.

Cook on medium heat until mixture becomes a little thickened. Set of to cool.
Pat fish with paper towel to dry.
Spread the mixture evenly on both sides of the salmon.
Cover the fish with plastic wrap and refrigerate for at least 2 hours before cooking.
Preheat oven to 425 degrees.

Bake salmon for about 15 minutes or until fish becomes flaky.
---
GRILLED SALMON STEAK
Cooking salmon is fast on a hot grill. 
2 Pounds salmon steaks
1 Cup dry Vermouth
2/3 Cup melted butter
¼ Cup lemon juice
2 Tablespoons finely chopped onion
2 Teaspoons salt
¼ Teaspoon marjoram
¼ Teaspoon pepper
¼ Teaspoon thyme
Pinch sage
Place salmon in shallow pan; combine remaining ingredients and pour over the fish.

Allow to marinate for 4 hours turning occasionally; remove steaks and reserve marinade.
Place steaks on the grill 4 inches from heat source.
Cook and baste salmon occasionally about 5-7 minutes on each side until flaky.
---
SPINACH SALMON AU GRATIN RECIPE
When cooking salmon many of the recipes will include great vegetables like spinach.
1 Can (7 ounces) salmon (Drain and flake)
2/3 Cup dry bread crumbs (Divided)
1 Package (10 ounces) frozen chopped frozen spinach (Cook and drain thoroughly)
1 Tablespoon lemon juice
3 Tablespoons freshly grated Parmesan cheese (Divided)
¼ Teaspoon salt
1/8 Teaspoon black pepper
½ Cup mayonnaise
Paprika
Preheat oven to 350F degrees; butter a 1 ½ quart casserole dish.

Combine salmon, ½ cup bread crumbs, spinach, lemon juice, 2 tablespoons Parmesan, salt and pepper.
Blend mixture thoroughly; fold mayonnaise into mixture and spread into prepared dish.
Combine ¼ cup of breadcrumbs and 1 tablespoon of Parmesan cheese for topping.
Sprinkle topping mixture over the salmon mixture and garnish with paprika.
Bake for 20 minutes; serves 4.
---
SCALLOPED SALMON CASSEROLE RECIPE
Cooking salmon in casserole with spaghetti.
1 Cup spaghetti (Broken in pieces and cooked)
1 Can salmon (About 16 ounces)
1 Cup milk
2 Tablespoons butter
2 Tablespoons flour
Salt/pepper
Preheat oven to 350F degrees; butter 2 quart casserole dish.

Layer spaghetti and salmon in casserole dish; set aside.
Melt butter in small saucepan over medium heat; stir in flour until combined.
Slowly add milk stirring until thickened slightly; season with salt and pepper.
Pour sauce over spaghetti and salmon; bake 20 minutes.
Serves 2 to 4.
---
SAVORY SALMON CUPS
Cooking salmon is always easy when you use canned salmon.
1 Can (16 ounces) salmon
1 large egg
Milk
1 Package (1 ½ ounces) dry Hollandaise sauce mix
¼ Cup Italian bread crumbs
½ Teaspoon salt
8 Drops Tabasco sauce
1 Tablespoon dry onion flakes
1 Tablespoon dry parsley flakes
Pepper to taste
Preheat oven to 350F degrees.

Drain salmon and reserve liquid; remove any bones and flake the salmon.
Add enough milk to salmon juice to make ¾ cup.
Blend egg and milk mixture into salmon.
Blend remaining ingredients into salmon mixture.
Spoon into 12 well greased muffin tins; bake 45 minutes.