Cooking Steak Recipes
When cooking steak recipes, especially for budget cooking, it is very important to know which steaks are the cheaper cuts. Meat, mainly steaks are probably the costliest item on anybody's food budget. Most people still do not want to completely give up their steak dinners. When learning how to grocery shop, you should also learn which cuts of meat are the most economical to buy. Some steaks like rib steaks are cheaper to buy because they have more fat in them. This is not all bad because the fats adds great flavor to the meat.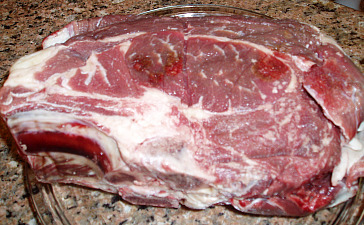 Cooking Steak Recipes
Before cooking steak recipes, you should learn about other steaks like round or a thick cut round (Swiss steak) which are very tough. These still can make delicious recipes with proper cooking and actually have a much better flavor.
To many, meat is the mainstay of most well rounded meals. Beef, especially steak is the choice of a lot of people for its rich juicy flavor. When cooking steak recipes, you will find the nutrients are the same whether it is a cheaper cut or a more expensive cut. It is the flavor which is enhanced by the proper cooking methods that makes it worth buying; you will have to decide if it is worth the difference in price. 
TENDERIZING METHODS

When cooking steak recipes correctly, you will find several tenderizing methods which will turn cheaper cuts of steak into delicious and appreciated meals.
At storage plants before the beef is for sale, it is hung for a specific time in rooms which have the temperature and humidity controlled. You will learn that this AGING improves the tenderness of some of the cuts when cooking steak recipes. After you purchase the tougher cuts of meat there are still ways that you can make the meat more tender. You can purchase meat tenderizers which are derivatives of natural food tenderizing agents found in some tropical fruits. These will soften the meat while cooking; follow the directions and do not use too much or leave it on too long or the meat will become mushy. Do not use it on the more tender cuts of meat.
MECHANICAL tenderizing is often done in the market before purchasing. The butcher will run the steak through a tenderizer; this is how cube steak is made. The grinding will instantly tenderize the steak by chopping the fibers. I often pound my round steak producing the same results. I will then roll the steak in flour and brown it. After browning, I pour a little water over it, cover with a lid and simmer until very tender. This is great flavored steak.
MARINATING or soaking meat also is a form of tenderizing. Acid mixtures such as lemon juice, vinegar or wines, will tenderize the meat. Most of the time I add herbs and spices to the mixture and it also give a delicious flavor while tenderizing. Tenderizing can be also done during the COOKING PROCESS like placing in the oven after browning or cooking for a longer period of time on the stove top.
OVEN STEAK RECIPE
2 Pounds round steak
Salt/Pepper
1 Tablespoon mustard
¾ Cup barbeque sauce
4 ½ Ounces Swiss cheese
Preheat oven to 325F degrees.

Lay steak out flat. Sprinkle with salt and pepper. Spread the mustard and the barbeque sauce over top. Arrange the cheese slices over top and roll up like a jellyroll. Close with toothpicks. Lay in a lightly sprayed casserole dish or baking pan. Bake until tender; 60 to 90 minutes.
---
COOKING STEAK RECIPES like this SAUERBRATEN STEAK
This blade steak recipe is made with a steak that comes from the chuck section. It is a cheaper cut containing tough connecting tissue. Cooking steak recipes properly can turn one like this into a delicious meal.
2 ½ Cups water
1 Cup wine vinegar
1 Tablespoon brown sugar
1 Teaspoon salt
6 Whole cloves
6 Peppercorns
2 Bay leaves
2 Medium onions sliced thin
½ Cup vegetable oil
2 ½ to 3 Pounds blade steak (1 ½ INCHES THICK)
2 Tablespoons cooking fat
¾ Cups water
½ Cup raisins
1 Tablespoon brown sugar
2/3 Cup crumbled gingersnaps
Combine 2 ½ cups water, vinegar, 1 tablespoon brown sugar, salt, cloves, peppercorns and bay leaves in saucepan; bring to a boil. Pour over sliced onions; cool. Stir in oil. Pour marinade over steak; refrigerate 8 to 10 hours, turning once. Remove steak from marinade to absorbent paper; pat dry. Heat cooking fat in a skillet and brown meat. Pour off the excess fat. Strain marinade and add 1 cup to the steak, reserving remaining marinade. Cover and cook on low for 2 hours or until tender. Remove steak to a hot platter.
Add reserved 1 ½ cups marinade to hot pan, ¾ cup water, raisins and 1 tablespoon brown sugar. Bring to a boil. Add crumbled gingersnaps; stir until thickened. Serve gravy with steak.
---
LIME MARINADE RECIPE
Below are some marinades you can try for different steaks. Cooking steak recipes correctly is knowing to marinate long enough to tenderize but too long will make them fall apart.
1 Medium chopped onion
3 Cloves minced garlic
½ Cup dry white wine
1 Tablespoon honey
1/3 Cup fresh lime juice
1 Tablespoon chili powder
2 Teaspoons ground cumin
½ Teaspoon salt
¼ Teaspoon fresh ground pepper
Blend all ingredients together in a blender. Pour over meat, cover and refrigerate for several hours before cooking.

---
BRAISED SWISS STEAK RECIPE
When cooking steak recipes you might want to use bourbon in many of your recipes for a delicious flavor.
Bourbon Marinade:
1 Cup bourbon
¼ Cup red wine vinegar
½ Cup olive oil
1 Medium onion chopped
2 Cloves fresh garlic minced
¼ Teaspoon freshly ground black pepper
Blend altogether in blender, pour over steaks. Cover and set in refrigerator for 1 ½ to 2 hours before cooking.
To Finish Braised Swiss Steak:
After marinating for 2 hours, put the steak under the broiler browning on both side. After broiling place steak in a heavy large skillet or Dutch oven and add the following ingredients.
1 Can drained chopped tomatoes

2 Medium chopped onions

1/4 Cup chopped celery

3 cloves minced garlic

1 Tablespoon Worchestershire sauce

4 Large sliced mushrooms
Add all ingredients to the steak, cover and simmer until steak is tender.
NOTE: Add water if skillet gets too dry.
If desired, the pan drippings make a nice gravy.
---
SMOTHERED STEAK RECIPE
Beat round steak on both sides; beat in plenty of flour.
NOTE: When cooking steak recipes, you will learn that beating flour into the meat will help it to brown nicely. To beat in the flour cover one side with flour and beat with meat hammer or tenderizer, turn steak over, spread with flour and beat that side. Turn over two more times spreading with flour and beating.
Heat part butter and part shortening in a large skillet; place steak in skillet, sprinkle with salt and pepper.
Sprinkle ½ cup flour over top of steak; brown well on both sides.
When steak is real brown cover all with hot water; bring to a boil.
Stir gravy around in skillet to make it smooth; cover and steam 45 minutes or until tender.
---
SWISS STEAK RECIPE
½ Pound lean bacon
3 Pounds thick round steak
Salt/ pepper
4 Cloves minced garlic
6 Medium potatoes diced
2 Large sliced onions
1 Cup sliced mushrooms
1 Can diced tomatoes
1 Can tomato sauce
In a baking dish layer bacon across the bottom.

Rub steak with salt, pepper and minced garlic; place steak over bacon.
Layer potatoes; sprinkle with salt, pepper and minced garlic.
Next layer onions and mushrooms; pour in tomatoes with juice and tomato sauce.
Cover and bake in oven at 350F degrees for about 1 hour or until meat is very tender.
---
CHUCK STEAK RECIPE
2 ½ Pounds beef chuck steak
½ Cup vegetable oil
1/3 Cup sesame seed
4 Medium onions sliced thick
½ Cup soy sauce
¼ Cup lemon juice
1 Tablespoon sugar
¼ Teaspoon pepper
2 Cloves minced garlic
Brown sesame seeds until golden in hot oil.

Mix sesame seeds with onions in 9 X 13 inch baking dish.
Add soy sauce, lemon juice, sugar, black pepper and garlic.
Add steak to this mixture and marinade in refrigerator for about 8 hours; turn occasionally.
Preheat broiler and place steak in broiler pan; drain onions and reserve marinade.
Broil steak about 25 minutes (or desired doneness) brushing frequently with reserved marinade.
In a skillet cook onions with remaining marinade until tender.Serve steak with onions on top.
---
CUBED STEAK RECIPE
¼ Cup cooking oil
2 Pounds cubed steak
6 Medium tomatoes
¼ Cup chopped green onions
1 Teaspoon salt
2 Teaspoons basil
2 Tablespoon cornstarch
Cook steaks in hot oil on both sides to desired doneness; place on platter and keep warm.

Chop 3 tomatoes and slice others.
Reduce heat of skillet to medium and add ¼ cup water, chopped tomatoes, green onions, salt and basil.
Blend cornstarch with ¼ cup water; gradually stir into tomato mixture.
Cook and stir until thickened; add sliced tomatoes and heat through.
Spoon tomato mixture over steak.