How to Make a Homemade Dog Cookie Recipe
Learn how to make a homemade dog cookie recipe. This is a must to have in your collection of recipes if you are a dog lover. We must also provide for our favorite "critters" and making animal treat recipes at home are much cheaper than buying them already made.
Some days when Enoch and Malachi look at me and start their barking, I would swear that they are saying to me, "You eat several times a day and we want to eat more". When I start mixing together a recipe for a batch of their treats, they know immediately they are for them. They will settle down and patiently wait for me to get them in the oven to bake. When the wonderful aroma starts to radiate from the oven, their ears go up along with their noses to inhale the fragrance of the spices and herbs in their treats.
When I learned how to make a homemade dog cookie recipe, they are not totally like a dessert for the dogs; it is also a necessity. Many ingredients which we add to the recipe like fresh mint and fresh parsley are good for keeping their breath fresh and cleaning their teeth. Sometimes our critter friends seem to get an upset stomach when they drink cold water; especially when we take them hiking and they drink from the creeks. The addition of mint, charcoal, cloves and cinnamon helps with this problem. The following dog cookie recipe is Enoch's and Malachi's favorite.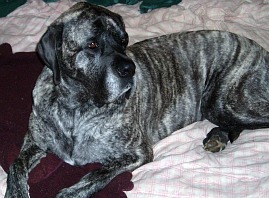 HOW TO MAKE DOG TREATS
6 Cups whole wheat flour
3 Tablespoons activated charcoal powder
1 ½ Cups fresh chopped mint
1 ½ Cups fresh chopped parsley
1 ½ Teaspoon ground cloves
1 ½ ground cinnamon
1 Tablespoon vanilla extract
½ Cup plus 1 tablespoon cooking oil
3 Eggs
2 Cups skimmed milk
Combine charcoal and flour; blend in remaining ingredients.

Spray half baking sheet with non stick spray.
Spread all cookie mixture in pan pressing down evenly.
Bake at 350F degrees for about 25 minutes or until mixture is set in center.
Cool in pan about 15 minutes; cut into ¾ inch square pieces and remove to another tray to cool completely.
NOTE: We found these to mold easily due to not having any preservatives in them. We freeze in plastic freezer bag and take out a few at a time.
---
DOG COOKIE RECIPE
This next dog cookie recipe is one that I have also made for my dogs; it was given to me by friend. I am also including a couple of my horse cookie recipes in case you have horses. After all, we are a total cooking website and it includes baking these treats for your pets. They like treats too! I like to help you save money when I can with tips that I have learned. Homemade pet treats are much more economical than purchasing commercially made ones.
1 ¼ Cups beef broth
2/3 Cup vegetable oil
1 Cup dry milk
1 Teaspoon salt
2 Beaten eggs
1 ½ Tablespoons honey
6 Cups whole wheat flour
Preheat oven to 325F degrees.

Combine the broth, oil, milk, salt and eggs in a large bowl and mix to blend well. Add flour a little at a time, stirring well after each addition. Add enough flour to make a stiff dough. Turn out on a floured board, roll to ½ inch thickness and cut into desired shapes. Place on a greased cookie sheet and bake about 50 minutes. Cool and let this dog cookie recipe set out to dry out before storing in an airtight container.
---
SWEET FEED HORSE MUFFINS (Like Stud Muffins)
Some of you might not need a dog cookie recipe but could certainly use a recipe to make horse treats.
10 ½ Cups sweet feed
4 Cups molasses
3 ½ Cups flour
4 Cups finely chopped apples OPTIONAL
Preheat oven to 350F degrees.

Combine all ingredients in a large container.
Stir with a large spoon until well blended.
Spray mini muffin tins with non stick cooking spray.
Spoon muffin batter into prepared tins filling to the top.
Bake for 20 minutes; cool 5 minutes and remove from pans.
With apples included recipe makes 160 to 170 mini muffins.
---
HORSE COOKIES RECIPE
3 Cups oat flour
1/3 Cup dry milk
2 Teaspoons baking powder
1 Teaspoon salt
¼ Cup vegetable oil
¼ Cup honey
2 Grated carrots
1 Chopped apple
2/3 Cup water
Preheat oven to 400F degrees.

Mix the flour, milk, baking powder, salt, oil, honey, carrots and apple together in a large bowl. Gradually add water while stirring until a soft dough forms. Knead on a floured board and roll to ¼ inch thick. Cut into small cookies and bake for 10 minutes.
---
APPLE SPICE MUFFINS RECIPE (for horses)
My sweet little quarter horse mare "Peanut" loves treats; especially this recipe, apples and lots of carrots.

1 Cup flour
1 Cup wheat germ
½ Teaspoon cinnamon
½ Cup sugar
½ Teaspoon salt
1 Tablespoon baking powder
1 Egg
2/3 Cup skim milk
¼ Cup corn oil
1 Cup chopped apples
Combine and mix all ingredients until thoroughly blended.

Scoop mixture into greased muffin tins.
Bake at 400F degrees for 15 to 20 minutes or until pick comes out clean.
Cool completely before serving to horses.