How to Make an Easter Treat Recipe
Learn how to make an Easter treat recipe that you can place in Easter baskets.  These would be ones like the candy Easter eggs or other Easter shapes. The mini cakes are another good choice. After the decorating is complete, give it time to dry or "set up". These can then be placed in the basket after wrapping in clear plastic wrap or it you choose they can be placed in the basket unwrapped and then wrap the entire filled Easter basket to keep everything fresh.

You can learn how to make an Easter treat recipe which would be a good tasting snack to offer guests who visit during the Easter season. In this category, good selections would be muffins, cookies, coffee cake, pie, etc. These are very welcoming to offer to visitors along with a fresh hot cup of coffee or tea.


I learned how to make various Easter treat recipes which I use to make up serving platters. This might consist of cookies, cupcakes, homemade Easter candies, pretzels, and slices of bread or anything easy to serve like these. I wrap each of this in clear plastic wrap, and then arrange them on a bed of Easter grass. When family members or guests want an Easter treat recipe, these are conveniently ready for them to eat.

HOW TO MAKE AN EASTER TREAT RECIPE like this


FRUIT AND NUT EASTER EGGS 
2 ¼ Cups sugar

1 Cup light corn syrup

¾ Cup hot water

½ Pound marshmallow cream

½ Cup melted shortening

¼ Cup powdered sugar

2 Cups candied fruit (cherries and pineapple)

Nuts

Dipping chocolate

Cook sugar, syrup and water in saucepan to 265F degrees.
Add marshmallow cream and beat until almost firm.
Add melted shortening, powdered sugar, candied fruit and nuts.
Mix well; shape into 10 egg shapes by hand.
Dip eggs into melted chocolate.

---
EASTER CHICKEN NESTS
1 Cup butter

2 Cups sugar

2 Eggs

3 Boxes vanilla wafers

3 Packages shredded coconut tinted green

1 Teaspoon vanilla

1 ½ Pints sweetened whipped cream

Jelly beans

1 Cup nuts

1 Cup crushed drained pineapple

Cream butter and sugar until fluffy; beat egg whites until stiff.
Add egg yolks one at a time beating well after each addition.
Fold in pineapple and nuts; fold in beaten egg whites.
Using 3 vanilla wafers for each, filled in between with mixture.
Place each nest on tray and place in freezer until firm.
Dip tops each frozen nest in sweetened whipped cream.
Top with green coconut and place jelly beans on top.
Place back in freezer until ready to serve.

---
WACKY CAKE RECIPE
This wacky cake recipe makes chocolate Easter eggs to serve as an Easter treat recipe.
3 Cups flour

2 Cups sugar

½ Cup Hersheys cocoa powder

2 Teaspoons baking soda

1 Teaspoon salt

2 Cups water

¾ Cup vegetable oil

2 Tablespoons vinegar

2 Teaspoons vanilla extract

Combine flour, sugar, cocoa, baking soda and salt in a large mixing bowl.
Add water, oil, vinegar and vanilla; beat on medium until well blended.
Pour batter in greased and floured egg molds.
Bake at 350F degrees for about 12 minutes or until pick comes out clean.
Remove cakes from pan and cool completely.
Top with pourable fondant and decorate with frosting.

QUICK POUR FONDANT RECIPE
6 Cups powdered sugar

½ Cup water

2 Tablespoons light corn syrup

1 Teaspoon almond extract

Wiltons frosting colors

Place sugar in saucepan; combine water and corn syrup.
Add corn syrup mixture to sugar and stir until blended.
Cook over low heat; USE CANDY THERMOMETER and do not let mixture get over 100F degrees.
Remove from heat and stir in almond and color; allow to set before covering eggs.
Place egg cakes on rack over drip pan; pour fondant in center and work toward edges.
Touch up bare spots with spatula or knife; extra fondant can be reheated.
Let fondant set up before decorating eggs with frosting.

---
ORANGE MUFFIN RECIPE WITH ALMONDS
2 ¼ Cups flour

½ Cup granulated sugar

2 ½ Teaspoons baking powder

½ Teaspoon baking soda

¼ Teaspoon salt

1 Cup sliced almonds

½ Cup orange juice

½ Cup milk

¼ Cup melted butter

1 Large egg

1 Tablespoon grated orange peel

Powdered sugar
Preheat oven to 375F degrees.
Mix flour, granulated sugar, baking powder, soda, salt and almonds in a large mixing bowl.
Form a well in the center; in small bowl combine milk, orange juice, butter, egg and orange juice. Pour liquid mixture into the well of the flour mixture; lightly mix to blend.
Spoon mixture evenly into paper lined muffin tins; sprinkle tops lightly with powdered sugar.
Bake about 20 minutes or until pick comes out clean; remove to rack to cool.
---
SOFT PRETZEL RECIPE WITH PRETZEL DIP
2 Packages active dry yeast

2 Cups warm water (110F to 115F degrees)

½ Cup sugar

2 Teaspoons salt

¼ Cup softened butter

1 Egg

6 to 7 Cups flour

1 Egg yolk

2 Tablespoons water

Coarse salt

1 ½ Cups mayonnaise

3 Tablespoons Dijon mustard

In large warm bowl dissolve yeast in warm water.
Add to yeast mixture the sugar, 2 teaspoons salt, butter, egg and 3 cups flour; beat until smooth.
Add enough additional flour to form soft dough.
Cover tightly with foil and store in refrigerator for 2 hours.
Divide dough in half; cut each half into 16 pieces.
On lightly floured surface roll each piece into 20 inch long pencil shape.
Arrange "pencils" in pretzel shapes on lightly greased baking sheet. (NOTE: These can also be shaped like rabbits see above)

Brush with a mixture of egg yolk and 2 tablespoons water; sprinkle lightly with coarse salt.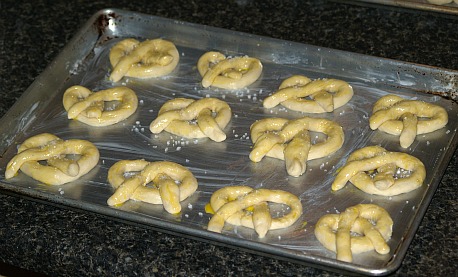 Soft Pretzel Recipe with Pretzel Dip
Cover and let rise in warm place about 25 minutes or until doubled in bulk.
Bake at 400F degrees for 15 minutes or until lightly browned; cool on wire rack.
To make dip combine and blend mayonnaise and mustard.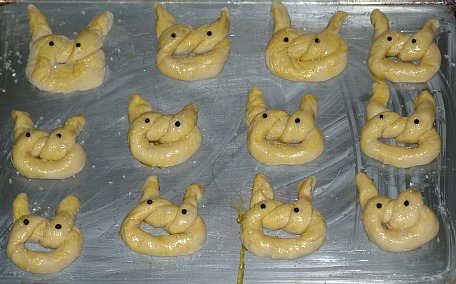 Bunny Shaped Soft Pretzels