How to Make an Easy Appetizer Recipe 
Learn how to make easy appetizer recipes that can be spicy dips, crunchy salad, pates and much more. They can be served as a starter for a meal or as a snack with drinks. What makes them "easy" is the quickness in which they can be prepared. This is accomplished by using only a few basic ingredients or by utilizing a prepackaged item as the base like biscuit mix or cheese in a jar. By using recommended recipes or knowing how to blend seasonings, you can serve very tasty appetizers; often without even baking.
Watch the video tutorial above to learn how to make easy appetizers!
When you learn how to make easy appetizer recipes come in handy any time people get together; food almost always plays an important role. The type of appetizers chosen of course will depend on the occasion; whether it is snacks for a Super Bowl game or an appetizer prior to Christmas dinner. Most of the time any appetizer which can be eaten by hand and while standing can be served for any occasion; even if sitting. Small pastries, pieces of bread or toast, small chunks of cheese and small pieces of fruit or vegetables are among these; it is good to have some of these ready as a backup in case you run low on the others.
A selection of several appetizers is more interesting than only serving one; not more than four unless it is strictly a cocktail party and not a dinner following. Balance the color, flavor, texture and temperature of your selections. Choose recipes which can easily be assembled ahead of time and moved from the refrigerator to the table; like a cheese ball or many shrimp appetizer recipes like ceviche recipes. Even some hot appetizers can be prepared the day before and quickly placed in oven or microwave to heat.
Once you have decided on the easy appetizer recipes which you will be serving, make sure you have available any special utensils needed like warming trays or chafing dishes. Remember that hot foods need to be kept hot and cold foods need to be kept cold; cold ones can be placed in a bowl of ice. Don't forget to place serving utensils with the appetizers; picking up food with fingers is very unappealing.
This easy appetizer recipe is made with hard boiled eggs and is very delicious. It can also be served for lunch with a bowl of soup or just for a snack any time of the day. The fresh grated carrot, zucchini and sprouts add to the health benefits.
NOTE: BOILING EGGS: Have eggs at room temperature. Bring a large kettle of water to boiling. Carefully put the eggs in the water with a large spoon. Reduce heat to medium and simmer eggs for 15 minutes. Set pan in sink and carefully dump out hot water but not the eggs. Immediately dump lots of ice over the eggs to cool them quickly. This process will make the eggs easy to peel.
HOW TO MAKE AN EGG SALAD RECIPE ON BAGELS
1 Package mini bagels
8 Hard boiled eggs
Mayonnaise
1 Small grated zucchini
1 Cleaned grated carrot
Alfalfa sprouts
Separate bagels and spread out on a baking tray. Toast in a preheated oven for a couple of minutes. (Not brown only slightly toasted). Set tray aside to cool.
Chop boiled eggs in a mixing bowl. Add a little mayonnaise and start beating with a mixer. Keep adding mayonnaise a little at a time while beating. Beat until boiled eggs are fairly smooth and creamy.
Spread egg salad on each bagel half. Top with grated zucchini, then grated carrots and then a few sprouts. (Arrange toppings so that you can see all three of them. It makes a pretty presentation.)
---
GOURMET HOT DOG RECIPE 

an easy appetizer recipe
This hot dog recipe is very popular easy appetizer recipe and has great flavor. It actually tastes best when made the prior day and reheated in microwave before serving.
1 Package (16 ounces) all beef hot dogs, cut into 1 ½ inch pieces
1 Cup brown sugar
1 Cup ketchup
1 Cup brandy
Mix all ingredients together in a large saucepan or Crock pot.
Simmer on low for 3 hours; serve in chafing dish with toothpicks.
---
CRAB AND CHEESE FONDUE
Large jar Cheeze Whiz
8 Ounces King crabmeat
1 Package (8 ounces) cream cheese
Mix all ingredients together and heat until bubbly; serve with crackers.
---
BACON APPETIZER RECIPE
This is one of the easy appetizer recipes which can be prepared ahead and made ready to place under broiler when ready to serve.
1 Pound bacon sliced
1 Cup brown sugar
Coat both sides of sliced bacon with brown sugar.
Place slices on broiler pan and place on lowest rack under broiler.
Broil until crisp and drain on paper towels
---
SPINACH STUFFED MUSHROOMS
½ Cup finely chopped scallions or green onions
3 Tablespoons melted butter
1 Package (10 ounces) frozen chopped spinach thawed and squeezed dry
¾ Cup chopped ham
1 3/4 to 1 Cup white sauce (recipe below)
24 or more mushroom caps
Sauté chopped scallions in melted butter for 2 minutes or until tender.
Add squeezed spinach and mix well; scrape mixture into bowl and add ham.
Add enough white sauce to hold mixture together.
Salt inside of mushroom caps and fill with spinach mixture,Place in buttered pie plate.
NOTE: At this point you can refrigerate overnight; if so, bring to room temperature and add a few more minutes in oven.
Bake for 15 to 20 minutes at 350F degrees; serve immediately after baking.
---
HOW TO MAKE POTATO SKINS RECIPE
Make potato skins for an easy appetizer recipe because they are so simple to make but also they can be prepared ahead of time and kept in the refrigerator. Sometimes, I start them several days ahead and finish them over several days. You can choose your own schedule.
Step 1: Wash the potatoes, dry them and place on a baking tray. 
Plan 4 skins to each potato; bake at 350F degrees about 1 to 1 ½ hours or until tender.
Let potatoes cool. (Proceed ahead or place in refrigerator).
Step 2: Cut potatoes in half lengthwise and cut in half across; scoop out inside leaving about 1/3 inch wall.
NOTE: I use the inside to make potato salad or fried potato pancakes.
Step 3: I usually deep fry the potato skins now; it makes them crispier but you can OMIT this step.
Step 4: Top skins with chopped green onion, grated Cheddar cheese and crisply fried bacon crumbled; place on baking tray.
NOTE: Refrigerate until ready to serve; allow time for oven.
Step 5: Place in preheated oven at 350F degrees 15 to 20 minutes until hot and cheese melts.
Serve with sour cream.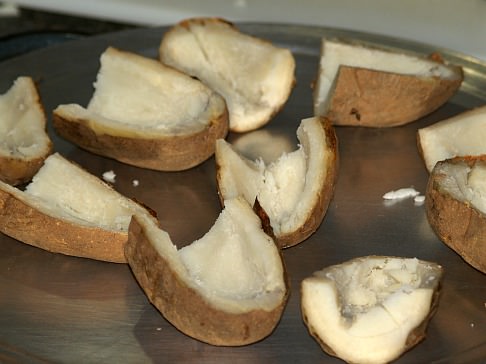 Hollowed Out Potatoes
---
HOW TO MAKE AN EASY APPETIZER RECIPES WITH THESE COMBINATIONS
Find your favorite appetizer with one of the combinations below: 
Caviar flavored with onion juice
Cream cheese with chutney and a dash of curry powder
Lobster tail moistened with lemon juice
Almonds or pecans roasted and chopped; then mix with anchovy paste
Peanuts roasted, crushed and mixed with anchovy paste
Cream cheese with chopped pickle
Cream cheese with a dash of Worcestershire and chives
Pimiento cheese mixed with a little horseradish
Chicken livers minced and moistened with mayonnaise
Cheese squares with olive attached by toothpick
Sardine slices topped with chopped Spanish olives
Liverwurst with pistachio nuts
Sardines with caviar paste
Minced shrimp with onion juice
Sardine slices topped with chopped olives
Minced eggs with anchovies
Cream cheese and horseradish
Cream cheese and anchovy paste with minced onion
Herring squares mashed in its own juice with a dash of vinegar and Tabasco sauce
Peanut butter and bacon toasted on dark bread; cut in small pieces
Deviled ham with chopped onion and Spanish olives
Stilton cheese moistened with Port wine
Shrimp flavored with French dressing
Caviar mixed with cream cheese and a dash of Worcestershire sauce