How to Make Easy Recipes 
Learning how to make easy recipes makes it easy for you to prepare and serve dishes within 20 to 30 minutes if you plan ahead. Many of these recipes can be accomplished by using convenience foods, which are a versatile addition to your kitchen pantry for everyday quick recipes. These foods can be used with ease to dress up, give flavor and color to a dish or meal.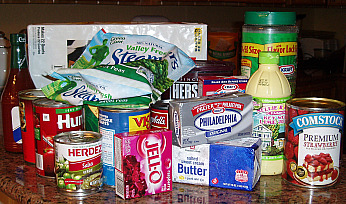 How to Make Easy Recipes
A convenient food is one which has been partly prepared by the manufacturer. They can help you to quickly and easily prepare easy dinners or other meals. These foods can be purchased canned, dried or quick frozen. Many pre-mix recipes can be made ahead if you are learning how to make easy recipes. All processed foods are convenience foods. How many people make their butter or cheese today? We do not think of butter and cheese being prepackaged, but they are not homemade when we purchase them in the store. By keeping some of these foods in your pantry, freezer or refrigerator, at a moments notice they can be made into a simple or exotic dish.

When learning how to make easy recipes, many can be made quickly from the wide range of package products like various noodles and pastas, powdered potatoes, soups and sauce mixes. The sauce mixes are great for dressing up small portions of leftover meat or fish. Soup and sauce mixes give zest to everyday vegetables and turn them into party dishes. They are also a quick way to thicken a casserole or stew. I always keep in my cabinets a supply of whole grain pastas, spices, dry milk, etc. which can turn plain dishes into meals.
NOTE: Products like pastas and flours can be frozen for a couple of weeks and then moved to food storage containers for longer storage life.
Today, there is such an abundant supply of canned foods readily available in our supermarkets. By combining several different canned products such as vegetables, beans, meats and soups, a whole meal can be achieved in minutes. Soups alone can add zest to many of your casseroles and dishes; I especially like to keep creamed soups to add to make many quick and easy recipes. There are also tasty canned sauces which would brighten up the dullest piece of meat or fish. Check can for ingredients like added salt. You may need to adjust the salt in your recipe. Store your canned products away from the heat in a dry cabinet. The majority of unopened canned products will last for a year.
Quick frozen foods help the seasons stand still, so you can use fresh fruits like strawberries all year round. Frozen foods are ready to use to add that magic to those quick and easy recipes. With the wide variety of ready to use products you can add color and zest to any meal; from formal dishes, a simple lunch or mouth watering pastry desserts.
I am very careful of the convenience foods that I use. I make sure to read all labels and try to steer clear of any chemicals used in them. I stay with simple packaged foods which only have added salt. I adjust the salt in my recipes to allow for this. It may take a little extra time when shopping to read everything but it is worth it. Before long you will know which products to buy and which ones not to buy. These products do help to turn those quick and easy recipes into delicious meals for your family.
QUICK CHICKEN RECIPE
The following quick and easy recipe can be prepared in 20 to 25 minutes.
1 Tablespoon cooking oil
1 Pound chicken, cut into chunks
1 Can whole kernel corn, drained
1 Cup thick salsa
2 Tablespoons chopped ripe olives
1 Can green chilies or a few red pepper flakes… OPTIONAL
1 Cup broken tortilla chips
½ Cup shredded Cheddar cheese
Heat the oil in a large skillet. Cook chicken for a few minutes until done and no longer pink. Add the corn, salsa, (optional ingredients) and olives. Stir ingredients over heat until thoroughly heated. Stir in chips and cheese and serve immediately.
---
BAKED CHICKEN WINGS RECIPE
Some of the best quick and easy recipes I have found are Campbells recipes. These Campbells soup recipes often only require a few ingredients and the flavor is so good with these ingredients. I am giving you a few which I have collected over the years.
1 Pouch Campbell's Dry Onion with Chicken Broth Soup and Recipe Mix
1/3 Cup honey
2 Tablespoons spicy brown mustard
18 Chicken wings
Combine in a large bowl soup mix, honey and mustard and set aside.
Cut tips off wings and discard; cut wings in half at joints to make 36 pieces.
Add wings to soup mixture and toss to coat.
Place wings in shallow baking dish; bake at 400F degrees for 25 minutes.
Turn wings over and bake for 20 minutes or until no longer pink.
---
EASY PUDDING DESSERT RECIPE
1 Package (10 ounces) Pepperidge Farm frozen puff pastry shells
1 Package (3 ½ ounces) vanilla instant pudding mix
2 Cups milk
2 Cups cut up fresh fruit
Whipped cream
Bake pastry shells according to package and let cool completely.
Prepare pudding mix according to package; spoon 1/3 cup into each pastry shell.
Divide fruit evenly on top of each filled shell; top with whipped cream.
Serve immediately or cover and refrigerate no more than 4 hours.
---
EASY LASAGNA RECIPE
1 Pound ground beef
1 Can (11 ½ ounces) Campbells condensed Italian tomato soup
1 Cup water
1 Can (10 ¾ ounces) Campbells condensed cream of mushroom soup
2 Cups shredded mozzarella cheese
¼ Cup milk
6 Dry lasagna noodles
Cook beef until brown over medium high while stirring.
Spoon off fat and add tomato soup and water; heat thoroughly while stirring and remove from heat.
Combine mushroom soup, ½ cup cheese and milk in a small bowl.
Spoon half of meat mixture in 2 quart casserole baking dish; top with three lasagna noodles.
Spoon mushroom soup mixture over noodles; top with remaining 3 noodles and add remaining meat.
Cover tightly with foil and bake at 400F degrees for 40 minutes.
Uncover and sprinkle remaining cheese over the top; bake 10 more minutes or until hot and bubbly.
---
EASY MACARONI AND CHEESE RECIPE 

a very easy recipe



2 Cans (10 ¾ ounces each) Campbells condensed cream of celery soup
1 Cup milk
1 Teaspoon prepared mustard
1/8 Teaspoon black pepper
6 Cups of hot cooked elbow macaroni (3 cups dry)
4 Cups shredded Cheddar cheese
1 Can (2.8 ounces) French fried onions
Combine and mix soup, milk, mustard and pepper in a large bowl; stir in macaroni and 3 cups of cheese.
Spoon into 3 quart greased baking dish; bake at 400F degrees for 20 minutes or until hot and bubbly.
Sprinkle onions and remaining cheese over top and bake another minute or until onions are golden.