How to Make Easy Valentine Recipes 
Many cooks want to learn how to make easy Valentine recipes. These recipes are needed for those who are too busy to make consuming homemade recipes. There are many that only take a few minute to assemble and not much longer to cook. These still can be very flavorful with added spices and seasonings; recipes that guests would think you spent hours to prepare. A few decorating ideas like red hearts will have your whole meal ready for the special occasion.

Two favorite meats in many of our countries are chicken and pork. I  learned how to make easy Valentine recipes by preparing these ingredients. They are quick, easy and deliciously flavored. Most of these easy Valentine recipes are quick to prepare because of the products which you are able to purchase. Today ready to cook meats like chicken breast are at our fingertips in all supermarkets.


I have chosen a simple pasta recipe which is quick to assemble because of the products conveniently at hand. There are many brands of delicious pasta available which only takes a few minutes to cook, Purchasing the pesto sauce is so much faster than making your own and shredded cheese is as simple as opening the bag. Desserts like the cherry cream pie recipe, are made easy with products like prebaked pie crusts, already whipped topping, instant pudding mixes and canned pie fillings.

HOW TO COOK PORK TENDERLOIN (with honey mustard sauce)
I learned how to make this easy Valentine recipe with pork tenderloin and a delicious honey mustard sauce; the honey mustard sauce is also good with pork chops or chicken breast.
1 Tablespoon honey

1 Tablespoon Dijon mustard

2 Teaspoons cooking oil

1 Teaspoon minced garlic

½ Teaspoon dried oregano

3 to 4 Pound pork tenderloin

Preheat oven to 400F degrees.
Line 9 X 13 inch baking pan with foil.
Combine honey, mustard, oil, garlic and oregano in small bowl; spread over meat.
Place meat in pan; bake until top starts to brown about 30 minutes. 
Pull foil up and wrap around meat; finish baking until done, thermometer will register 160 F degrees or about 45 additional minutes.
Let stand 5 minutes; cut diagonally into slices.
Serves 6 to 8.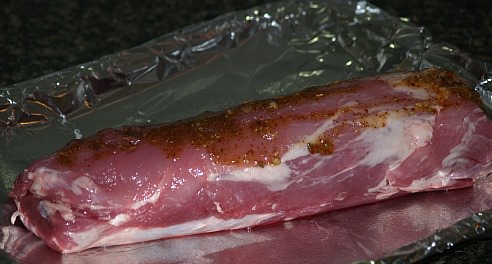 How to Cook Pork Tenderloin
---
CARIBBEAN CHICKEN RECIPE

is an easy Valentine Recipe
This broiled chicken recipe is tasty and is an easy Valentine recipe to prepare.
1 Teaspoon allspice

½ Teaspoon dried thyme

½ Teaspoon paprika

¼ Teaspoon hot pepper sauce

2 Teaspoons olive oil

2 Teaspoons lime juice

4 Boneless skinless chicken breast halves

Combine all ingredients in small bowl besides chicken; mix well.
Rub mixture on chicken breast halves; let stand at room temperature for 15 minutes.
Spray broiler pan with non stick spray; place chicken on pan.
Broil 4 to 6 inches from heat for 8 to 10 minutes or until chicken is tender and juices run clear.
Turn chicken over once.

---
PESTO PASTA RECIPE
This pesto pasta recipe is one of the easiest Valentine recipes to serve. Serve it alone with only a salad and dessert or as a side dish with an entrée like the chicken or pork.
8 Ounces uncooked fettuccine

1 Container (7 ounces) pesto sauce

1/3 Cup shredded Parmesan cheese

Cook fettuccine as directed on package; drain.
In large bowl combine pasta with pesto sauce; toss gently.
Serve on platter sprinkle with Parmesan cheese.

---
CRESCENT RECIPE FOR TACO PIE
1 Pound ground beef

½ Cup chopped onion

1 Cup tomato sauce

2 ¼ Ounces sliced ripe olives drained

½ to 1 Package (1.25 ounces) taco seasoning mix

1 Can (8 ounces) Pillsbury Quick Crescent dinner rolls

2 Tablespoons cornmeal

1 cup sour cream

1 Cup shredded sharp cheddar cheese

Shredded lettuce

Diced tomato

Avocado slices

Preheat oven to 375F degrees.
Brown ground beef in large skillet; drain.
Stir in sauce, olives and taco seasoning; set aside.
Place triangles in ungreased 10 inch pie pan; press over bottom and up sides to form crust.
Sprinkle cornmeal over crust.
Bake for 5 minutes; remove from oven and spoon meat mixture over crust.
Spread sour cream over meat; top with shredded cheese.
Bake for about 15 minutes or until crust is golden brown.
To serve top with lettuce, tomato and avocado.

---
TOFFEE DESSERT RECIPE
Easy and creamy desserts like this make great easy Valentine recipes. So delicious!
1/3 Cup butter

1 Cup flour

1/3 Cup chopped toasted almonds

2 Tablespoons honey

1 Cup heavy cream

1 Jar (7 ounces) marshmallow cream

1 Chocolate covered toffee bars crushed (3/4 ounces each)

To make crust; Melt butter in skillet; add flour, almonds and honey.
Cook over medium heat stirring constantly until mixture begins to brown 2 to 3 minutes.
Set aside 1/3 cup; press remaining into bottom and sides of 8 inch pie pan and cool.
To make filling: Whip cream until stiff; fold in marshmallow cream and toffee bars.
Spoon into crust; sprinkle with reserved crumbs.
Chill until firm or freeze; garnish with additional chopped almonds.

---
CHERRY CREAM PIE RECIPE
1 Baked graham cracker crust

1 Package (8 ounces) softened cream cheese

1 Can (14 ounces) Eagle brand sweetened condensed milk

¾ Cup cold water

1 Package (4 serving size) instant vanilla flavored pudding mix

1 Cup whipped topping

1 Can cherry pie filling chilled

Beat cheese in large mixing bowl; gradually beat in sweetened condensed milk until smooth.
On low speed beat in water and pudding mix until smooth.
Chill 10 minutes; fold in whipped topping.
Spread half of pudding mixture in prepared crust; top with half of cherry pie filling.
Carefully top pie filling with remaining pudding mixture; then remaining cherry pie filling.
Chill for 2 hours or until set; refrigerate leftovers.