Ecuador Living with Recipes
I always begin my ecuador living with a flight into Quito, Ecuador went well as usual but it still make it a long and tiring day. I am always so thankful to have a smiling driver waiting for me at the gate. By the time I grab my luggage and load everything into the car it is about 7:00 PM by my watch but 8:00 PM Ecuadorian time. (I am resetting my watch)
Quito Ecuador's Capital
Another couple was on my flight and had the same destination as I did but they never had an Ecuador living experience. After we all loaded in the van we settled back and relaxed for the drive. It usually takes awhile depending on the traffic and conditions. Tonight appeared to be a good night for travel with no rain or fog.
This trip I am staying at a condo which is how Ecuador living should be. I had some regrets about arriving at an empty condo verses a warm friendly suite. A friend has a condo in the same building and I am happy to see him waiting for me with the door opened. The first night went well and I was so tired that once I hit the bed, nothing mattered until morning.
After a tiring day of travel, I always try to make the first day a light one. This is hard to do because the time goes so quickly, if you don't get busy you can't fit everything in. I had already scheduled my dental appointment with my dentist in the village. I had a quick breakfast at a local eatery then off to see Bertha. She cleaned my teeth and did a filling and it cost me forty five dollars.
I went into the neighboring village to have blood test done, prescribed by my doctor in the US. While there, I decided to have a late lunch at one of my favorite places. Here they really know how to cook beef, pork and chicken. The platter which I ordered had all three on it. I was told that, before they cook it they marinate this meat in the wonderful fruit juices produced locally. I have never seen so many fruits grown in one place and Ecuador is the largest exporter of fresh fruit. I can easily see how this could be the key to the delicious flavor of these meats.
Dinner at an Ecuadorian Restaurant
Jumping a little ahead and getting out of order in my event happenings, I want to tell you about my "chocolate dessert recipe". This one is certainly a recipe for pleasure. Especially for my "chocoholic "readers, you can "eat your heart out". How about a complete body exfoliation in pure warm melted Ecuadorian chocolate! While I was relaxing wrapped in a warm thermal blanket, I received a chocolate facial. The chocolate left my skin feeling so good!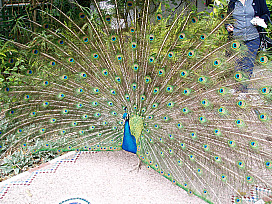 Peacock at Our Hotel
After the spa treatments, everyone is offered time to relax in the round room with a fire in the fireplace and burning candles. Then you are served either water or tea, which I was familiar with. To my surprise, I was brought a plate of fresh strawberries covered with the best melted chocolate I ever tried. What an Ecuador living experience!
I have had many conversations about the wonderful fresh products grown in Ecuador this is a standard of Ecuador living. I keep getting asked for more recipes on how to cook quinoa. Since it is so high in protein, it is often served as a main dish.
I took the following Ecuador recipes using quinoa, the one for corn pudding and the cheese sauce from the book titled "Secrets of Traditional Ecuadorian Cuisine" by A. Pozo Garrido. I have made my few changes to the recipes. The book also has other delicious recipes.
SAVORY HERB QUINOA PUDDING

is traditional Ecuador living
Learn how to make a traditional Ecuador living recipe. I added seasonings to make it very flavorful.
1 Cup uncooked quinoa
2 Cups water
½ Teaspoon salt
½ Cup softened butter
2 Tablespoons cooled bacon grease
8 Eggs (Separated)
1 Cup shredded Cheddar cheese
½ Teaspoon cumin
2 Tablespoons fresh chopped cilantro
1 Clove minced garlic
¼ Cup finely chopped green bell pepper
¼ Cup finely chopped onion
Salt/pepper
Cheese sauce (Below)
Wash quinoa and drain well; set aside.

Combine salt and water in saucepan and bring to a boil; add quinoa to boiling water.
Reduce heat and simmer quinoa until soft about 25 minutes; set off to cool.
PREHEAT OVEN TO 350F degrees; butter casserole baking dish (9X13 or 8X12 inches)
Combine in large mixing bowl the butter, bacon grease, YOLKS, onion and bell pepper.
Add to the bowl the cumin, cilantro and garlic; set aside.
Beat egg WHITES until stiff peaks form; set aside.
Beat the butter and yolk mixture until well blended; fold in the shredded cheeseand quinoa.
Fold in the egg whites; pour into prepared casserole dish.
Bake about 45 minutes; serve topped with cheese sauce.
Serves 8.
---
CORN PUDDING
Corn is another staple that is very plentiful in Ecuador. The fragrance of the fresh corn is unlike I have ever smelled anywhere. Try the following way of how to cook corn.
8 ounces fresh grated cheese( 1 cup)
4 Ounces soft butter (1/2 cup)
2 Ounces pork shortening (I use bacon fat)
1 Spoonful sugar (1 teaspoon)
1 Spoonful salt (1 teaspoon)
8 Eggs, separated
6 Cups tender kernel corn , ground
Cheese sauce
Preheat oven to 350F degrees.
Grease a baking casserole dish.
Mix cheese, butter, shortening, salt, sugar and yolks one at a time while beating; beat until smooth and creamy.
Mix ground corn into creamed mixture.
Whip egg whites until stiff and fold into the creamy corn mixture.
Dump mixture into prepared casserole dish; set in a larger pan with water.
Set in preheated oven and bake for 45 minutes.
Serve with cheese sauce.
---
CHEESE SAUCE RECIPE
½ Cup grated Cheddar cheese
2 Tablespoons butter
1 Cup cream
1 Tablespoon flour
1 Chopped green onion
1 to 3 Drops hot sauce
Salt/ black pepper to taste
Combine flour with cream blending until smooth.

Place cream in saucepan; add cheese, butter, green onion and hot sauce.
Cook and stir over low heat until thickened (Do not boil); salt and pepper to taste.