How to Make Eggplant Recipes
I did not learn how to make eggplant recipes when I was young. Like when I first learned how to cook parsnips and a few of the other vegetables that I didn't grow up with, I had to experiment. Dad did not grow eggplant in our garden so I learned later in my life how to cook eggplant. Mostly we ate what we grew; we had plenty of bean recipes. When I learned how to make my first eggplant recipes, they were different eggplant Parmesan recipes. 

I didn't like the flavor of the eggplant; it had a bitter taste. This was unusual for me not to like any vegetable. The nutritional value of most vegetables including this one are so good to add to your daily diet. I learned when I was very young that soaking foods in salt water neutralized a strong flavor so I decided to learn how to make my eggplant recipes like this.
I bought more eggplant, soaked overnight in cold salt water. The next day I prepared the eggplant Parmesan recipe again. It was delicious and I was addicted! Through the years many people have told me that they don't like this vegetable either; I have shared how to cook eggplant with many. It has worked every time.

Even though we never grew eggplant when I was young and I don't remember anyone who did. Today it has become very popular in our cuisine and even my brothers grow them; like the beautiful ones in my picture. I believe one reason for this is due to the influx of many Italian immigrants bringing to us their delicious recipes. I think of most of my eggplant recipes as being from the Italian cuisine.

Eggplant recipes are now very plentiful here in the United States for everything from simple fried eggplant to casseroles to appetizers and many more. They are so good and my favorites when teamed up with fresh garlic, various cheeses and spicy tomato sauces.

HOW TO MAKE FRIED EGGPLANT

RECIPE
One of my favorite corn dishes has always been simple fried corn; now one of my favorite eggplant recipes is also fried.
1 Eggplant cut into ¾ inch slices, peeled
1 Beaten egg
Matzo meal
Salt/pepper
Paprika
Oil for frying
Salt lightly peeled and sliced eggplant.
Allow to stand 15 minutes.
Dry with paper towels.
Season the matzo meal with salt, pepper and paprika.
Dip each slice into egg and then the matzo mixture.
Fry quickly in hot oil. Drain on paper towels.
E

GGPLANT PARMESAN RECIPE



The most famous of the eggplant recipes has to be eggplant parmesan.
1 Large eggplant
1 Beaten egg
1 Cup dried bread crumbs
¼ Cup olive oil
½ Cup grated Parmesan cheese
2 Teaspoons dried oregano
½ Pound Mozzarella cheese
1 Can tomato sauce
Preheat oven to 350 degrees.
Slice eggplant ¼ inch thick.
Dip into the beaten egg and then the bread crumbs.

Brown on both sides in hot olive oil.
Make one layer eggplant in a casserole dish.

Top eggplant with Parmesan cheese, oregano, Mozzarella cheese and tomato sauce.
Repeat layers until all ingredients are used up.

Top the last layer with sauce and Mozzarella cheese.
Bake for 40 minutes.
Step by Step Pictures for Eggplant Parmesan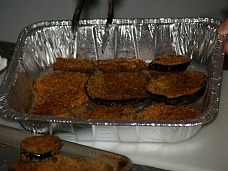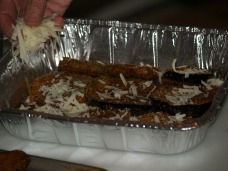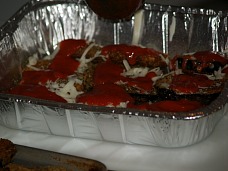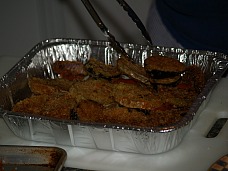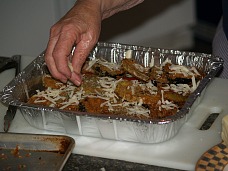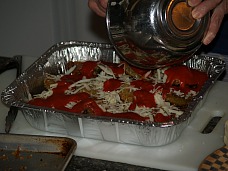 ---
GRILLED EGGPLANT
Like many vegetables like grilled corn eggplant is also very delicious; you can eat it right off the grill.
1/3 Cup olive oil
2 Tablespoons lemon juice
2 Tablespoons fresh oregano
½ Teaspoon salt
2 Cloves crushed garlic
2 Medium eggplants, cut into 1 ½ inch slices
1Cup of Grated Parmesan

1 Cup shredded Mozzarella cheese
Mix all ingredients except for the eggplant slices and the cheese.
Dip eggplant slices in the oil mixture, coating both sides.
Cover and grill eggplant slices on both sides over medium coals, turn once and brush with oil.
Cook about 8 to 10 minutes until eggplant is tender.
Top with cheese the last 2 minutes.
NOTE: GRILLED EGGPLANT PARMESAN I make a delicious eggplant Parmesan using eggplant slices from the grill or on my kitchen griddle. Simply layer the grilled eggplant with sliced ripe tomatoes in a greased pan. Spread each layer with grated Parmesan Cheese. Top with grated Mozzarella cheese. Cover with grill top or place in the oven on about 375 F degrees for about 15 minutes until hot and cheese melts.

---
EGGPLANT CASSEROLE RECIPE
You will find many cheeses added to eggplant recipes; it is a great combination.

15 Crumbled soda crackers

2 Tablespoons melted butter

3 Cups 1 inch cubed eggplant

¼ Cup chopped celery

½ Teaspoon salt

½ Teaspoon black pepper

1 Cup canned milk

½ Cup grated sharp Cheddar cheese

Preheat oven to 350F degrees.
Combine cracker crumbs and melted butter in bowl; reserve ¼ cup of crumbs.
To the remaining crumb mixture add remaining ingredients; mix to blend.
Turn mixture into greased casserole dish; sprinkle top with reserved crumb mixture.
Bake for 45 minutes; serve while hot.


---
BULGUR RECIPE WITH EGGPLANT
NOTE: This recipe can be made with bulgur or quinoa.

1 Large eggplant peeled and cut in 1 inch cubes

1 Cup chopped onions

2 Cloves minced garlic

2 Tablespoons olive oil

1 Cup uncooked wheat bulgur or quinoa

2 ½ Cups tomato juice

½ Cup sliced almonds

1 ½ Teaspoons dried oregano

¼ Cup chopped fresh parsley

½ Teaspoon salt

¼ Teaspoon black pepper
1 cup Shredded Mozzarella Cheese

Preheat oven to 350F degrees.
Cook eggplant in boiling water for 3 minutes; drain and set aside.
Cook onion and garlic in olive oil in large skillet until onion is tender.
Add eggplant, bulgur and remaining ingredients to the skillet.
Bring to a boil, reduce heat and simmer uncovered 3 minutes.
Spoon eggplant mixture into lightly greased casserole dish; bake for 30 minutes if using bulgur and bake for 65 minutes if using quinoa.
Top with Mozzarella Cheese the last 5 minutes of cooking time.

---
FRITTATA RECIPE WITH EGGPLANT
2/3 Cup chopped sweet red pepper

2/3 Cup chopped sweet green pepper

¾ Cup peeled chopped eggplant

3 Tablespoons olive oil

10 Large eggs

½ Cup milk

1 Teaspoon salt

¼ Teaspoon ground red pepper

2 Tablespoons freshly grated Parmesan cheese

Cook first 3 ingredients in oil in ovenproof skillet (I use iron skillet) over medium high heat 3 minutes.
Combine eggs and next 3 ingredients in a large bowl and blend well; add to skillet.
As mixture starts to cook lift edges up with spatula so uncooked portion flows underneath.
Cover and cook over low heat 10 to 12 minutes to allow top to set.
Uncover and sprinkle with cheese; set under broiler 2 minutes or until golden in color.
Cut in wedges and serve immediately.