Entree Recipes with Bananas 
Entree recipes in the United States typically never include bananas in them. Banana recipes are reserved for delicious desserts, pies, cakes, breads and salads. In other countries, cooks incorporate bananas in many of their traditional preparations of entrees. The word "banana" usually refers to small sweet fruit dessert bananas and this is why we make so many delicious desserts with bananas as a primary ingredient.
If you have never made entre recipes and incorporated bananas in them, you must try it. For making sweets, it is better to use bananas which are overripe. For making entrees, I am not concerned about using really ripe bananas. As you know, the riper they are, the sweeter they are. For entrees, I like using the less sweet bananas. It is amazing how the flavor of bananas combines so well with spices and other ingredients often used in entrees.
BANANA CHICKEN RECIPE
This entree recipe has a delicious black bean mixture to serve with the browned banana slices.
2 Large medium ripe bananas
1 Tablespoon cumin divided
4 Boneless chicken breast halves skinned
2 Teaspoons cooking oil
½ Cup chopped red or orange bell pepper
½ Cup chopped green onions
1 Medium chopped tomato
3 Cloves minced garlic
1 Can black beans drained
¼ Teaspoon pepper
½ Teaspoon dried oregano
½ cup chicken broth
Cut peeled bananas in half lengthwise and then cut in half across making quarters.
Sprinkle bananas with ½ teaspoon cumin; sprinkle chicken with remaining cumin.
Heat oil in a large skillet over medium high heat; brown bananas on both sides and place on serving platter.
Cook chicken in same skillet on both sides until done; move chicken to the serving platter and keep warm.
Add bell pepper, green onion, chopped tomato and garlic to the skillet; stir constantly until tender crisp.
Add beans, pepper, oregano and chicken broth; stir and heat thoroughly.
Spoon over the chicken and bananas; serve immediately. Serves 4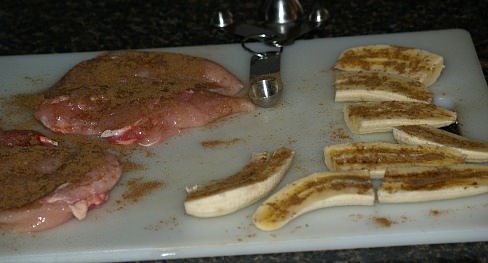 Preparing the Chicken Banana Entree Recipe
---
FRESH FRUIT CHICKEN RECIPE
4 Boneless chicken breasts halves skinned
½ Teaspoon salt
2 Tablespoons butter
1 Tablespoon finely chopped fresh ginger
1/3 Cup toasted shredded coconut (Divided)
1 Cup heavy whipping cream
3 Peeled and quartered bananas
1 Papaya, peeled seeded and sliced
Season chicken breasts with salt on both sides; melt butter in skillet and brown chicken on both sides.
Sprinkle ginger and half of coconut over the chicken breasts; add cream.
Over low heat cover and cook 10 minutes or until chicken is done.
Arrange chicken and fruit in shallow serving platter; pour warm sauce over top.
Sprinkle top with remaining coconut; garnish as desired. Serves 4
---
GROUPER RECIPE

with banana salsa
This makes a beautiful presentation for an entree recipe.
1 ½ Cups potato chips
¼ Cup grated Parmesan cheese
1 Teaspoon ground thyme
1 Pound grouper fillets or snapper fillets
¼ Cup milk
Banana salsa
Preheat oven 400F degrees.
Combine potato chips, Parmesan cheese and thyme in a shallow dish.
Dip fish in milk and then dredge in potato chip mixture.
Place fish on greased baking sheet in a single layer; bake 10 minutes or until fish flakes.
Banana Salsa
2 Medium chopped ripe bananas
½ Cup chopped green bell pepper
½ Cup chopped red bell pepper
3 Green chopped onions
1 Tablespoon chopped fresh cilantro
2 Tablespoons brown sugar
3 Tablespoons fresh lime juice
1 Tablespoon cooking oil
¼ Teaspoon salt
¼ Teaspoon black pepper
1 Small jalapeno seeded and finely chopped
Combine all ingredients and blend well; cover and chill for 2 hours before serving.
---
HAWAIIAN HAM STEAK ENTREE RECIPE

with bananas
Like I said before, it is not often that bananas are used in entree recipes. I have made many sweetened ham glazes with fruit such as apples and cherries before so why not bananas. This has a wonderful flavor to go with ham which counteracts the saltiness of the meat.
½ Cup packed brown sugar
¼ Cup butter
¼ Cup wine vinegar
1 Smoked center cut ham slice
4 Firm medium bananas
Heat over medium brown sugar, butter and vinegar in a large skillet until sugar is melted stirring frequently.
Add ham slice to skillet and cook 5 minutes on each side.
With spatula arrange ham slice on platter and keep warm.
Remove skillet from heat and cut bananas in 1 inch chunks into skillet; cook over medium heat basting the bananas.
Spoon bananas around ham slice on platter; serve immediately.
---
SOUTH AFRICAN DISH BABOOTIE

with bananas
To me this South African dish is an acquired taste. As you can see this is not typical of banana recipes. As one of the few entrée recipes I have, the flavors come from many different ingredients. We are all familiar with ground meat, onion, garlic and tomatoes in a recipe, but then think about the added flavors of sugar and vinegar to make a sweet sour taste. It is then spiced with curry and turmeric; then top it off with fruit and nuts and finished with eggs on the top. This may not sound good entree recipe to you but many people love this dish and relate the flavor to many of the Indian dishes.
2 Pounds ground beef or lamb
2 Chopped onions
2 Cloves minced garlic
1 Can (14 ½ ounces) chopped tomatoes with liquid
2 Slices bread
1 ½ Teaspoons sugar
2 Tablespoons curry powder
½ Teaspoon turmeric
2 Tablespoons vinegar
1 Teaspoon salt
2 Firm diced bananas
1 Peeled and diced apples
1 Tablespoon apricot jam
¼ Cup slivered almonds
1 Cup golden raisins
3 Eggs
¼ Cup milk
Chutney
Cooked rice
Preheat oven to 350 F degrees.
Soak bread in tomatoes and juice.
Brown ground meat, garlic and onions; add sugar, curry, turmeric, vinegar and salt.
Add bread mixture to meat mixture and blend well.
Add bananas, apples, almonds and raisins; mix well.
Place mixture in a casserole baking dish and pat down until level.
Combine and mix eggs with milk; pour over meat mixture.
Bake about 40 minutes; serve with rice and chutney.
---
BAKED PORK CHOPS with bananas
This is a very flavorful entree recipe with bananas, parsley and cayenne pepper.
2 Tablespoons butter
4 Pork chops
3 Small firm bananas
Salt and pepper
1/8 Teaspoon cayenne
1 Lemon
Sprigs of parsley
1 Teaspoon flour
½ Cup chicken broth
Melt the butter in skillet over medium heat.
Add pork chops to skillet and cook 10 to 12 minutes on each side depending on thickness.
Five minutes before the chops are cooked peel the bananas and cut in half lengthwise.
Add to the skillet and sprinkle with salt, pepper and cayenne.
Lift out the pork chops and bananas; arrange on a warmed platter; garnish with lemon and parsley.
Stir flour into pan juices; add broth gradually while stirring; simmer about 3 minutes.
Pour gravy into small serving dish; serve with plain boiled rice.
---
CARIBBEAN BANANA FISH RECIPE
Ry this tasty Caribbean entree recipe.
¼ Teaspoon ground coriander seeds
¼ Teaspoon lemon pepper
¼ Teaspoon nutmeg
¼ Teaspoon allspice
¼ Teaspoon salt
¼ Teaspoon black pepper
Vegetable cooking spray
4 Red snapper fillets (4 ounces each skinned)
¼ cup flour
2 Bananas peeled and sliced
4 Small green onions chopped
¼ cup sweetened coconut milk
¼ cup rum
Combine coriander, lemon pepper, nutmeg, allspice, salt and pepper; set aside.
Coat a large skillet with cooking spray; place over medium heat until hot.
Dredge fish in flour and place in hot skillet; sprinkle fillets with half of spice mixture.
Cook until browned, turn fillets over and sprinkle other side with remaining spice mixture.
Cook until other sides is browned; place banana slices over the fish; sprinkle with green onion.
Add coconut milk and cook until fish flakes easily when tested with a fork.
Remove from heat and add rum to skillet; cover and let stand 5 minutes.
---
STUFFED BANANAS RECIPE
Entrée recipes made with bananas are often seasoned with curry.
2 Tablespoons vegetable oil
1 Pound ground beef chuck
1 Finely chopped medium onion
2 Cloves minced garlic
2 Tablespoons curry powder
1 Tablespoon tomato paste dissolved in 3 tablespoons water
1 Teaspoon fresh lemon juice
Salt/ fresh ground pepper
6 Medium semi ripe bananas
1 Small red bell pepper minced
Preheat oven to 400F degrees.
Heat oil in a large heavy skillet over high heat.
Add beef; break it up with a spoon cooking until browned and done.
Add onion, garlic and curry powder; stir and cook about 4 minutes.
Stir in tomato mixture and lemon juice; season with salt and pepper.
With a sharp knife slice bananas lengthwise just through the top skin.
Pull skin apart slightly; stuff each banana with the curried beef.
Arrange bananas in roasting dish; cover dish with foil.
Bake about 25 minutes or until bananas are tender and thoroughly heated.
Sprinkle with the red pepper and serve. Serves 6.
---
PORK with bananas and peanuts
Many delicious entrée recipes include bananas adding an unique taste.
¾ Pound onions (Peel and chop)
2Cloves garlic (Minced)
1 Tablespoon vegetable oil
2 Pounds boneless pork (Cut in bite size pieces)
1 Cup rice
1 Can (16 Ounces) tomatoes
1 Chicken bouillon cube
¼ Teaspoon paprika
¼ Teaspoon cinnamon
Salt/ pepper to taste
2 Bananas
½ Cup salted peanuts
Combine onions, garlic and oil in microwave safe casserole dish.

Microwave on HIGH 2 to 3 minutes; add pork and rice to dish.
Measure juice from tomatoes into bowl; crumble bouillon cup into bowl.
Add enough water to make 2 cups; add liquid to the casserole dish.
Chop the tomatoes into dish; add paprika, cinnamon, salt and pepper.
Cover dish with lid; cook on MEDIUM for 20 minutes.
Let mixture stand 5 minutes for rice to absorb the liquid.
Peel and slice bananas; stir bananas and peanuts into the casserole.
Serves about 6.