How to Make Freezer Foods
I learned how to make freezer foods when all my children were growing up. I still do but back then I had many more that were quicker to serve and I made them from heavier recipes. Having had three boys, they were always hungry. This was especially true during the time of year when they were so heavily involved in sports like football and basketball. It was important for me to keep on hand foods which were not only quick and easy but also good and healthy. (Homemade is always healthier!)

About this time of the year, with the beginning of the school year, I would start thinking about how to make freezer foods which I had not made before. Depending on how much space I had left in the freezer, I would plan new recipes that my children would like. In the spring I would start cleaning out my large freezer trying to use up all leftover from the winter. During the summer, besides canning many vegetables, there were some things I wanted in the freezer. The green pea is one vegetable that I like to have in the freezer. I really do not like the "mushiness" of canned peas and I use a lot of the fresh frozen peas in many of my salads and other dishes; they are so good.

HOW TO COOK PEAS with Indian seasoning
1 Medium finely chopped onion

3 Tablespoons melted butter

2 Cups frozen peas

1 Tablespoon chopped fresh cilantro

2 Tablespoons minced fresh ginger

1 Tablespoon ground cumin

¼ Teaspoon salt

Cook onion in butter in a large skillet over medium high heat; stir constantly until tender.
Add peas and remaining ingredients.
Cover and cook over medium heat until peas are tender crisp about 4-5 minutes; stir often.

---
Before I would start packing away convenient foods for the kids, I would gather together all the meats that I would need for the year to feed my family.  I filled the freezer with pork, beef, chicken and of course some types of fish and seafood. I always liked small portions of these meats because they thaw faster. I always packaged some of the hamburger and sausage in patties with wax paper between them for easy prying apart.

HOW TO MAKE FREEZER FOODS like these

MINI MEAT PIES 

When I learned how to make freezer foods I found these mini meat pies to have great flavor; simply put together and freeze. When needed pop in the oven frozen and bake 25 to 30 minutes. These make a delicious meal. They are small but hearty and make a full meal for many people. For big eaters just pop in an extra one!

4 ½ Cups flour

2 Teaspoons salt

1 ½ cups solid shortening

¾ Cup beer

3 Egg yolks

2 Pounds ground chuck

2 Cups beer divided

2 Teaspoons salt

½ Teaspoon black pepper

¼ Teaspoon dried thyme

1 Large clove garlic minced

2 ½ Cups finely chopped onion

1 ½ Cups finely chopped carrots

2 Cups sliced zucchini

3 Tablespoons flour

Combine 4 ½ cups flour and 2 teaspoons salt; cut in shortening until crumbly.
Add ¾ cup beer and egg yolks; stir with a fork until dry ingredients are moistened.
Shape dough into a ball, wrap in plastic wrap and chill.
Brown ground chuck in a large skillet stirring until it crumbles; drain well.
Return meat to skillet; add 1 cup beer, 2 teaspoons salt, pepper, thyme and garlic.
Bring mixture to a boil; cover, reduce heat and simmer 15 minutes.
Add onion and carrot; cover and simmer 15 minutes.
Add zucchini; cover and simmer 15 minutes or until vegetables are tender.
Combine remaining 1 cup beer with 3 tablespoons flour until smooth.
Add beer flour mixture to vegetable mixture stirring until thickened; set aside to cool.
Divide pastry dough into 18 portions; roll each into a circle 1/8 inch thick.
Spoon a rounded 1/3 cup of beef mixture on one half of the pastry circle.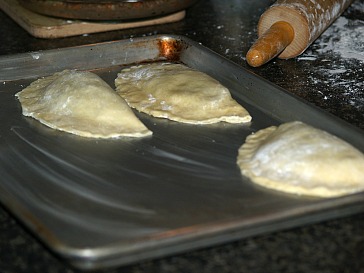 Mini Meat Pies
Moisten edges of pastry with water; fold circles in half and press edges to seal with a fork.
Place pies on a pastry sheet and cut slits in top to let steam escape.
NOTE: If you are using this recipe as freezer foods, you can now place in freezer. When they are frozen transfer to a large freezer bag to store until ready to use.
If you want to bake the pies immediately, place in oven at 425F degrees for 20 minutes or until golden brown.
---
It is much more convenient to have some of the chickens cut into pieces. By freezing the pieces on a tray, they will not freeze together; then I place the pieces in freezer bags to store. I like fish and seafood not only for the taste and health benefits but also it is very quick to thaw.  It is very convenient to put a quick healthy meal on the table.


After all this I could see how much space was left for my own homemade convenient foods. A lot of my favorite freezer foods are already cooked so I liked to use them up before three or four months. These things I plan on preparing several times a year but it is always necessary to have some ready when school begins. I cannot tell you how much my kids enjoyed these quick and convenient foods.


Back when my kids were at home, I would occasionally visit one of the "day old" bread stores. This was still very good stuff and I could buy it for pennies on the dollar. This was not only bread but hamburger buns and sub rolls. These can be quickly thawed in the microwave to make great hamburger and sub sandwiches.

MEATBALL SANDWICH RECIPE
These meatballs make a great freezer food. I cook them with the sauce and place 4 meatballs with sauce in small freezer bags. They are easy to heat in the microwave for a quick meatball sandwich recipe. I actually like them on sub rolls with a thin slice of mozzarella cheese. I also served with my homemade noodles and ravioli.

2 Slightly beaten eggs

3 Tablespoons milk

½ Cup fine dry breadcrumbs

¾ Teaspoon salt

Dash black pepper

1 Pound ground beef

½ Pound bulk Italian pork sausage

½ Cup finely chopped onion

½ Cup finely chopped green bell pepper

1 Can (8 ounces) tomato sauce

1 Can (6 ounces) tomato paste

2 Teaspoon sugar

1 Teaspoon garlic salt

½ Teaspoon dried oregano

¼ Teaspoon dried parsley

1 Cup water

Sub rolls

Combine eggs, milk, crumbs, salt and pepper; add beef and mix well.
Form into 24 meatballs each about 1 ½ inches; brown in hot skillet and remove to platter.
In same skillet combine sausage, onion and green pepper; cook until sausage is brown and drain fat.
Stir in tomato sauce, tomato paste, sugar, garlic salt, oregano, parsley and 1 cup water.
Return meatballs to skillet; cover and simmer 15 minutes stirring once or twice.
Cut thin slice from tops of rolls and hollow out leaving ¼ inch walls; fill each meatballs and sauce.

---
My children have always loved pastas so I would always freeze homemade noodles and sometimes ravioli or perogies. These things made a great meal by boiling in water or broth; add a little cooked chicken or meat and it is a whole meal with a small salad. Fresh herbs with these recipes will add a lot of flavor. Since it is hard to always have fresh, I simply throw my favorites in the freezer; especially parsley, basil and cilantro.


I have always used a lot of fresh lime, lemon juice and lemon peel in my cooking. For this reason, I include these in my freezer foods. I buy the lemons and limes, squeeze the juice in ice cube trays and freeze; after freezing I throw the cubes in plastic freezer bags. I also freeze some of the rinds for when I need them.


Beans have played a large role in my winter cooking; it could be green beans or any of the many dried beans. My freezer foods must include seasonings for these recipes.  I stock various seasonings for the beans like ham hocks, ham slices, bacon and meat bones.


I could never pass up sweets so my freezer foods always include something sweet.  I always like to have a couple of pies, a cake or some other bake pastry just in case company drops by. Most of these can be thawed in a reasonable amount of time.  Cookies are another thing that was often found in my freezer; these are even great while still frozen. Large cookies can be packed with wax paper between them for prying apart when you only want to thaw a couple. Frozen muffins make a quick breakfast, a snack or just a treat any time of the day.

STRAWBERRY MUFFIN RECIPE

1 ½ Cups chopped strawberries

3 Tablespoons sugar

¾ Teaspoon cinnamon

2 Cups flour

1 Tablespoon baking powder

½ Teaspoon salt

1 Beaten egg

½ Cup milk

½ cup sour cream

1/3 Cup melted butter

½ Cup brown sugar

Preheat oven to 400F degrees.
Toss strawberries with cinnamon and sugar.
Sift together flour, baking powder and salt.
Add remaining ingredients stirring just until moistened.
Fold in strawberries.
Fill paper lined muffin tins ¾ full and bake 20 minutes.