How to Make French Onion Soup 
I learned how to make French onion soup because it is one of my favorites. It is light enough to serve with a dinner or it goes well with just a salad or sandwich. A hot bowl right out from under the broiler with the cheese melting is delicious on a cold day.
It is no wonder that onion soup became so popular. Onions have been around for centuries. Although they were once thought to be a poor man's food, it didn't take long to realize the flavor was worth eating by everyone. This is one thing that I never allow myself to run out of. I even keep dried onions and powder as backups.
Because of the wonderful flavor onions add to every dish, I use more onions than any other item. When I was young, I remember hearing of people who packed plain onion sandwiches for their lunch or maybe peanut butter and onion sandwiches. I sure add onions to many sandwiches! Do you remember how popular the liver and onion dinner used to be? Yes, I see why I learned how to make French onion soup and it became a hit.
After I learned how to make French onion soup I read that the original version which came from France during the eighteenth century is made with a blend of beef and chicken broths. The rich "oniony" flavor of the soup comes from caramelizing the onions until golden brown before adding them to the soup. Traditionally a large dried crouton is placed on top of a crock of soup; on top of the crouton is placed a slice of cheese. It is then placed in the oven, under a broiler until the cheese melts.


HOW TO MAKE FRENCH ONION SOUP RECIPE
This is my favorite and very simple to make; I love the sherry flavor and mozzarella cheese.
4 Medium sliced sweet onions
1 Tablespoon butter
1 Quart flavorful beef broth (I use beef base or bouillon to water to make a flavorful broth)
½ Cup sherry
Rounds of toast
Fresh Mozzarella cheese, sliced
From slices of bread cut to fit bottoms of your bowls; then toast.
Lightly brown the onion slices in the melted butter. Add the beef broth and simmer until the onions are tender. Blend in the sherry and remove from heat. Place the toast in the bottom of the bowls and ladle the soup over the toast. Cover the top of the soup with sliced mozzarella cheese. Place under a broiler for a couple of minutes until the cheese melts.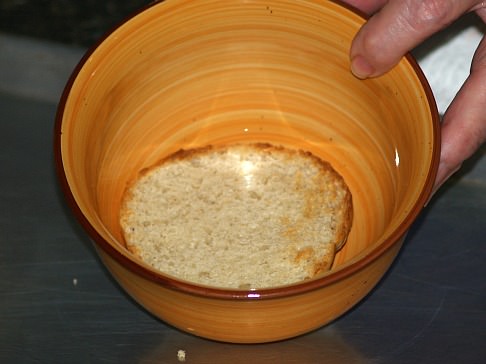 Assembling French Onion Soup Step 1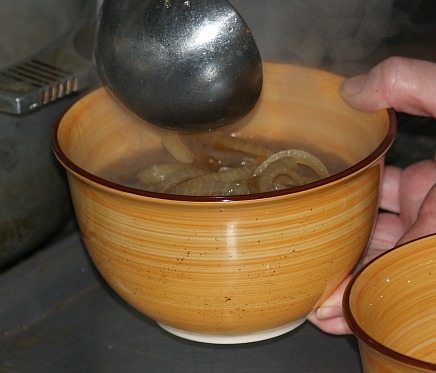 Assembling French Onion Soup Step 2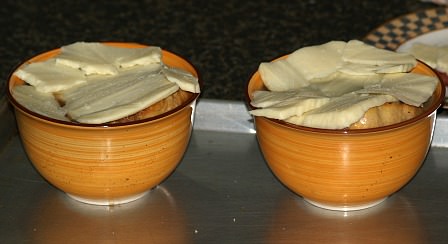 Assembling French Onion Soup Step 3
---
FRENCH ONION SOUP RECIPE with Gruyere cheese croutons
This recipe is also very good but has a little more flavor with the thyme and bay leaf; Gruyere cheese is also delicious.
2 Pounds sweet onions
2 Tablespoons vegetable oil
2 Tablespoons melted butter
1 Clove minced garlic
2 Tablespoons flour
5 Cups beef broth, divided
1 Bay leaf
¼ Teaspoon dried thyme
¼ Teaspoon salt
2 Teaspoons lemon juice
Fresh ground black pepper to taste
Cheese croutons
Cut onions in half lengthwise; cut crosswise into thin slices.
Cover and cook onions in oil and butter in a large Dutch oven over medium low heat for about 20 minutes stirring often.
Stir in the garlic and cook uncovered for 30 minutes, stirring often.
Sprinkle onion mixture with flour and cook 2 minutes stirring consistently.
Add 1 cup broth and bring to a boil; boil 1 minute.
Add remainder 4 cups broth, bay leaf, thyme and salt; stir well.

Bring to a boil, reduce heat and simmer uncovered 20 minutes.
Stir in lemon juice and pepper; remove and discard bay leaf.

Ladle 1 cup soup into individual bowls and top with a cheese crouton.
Serve immediately.
Cheese croutons

4 (3/4 inch thick) diagonally sliced French bread slices

1 Clove crushed garlic

2 Ounces thinly sliced Gruyere cheese

2 Teaspoon grated Parmesan cheese

Preheat oven to 375F degrees.
Place bread slices on a baking sheet; bake for 15 minutes or until golden brown.
Rub each slice of bread with garlic.
Place Gruyere cheese on top of bread and sprinkle with Parmesan cheese.
Bake for 3 minutes or until cheese melts.
---
CREAM OF ONION SOUP RECIPE
This is a very good onion flavored soup for those who like a little more hardy soup or thicker soup.
2 ½ Cups finely diced onions
¼ Cup butter
3 Cups half and half cream
Salt/pepper
Grated Cheddar cheese
Melt butter in heavy saucepan; sauté onions on low heat until very tender but do not brown.
Add cream and season with salt and pepper; top hot soup with grated Cheddar cheese to serve.
---
FRENCH ONION SOUP RECIPE
This recipe is still a little different, blending the sherry with bay leaf seasoning and changing the cheeses to Parmesan and Provolone. Remove bay leaf before serving.
¼ Cup butter
2 Full cups sliced onions
Salt and pepper to taste
1 Bay leaf
1 Ounce dry sherry
1 Can beef consommé
2 Cans chicken broth
6 Large croutons
6 Teaspoons grated Parmesan cheese
6 Slices Provolone cheese
Melt butter and sauté onions until light brown; add salt, pepper and bay leaf.
Add the sherry wine and simmer for a few minutes; add beef consommé and chicken broth.
Bring to a boil; reduce heat and simmer for about 20 minutes.
Place 1 large crouton in each of bowls; add ½ teaspoon Parmesan cheese to each bowl.
Ladle hot soup in each bowl; top each bowl with a slice of Provolone cheese.
Place bowls on a tray and place under broiler long enough for cheese to melt and bubble.
---
FRENCH ONION SOUP with vermouth
3 Cups sliced onion
3 Tablespoons butter
1 Quart beef bouillon
2 Tablespoons flour
¼ Cup vermouth
1 Cup grated Parmesan cheese
1 Small piece grated Swiss cheese (About 2 ounces)
Sour dough bread rounds
Sauté onion in melted butter 15 minutes.
Combine salt and flour with vermouth into paste; stir into sautéed onion avoiding lumps.
Combine all ingredients EXCEPT cheeses in a slow cooker and simmer for 6 to 8 hours.
Place in soup bowls and top with bread and cheeses; broil to melt cheese.