How to Make Fried Green Tomato Recipes
I loved learning how to make fried green tomato recipes. There is nothing more "Southern" this traditional Southern recipe; according to the "Southerners". I do love the cooking here in the South and fried food is a specialty. I especially love the fried fish here; they really know how to season the batter. It seems this year everyone has started a garden and some of the recipes I have heard about sound delicious. So many people have told me about their fresh vegetable recipes. I am going to be trying some of the corn dishes and green bean recipes; they really sound tasty.

It was quite a few years after I moved to Florida that I learned how to cook fried green tomato recipes; southern style. I would have expected the claim for corn recipes or even some of the many cucumber tomato salad recipes but I was surprised about this tomato recipe. It seemed like overnight I was hearing from all the original Southerners, not just Floridians but also transplants from Georgia, Mississippi, Tennessee and other states of the South; this fried tomato one is a traditional Southern recipe.


I started asking more questions about this traditional Southern recipe since like mashed potatoes the fried green tomato recipe has always been in my life. I found it very interesting thinking I was coming to the "source" of the recipe. After many questions, I found that most of these people only began making this dish as recently as around the late 1989 to around late 1990's. This dish was as common to me as having a bowl of tomato soup or Mom putting on a pot with one of her bean recipes. I could remember in my own mind of having them every summer since 1950 and I am sure my family knew how to make fried green tomato recipe even before that. How strange!


I had to do more research on this fried green tomato recipe. My older siblings remember of always having this dish throughout the summer when our garden was producing. It is now apparent that my ancestors brought this recipe from Germany years ago. They arrived through Pennsylvania in the 1700's coming with their church. I know they brought with them their knowledge they had of how to cook beets and how to cook turnips; these were common foods through my entire life. They also brought with them many of their old recipes, this one for fried tomatoes being one. So much for that traditional Southern recipe!

HOW TO MAKE FRIED GREEN TOMATO RECIPE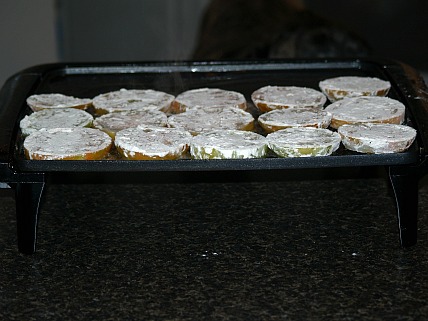 Fried Green Tomatoes
This is the basic recipe which my family used for many years.
Green or slight red tomatoes

Flour

Salt/ pepper

Lard for frying

Wash, core and cut tomatoes in ¼ inch slices (cross width).
Season four with salt and pepper; dip each slice in seasoned flour.
Fry quickly in hot fat making sure both sides are brown.
Drain on paper towels; add more salt and pepper if needed.
NOTE: When making my fried green tomato recipe, now I use paper towels to drain but when I was young we did not have paper towels. Mom would save the white rags from old sheets etc. She always bleached them and washed in hot soapy water and kept for uses like this.

---
Many of the German cooks in Pennsylvania today treat the tomato like a fruit instead of a vegetable. I have to believe that this shows a difference in the times. As I said my family arrived in the United States in the 1700's; a much more conservative time. I am sure sugar was a luxury.

My family always treated tomatoes as a vegetable. Actually they never used sugar in much of their cooking except when making things like pies and cakes and these were infrequent. I do remember Mom and Dad making tomato preserves and a small spoonful might be added to stewed tomatoes. Other than this, tomatoes were served as a vegetable.

There was another influx of immigrants in the 1900's. At this time there was a whole new picture of the United States when they arrived. This is not to say it was easy for any of them when first arriving but the entire United States had changed a lot through those years and sugar became more available.

GERMAN PENNSYLVANIA RECIPE
Instead of fried green tomato recipe this takes red plum tomatoes. That is something else which we never had when I was young. Dad grew several varieties of tomatoes but I never heard of the plum tomatoes until I was older.
1 Pound of firm red plum tomatoes cut lengthwise in ½ inch slices

1/3 Cup flour

1 Teaspoon salt

½ Teaspoon black pepper

Butter

¼ Cup packed dark brown sugar

½ Cup heavy cream

Chopped parsley for garnish

Lay tomato slices on paper towels to dry; sprinkle slices with salt and pepper.
Put flour in shallow bowl; dip tomato slices in flour coating both sides.
Melt butter in a large skillet over medium heat.
Add tomato slices and cook about 5 minutes until browned on bottoms.
Sprinkle each slice with 2 tablespoons of sugar and turn over with spatula.
Cook about 4 minutes longer until golden on bottom but still holds their shape.
Transfer to a serving platter.
When all tomatoes have been cooked, pour cream into skillet and bring to a boil on high heat.
Stir cream constantly until it thickens about 2 to 3 minutes; pour over tomato slices.
Garnish with parsley to serve.

---
HONEY MUSTARD SAUCE RECIPE
3 Tablespoons sour cream

2 Tablespoons Dijon mustard

1 Tablespoon honey

1 Tablespoon water

Combine all ingredients in a small bowl; blend well and chill until serving.
This is great with any fried green tomato recipe or any tomato recipe.

---
FRIED TOMATOES AND ONIONS
3 Green tomatoes thickly sliced

3 Red tomatoes thickly sliced

1 Large thickly sliced onion

2 Eggs

½ Cup milk

½ Cup cornmeal

Salt/pepper

Garlic salt

Oil for frying

Chopped parsley

Mustard sauce recipe

Baked cornbread

Combine eggs and milk; beat well.
Combine cornmeal, flour, salt, pepper and garlic salt; blend well.
Dip each pieces of tomato and onion in egg mixture and then in cornmeal mixture.
Deep fry in hot oil until golden brown on both sides.
Layer a slice of fried red tomato, fried onion slice and top with slice of fried green tomato.
Garnish with chopped parsley; drizzle with mustard sauce recipe over the top.
Serve with piece of cornbread.

---
FRIED GREEN TOMATO RECIPE IN BACON GREASE
Hot bacon grease at one time was used to season many dishes; the flavor makes everything so good. I still save all my bacon grease to use in other cooking. By frying green tomatoes in hot bacon grease it makes them delicious and more flavorful.
6 Large firm green tomatoes

1 Cup cornmeal

Salt/pepper to taste

Bacon grease

Ash, dry and cut tomatoes in ¼ inch thick slices.
Season with salt and pepper; dredge them in the cornmeal.
Heat bacon grease in a large skillet and fry slowly on both sides until brown.

---
OVEN FRIED GREEN TOMATO RECIPE
8 Slices green tomatoes cut ½ inch thick

Butter flavored vegetable cooking spray

1 Tablespoon Wishbone Italian salad dressing

½ Cup soft bread crumbs

1/8 Teaspoon salt

1/8 Teaspoon onion powder

1/8 Teaspoon black pepper

Arrange tomato slices on baking sheet coated with cooking spray; brush dressing on each slice.
Combine breadcrumbs, salt, garlic and pepper; spoon 1 tablespoon crumb mixture on each tomato slice.
Spray each slice with cooking spray; bake in preheated oven at 400F degrees for 18 to 20 minutes.

---
TOMATO FRITTERS RECIPE
This may not be a fried green tomato recipe but these are delicious; I thought you might like to try this one.
1 Cup flour

1 Teaspoon baking powder

1 Teaspoon sugar

¾ Teaspoon salt

1/4 Teaspoon dried basil

1 Can (28 ounces) drained whole tomatoes

1 Tablespoon finely minced onion

1 Tablespoon minced parsley

½ Teaspoon Worcestershire sauce

1 Egg
Vegetable oil for frying

Cut whole tomatoes into about ½ inch pieces; place on paper towels to drain.
Beat egg in small bowl and set aside.
Combine flour, baking powder, sugar, salt and basil in large bowl.
Add tomatoes, onion, parsley, Worcestershire sauce and beaten egg to flour mixture.
Blend mixture lightly with a fork.
Heat ¼ inch deep oil in a pot or electric skillet.
Drop batter by tablespoon into hot oil patting down slightly with back of spoon.
Turn one time frying until golden brown on both sides.