How to Make German Cuisine
All of my family learned how to cook the German cuisine at very young ages. These foods were always included in our holiday recipes during the Christmas and New Year's season. This came from my dad's German heritage. Calories were certainly not spared in any German recipe.
Even though our family has been in America since the 1700's, from Dad's German heritage came his "iron fist" ruling of our home. I never talked much to my dad during my young years. Mom was a "softie" so if I wanted Dad to do something for me, I would tell Mom. Since Dad was retired when I was a teenager, he was always willing to haul all of us girls places, but if you rode with him you had better ride home with him! He had his rules and believe me, I didn't want to break them! It was funny to me that as soon as I got out of school, my stern father also became a "softie". With my children, they never did any wrong as far as my dad could see.
We raised hogs when I was young, which pork was also a part of Dad's German cuisine. The fall was butchering time and it still radiates good memories for me. Even though the slaughterhouse did the actual butchering, it was a busy time around our home. I can remember each year, Dad and my brothers would turn our old garage building into a smoke house. Hams, bacon and whatever were hung in here for days for the smoking process.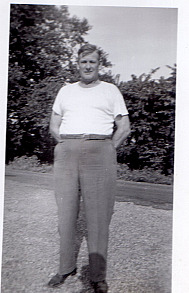 My German American Dad
Every time we butchered, Dad would make his German cuisine special of piggy pudding or what many call blood pudding. He put many parts of the hog in a huge kettle on the kitchen stove and began the slow process of cooking. After hours of cooking, the meat would fall from the bones. He would grind this meat with many onions. In the end he poured the mixture into pans to set up in the refrigerator. This would be sliced and made into cold sandwiches.
I can still remember the aroma of fresh cracklings being warmed to eat like people do potato chips today. Also from Dad's German cuisine is the panhaas, another by-product from butchering. Both the pudding and panhaas are made in conjunction with each other and are part of the German cuisine.
HOW TO MAKE GERMAN CUISINE like this


PANHAAS (some call a scrapple recipe) 
3 Cups broth
2 Cups cooked pork
2 Teaspoons salt
½ Teaspoon pepper

Cornmeal
To make broth, boil together one cleaned hog's head, heart, liver and pieces of pork for several hours. Remove the meat from the bones and grind. (The remainder of this meat is used in the piggy pudding).
In a heavy kettle bring the broth to a boil. Stirring continuously, sprinkle the cornmeal into the broth until a consistency of mush has been achieved. Add the meat and seasonings. Stir constantly for 15 minutes and then frequently for half an hour. Pour into loaf pans 3 inches deep and set to cool. Store in refrigerator.
To serve slice ¼ inch thick and fry in hot fat. I remember having homemade tomato preserves or molasses with this panhaas. Something else from Dad's German cuisine and a by-product of butchering day was pickled pig's feet or souse meat. It is pig's feet on the bone and when meat is removed it is souse meat.
---
SOUSE MEAT
Salt brine
2 Pig's feet
1 Pork tongue
½ Cup cider vinegar
Make salt brine strong enough to float an egg. Soak the pig's feet and tongue for two weeks. Drain and then cover with clear water. Boil for several hours or until the meat falls from the bones. Discard the bones, gristle and skin. Chop meat very fine and place in a loaf pan or similar shaped casserole dish. Bring broth to a boil add vinegar. Pour over chopped meat, stir and set to cool. To serve unmold and slice. Good on sandwiches with mustard.
---
For Christmas dinner, we almost always had one of our smoked hams. No one had to tell Dad how to cook ham because our fresh smoked hams were always delicious. As far back as I can remember we had onion rolls to go with our ham for sandwiches. These were baked by "Woody's", our local supermarket.
Woody's was a "state-of-the-art grocery store"; better than anything we have today. People came from all over to shop here. The store had a great impact on us locals; many like myself by working there. You could say that it was the cornerstone to our small community. At holiday time, one could see the appearance of the German cuisine come to life at Woody's. Barrels of kraut, pickled pig's feet and dill pickles would deck the aisles as you entered the store. The aroma of the baking hams, cakes and bread lingered in your nostrils long after leaving the store.
Anyway, I have tried many times to come up with something close to those onion rolls. I wish Dad was still around to give me his opinion, and I know he would.
ONION ROLLS
2 ½ Cups milk
2 Packages yeast
½ Cup Crisco shortening
1 Beaten egg
1 Tablespoon salt
½ Cup sugar
6 ½ Cups flour
1-2 eggs for wash
4-5 Onions chopped (more if you like lots of onion)
Preheat oven to 375F degrees.
Heat milk to lukewarm. Add the Crisco and yeast; stir to dissolve. Add sugar, salt and egg; stir to blend. Stir in 5 cups flour and stir. Add enough of remaining flour to knead. Dump dough onto floured board and knead just until elastic. Cover and let rise until double in bulk. Punch down and shape into balls (about ½ cup size). Dip each ball into egg wash and then roll into chopped onions, pressing them in with your hands. Place rolls on a greased cookie sheet pan. Cover and let rise. Bake about 12 minutes or until brown.
In the next weeks leading up to Christmas and New Years, I will try to give you some more delicious recipes to try out. I hope everyone in the US had a wonderful Thanksgiving and the rest of you have a good time trying new recipes.
---
GERMAN KRAUT BISCUITS RECIPE
Some of my favorite recipes are from my family's long ago German cuisine.

½ Pound sliced bacon
1 Quart sauerkraut (Drain well)
1 Large onion (Peel and slice)
½ Teaspoon coarsely ground black pepper
2 Cups flour
2 Teaspoons baking powder
 ½ Teaspoon salt
½ Cup chopped fresh parsley
¼ Cup cold butter (Cut into little pieces)
1 Cup heavy whipping cream

Cook bacon crisply in a large skillet; remove from pan, crumble and set aside.
NOTE: Drain bacon fat from skillet leaving about 2 tablespoons.
Add onion and sauerkraut to the skillet; cook and stir until onion is tender.
Season with pepper; set skillet off to cool while mixing biscuit dough.
PREHEAT OVEN TO 375F degrees.
Combine flour, baking powder, salt and parsley in mixing bowl.
Add firm butter; work into flour mixture with fingers until crumbly.
Stir in the cream to make a soft dough; turn out onto a floured surface.
Knead dough until smooth; roll out to a rectangle about 12X17 inches)
Spread cooled kraut mixture over the rectangle; roll up from long side.
NOTE: Makes a roll 17 inches long.
Slice the roll in about 10 slices; place on lightly buttered baking sheet.
Bake about 25 minutes until lightly browned; serve hot.
NOTE: These a great for breakfast with eggs, for lunch or brunch with salad or a snack.

---
HAMBURGER STEAKS with onion mushroom gravy
This is a good recipe for everyday German cuisine.
2 Pounds ground hamburger
2 Eggs
1/3 cup finely chopped onions
2 Tablespoons Worcestershire sauce
1 Teaspoon garlic powder
1 Teaspoon dried parsley 
¼ Teaspoon black pepper
½ Medium sliced onion
1 Cup sliced mushrooms
About 1 cup flour divided
Oil for browning
Salt/ pepper
3 Cups water
Preheat oven to 375F degrees.

Combine hamburger, chopped onion, eggs, Worcestershire sauce, garlic powder parsley and pepper; mix to blend.
Shape mixture into patties, coat with flour and brown in 3 tablespoons hot oil; place patties in baking dish.
Sauté onions and mushrooms in skillet.
In a bowl add water to 1/3 cup of flour slowly while blending; stir into skillet.
Cook and stir until thickened; season with salt and pepper.
Pour over hamburgers patties; bake 20 to 30 minutes until bubbly and patties are done.
---
EGGS IN SPINACH WELLS
Preheat oven to 350F degrees.
2 Tablespoons butter
4 Eggs
2 Packages (10 ounces each) frozen chopped spinach
2 Tablespoons diced onion
1 Cup whipping cream
½ Cup shredded Cheddar cheese
Salt/ pepper/ nutmeg
Preheat oven to 350F degrees.
Melt butter in skillet; add onion and sauté until golden.
Add spinach to skillet and sauté until thawed; pour cream over spinach and cook over low for 5 minutes.
Season with salt, pepper and nutmeg; pour into a shallow casserole dish.
Make 4 wells in the spinach mixture; drop a raw egg into each well.
Sprinkle cheese over top leaving the yolks of the eggs free.
Bake for 10 minutes or until eggs are cooked.