How to Cook German Food 
Learning how to cook German food always ranks very close to my heart. It is the foundation of my heritage. It is hard to find a good German restaurant serving authentic food. When I was told of a very good restaurant, I could not wait for a chance to go there. Hollerbacks Willow Tree Café was certainly worth the drive to experience the atmosphere and the delicious food. It is located at 205 East First Street in Sanford Florida.
This establishment is owned and very capably operated by Theo, Linda and Christina Hollerback. They learned how to cook German food from their families recipes. The extensive menu of German food offers something for everyone's taste buds. Konny and our waitress, Debby were very helpful in reviewing the menu with us. Included on the menu was my family's favorite German food recipes like a sauerkraut recipe and potato pancakes. Also on the menu was the ever favorite Wiener Schnitzel recipe, which I could not wait to try.
HOW TO COOK GERMAN FOOD like this


POTATO PANCAKE RECIPE 
My family makes potato pancakes from leftover mashed potatoes or shredded potatoes.
6 Large potatoes, peeled and grated fine
1 Large grated onion
3 Eggs
1 Teaspoon salt
1/8 Teaspoon pepper
5 Tablespoons flour
Vegetable oil
Grate potatoes into fresh cold water. Drain and squeeze out excess water. In a large bowl mix thoroughly together the potatoes, onion, salt, pepper, eggs and flour. Heat a little oil in a large skillet or griddle. Drop mixture onto oil with a ¼ measuring cup. Fry until mixture is brown on both sides. Serve with applesauce or sour cream.
---
Hollerbacks tell diners on the menu that finding the perfect Schnitzel is a popular pastime for Germans and visitors alike. Recipes vary throughout the countryside and guests explore and seek out their favorite Schnitzel Haus. The Wiener Schnitzel here is hand trimmed, cut and pounded in the manner taught by the grandfather, a Master Butcher. These are prepared and served in the style of the famous Eifelerhof Hotel in Kyllburg where the family originates.
My hand trimmed veal was lightly breaded, fried to a golden brown and served with a traditional lemon wedge. It was delicious! I can understand searching for the perfect Schnitzel. The perfect cut of thickness is a must to produce a good end result. Frying it too long or at too hot a temperature would produce a hard Schnitzel. Mine was perfect!
WIENER SCHNITZEL RECIPE
2 Veal steaks
Salt/pepper
1 Beaten egg
1 Tablespoon water
¾ Cup fine bread crumbs
½ Cup flour
3 Tablespoons cooking oil
Mix egg with water with a fork. Pound the veal steaks out to ¼ inch thick. Sprinkle with salt and pepper. Dip veal into the flour, then the egg- water mixture and last the bread crumbs. Fry in oil until golden brown on both sides. Serve with lemon wedge.
---
They know how to cook another popular German food which is sausage. Other guests dining with me chose the "Wurst Liebber". This is a plate of four sausages; Bratwurst, Weisswurst, Mettwurst and the Knockwurst.
As with all the meals you have selections from the side items. Being our family's favorite, we all had to try the delicious potato pancakes. I also wanted to try their homemade noodles since I make them quite often. They were very good and served with a Rahm sauce. The others had the red cabbage cooked with apples which was also very good. (I had to sample it.)
We also stopped by the bar to talk to the bartender, Cory. He was so kind to review all the mugs and large containers in which he serves the German beer. You can really get some large ones! I told him if any of you have the privilege of dinning at Hollerbacks, I would tell you to stop by and see him. He is great!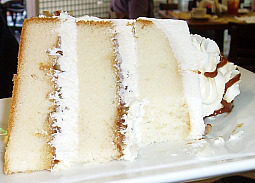 I don't want to leave out the delicious German desserts, which is always my favorite part of the meal. They offer a great selection of pies, cakes and other desserts. I tasted the white cake with raspberry filling and coconut frosting. Also I sampled the rum cake. Both were delicious but these two were only a part of what the restaurant offered.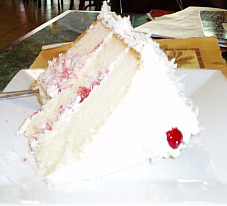 Great authentic music is provided in the evenings; 6-9 PM on Thursdays through Sundays and 7 to 10PM on Fridays and Saturdays. What a great time! Everyone gets into the festive occasion. Reservations are important. I am told they could be booked up from two to four weeks. It is all worth the planning ahead.
The staff also informed me about a new addition. A new store is being opened right around the corner. The Magnolia Square Market will carry all kinds of German food. This will house a delicatessen, butcher shop, bakery, beer and wine. It will carry groceries, ready to eat items, imported European items and much more. All this with a German flair!
---
PEACH KUCHEN RECIPE (Pfirsichkuchen)
This German food recipe is a delicious cake for dessert.
2 Cans (29 ounces each) sliced peaches

2 ½ Cups flour

1 ¼ Cups sugar

1 Teaspoon baking powder

1 Cup butter

1 Egg

1 Teaspoon vanilla extract

¼ Cup chopped walnuts

1 Tablespoon butter

Drain peaches; set aside,
Combine flour, 1 cup sugar and baking powder in a large bowl.
Cut the 1 cup butter into the flour mixture until mixture is crumbly.
Set aside 1 ½ cups of crumbly mixture for making streusel.
Beat egg and vanilla together and pour over remaining crumbly mixture.
Mix thoroughly until it becomes very stiff.
Grease 10 inch spring form pan.
Wet fingertips and spread dough on bottom and halfway up sides of pan.
Spread peaches evenly over the dough.
Combine nuts, ¼ cup sugar and 1 tablespoon butter with the 1 ½ cups of mixture set aside.
Sprinkle this mixture over the peaches.
Bake in preheated oven at 375F degrees for about 45 minutes until top is lightly browned.