How to Make Halloween Food Recipes
It is time to learn how to make new Halloween food recipes. When my kids were young, I loved anytime to make the day special for them; this included Halloween. Years ago I loved making all kinds of treats for the kids who came around gathering up their bags of treats; colorful sugar cookies, popcorn balls and Halloween candy.

Most of us like to celebrate this day in some form; most include learning how to make new Halloween food recipes. Parties are so popular this time of the year and good food is always tops in popularity. With a little planning these can be done without too much effort and expense. I am planning for 24 guests as are the following Halloween food recipes. (You can break the recipes in half or 1/3 for less)


This year I am centering my party around a gingerbread haunted house. It is colorful and interesting. Because it was the most time consuming of all the food, it is finished and I have placed it in the freezer until party time. The wonderful aroma and taste of the gingerbread combined with the colorful candy and cookie decorations is sure to make it a winner.

Learning how to make most of my Halloween food recipes are very simple to assemble and less time consuming but can also be prepared in advance. I do recommend preparing ahead of time so you are rested and ready to greet your guests. The chicken nugget recipe is quite easy to prepare. Dip the chicken pieces in the buttermilk and roll in the mixed breading. At this point after placing on the greased tray, place in the refrigerator until ready to pop in the oven for serving.

The sweet sour recipe is also a great Halloween food recipe because it can be made a day ahead. After cooking and cooling, put it in a covered bowl and refrigerate. Before serving bring to room temperature or heat to take the chill off; it doesn't have to be hot.

The marshmallow fruit salad recipe is very simple to assemble and also can be made ahead of time. It is so easy but you would think from the raves it gets that it is a gourmet's delight. The flavor of the combination of fruits, marshmallows and yogurt is delectable.

Besides having Halloween food recipes, of course, we have to have something to drink. To fit into the season I have chosen an apple cider punch recipe. Since fresh cider is in season now, I felt this to be the perfect drink.

When I got to this point, I still felt my menu was a little skimpy; I always like to have plenty of food. I am going to add some vegetable trays but I still want at least one more filling dish. The perfect match to these Halloween food recipes and always a hit at any get together has to be a recipe for macaroni and cheese. This also can be prepared ahead, refrigerated and baked before serving

I will decorate the table with pumpkins and colorful Halloween decorations. These always put the guests in a celebratory mood!

HOW TO MAKE A HAUNTED HOUSE (with gingerbread cookie recipe)
This recipe would be nice as a Christmas recipe decorated in red and green for that holiday.
½ Cup packed brown sugar

¼ Cup softened butter

¾ Cup dark molasses

1/3 Cup cold water

3 ½ Cups flour

1 Teaspoon baking soda

1 Teaspoon ground ginger

½ Teaspoon salt

½ Teaspoon ground allspice

½ Teaspoon ground cloves

½ Teaspoon ground cinnamon

1 Frosting recipe (below)

Wafer cookies, Fudge strip cookies

Candy pumpkins, candy corn, M &M's

Gauze ghost, yellow paper for windows, black paper for bats & cat

Preheat oven to 350F degrees.
Grease and line with wax paper 9X13 inch baking pan and 9 inch square pan.
Mix brown sugar, butter and molasses in a large bowl; blend in the water.
Combine and sift the flour, soda, ginger, salt, allspice, cloves and cinnamon; stir into wet mixture.
Press 1/3 of dough into 9 inch square pan; press remaining dough into 9 X 13 inch pan.
Bake about 15 minutes or until no indentation remains when touched in center.
Cool 5 minutes; invert onto large cutting surface.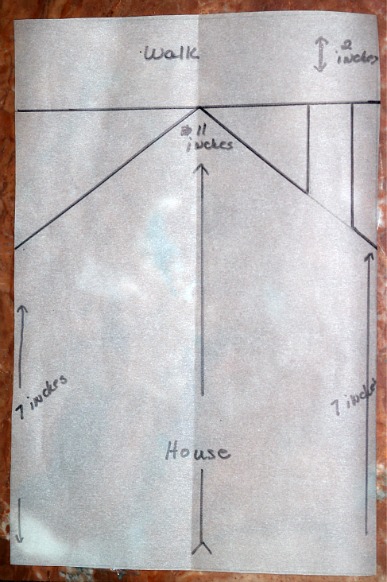 Haunted Halloween House Diagram
Diagrams of how to cut cake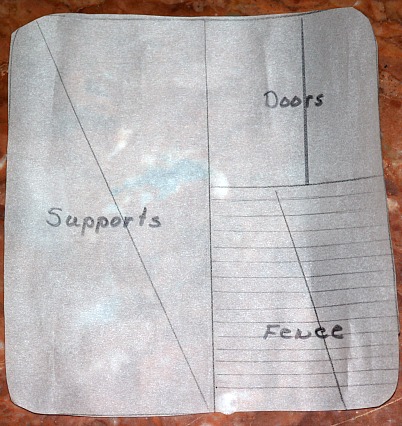 Haunted Halloween House Diagram
Cake cut according to the diagrams above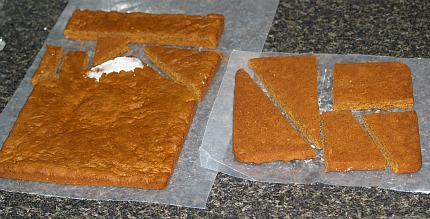 Gingerbread Pieces to Build Haunted Halloween House
Immediately cut as illustrated by diagram; let cool completely.
Decorate front of the house as desired using frosting to attach candy and cookies.
I used fudge strip cookies to look like post on the fence part of gingerbread cookie.
Cut yellow paper for the windows and to place behind partially opened doors (I used frosting on the one side of the door and used broken toothpicks to prop open the doors)
Use frosting to attach supports to the back of the house.
Use frosting to attach bottom of house and supports to cardboard. (I set a heavy bottle behind house until dried)
Use frosting to attach walk to cardboard.
Use frosting to attach fence in front.
Decorated with candy pumpkins and candy corn as desired.

FROSTING RECIPE

2 Cups powdered sugar

1/3 Cup softened butter

¼ Teaspoon vanilla

1 Tablespoon milk (If frosting becomes too still add a little more milk)

1 Tablespoon dark molasses

Beat butter, vanilla, molasses and milk together; gradually beat in the sugar.

---
MARSHMALLOW FRUIT SALAD RECIPE
Whether this recipe is included in the Halloween food recipes, for any party or even served with a family dinner it is always a big hit; nice for an Easter recipe.
3 Cans (20 ounces) pineapple chunks drained

3 Cans (16 ounces) mandarin orange segments drained

3 Cups miniature marshmallows

1 ½ Cups orange flavored yogurt

6 Sliced bananas

Combine in a large bowl pineapple, oranges, marshmallows and yogurt.
Cover bowl and chill several hours to blend flavors.
Just before serving add bananas and toss to coat.
Serves 24 (1/2 cups)

---
CHICKEN NUGGET RECIPE
This chicken nugget recipe with sweet sour sauce recipe make great Halloween food recipes as well as anytime of the year; great for New Years Eve buffet
6 Pounds boneless chicken pieces

2 Cups buttermilk

3 Cups bread crumbs

1 Tablespoon onion salt

¾ Teaspoon garlic salt

1 ½ Teaspoon black pepper

1 ½ Teaspoon crushed savory

1 ½ Teaspoon curry powder

Preheat oven to 400F degrees.
Dip chicken pieces in buttermilk.
Roll chicken in mixture of bread crumbs, onion salt, garlic salt, pepper, savory and curry.
Arrange on greased baking sheet; do not overlap.
Bake 10 minutes at 400F degrees; reduce heat to 350 and bake until chicken is done (not dry-about 20 minutes longer)
Serve with sweet sour sauce recipe (below) About 24 servings

SWEET SOUR SAUCE RECIPE
1/2 Cup sugar

1/4 Cup white vinegar 

2 Tablespoons prepared mustard

1 Teaspoon ground ginger

1 Cup pineapple juice
1 Tablespoon cornstarch

Combine sugar and vinegar in small saucepan; cook and stir over medium heat until sugar dissolves.
Remove from heat; stir in mustard and ginger.
Combine cornstarch and juice in a heat proof bowl stirring until blended.
Gradually stir 1/4 of hot mixture into cornstarch mixture. 
Return cornstarch mixture to remaining hot mixture stirring constantly.
Cook and stir over medium heat until smooth and thickened.
---
APPLE CIDER PUNCH RECIPE

this is always included in my Halloween Food Recipes
Fresh apple cider makes this a necessary drink to go with the Halloween food recipes.
6 Cups sugar

8 Cups water

1 Gallon sweet cider

½ Gallon orange juice

2 Cups lemon juice

Cook sugar and water for a few minutes until sugar is dissolved.
Pour in cider, orange juice and lemon juice; cool and strain mixture.
Place mixture in freezer until it becomes partly ice; serve.

---
RECIPE FOR MACARONI AND CHEESE
This makes a delicious filling recipe to round out the Halloween food recipes. It is always welcomed at any meal time; add it even to a Christmas buffet.
3 Boxes (8 ounces each) elbow macaroni

3 Cartons (16 ounces each) cream style cottage cheese

2 ¼ Cups sour cream

3 Slightly beaten eggs

1 Tablespoon salt

¼ Teaspoon black pepper

2 Tablespoons grated onion

3 Packages (8 ounces each) grated sharp Cheddar cheese

Preheat oven to 350F degrees.
Cook macaroni according to package directions and drain.
Combine cottage cheese, sour cream, eggs, salt, pepper, onion and Cheddar cheese in a large bowl or pan; mix lightly.
Fold in cooked macaroni; spoon into a large greased baking pan (I use roaster)
NOTE: At this point you can refrigerate and bake before party.
Bake about 50 to 60 minutes or until bubbly. Serves 24