How to Make Holiday Pie Recipes
Sandy learned how to make holiday pie recipes and she was awaiting our arrival. 
After the wonderful candlelight service at Epcot and a good night's rest there at Disney World, we were off to South Florida. Sandy and hubby Dave are old friends from high school. That was many years ago! We try to get together as often as possible and especially at Christmas time.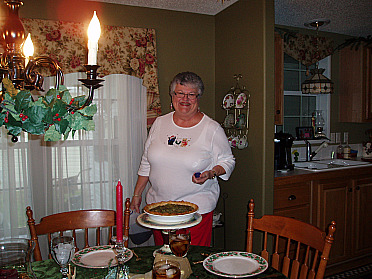 How to Make Holiday Pie Recipes
Sandy's Mom and Dad live next door to them so this was an opportunity to visit with them also. Being the wonderful couple that they are, they were both very influential in my young life. Her mother actually took us shopping when I bought my first makeup. How many of you can remember such a minor event? I attribute this to the sweet person that Sandy's mom is.
I knew when Sandy invited me for brunch that she would prepare many of her holiday brunch recipes, especially her holiday dessert recipes which are my weakness. Sandy combines bacon and spinach in her delicious quiche recipe and she is sharing that with us. This would be good to add to your holiday breakfast recipes, for lunch or even a snack.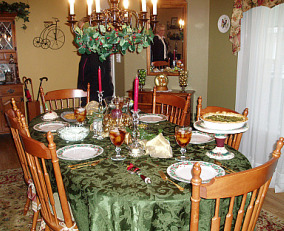 Holiday Table Setting
It is obvious that Sandy does her very best baking when she is cooking for a crowd. She is so happy and relaxed that it radiates on her face and in her confidence. She truly loves entertaining her family and friends and we are all grateful to have her.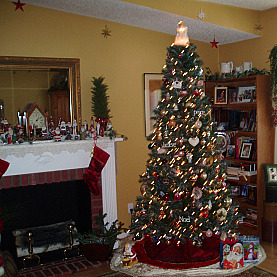 Sandy learned how to make holiday pie recipes years ago. The following are ones from Sandy's collection of holiday dessert recipes. She has baked these to sell in tea rooms where they were very popular. You can try learning how to make holiday pie recipes. You can make them very easy dessert recipes by purchasing already made pie crust and using Sandy's fillings. No one will know the difference except you and you will save time in your busy schedule.
Sandy, thank you for the delicious brunch and for sharing your recipes with us. Sandy, Dave, Mom and Dad, thank you for being such good friends. I love all of you and appreciate you being part of my life for so many years.

PUMPKIN CUSTARD PIE RECIPE
1 Unbaked pie shell (9-10 inches)
1 Cup pumpkin puree
3 Eggs
1 Tablespoon flour
¼ Cup brown sugar
½ Cup granulated sugar
½ Teaspoon salt
½ Teaspoon nutmeg
½ Teaspoon cinnamon
2 Cups milk
1 Teaspoon vanilla
Preheat oven to 400F degrees.

Combine in a large mixing bowl the pumpkin and following ingredients; mix well.
Pour into pie shell; bake at 400F degrees for 10 minutes.
REDUCE HEAT to 350F degrees; bake until set about 45 minutes (Insert point of sharp knife in center; it should come out clean).
---
HOW TO MAKE HOLIDAY PIE RECIPES

 
SPINACH QUICHE 
1 Stouffers spinach soufflé', thawed
2 Eggs
3 Tablespoons milk
2 Teaspoons chopped onion
¾ Cup mushrooms, drained and sliced
1 Cup bacon, cooked crisp and crumbled
1 Cup Swiss cheese, grated
Preheat oven to 400 F degrees. Mix all ingredients together and pour into an unbaked 9 inch pie shell. Bake for 30 minutes.

---
BUTTERMILK PIE
Cream together:
½ Cup soft butter
2 Scant cups sugar
3 Eggs
Beat in:

Fold in:
1 Cup buttermilk
1 Teaspoon vanilla
Preheat oven to 325F degrees. Pour into an unbaked pie shell and bake for 50 minutes.
---
SWEETHEART FUDGE PIE
The following from Sandy's holiday pie recipes is a delicious chocolate dessert recipe, similar to a chocolate tart.
½ Cup soft butter
¾ Cup brown sugar, firmly packed
3 Eggs
1 Package (12 ounces) semi sweet chocolate chips, melted
2 Teaspoons instant coffee powder
1 Teaspoon rum extract
½ Cup flour
1 Cup coarsely chopped walnuts
½ Cup whipped topping
Maraschino cherries with stems
Preheat oven to 375F degrees.
Cream butter; gradually add brown sugar, beating at medium speed until light and fluffy. Add eggs one at a time, beating well after each. Add melted chocolate, coffee powder and rum extract.
Mix well and stir in the flour and walnuts. Pour mixture into the pie shell. Bake for 25 minutes.

Cool completely on a wire rack Chill before serving. Pipe whipped cream on top of pie and garnish with cherries. Sandy's note: I usually pipe whip cream around the circumference of the pie and put cherries around on the whip cream. Makes a pretty pie.
---
APRICOT TART RECIPE
1 ¾ cups flour

1/8 Teaspoon salt

½ Cup sugar plus 1 Tablespoon sugar

Cold water

2 Tablespoons butter

1 Pound fresh apricots

2 Tablespoons apricot jam

2 Tablespoons Kirsch

1 Tablespoon sliced almonds


Combine flour, salt and 1 tablespoon sugar in a bowl making well in center.
Cut softened butter in small pieces until crumbly.
Add enough cold water to make a dough; knead lightly.
Wrap in foil and chill for 30 minutes.
Preheat oven to 425F degrees.
Wash, dry and cut apricots in halves; remove pits.
Roll out dough on floured surface to thickly line 9 inch pie pan or tart pan.
Sprinkle 2 tablespoons sugar over the pastry; arrange apricots on top with hollow side up.
Sprinkle remaining sugar over the top; bake about 45 minutes until apricots begin to caramelize.
Place apricot jam and kirsch in a saucepan; stir over low heat.
Remove tart from oven and immediately pour hot syrup over the top.
Sprinkle on the almonds.

---
BLUEBERRY TART RECIPE
This blueberry tart recipe makes a great holiday pie recipe for any holiday or any time of the year.
1 Cup graham cracker crumbs

½ Cup finely chopped pecans

2 ½ Tablespoons sugar

¼ Cup melted butter

1 Package (8 ounces) softened cream cheese

1/3 Cup sifted powdered sugar

1 Teaspoon vanilla extract

2 Tablespoons Grand Marnier

1 Cup whipped cream

4 Cups fresh blueberries

½ Cup raspberry jam


Combine cracker crumbs, pecans, 2 ½ tablespoons sugar and melted butter.
Press crumb mixture in bottom and up sides of ungreased 11 inch tart pan with removable bottom.
Bake in preheated oven at 350F degrees for 8 minutes; cool completely.
Beat cream cheese and powdered sugar on medium speed until fluffy.
Add vanilla and Grand Marnier; beat well.
Fold in whipped cream; spoon filling into crust.
Place blueberries and raspberry jam in small saucepan.
Cook over low heat until jam melts and blueberries are glazed.
Spoon blueberry mixture over the filling; cover and chill at least 6 hours.

Painless Cooking

›
Holidays
› Christmas Pie Recipes