How to Carve a Turkey
It is important to learn how to carve a turkey after spending so much time selecting one. After selecting that perfect bird and carefully following a turkey roasting chart (see below), you are ready to present your masterpiece to your guests at the dinner table. I prefer placing the whole turkey on the table; it makes a beautiful presentation.

This does mean that in order to serve the guests, knowing how to carve the turkey properly is essential. If you will only need a small amount of the turkey for dinner (depending on the number of diners), you might want to only slice enough for dinner and carve the remaining after dinner. If you are planning to serve almost or all of the turkey for dinner, then follow these instructions. I suggest putting on a pair of sanitary gloves to do this job.


First, place the turkey with the breast side up; (as it should be on the turkey platter for presentation). Learn how to carve a turkey beginning with the legs. Remove the legs by pulling them away from the body and cutting through the skin between the legs and breast. Bend the leg back until the hip joint cracks. Remove legs from body by cutting through the joint with a sharp knife. Separate thighs from drumsticks by holding leg in both hands and bending to crack joint; cut through joint. On a separate plate slice the dark meat from the legs and thighs; remove meat from drumsticks by slicing at an angle. Slice thighs by hold firmly with a fork and cutting even slices parallel to the bones


The next step when learning how to carve a turkey is to remove the wings by bending them back and cutting through the joints at the breast; cut tips from the wings at joints. The only part left now is the favorite of most people; the white breast meat. Starting at one side where the wing was attached, make a horizontal slice all the way to the backbone. Continue slicing working up to the center of the breast. Rotate carcass to other side and cut the other side of breast in the same manner.

Learn How to Carve a Turkey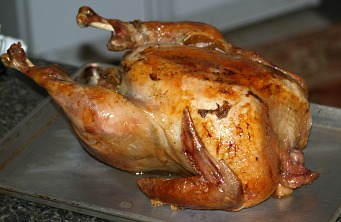 Carving a Turkey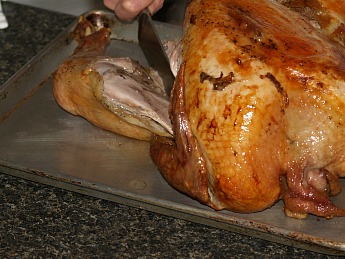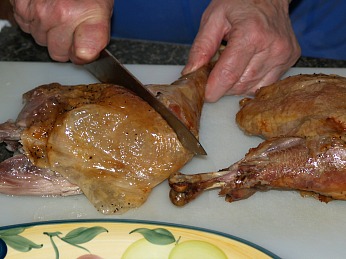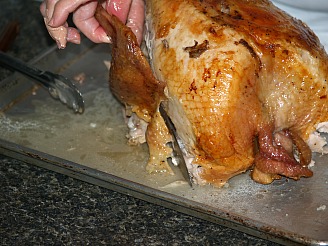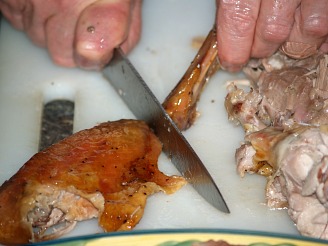 After you have learned how to carve a turkey, you can put the carcass of the turkey in a pot of water and boil until any remaining pieces of meat have come off. This is what I do; it makes great soup broth. I add some of the leftover turkey and make vegetable soup, noodle soup or turkey and rice soup. This makes the most from that holiday turkey.
---
TURKEY ROASTING CHART

Ready-to-Cook Weight


WHOLE STUFFED TURKEY

6 to 8 pounds





8 to 12 pounds




12 to 16 pounds




16 to 20 pounds




20 to 24 pounds


Cooking Time at 325F degrees AND Internal Temperature





3 to 3 ½ hours...180F degrees




3 ½ to 4 ½ hours..180F degrees




4 to 5 hours...180F degrees




4 ½ to 5 ½ hours...180F degrees




5 to 6 ½ hours...180F degrees

TURKEY BREAST

2 to 4 pounds

3 to 5 pounds

5 to 7 pounds


1 ½ to 2 hours...165F degrees

1 ½ to 2 ½ hours...165F degrees

2 to 2 ½ hours...165F degrees

---
CAJUN TURKEY RECIPE with your own Cajun spice mix recipe
When learning how to carve a turkey, this turkey breast is a good starter. The beautiful white meat makes nice slices.

Cajun Spice Mix Recipe:

2 Teaspoons chili powder

1 Teaspoon garlic powder

1 Teaspoon dry mustard

1 Teaspoon cumin

1 Teaspoon dry sage

½ Teaspoon salt

½ Teaspoon black pepper

Combine all ingredients and blend well; can be ma\ix ahead and stored in airtight container.
To prepare 3 pound turkey breast; rinse turkey with cold water and pat fry.
Gently separate skin from breast; rub half of Cajun spice mix recipe under the skin onto breast.
Sprinkle remaining mix over top of the skin; roast according to chart above.
NOTE: This is also very good cooked on the grill. Light grill on one side. After grill has heated, place turkey breast on opposite side. Close the lid and cook about 1 ½ hours or until thermometer registers 170F degrees.

---
SAUSAGE CORNBREAD DRESSING RECIPE
If you are learning how to carve a turkey, you might find it messier to stuff the turkey. Personally, I prefer to bake my dressing separately. This sausage cornbread dressing recipe is perfect baked in a separate pan; so moist and delicious.

6 Cups cornbread crumbs

5 Cups toasted soft breadcrumbs

6 Chicken flavored bouillon cubes

4 Cups boiling water

1 Cup finely chopped celery

1 Cup finely chopped onion

1 Cup finely chopped green pepper

¼ Cup melted butter

½ Pound bulk pork sausage

1 Teaspoon poultry seasoning

½ Teaspoon salt

¼ Teaspoon pepper

4 Beaten eggs

1 Cup finely chopped pecans


Combine cornbread crumbs and breadcrumbs in a large bowl.
Dissolve bouillon cubes in boiling water; pour over crumbs mixture and stir well.
Sauté celery, onion, and green pepper in butter until tender; stir in crumb mixture.
Brown sausage in heavy skillet; stir sausage and remaining ingredients into cornbread mixture.
Spoon into lightly greased 9 X 13 inch baking dish; bake at 350F degrees for 45 minutes.

---
CRANBERRY RECIPE FOR TURKEY STUFFING
1 Cup chopped celery

1 Cup chopped onion

½ Cup butter

1 Can (16 ounces) whole berry cranberry sauce

2 Tablespoons chicken flavored instant bouillon

12 Cups dry bread cubes

1 Cup chopped pecans

2 Teaspoons poultry seasoning

1 Teaspoon rubbed sage

3 Cups hot water

12 to 14 Pound turkey

Cooking oil


Cook celery and onion in melted butter until tender; add cranberry sauce and bouillon.
Cook and stir until bouillon dissolves.
Combine bread crumbs, pecans, seasonings and water in a large bowl; add cranberry mixture.
Should be enough to stuff turkey and extra for baking separately; follow chart above for stuffed turkey.