How to Clean Fish 
The markets, knowing how to clean fish, will prepare the fish having them scaled, cleaned and ready for use. It will be skinned, fin bones removed and large bones removed if requested. In that case, the whole fish only needs to be washed before cooking. The following will help with preparing fresh fish for cooking.
How to Clean Fish
When you know how to clean fish scaling fish is an important step. It requires holding the fish by the tail and with a short heavy knife scrape against the scales. Do this process outside if possible because the scales will fly causing a mess. If you do this inside, run under running water while scaling. Insert a sharp pointed knife along each side at the base of the fins to free the fin bones; then pull out fins with the small fin bones attached.
Knowing how to clean fish, it depends if the fish is going to be cooked whole. If so make a small opening under the gills just large enough so that entrails may be removed. If it to be cut up it may be split along the bottom from head to tail. Head and tail may be removed or not. Wash the scaled and cleaned fish with cold water and wipe dry.
Skinning fish is not usually desired because the skin helps to retain flavor and juices and is often necessary to keep the fish from falling apart during cooking. However filets such as cod and flounder are usually skinned. Have the fish scaled and cleaned, but do not remove head and tail. Cut out the fins. Slit the skin down the back and underside from head to tail. Cut through the skin all around the head. Using a pair of pliers, grasp the skin near the head and pull off from head to tail on each side, working carefully to avoid tearing the flesh. With a flat fish it might be easier to work from tail to head. Steaks and other cuts of fish may be skinned by loosening at one end and carefully stripping from the flesh. Cut off head and tail after skinning.
Learning how to clean fish, the boning fish part is done by splitting it on the underside all the way from head to tail so that it will lie flat. With a sharp knife, cut close to the bone all along each side and remove the backbone. Pick out small bones with tweezers. Some fish have so many small bones that it is not feasible to attempt to remove all of them. Fillets are prepared by separating the two lengthwise halves of boned fish. These may be skinned if desired but for some fish such as haddock, mackerel and perch, it is preferable to leave the skin on to hold the meat together during cooking. Head, tail and all small bones should be removed.
One of the most important steps to learning how to clean fish is the storing when it is completed. For storing fish, fresh fish should be kept in the coldest storage space in the refrigerator, well wrapped with paper to prevent the fish odor from spreading to other foods.
TUNA CASSEROLE RECIPE
1/3 Cup butter

1/2 cup chopped celery

½ Cup chopped green pepper

1 Small chopped onion

1 Can cream of mushroom soup

1 Can cream of chicken soup

2 Cups flaked tuna

½ Cup mayonnaise

½ Cup chopped parsley

Cooked noodles

1 Can asparagus tips

1 Cup grated sharp Cheddar cheese

1 Small jar pimento

Crushed corn flakes

Sliced almonds

Sauté celery, green pepper and onion in butter; add soups, tuna, mayonnaise and parsley.

Layer tuna mixture with cooked noodles, asparagus, cheese, pimento and end with tuna mixture.
Top with crushed corn flakes and sliced almonds; bake at 350F degrees for 45 minutes.
Serves 8 to 10.

---
BAKED FLOUNDER RECIPE
1 ½ Pound flounder fillets

Garlic salt

Black pepper

½ Teaspoon oregano

1 Jar (8 ounces) marinara sauce

Grated mozzarella sauce

2 Tablespoons Parmesan cheese

Season fish with garlic salt, pepper and oregano.
Put fish in baking dish; pour marinara sauce over fish.
Sprinkle with cheeses and bake 425F degrees for 15 minutes.

---
BAKED FISH OF SOLE with homemade soy sauce
1 Small chopped onion

¼ Teaspoon minced garlic

1 Teaspoon olive oil

7 Ounces sole fillets

Lemon juice

¼ Teaspoon dried parsley flakes

¼ Teaspoon dried chives

1/8 Teaspoon black pepper

¼ Teaspoon seasoned salt

1/8 Teaspoon paprika

Homemade soy sauce (below)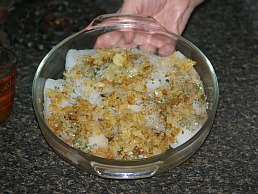 Prepping Baked Sole Fish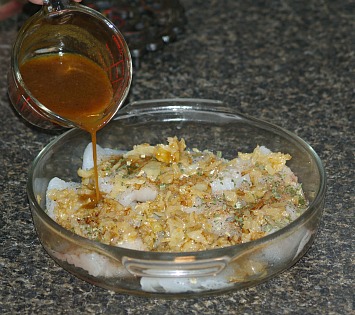 Prepping Baked Sole Fish
Sauté onion and garlic in olive oil; set aside.
Spray small baking dish with nonstick spray.
Brush fish with lemon juice and place in prepared baking dish.
Sprinkle with parsley, chives, pepper, paprika and salt.

Add onion garlic mix on top of fish.

Add soy sauce last and use it liberally because it evaporates.
Bake at 375F degrees for 25 minutes or until fish flakes.
HOMEMADE SOY SAUCE

¾ Cup water

1 Tablespoons instant chicken bouillon granules

2 Teaspoons wine vinegar

1 Tablespoon molasses

1/8 Teaspoon ground ginger

1/8 Teaspoon black pepper

¼ Teaspoon minced Garlic

Combine in small saucepan water, bouillon, wine vinegar, molasses, ginger, pepper and garlic.
Boil gently uncovered for 5 minutes or until mixture reduces to ½ cup.
Store in refrigerator and mix before using.

---
STUFFED FLOUNDER
¼ Cup chopped onion
¼ Cup PLUS 3 tablespoons melted butter (Divided)
1 Can (4 ounces) sliced mushrooms
½ Pound fresh crabmeat (Drain and flake)
½ Cup crumbled saltine crackers
2 Tablespoons chopped fresh parsley
8 Flounder fillets
½ Teaspoon salt (Divided)
¼ Teaspoon pepper
3 Tablespoons flour
1 Cup milk
1/3 Cup dry white wine
1 Cup shredded Swiss cheese
Paprika
Combine onion with ¼ cup of the butter in large skillet.

Cook and stir over medium high heat until tender.
Drain mushrooms and reserve liquid; add to skillet and REMOVE from heat.
Add the crabmeat, cracker crumbs and parsley to mixture.
Spread some of the mixture over each fish fillet.
Roll up each fillet and place seam side down in greased 13X9 inch baking dish.
Sprinkle with ¼ teaspoon of salt and pepper; PREHEAT OVEN to 400F degrees.
Add remaining 3 tablespoons butter to heavy saucepan over low heat.
Add flour and ¼ teaspoon salt to saucepan; cook and stir 1 minute until smooth.
Combine mushroom liquid and enough milk to equal 1 ½ cups.
Gradually stir milk mixture into pan; cook and stir over medium heat until thickened.
Stir in the wine and cook 2 minutes longer; pour sauce over fillets.
Bake 25 minutes; sprinkle with cheese and paprika and bake 5 minutes longer.
NOTE: Fish will flake easily when tested with a fork; serves 8.
---
ORANGE HALIBUT RECIPE
1 Orange
Zest from orange
1 cup orange juice
4 Teaspoons cornstarch
3 Green onions (Chopped)
1 Teaspoon chicken bouillon
2 Pounds halibut fillets
Preheat oven to 350F degrees.

Zest the orange then peel, section and chop; place in saucepan.
Add orange juice, cornstarch, green onions and bouillon to saucepan.
Over moderate heat cook and stir until thick and bubbly.
Place fish fillets in greased casserole dish; pour sauce over the fish.
Bake about 15 to 25 minutes until fish is flaky.
Serve with sauce spooned over fish.