How to Cook a Country Ham Recipe 
I did not learn how to cook a country ham until I got older. When this term is mentioned most cooks think of the lengthy process of preparing the ham for cooking as I did. Many of our southern states are famous for these types of ham, being called by different names. They are salt cured; therefore you must know how to cook country ham or your guests will be very disappointed with the salty taste. If done properly many people give praises for the flavor in these types of ham.
How to Cook a Country Ham Recipe

When learning how to cook a country ham the basic treatment is to first thoroughly scrub and rinse the ham. Place it in a large kettle or bowl, cover with fresh water and place it in the refrigerator to soak overnight. Drain and rinse the ham again and place in a large cooking pot. Cover the meat with fresh water and bring to a boil. Then reduce the heat and simmer 20 minutes for each pound. Transfer ham from water to a platter. At this point it can be thinly sliced and eaten.
The following are some options when learning how to cook a country ham:
At the point of preparing ham for boiling, add to water 1 tablespoon whole cloves, 1 stick cinnamon, 3 garlic cloves, 1 cup vinegar and 1 cup white sugar. After simmering until tender, turn heat off and let ham stand in hot liquid for four hours. Remove it from liquid and trim off rind. Mix 1 cup brown sugar and 4 teaspoons dry mustard; and pat into fat of ham. Combine ¾ cup water and 2 tablespoons vinegar; pour into pan. Bake for 1 hour at 325F degrees.
If you want to learn how to make a country ham which is very moist, after simmering, remove skin and bones while ham is still hot. Make 1 cup of paste with sweet pickle juice, brown sugar, ground cloves, dry mustard and fine bread crumbs; spread on top of ham. Bake at 300F degrees for 30 minutes.

Cut simmering time 45 minutes. Remove outside skin of ham and sprinkle with brown sugar and brown in oven 1 hour at 350F degrees.
Cut simmering time 45 minutes, remove skin and sprinkle with brown sugar. Dot with whole cloves one inch apart. Bake in preheated oven 350F degrees for 1 hour basting occasionally with half apple cider and half water mixture.
Remove skin and cover ham with mixture of 1 cup brown sugar, 1 teaspoon ground mustard. Place in oven to brown and baste occasionally with apple cider.
Boil for 5 minutes ½ cup corn syrup, ½ cup brown sugar and 1 Cup orange juice. Remove skin and stick whole cloves in ham. Baste occasionally with liquid mixture until browned.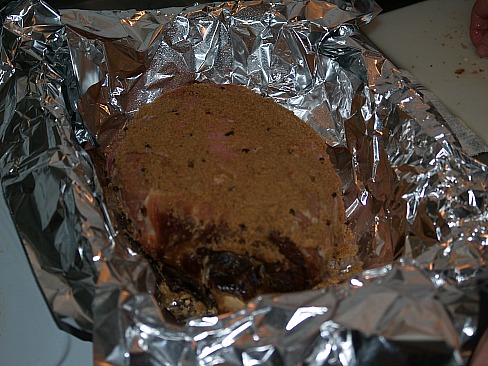 Country Ham Ready for the Oven
---
HOW TO COOK HAM STEAKS

Place a slice of ham ¾ inch thick in baking pan. Mix 1 teaspoon mustard with 2 tablespoons sugar and rub over the surface of the meat. Combine 1 Tablespoon vinegar and 1 tablespoon water; pour around ham slice. Cover and bake at 450F degrees for 20 minutes.
Slice ham 1 inch thick. Stick a few whole cloves in it and sprinkle with brown sugar. Add a little water, cover and bake at 300F degrees until tender and brown.
Slice ham ¼ inch thick. Sprinkle both sides with brown sugar and black pepper. Brown on both sides. Cover for 5 minutes.
---
RED EYE GRAVY RECIPE
Learn how to cook a country ham and serve it with red eye gravy recipe.
3 Slices country ham cut ¼ inch thick
½ cup water or coffee
If you have an iron skillet that is best to prepare this.
Brown ham in skillet 4 to 5 minutes on each side; transfer slices to keep warm on platter.
Quickly add water or coffee to hot skillet; cook scraping pan to remove crusty bits until mixture boils.
Continue cooking until mixture is reduced in half; spoon over ham or biscuits.
---
BAKED VIRGINIA HAM RECIPE
10 to 12 Pound country style ham
Whole cloves
1 Cup dark brown sugar
1 Teaspoon dry mustard
3 Tablespoons pineapple juice
1 Tablespoon cider vinegar
Cover ham completely with cold water; let stand 24 hours.

Next day scrub ham with a stiff brush; rinse well with cold water.
In a large pot cover ham with cold water; bring to a boil.
REDUCE HEAT: cover and simmer 4 to 5 hours or until ham is almost tender.
Remove pot from heat; let ham cool in liquid.
PREHEAT OVEN TO 325F degrees.
Remove ham from liquid; carefully remove skin and excess fat from ham.
With tip of knife cut diamond shapes in fat; do not cut into ham.
Insert a whole clove in the center of each diamond.
Place ham on rack in a shallow pan; insert meat thermometer in center away from bone.
Bake uncovered 2 ½ hours.
Combine brown sugar, mustard, pineapple juice and vinegar; brush over the ham.
Bake 15 minutes longer or until internal temperature is 155F degrees.
Let stand 20 minutes before cutting.