How to Cook Beef Tenderloin
I am asked how to cook beef tenderloin recipes quite often. This is probably the easiest part of the beef to cook as long as you do not overcook. This major muscle is found next to the backbone lying beneath the ribs. The location allows for little "muscle work"   in so making it very tender. When cooking very tender beef like this, the key is to "quick cook".

I purchase the whole tenderloins from Sam's or from Costco. They are oblong in shape with a larger butt end and smaller tail end. Sometimes I cut the entire tenderloin into filets which are delicious.  Most only use a portion of the tenderloin due to uneven sizes of the filets wanted to serve guest or customers as in restaurants.  These steak filets are so tasty cooked on the grill or under the broiler. This is the part of the beef where we get our delicious filet mignon.  
When learning how to cook beef tenderloin recipes, I want to focus on cooking the tenderloin roast. Most recipes with be for ones from 3 to 5 pounds. If you are cutting from a whole tenderloin, cut from the larger end. You must think about the difference in the time needed to cook the larger end verses the time to cook the smaller thinner end. If you cut your roast from the larger end, it will be more consistent. Your option is to simply purchase a smaller tenderloin roast from the meat market.
When I learned how to cook beef tenderloin recipes, I quickly learned how easy it is to "overcook" this meat.  It is best tasting to serve at medium rare. Being a muscle, with little fat the meat dries out fast.  The purpose is to cook the meat done enough to eat but without changing the meat since it is already so tender. You use a preheated oven at a higher temperature than you would for other beef roasts. Most other beef roast require long slow cooking achieve tenderness.
I tell many who are learning how to cook beef tenderloin recipes, not much seasoning is necessary. The flavor is so good in this meat that filets and the roasts can be cooked with only salt, pepper and a little garlic if you like. Of course, there are many other recipes with more ingredients and some with marinades. Speaking of marinades, with this part of the beef, you will want to avoid "high acid" marinades which are necessary for tougher meats. These will only "eat up" tender meats ruining the texture.
BOEUF EN CROUTE 
When you learn how to cook beef tenderloin recipes, try this elegant presentation wrapped in puff pastry.
1 Pound frozen puff pastry thawed
3 Pounds Beef tenderloin
2 Cloves sliced garlic
2 Tablespoons softened butter
Salt/ pepper to taste
1 Teaspoon dried thyme (divided)
½ Cup smooth liver pate
1 Egg
Preheat oven to 425F degrees.

Trim meat of any fat; pull meat together into a nice shape and tie with thin kitchen string.
Use the tip of a small sharp kitchen knife to make tiny slits in the meat.
Insert the slices of garlic into the slits; spread butter over the meat seasoning with salt, pepper and HALF of thyme.
Place meat in shallow roasting pan; place in hot oven for 25 minutes.
Remove meat from pan (You can turn oven off) and place on rack to cool completely.
Remove string from meat.
Roll puff pastry into a rectangle just over 2 times the size of the meat.
Place meat on one half of the rectangle; brush edges with water.
Spread the pate over top of the meat; sprinkle with the remaining half of thyme.
Fold the dough over to enclose the meat; pinch to seal the edges.
Trim around edges any extra dough; make a hold in top of the pastry for steam vent.
NOTE: You can make a funnel with foil to place in the hole if you like. A funnel will prevent the pate and steam from boiling through the pastry making a better presentation of the recipe.
Place wrapped meat on a dampened baking sheet.
Roll dough trimmings and cut small decorative shapes; dip in beaten egg and arrange on the top.
Brush egg glaze all over the roast and chill for 1 hour.
PREHEAT OVEN TO 425F degrees; bake for 35 minutes until pastry is golden brown and puffed.
Place on serving platter; cut in thick slices and serve.
Tie Meat and Make slits for Garlic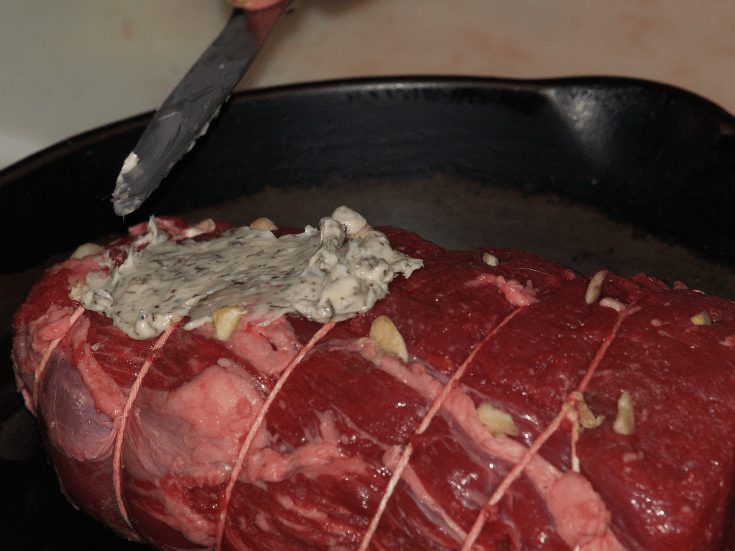 Spread Seasoned Butter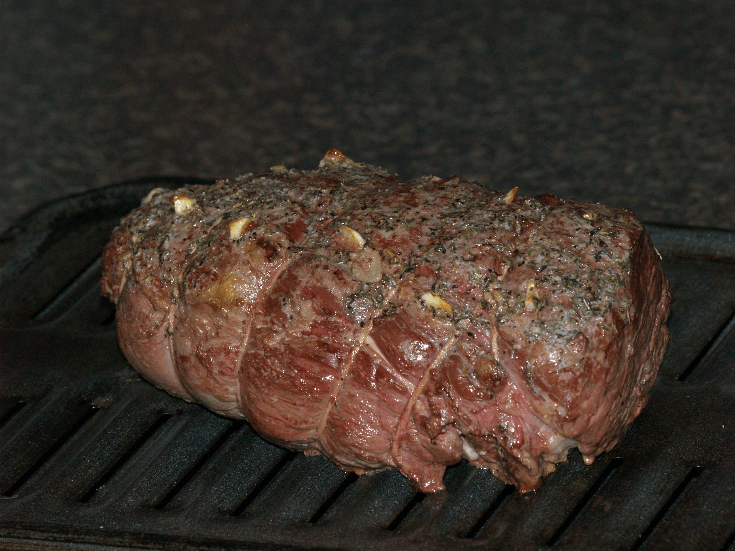 Roast for 10 minutes
Spread Pate on Top
Cover with Dough
---
HOW TO COOK BEEF TENDERLOIN ROAST RECIPE
Learn how to cook beef tenderloin recipes with seafood for special dinners.
3 to 4 Pound beef tenderloin
2-3 cooked and shelled medium lobster tails OR 12 to 18 cleaned uncooked shrimp
½ Cup butter
3 Tablespoons lemon juice
2 Cloves minced garlic
Sauce
¾ Cup finely chopped green onions
½ Cup butter
½ Cup white wine
Garlic salt to taste
Preheat oven to 425F degrees.

TO PREPARE BEEF split beef tenderloin on top from one end to the other leaving the bottom attached.
Place lobster or shrimp inside fillet; wrap and tie roast snugly with string holding seafood in place.
Place meat in a lightly greased shallow roasting pan.
Heat butter, lemon juice and garlic in a saucepan until butter melts; pour over the roast.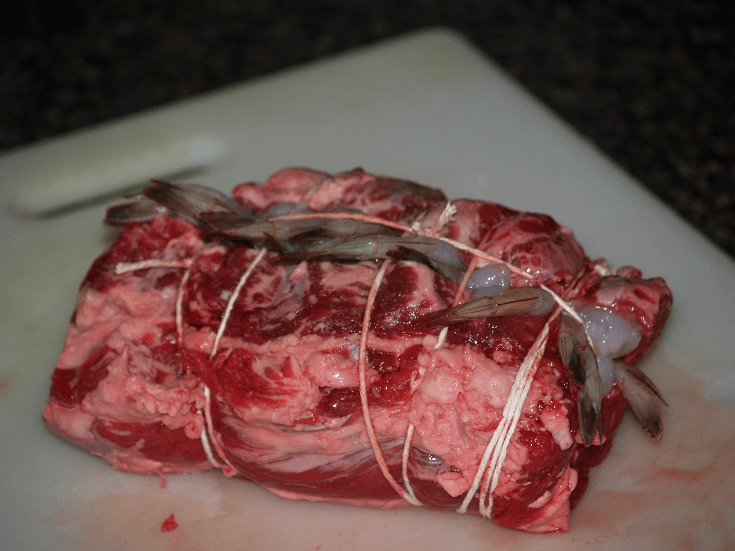 Place Shrimp on Top and Tie Meat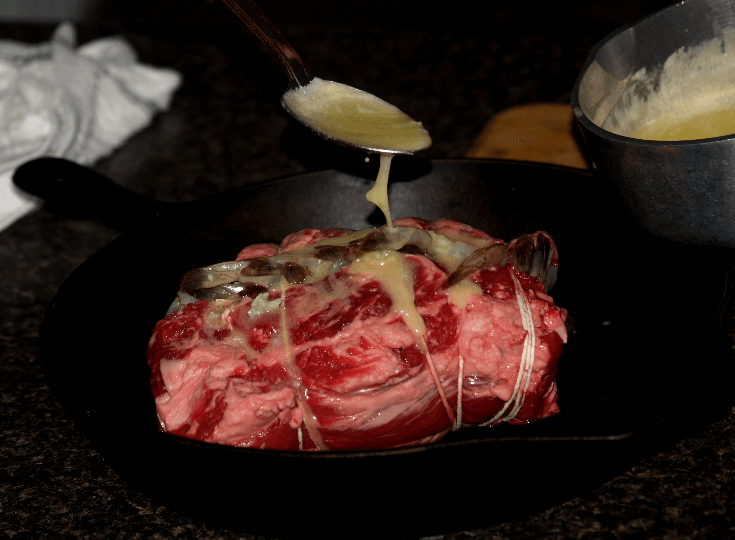 Pour Butter mixture Over Top
Cover Shrimp with Foil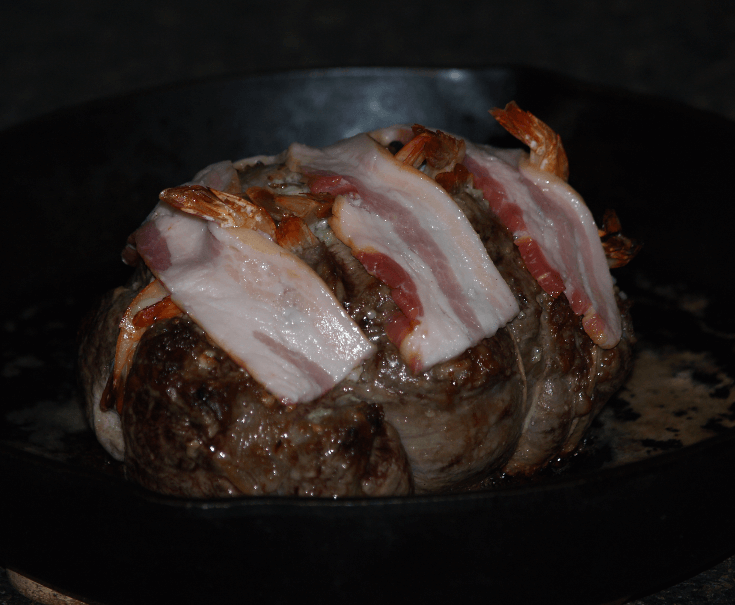 Optional: Add Bacon
Cover top of seafood with foil so it will not burn.

Place in oven and bake 30 minutes (for rare) or 55 minutes (for medium well).
NOTE: For additional flavor wrap roast in bacon slices and bake 5 minutes longer.
Cut in thick slices and top with sauce.
TO MAKE SAUCE combine green onions, butter, white wine and garlic salt in saucepan. Heat until hot; spoon sauce over tenderloin.
Serve with herb veggies
---
BOURBON BEEF TENDERLOIN RECIPE
Learn how to make beef tenderloin either on the grill or in the oven.
1 Cup Bourbon
1 cup brown sugar
2/3 Cup soy sauce
1 Bunch chopped fresh cilantro
½ Cup lemon juice
1 Tablespoon Worcestershire sauce
2 Cups water
About 4 sprigs fresh thyme
1 Beef tenderloin (4 ½ to 5 pounds)
Combine bourbon, sugar, soy sauce, cilantro, lemon juice, Worcestershire, water and thyme in bowl.

Trim beef of any fat and connective tissue; fold tail end under so roast is uniform.
Wrap butcher's string around roast holding all the meat together; place in 2 gallon freezer bag.
Pour marinade over the meat in bag and seal tightly; refrigerate 8 to 12 hours.
PREPARE grill for cooking or PREHEAT oven to 350F degrees.
FOR OVEN cook for 35 to 45 minutes
FOR GRILL when hot place meat on oiled grill; close lid.
Cook turning often and basting until desired doneness.
Serve with horseradish cream if desired; serves 8 to 10.
NOTE: When using a meat thermometer RARE is 115 to 120F degrees; MEDIUM RARE is 130 to 135F degrees;
MEDIUM is 140 to 145F degrees. This cut of meat is best if not overcooked; well done is too much.
---
MARINATED BEEF TENDERLOIN RECIPE
1 Small bottle soy sauce
¼ Cup olive oil OR Italian salad dressing
1 Beef tenderloin
Combine soy and oil or dressing; add meat and marinate for 2-3 hours.

PREHEAT OVEN TO 400F degrees; place in oven for 20 to 25 minutes for medium rare. (Do not drain)
---
BROILED BEEF TENDERLOIN RECIPE with mushroom sauce 
Learn how to cook beef tenderloin with flavorful mushroom sauce.
5 to 6 Pound tenderloin (At room temperature when placing in oven)
Sauce
1/3 cup butter
1 Large clove garlic thinly sliced
½ Pound sliced fresh mushrooms
2 Medium sliced onions
¼ Pound hamburger
2 Tablespoons mild chili sauce
1 Tablespoon spicy chili sauce
Pinch dried marjoram
Pinch dried thyme
Pinch hickory smoked salt
4 Drops Tabasco sauce
2 Dashes Worcestershire sauce
5 Ounces dry red wine
2 Ounces canned condensed beef broth
Salt/ pepper
1 Tablespoon flour
PREHEAT OVEN 425 F degrees.
Place tenderloin roast on a rack in a shallow roasting pan.
Roast meat for 50 to 55 minutes; remove from oven.
TO MAKE SAUCE melt butter in a large skillet; add garlic, mushrooms and onions.
Sauté vegetables until onions are limp; add hamburger stirring to break apart.
Add remaining ingredients and blend well; simmer until ready to pour over tenderloin.
TO SERVE place meat in shallow serving dish; pour simmering sauce over the tenderloin.
---
BEEF TENDERLOIN with port walnut stuffing
Learn how to cook beef tenderloin with port walnut stuffing for a very special occasion.
¾ Cup minced onion
3 Tablespoons melted butter
1/3 Cup port wine
1 ½ Cups chopped fresh parsley
¾ Cup soft breadcrumbs
¾ Cup finely chopped toasted walnuts
1 ½ Teaspoons dried thyme
1 Tablespoon grated orange peel
¼ Cup egg substitute
4 Pounds beef tenderloin
¼ cup Dijon mustard
½ Teaspoon salt
¼ Teaspoon black pepper
1/3 cup melted butter
TO MAKE STUFFING melt 3 tablespoons butter in large skillet over medium high heat

Add onion and cook stirring constantly until tender.
Add wine to the skillet and cook until liquid evaporates; remove from heat.
Add parsley, crumbs, walnuts, thyme, orange peel and egg substitute; blend well and set aside.
PREHEAT OVEN TO 400 F degrees.
TO PREPARE TENDERLOIN make a cut from the top middle lengthwise.
Cut DOWN but NOT all the way through; leave BOTTOM CONNECTED.
HALF WAY DOWN (Inside the cut) make a cut on each side (Not all the way through) lengthwise.
NOTE: These cuts will go off toward the sides. Now you will be able to open the tenderloin and press it flatly on cutting board.
Combine the mustard, salt and pepper blending well; spread mixture on both sides of the tenderloin.
Spoon stuffing over cut side of tenderloin leaving 1 inch border on all sides.
Roll up tenderloin starting from the long side; tie securely with heavy string 2 inches apart.
Place rolled tenderloin on rack in a greased roasting pan; insert meat thermometer at thickest part of the meat.
Brush tenderloin with 1/3 cup of melted butter.
Bake 50 minutes or until thermometer reaches 145F degrees for medium rare or 160F degrees for medium.
Baste meat occasionally with butter while roasting; let stand 10 minutes before serving. Serves 10.