How to Cook Beets 
If you are looking for ways of how to cook beets, this is my favorite. Some people call these pickled beets and some call them spiced, but whatever they are delicious.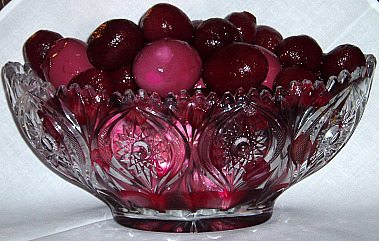 How to Cook Beets
I like to hard boil eggs, remove the shells and place them in a bowl. I then put the beets over top of the eggs. After boiling the liquid, I pour it over the beets and eggs. Refrigerate until cold. The longer they set in the refrigerator the better the flavor absorbs in the eggs.
People of Eastern and Central European countries know how to cook beets; this vegetable is very popular in much of their cooking like soups. In Poland a dish of beets with sour cream is very important in the cuisine. In Germany (my heritage) besides pickled beets, they are very popular with only butter or served in a sweet and sour sauce.
If you enjoy beets you might also try parsnips.
RED BEET CAKE RECIPE
One of the best recipes I made when I learned how to cook beets was a cake. Of course for me, it had to be a dessert! Who would think red beets in a cake? Some people have asked if they could use red beets for the color to make the red velvet cake instead of the red food coloring. Although he batter is a pretty red color, after baking the cake is more of a brown color. It may not retain the pretty red but the beets make this a wonderfully moist and delicious cake.
5 Eggs separated
2 Cups sugar
½ Cup solid shortening (Crisco)
½ Cup softened butter
1 Tablespoon vanilla
1 ½ Cups cooked grated beets
1 Teaspoon baking powder
2  1/4 Cups sifted flour
1 Teaspoon salt
1 Cup buttermilk
1 Teaspoon baking soda
2 Cups coconut
Preheat oven to 350F degrees.
Grease three 8 or 9 inch pans, line with wax paper; grease again and flour.

Beat egg whites until stiff; set aside.

Cream butter and shortening; gradually add sugar and beat until fluffy.

Add vanilla and grated beets; blend well.
Combine sifted flour, salt and baking powder; sift together and set aside.

Add baking soda to the buttermilk.

Add flour mixture and buttermilk mixture alternately to the creamed mixture while mixing.

Stir in coconut and blend in well; divide evenly into prepared pans.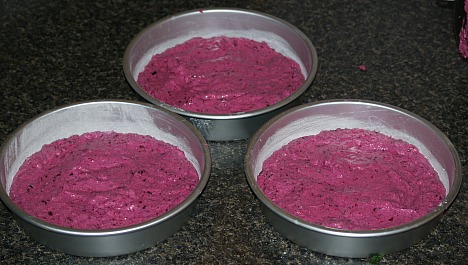 Red Beet Cake Batter
Bake about 30 minutes or until pick comes out clean.

Cool 5 minutes and remove from pans; remove wax paper and cool completely.

Frost between layers, top and sides with your favorite frosting.
NOTE: I like the cream cheese frosting found HERE. I also top mine with coarsely chopped walnuts.


---
PICKLED BEET RECIPE

the best recipe for learning how to cook beets
1 Large can (16 ounces) sliced red beets, drained and save liquid in a saucepan.
Add ¼ cup vinegar and ¼ cup sugar to the beet juice in the pan.
Add ¼ teaspoon salt, 1/8 teaspoon cloves and 1/8 teaspoon cinnamon to the liquid.
Bring liquid to a boil and boil for five minutes.
Pour liquid over the sliced beets.
Serve warm or cold.
---
ORANGE BEET RECIPE
2 ½ Cups peeled sliced uncooked beets
½ Teaspoon grated orange rind
1 Cup orange juice
1 Tablespoon sugar
1 Teaspoon salt
2 Tablespoons butter
Preheat oven to 375 degrees.
Place sliced beets in a greased casserole dish
Combine orange rind, juice, sugar, salt and pour over the beets.
Dot with butter.
Cover and bake for one hour.
---
BEET CASSEROLE RECIPE
6 Medium size beets
¼ Cup diced bacon
¼ Cup chopped onion
1 Tablespoon chili sauce
1 Teaspoon lemon juice
½ Cup cottage cheese
½ Teaspoon salt
1/8 Teaspoon pepper
Preheat oven to 375 degrees.
Boil whole beets for about 40 minutes or until almost tender.
Rub off skin under cold water.
Scoop out center leaving ½ inch shell.
Sprinkle inside with salt.
Chop the removed beet pulp fine and add remaining ingredients.
Stuff mixture into beet shells and set in a baking dish.
Add ½ cup water around beets.
Bake for 30 minutes or until brown.
---
COLD SOUP RECIPE WITH BEETS
Learn how to cook beets with this easy no cook recipe!
16 Ounces canned beets drained
2 Cups vegetable juice
¼ Cup Italian dressing
½ Teaspoon salt
¼ Teaspoon black pepper
4 Heaping tablespoons sour cream
½ Thinly sliced cucumber
Chopped chives
Blend all ingredients in blender until beets are minced; serve with thin slices of cucumber and chives.
---
GREEK SALAD RECIPE WITH BEETS
When learning how to cook beets you will find many recipes made with canned beets do not have to be cooked. How easy is that?
2 Cans (16 ounces each) whole beets drained and sliced
1 Medium thinly sliced onion
3 Cloves minced garlic
½ Cup olive oil
½ Cup wine vinegar
Salt and pepper to taste
1/8 Teaspoon dried oregano
Arrange beets and onions in a serving bowl.
Combine remaining ingredients in a jar with lid; shake well to blend.
Pour mixture over vegetables; refrigerate to marinate for several hours before serving.
---
DESSERT SALAD RECIPE WITH BEETS
If you are learning how to cook beets, you will find very few recipes which are sweet enough to classify as a dessert. This one is and has a very good taste; just sweet enough to quench a sweet tooth.
1 Cup cooked diced beets
1 Package (3 ounces) strawberry, cherry or raspberry gelatin
1 Cup boiling water
1 Cup (8 ounce can) crushed pineapple with juice
2/3 Cup finely chopped celery
½ Cup sour cream
1 Teaspoon sugar
Drain beets and measure liquid; add enough water to liquid to make 1 cup.
In saucepan bring liquid to a boil; pour gelatin in bowl and pour boiling liquid over gelatin.
Stir gelatin until dissolved; add 4 ice cubes and stir until ice melts.
Chill mixture until thickened; NOT SET.
Stir in beets and pineapple; chill until set.
Combine celery, sour cream and sugar; stir to blend.
Serve about 1 tablespoon on each serving.