How to Cook Brussels Sprouts 
Learning how to cook Brussels sprouts is the key to capturing the delicious flavor. You can purchase the fresh or frozen. When cooking this vegetable fresh, it has an especially pungent aroma. You can prevent alerting your neighbors when cooking Brussels sprouts by tying them in a vegetable parchment bag.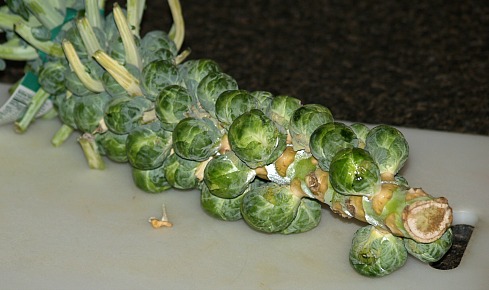 How to Cook Brussels Sprouts
Brussels sprouts resemble in appearance to be like very small cabbages. Any extra stems need to be cut away and any loose leaves need to be removed from fresh Brussels sprouts before cooking. The most common ways of cooking this vegetable are boiling, steaming and roasting. When learning how to cook Brussels sprouts, know that overcooking releases the strong odor from Brussels sprouts and turns many people away from eating them. It only takes about seven minutes to boil or steam them.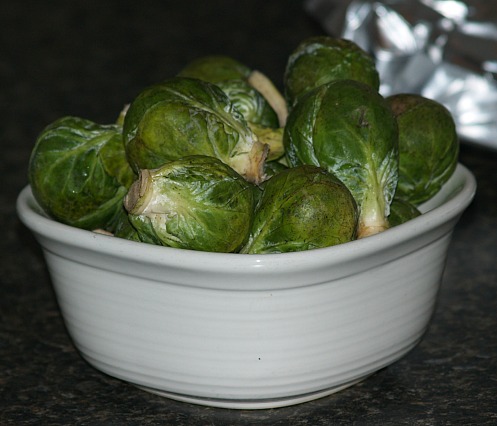 Fresh Brussel Sprouts
Many of our vegetables have been known to belong to the group of foods to fight cancer. Brussels sprouts contain high levels of these anti cancer properties. They also supply a chemical which helps to repair cells and block growth of cancer cells. Learning how to cook Brussels sprouts correctly will prevent the loose of these chemicals; steaming and stir frying seem to be the best. Some people with heart conditions must limit their intake of this vegetable because of the Vitamin K which it contains causing the blood to clot.

DILLED BRUSSELS SPROUTS RECIPE
2 Pounds Brussels sprouts (Clean and drain)
2 Cups water
2 Cups vinegar
1 Cup lemon juice
½ to 1 Teaspoon cayenne pepper
9 Sprigs fresh dill
4 Cloves garlic
1 Teaspoon mustard seeds
Steam whole Brussels sprouts just until tender about 10 minutes.

In medium saucepan combine water, vinegar, lemon juice, cayenne and dill.
Bring mixture to a boil and boil 5 minutes; pack Brussels sprouts into hot sterilized jars.
Place 1 clove garlic, a sprig of dill and ¼ teaspoon of mustard into each jar.
Pour hot vinegar mixture over into jars leaving ½ inch headspace.
Seal jars and process in boiling water bath for 15 minutes; makes 4 pints.
---
COOKING BRUSSELS SPROUTS IN PARCHMENT
1 ½ Pounds Brussels sprouts
2 Tablespoons butter
½ Teaspoon salt
1/8 Teaspoon black pepper
Clean the sprouts. Place in cooking parchment with the butter, salt and pepper. Tie. Cook in boiling water for 15 minutes.
---
FRIED BRUSSELS SPROUTS

an easy way to learn how to cook brussels sprouts



1 Chopped onion
3 Tablespoons butter
4 Cups cooked Brussels sprouts
Cook onion in butter until tender. Add the sprouts and toss gently until thoroughly heated.
---
BREADED BRUSSELS SPROUTS
4 Cups cooked Brussels sprouts
1 Beaten egg
¾ Cup dry bread crumbs
Oil for cooking
¼ Cup grated cheese
Dip Brussels sprouts into egg. Roll in crumbs and fry in hot oil until brown. Sprinkle with cheese.
---
BRUSSELS SPROUTS RECIPE
1 Can (11 ounces) mandarin oranges, not drained
2 Pounds fresh Brussels sprouts
1 ½ Cups water
¼ Teaspoon salt
¼ Teaspoon pepper
2 Tablespoons lemon juice
2 Teaspoons cornstarch
½ Teaspoon dried whole basil
1 Can (8 ounces) sliced water chestnuts, drained
Drain oranges and save liquid.
Wash Brussels sprouts and remove dry or discolored leaves.
Cut off stem ends and cut bottom of each sprout with an X.
Combine the sprouts, water, salt and pepper in a saucepan.
Bring to a boil, cover, reduce heat and simmer 7 to 10 minutes until tender; drain.
Combine reserved liquid from oranges with the lemon juice, cornstarch and basil in a small saucepan.
Stir until cornstarch dissolves; bring to a boil for 1 minute stirring constantly.Pour sauce over Brussels sprouts.Add oranges and water chestnuts and toss; serve warm.
LITTLE CABBAGE HASH
When learning how to cook Brussels sprouts, you will find some people dislike the stronger flavor of these little cabbages. By chopping and adding other flavors, this recipe produces a delicious milder taste.
1 Tablespoon olive oil
1 ½ Cups finely chopped onion
3 Cloves minced garlic
1 Pound Brussels sprouts cleaned and finely chopped
1 Large finely chopped carrot
½ to 1 Cup water
1 Bell pepper (red, green, yellow or orange) seeded and finely chopped
1Teaspoon salt
Freshly ground black pepper to taste
Heat olive oil in a large skillet over medium heat.
Stir onions in hot oil and sauté for 5 minutes or until tender.
Add garlic, Brussels sprouts and carrot to the onion; add water and simmer until water evaporates.
Stir in bell pepper, salt and black pepper; sauté 2 more minutes.