How to Cook Cheap Recipes for a Crowd



Quite often I am questioned about how to cook cheap recipes. This is a very common question being asked by mothers and dads as they are trying to feed their families in this very bad economical condition. Budget cooking really applies if we are trying to figure out how to feed meals to a crowd of people. Budget cooking may seem like an impossible task if we are cooking for a crowd. Knowing how to cook cheap recipes and making sure your guests are left completely satisfied can be done with planning.
First, if you want to know how to cook cheap recipes you must learn shopping for specials. We also know that meatless recipes are much cheaper to prepare than those with meat; but the recipes must have a source of protein and be filling for your guests to be satisfied with a feeling of fullness. This is accomplished by combining the right types of ingredients. By selecting one ingredient from each of the following two lists, you can make a meal consisting of a whole protein. For instance rice and beans recipes will form a full protein; these are made very cheaply and will leave your guests full with a lingering satisfaction.

LIST 1

Green Peas
Kidney Beans
Lentils
Chick Peas
Black Eye Peas
White Beans
Peanuts
Lima Beans

LIST 2

Pasta
Rice
Almonds
Bulgur
Couscous
Corn
Bread
Sesame Seeds
One of my favorite meals is a rice and beans recipe; the first recipe below. The recipe is for one serving so multiply it for the number of people you need to feed. Rice has been an extender for meals for decades around the world because it is so filling and cheap. In many South American countries breakfast casserole recipes contain beans and rice. A rice and beans recipe can be flavored with many different ingredients and is so easy to prepare for one or one hundred.
When learning how to cook cheap recipes you must also learn how to season the recipes. Much of the flavor of dishes and casseroles comes from the meat. Whether it is appetizers or casseroles, when meat is eliminated, your recipes need flavor added from other ingredients like herbs and spices.

BEANS AND RICE RECIPE

(for 1 hefty serving)
1 Teaspoon olive oil
¼ Cup green pepper, diced
¼ Cup onion, diced
2 Cloves minced garlic
1 Tablespoon chopped cilantro
2 Medium tomatoes, chopped
1 Cup cooked beans
1 Cup whole grain rice, cooked
Pinch hot pepper flakes (optional)
2 Teaspoons chili powder
Salt/pepper
Sauté the green peppers, onion and garlic in the olive oil.
Add the chopped tomatoes, cilantro, chili powder, pepper flakes, salt and pepper. Add in the cooked beans and the rice.
Stir over heat until hot and blended.
If you need to know how to feed a crowd using this recipe it is easy. After blending ingredients according to recipe, place in large greased baking pans and place in oven at 350F degrees until thoroughly hot, Garnish the top of each pan with grated Cheddar cheese (If you are budget cooking, the cheese is not necessary.)and heat until melted. This recipe can be prepared ahead and heated in the oven.
NOTE: If you feel your guests need something with meat in it, add cooked ground beef. A pound of meat for each 12 servings should be enough.
NOTE: I save extra money by cooking large bags of dried beans instead of buying them in cans.
---
CHICKEN AND DUMPLINGS RECIPE

this is a favorite when you know how to cook cheap recipes



If you want to know how to cook cheap recipes from American history, chicken and dumplings is probably the best. These cheap recipes have been around for decades; through the depression and are so delicious. A little chicken goes a long way when making chicken and dumplings. NOTE: One disadvantage when figuring how to feed a crowd is that the dumplings need to be cooked in boiling broth, so it is best to limit the amount added to one pan; you need to use several pans or cook in batches.
To Make Broth
This recipe can be made the day before and reheated in batches or heated in the oven at 325F degrees. You can add up to 3 more chickens if you can afford them and if you like a lot of meat.
3 Whole chickens (If you find chicken leg and thigh cheaper, use them)
6 Stalks chopped celery
6 Medium chopped onions
6 Medium chopped carrots
Chicken soup stock
2 Teaspoon salt
½ Teaspoon black pepper
Cover chicken with fresh water in large kettles; add celery, onions, carrots, salt and pepper.
Bring liquid to a boil, reduce heat and simmer until chickens are very tender.
Remove chickens from broth onto trays to cool.
Divide broth and vegetables into two kettles; add enough water to make 3 gallons of liquid in each kettle.
Bring liquid to a boil and taste broth for flavor; add enough chicken soup stock to make a rich chicken taste in each kettle.
How to Make Dumplings
12 Cups flour
1/3 Cup plus 1 teaspoon solid shortening
2 Tablespoons salt
18 Beaten eggs
3 Cups milk
Measure flour in large mixing containers; stir in salt.
Cut shortening thoroughly into flour and salt.
Beat together eggs and milk; blend into flour mixture.
Turn dough out onto a heavily floured table; knead until smooth and a rolling consistency. (May need to add more flour)
Divide dough into 12 balls; roll each ball out on floured board to about ¼ inch thickness.
Cut in strips lengthwise about 1 inch wide; then cut strips making 1 inch squares.
Lay dumplings on large floured trays until all dough has been rolled and cut.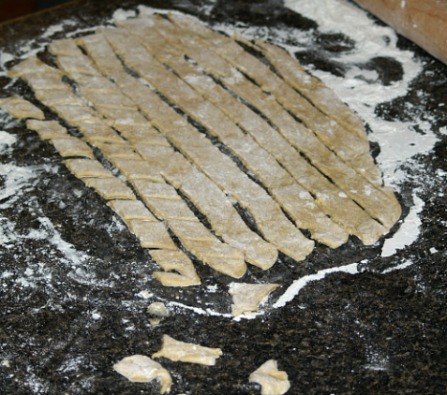 Rolled Out and Cutting Noodles
Bring chicken broth to a rolling boil and start dropping in the dumplings.
NOTE: If pots become too crowded, remove dumplings after cooking to a tray until all have been cooked.
After all dumplings have been cooked return the dumplings to the pots.
Remove cooled chicken from the bones; cut in small bite size pieces and add to the pots of dumplings and stir.
Serves 25 people.
SUGGESTION:
A Toss salad, bread and fruit dessert makes a delicious and filling meal.
---
BEEF NOODLE CASSEROLE made with hamburger
If you want to know how to cook cheap recipes using beef, hamburger is the best way to go. Hamburger contains the cheapest of the beef cuts and it doesn't matter in casseroles. Sometimes the cheapest hamburger gives the best flavor to dishes. Noodles are also economical and filling to serve when you are budget cooking. The following recipe will serve 30 to 35 people and is very flavorful.
6 Pounds hamburger
4 Large chopped onions
1 ½ Cups chopped green peppers
24 ounces medium size noodles
4 Cans (10 ¾ ounces) tomato soup
6 Cups shredded mild Cheddar cheese
½ Cup chopped pimento
1 ½ Bottles (12 ounces each) chili sauce
1 Tablespoon salt
¾ Teaspoon black pepper
1 Tablespoon chili powder
7 Cups soft bread crumbs
½ Cup melted butter
Cook hamburger in large skillets with onions and green peppers until meat is done; drain off fat.
Cook noodles according to package directions and drain well.
Place cooked noodles in large kettle; stir in meat mixture.
Add tomato soup, cheese, pimento, chili sauce, salt, chili powder and pepper; blend well.
NOTE: If mixture is too dry, add up to ½ cup water.
Place mixture in greased baking pan (should be 2 to 3 inches deep).
Combine bread crumbs with melted butter and toss to coat; spread on top of casserole.
Bake at 350F degrees about 45 minutes.
How to cook cheap recipes is easy to do even when cooking for a crowd. Choose ingredients that are local to your area these are often more economical. Use dried herb and spices instead of fresh which are usually more expensive to add flavor. With a few tips you to can learn how to cook cheap recipes for a crowd.