How to Cook Chicken Legs
I learned how to cook chicken legs (What we call drumsticks) for quick and economical meals. Sometimes my grocery store would have large bags of drumsticks on sale when my children were young. I would buy them every time I saw them at a good price. Chicken legs have never been a favorite of most adults but kids love them. Adults always seem to go for the white meat of the breast piece but to me the dark meat of the leg is more flavorful and tender. Anyway, the price means a lot when you are trying to feed a family, especially a family of six. My boys were always "good eaters".

I had to learn how to cook chicken legs with different recipes having a variety of flavors. If I could not do this, my family would get bored eating "my great bargain". I learned to use many spices and herbs and even blending some of these.  I love the Chinese flavors so I made many dishes utilizing those ingredients like soy sauce. All chicken goes well with rice and stuffing so I would serve these sometimes with my drumsticks.
When I was young, one problem I found when learning how to cook chicken legs, is that quite often the legs would not be thoroughly cooked. For some reason it seemed like the middle would always be a little bloody, especially when frying them. For this reason, I learned how to cook chicken legs by making a cut in the thickest part from the outside into the flesh of the side of the bone. This worked for frying them so I began cutting all my drumsticks like this.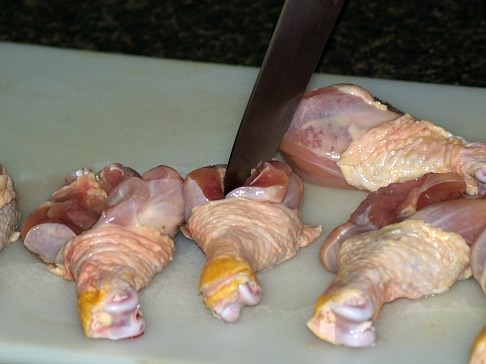 Cutting Thick Part of Chicken Leg
After I learned how to cook chicken legs in a variety of recipes, I found they are popular for almost any occasion. The drumsticks work really well to serve as appetizers for parties as much as our famous chicken wings. You can actually use your favorite wing sauce to serve on the drumsticks. Men love this because each piece has more meat to it and fewer bones.
If you want to learn how to cook chicken legs, check with your local supermarket to see if you can buy a reasonably priced big bag and try the following recipes. 
 HOW TO COOK CHICKEN LEGS with a 

LEMON HERB FLAVOR
10 to 12 Chicken drumsticks
½ Cup lemon juice
¼ Cup vegetable oil
¼ Cup minced fresh parsley
1 Teaspoon dried tarragon
¼ Teaspoon black pepper
½ Teaspoon salt
NOTE: I cut from the outside of each let to the side of the bone. This allows the marinade to flavor better and the legs cook more evenly and thorough.
Wash drumsticks in fresh water and drain; place in a large plastic zip lock bag.
Combine and mix lemon juice, oil, parsley, tarragon, salt and pepper; pour over chicken legs and seal bag.
Place bag in refrigerator overnight; drain and discard marinade.
Grill, broil or bake drumsticks until done or juices run clear.
---
DRUMSTICKS WITH VEGETABLES RECIPE
Learn how to cook chicken legs with vegetables for a delicious meal.
8 Chicken legs
4 Tablespoons butter
2 medium chopped onions
2 Bell peppers cut in small pieces
2 Tablespoons chopped fresh parsley
Salt/pepper
4 Cups fresh washed and cut greens
¼ Cup cut sun dried tomatoes in oil
2 Tablespoons balsamic vinegar
2 Tablespoons lemon juice
½ Teaspoon dried crushed basil leaves
5 Cloves minced garlic
4 Tablespoons grated Parmesan cheese
Preheat oven to 400F degrees.
Place butter in roasting pan; heat in oven until butter melts.
Remove pan from oven; stir in onions, pepper pieces, parsley, garlic, basil, 1 teaspoon salt, 1/8 teaspoon pepper and lemon juice.
Arrange drumsticks around vegetables in pan; sprinkle top with Parmesan cheese.
Bake about 30 minutes or until chicken is done; stir vegetables occasionally.
In a large bowl toss together greens, tomatoes and vinegar; arrange on a serving platter.
Top with vegetables and chicken legs; serves 4.
---
EASY CHINESE CHICKEN RECIPE
4 Pounds chicken legs
4 Tablespoons soy sauce
¾ Cup spicy ketchup
¾ Cup water
2 Tablespoons balsamic vinegar
½ Cup brown sugar
1 medium diced onion
Preheat oven to 350F degrees.

Combine and mix together soy sauce, ketchup, water, vinegar, sugar and onion.
Place chicken legs in a greased casserole baking dish; pour sauce over the legs.
Bake uncovered for 1 ½ hours until done; serves 6.
---
CRISP SPICED DRUMSTICK RECIPE
8 to 10 Chicken legs
½ Cup grated Parmesan cheese
1 Beaten egg
½ Cup cornflake crumbs
¼ Teaspoon cayenne pepper
Preheat oven to 400F degrees.

Combine the cheese, cornflake crumbs and cayenne pepper.
Dip chicken legs into beaten egg; coat with cornflake mixture.
Place in a greased casserole baking dish; bake 50 to 60 minutes or until done turning once.
Serves about 5.
---
SPANISH DRUMSTICKS RECIPE
8 Chicken legs
¼ Cup olive oil
8 Whole garlic cloves peeled
1 Teaspoon flour
¼ Cup chicken broth
¼ Cup dry white wine
½ Teaspoon Tabasco sauce
3 Large sprigs parsley
Pinch of saffron
Heat oil in a large skillet; add legs and garlic.

Sautee about 10 minutes turning to brown legs on all sides.
Remove chicken from skillet; pour off all but 2 tablespoons of the oil.
Stir in the flour and cook 1 minute; add broth, wine and Tabasco sauce.
Simmer mixture stirring constantly until thickened about 2 minutes.
Place skillet mixture in food processor along with the parsley and saffron; process mixture until smooth.
Return mixture back to the skillet; add the legs, cover and cook until tender.
---
CHINESE CHICKEN DRUMSTICKS RECIPE
3 Pound drumsticks (6-7)
¾ Cup cooked long grain rice
¾ Pound snow peas
1 Large red bell pepper
Salad oil
2 Green onions chopped
1 Tablespoon chopped ginger root
3 Tablespoons dry sherry
1 Egg
¼ Teaspoon garlic powder
3 Tablespoons honey
¼ Cup soy sauce
1 Pound head Chinese cabbage (leaves cut in 2 inch pieces)
2 Medium carrots julienned
1 Can (15 ounces) straw mushrooms
Trim snow peas and chop enough to measure 1 cup; reserve remaining snow peas.
Cut pepper into ½ wide strips; chop enough strips to measure 2 tablespoons and reserve remaining.
Heat 2 tablespoons salad oil over medium heat in a saucepan.
Add CHOPPED snow peas and pepper, green onion and ginger root; sauté until tender crisp about 5 minutes.
Remove skillet from heat and cool slightly; stir in rice, sherry, egg and garlic powder.
PREHEAT OVEN TO 400f DEGREES.
Carefully loosen skin on each chicken leg to form a pocket; spoon a little rice mixture into each pocket.
Place legs in a greased roasting pan; blend honey with 2 tablespoons soy sauce and brush over each leg.
Bake 50 minutes until tender basting with any remaining honey mixture.
In a wok or large skillet heat 3 tablespoons oil over high; add cabbage, carrots and remaining soy sauce.
Stir fry until tender crisp; stir in mushrooms until hot.
Serve with baked drumsticks; serves 3 to 4.
---
ISLAND DRUMSTICKS RECIPE
¼ Cup butter
2 Pounds chicken drumsticks
1 ½ Cups drained pineapple chunks
2 Tablespoons soy sauce
Salt/pepper
1 Chopped garlic clove
1 Can (43 ounces divider pack) chicken chow mein
1 Green bell pepper cut in 1 inch pieces
½ Teaspoon curry powder
Melt butter in a large skillet over medium heat; add legs and garlic and brown on all sides.

Drain liquid from vegetables (bottom can of pack); pour liquid over the chicken.
Cover and simmer about 35 minutes until tender turning occasionally.
Add the vegetables and the sauce from top of pack; add pineapple and green pepper.
Stir in soy sauce, curry powder; season with salt and pepper to taste.
Cover and simmer 5 more minutes until pepper is tender crisp.
Serves 6.