How to Cook Cube Steak?
Learn how to cook cube steak for great flavor and texture. This cut of the beef is taken from the top round or top sirloin. When I was growing up, this is about the only steak Mom ever fixed. Dad always said this was the cheapest steak to eat and the one with the best flavor.

After this round steak cut is tenderized it is called a cube steak. You can tenderize the steak by hand but it takes lots of fierce pounding to make it tender enough. The best way to accomplish this is to have your butcher run the steak through the mechanical tenderizing machine.
By correctly learning how to cook cube steak, many delicious recipes can be made. The main tip for cooking cube steak is DO NOT OVERCOOK this meat. Some countries may refer to these steaks as "minute steaks" because they require very little cooking time.

My basic way of cooking cube steak is to coat the pieces with flour, salt and pepper; brown it on both sides in hot oil. After a quick browning, I pour a little water over the steak and cover the skillet with a lid.  Turn the heat down a gently simmer about 20 minutes. (steps pictured below)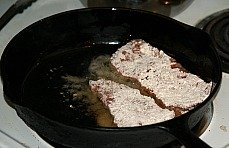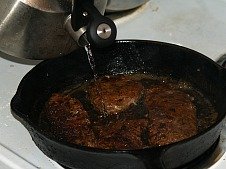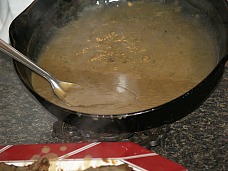 A similar recipe can be made called "chicken fried steak". I season the steak with flour and my chicken seasoning mix. Brown the steak on both sides; reduce heat to low and cover with a lid. Cook like this until steak is tender. The meat will be flavorful and tender.
The dripping in the skillet makes delicious gravy to go with the steak. Cooked like this, a piece of steak on a bun also makes a great sandwich with (pictured above) your favorite condiments.
HOW TO COOK CUBE STEAK WITH DIJON

Learn how to cook cube steak with this delicious Dijon mustard recipe. Make homemade Dijon mustard for extra flavor. (Recipe below)

4 cube steaks (about 4 ounces each)

3 Tablespoons Dijon mustard (MAKE HOMEMADE DIJON RECIPE BELOW)

3 Tablespoons Italian dressing

¼ Teaspoon thyme

¼ Teaspoon cumin

1 Medium onion halved and sliced

Several large mushrooms sliced

Worcestershire sauce

Oil

Combine in a bowl the mustard, Italian dressing, pepper, thyme and cumin; cover steaks with mixture.
Place steaks in zip lock bag and marinate for 1 to 2 hours.
Place onions and mushrooms in a bowl and dash several times with Worcestershire sauce.
Place steaks in a skillet with a little vegetable oil; cook to desired doneness on both sides.
NOTE: Do not overcook cube steaks.
Remove steaks from skillet to plate and keep warm.
Place onion and mushrooms in skillet; cook until onions are tender.
Serve steaks topped with onions and mushrooms.


HOW TO MAKE DIJON MUSTARD RECIPE

1 Tablespoon olive oil

5 Cloves garlic minced

1 Tablespoon onion powder

2 Cups dry white wine

1 Cup mustard seeds (yellow or brown)

¼ Cup mustard powder

3 Tablespoons honey

2 Teaspoons salt

Combine in a saucepan the olive oil, minced garlic and onion powder.
Gradually stir in the dry white wine.
Add the mustard seed, mustard powder, honey and salt; mix well.
Bring mixture to a boil and simmer for 10 minutes; remove from heat and cool.
Keep in the refrigerator.

---
BEEF STIR FRY RECIPE
Learn how to cook cube steak with this flavorful beef stir fry recipe.

1 Pound cube steak cut in strips

2 Tablespoons flour

Oil

2 Tablespoons fresh grated ginger

Soy sauce

2 Bell peppers cut in strips

2 Cans sliced water chestnuts drained

1 Sliced medium onion

4 Ounces snow peas

2 Teaspoons minced garlic

¼ cup orange juice

Place steak and flour in a zip lock bag; close tightly and shake to coat evenly.
Heat about 2 tablespoons oil in a large skillet or wok; stir in the steak.
Sprinkle steak with 1 teaspoon ginger and small dashes of soy sauce.
When steak is cooked remove from skillet to a plate.
Heat 2 more tablespoons of oil in skillet; add bell peppers, water chestnuts, onions and snow peas.
Add remaining fresh ginger, minced garlic, orange juice and 2 tablespoons soy sauce.
Stir in the steak when the liquid begins to reduce in the skillet.
Serve hot over rice or noodles.

---
STEAK AND BARBEQUE SAUCE RECIPE
Everyone loves barbeque! Learn how to cook cube steak in barbeque sauce for great flavor.

1 ½ Pounds of cube steak

¼ Cup soy sauce

3 Tablespoons honey

2 Tablespoons vinegar

1 ½ Teaspoons garlic powder

1 Teaspoon ground ginger

¾ Cups salad oil

1 Green onion finely chopped

Preheat oven to 400F degrees.
Mix soy sauce, honey and vinegar; blend well.
Add garlic powder, ginger, oil and onion to the mixture.
Place steak in a shallow pan and pour sauce over the top; let stand about 1 hour.
Place pan in the oven and bake 15 to 20 minutes or until desired doneness.
NOTE: BE CAREFUL NOT TO OVER BAKE.

---
SPANISH STEAK RECIPE
Learn how to cook cube steak with Spanish flare.

4 Cube steaks (about 4 ounces each)

½ Cup flour

Vegetable oil

1 Large onion sliced

1 Sweet bell pepper cut in strips

Salt/pepper

1 Teaspoon cumin

½ Teaspoon garlic powder

1 Teaspoon oregano

1 Can tomato soup

1 Can hot water

Preheat oven to 375F degrees.
Beat flour into steaks; sear in hot oil on both sides and place in roaster.
Season steaks with salt, pepper, cumin, garlic powder and oregano.
Place sliced onion and sweet pepper on top of steaks.
Mix tomato soup with hot water and pour over steak and vegetables.
Cover roaster and place in oven for about 45 minutes or until steak is tender.

---
BEEF SLICES IN WINE (Another well seasoned Spanish steak)
Cooking in wine gives added flavor. Learn how to cook cube steak with wine and spices.

3 Pounds cube steak

¼ Cup butter

2 Cloves garlic crushed

¼ Cup chopped parsley

½ Teaspoon salt

¼ Teaspoon dried rosemary

¼ Teaspoon dried basil

¼ Teaspoon dried oregano

1 Can (8 ounces) tomato sauce

1 Cup dry red wine

½ Pound fresh mushrooms sliced

1 Tablespoon flour

2 Tablespoons water

1 Package (8 ounces) noodles

2 Tablespoon s chopped parsley

Cut steaks in strips; melt butter in Dutch over and sauté a few at a time until brown on both sides.
As slices brown remove from pan to plate and continue until all steak is browned.
Remove pan from heat and pour off drippings; add next 8 ingredients to the pan and put steak in pan.
Cover with lid and simmer about 45 minutes until very tender; stir occasionally.
Add mushrooms and simmer covered 5 minutes longer.
Combine water and flour until smoothly blended; stir into the steak mixture.
Bring to a boil while stirring; reduce heat and simmer until mixture thickens.
While steak cooks, cook noodles to the package directions and season to taste.
To serve shape a bowl with noodles and spoon steak mixture in the center; top with chopped parsley.