How to Cook Figs
People have been learning how to cook figs since Bible times. It is one of the oldest fruits recognized by man. They are grown and known to be a "mainstay" of the Mediterranean region having high dietary and medicinal value. They were often fed to people recovering from serious illnesses because they are high in iron, potassium, calcium and fiber. 
Learning how to cook figs was not a priority as I was growing up. Back then, the first and only food I knew as "fig" was a Fig Newton Cookie. This was one of Mom's favorite cookies and she insisted they be fresh and soft. It was not usually a problem because they were always fresh when Mom purchased a package and they were never around long enough to get stale. Back then I also never knew anything else was made with figs. I certainly never knew you could eat them fresh.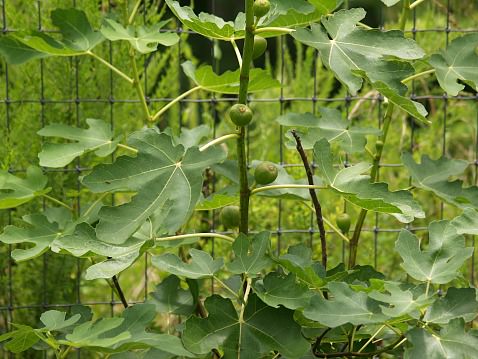 How to Cook Figs
If you want to learn how to cook figs, sometimes they can be purchased in the summer months. They are not one of the commonly found fruits because once picked, they go bad quickly. Many people have told me that they have fig trees which produce enough for eating and preserving. I now have two small trees which only produce a few figs but enough for fresh eating.

Besides being available fresh, figs can always be purchased dried, canned and in jams and preserves. Figs originated in Turkey and were called the Smyrna Figs. When California started growing this fig, the name was changed to the Calimyrna Fig, also known as San Lop fig. This variety has a nutty flavor and a light greenish yellow color. 
A popular darker variety of figs originated in California because Spanish missionaries wanted to learn how to cook figs. They planted what is now known as the Mission fig in the San Diego area. This dark maroon or purple fig is also known as the Black Mission. This high quality fig is medium size and usually the trees produce two crops. 
When learning how to cook figs, the varieties can be interchanged in your recipes. If the recipes call for fresh, it is best to use fresh if at all possible. When cooking or steaming for a short time, the taste is so much better with fresh figs. If you are cooking a filling for sweets or desserts, dried and fresh can be cooked down. You can also use both for making jam and for slow cooking entrees like roasts.
FAVORITE RICOTTA FIG TART RECIPE
Learn how to cook figs in this delicious tart recipe.
Dough
1 Cup flour PLUS 2 Tablespoons flour 
2 Tablespoons sugar
½ Teaspoon salt
4 Tablespoons cold butter (Cut in tiny pieces)
2 Tablespoons solid shortening
3 Tablespoons ice water (More if needed)
Filling 
2 Cups dried figs (Chop in small pieces and SOAK in rum several hours)
NOTE: I soak the figs overnight in the rum shaking several times to marinate.
¼ Cup dark rum
¾ Pound ricotta cheese
3 Ounces softened cream cheese
¾ Cup sugar
2 Whole eggs
1 Egg yolk (Save egg white for brushing crust)
3 Tablespoons lemon juice
1 Tablespoon grated orange rind
1 Teaspoon vanilla
½ Teaspoon ground cardamom
Pinch of salt
Topping
4 Tablespoons chopped almonds
2 Tablespoons sugar
Preheat oven to 350F degrees.

TO MAKE CRUST combine flour, sugar and salt in a bowl.
Cut in the butter and shortening until crumbly.
Stir in ice water until dough forms; shape into ball.
On floured surface roll dough to a 12 inch round.
Fit dough into a 10 inch tart pan with greased bottom.
Beat 1 tablespoon water with reserved egg white from filling.
Brush egg white mixture over crust; bake 5 minutes and set on rack.
TO MAKE FILLING combine ricotta and cream cheese in large mixing bowl.
Beat cheeses until creamy and smooth; gradually beat in the sugar.
Beat in the eggs and egg yolk one at a time.
Add the lemon juice, orange peel, vanilla, cardamom and salt.
Blend in the flavoring just to blend on low speed.
TO ASSEMBLE TART with slotted spoon spread fig pieces over crust.
Spread the cheese filling over the figs; smooth and level the top.
FOR TOPPING combine almond and sugar; sprinkle over the filling.
Bake 45 to 55 minutes until filling is firm and lightly browned.
Cool on rack to room temperature; refrigerate until cold.
Serves 8 to 10.
---
FIG BREAD RECIPE
How to cook figs in bread recipes.
2/3 cup solid shortening
1 ½ Cups sugar
4 Eggs
3 ½ Cups sifted flour
1 ½ Teaspoons cream of tartar
1/2 Teaspoon salt
2 Cups cooked mashed figs (can use drained canned figs)
1 Cup chopped nuts
Preheat oven to 350F degrees.
Grease and flour one 9x5 loaf pan or 2 smaller ones. 
Sift together the sifted flour, cream of tartar and salt; set aside.
Cream shortening and sugar until fluffy; add eggs beating after each.
Beat mashed figs into cream mixture.
Gradually add flour mixture to the creamed mixture. 
Beat mixture until well blended; stir in nuts.
Spoon into prepared pan or pans; smooth top.
NOTE: Batter will fill a large pan to about three quarters inch from the top. The bread does not rise much. It is dense and moist.
Bake large size 80 to 90 minutes until pick inserted in center is no longer sticky when tested.
---
ANISE PORK WITH FIGS AND APPLES
Learn how to cook figs in entree recipes.
¾ Teaspoon anise seeds (Crushed)
6 Boneless loin chops
Salt/pepper
1 Tablespoon olive oil
2 Tablespoons butter
2 Large shallots (Slice thin)
1 Large clove garlic (Mince)
1 Cup sliced apples (1/4 inch slices)
½ Cup orange juice
4 Dried figs (Cut in quarters)
1 Tablespoon red wine vinegar
Sprinkle anise seeds on both sides of the pork chops; season with salt and pepper.

Heat oil in large heavy skillet until hot; brown pork chops on both sides turning 1 time.
REDUCE HEAT to medium and cook until pork is done; transfer to a warm platter.
Melt 1 tablespoon of butter in the skillet over medium; add shallots and cook until tender.
Add garlic to skillet and cook 1 minute; add apple slices and cook about 2 minutes to brown lightly.
Add figs and remaining 6 tablespoons orange juice; INCREASE HEAT to medium and simmer 2 minutes.
Add wine vinegar, remaining 1 tablespoon butter and season with salt and pepper.
Return pork chops and any drippings to the skillet; reheat briefly and serve.
---
FIGS WITH PROSCIUTTO AND WALNUTS
Learn how to cook figs to serve with cheese and prosciutto.
1 Tablespoon fresh mint leaves
2 Tablespoons fresh lemon juice
¾ cup whipping cream
12 Fresh figs (Remove stems)
12 Thin slices prosciutto or ham (4 Ounces)
24 Walnut halves
Combine mint and lemon juice in a small bowl; crush mint leaves with back of spoon.

Let mixture stand at room temperature 20 minutes; remove and discard mint leaves.
PREHEAT BROILER.
Stir whipping cream together with lemon juice; let stand until mixture is slightly thickened. 
Cut figs in half lengthwise; cut prosciutto in half.
Place a walnut half on each fig half; wrap with a piece of prosciutto.
Place figs on a broiler rack; place 5 ½ inches from heat source 2 to 3 minutes.
NOTE: Leave oven door partially opened.
Spoon whipping cream mixture on evenly 6 individual serving plates.
Arrange wrapped figs on top of the cream mixture.
---
STEAMED DUCK with figs, wine and couscous
Learn how to cook figs when serving duck.
1 Duck (3 ½ pounds) (Remove tail, wings, visible fat)
½ Teaspoon salt
½ Teaspoon cinnamon
¼ Teaspoon pepper
1/8 Teaspoon ground allspice
6 Ounces dried figs (Cut in quarters)
1 Cup red wine
2 Tablespoons sugar
¾ Teaspoon dried thyme
¾ Cup boiling water
½ Cup couscous
Prick the skin of the duck all over with a fork.

In a small bowl combine and blend the salt, cinnamon, pepper and allspice.
Rub the spice mixture into the skin and in the cavity of the duck.
Place water in the bottom of a large Dutch oven and bring to a boil.
Lightly grease a rack and place it above the water; adjust heat to simmer.
Place duck on rack, cover and cook for 1 hour.
Remove duck, pat dry and air dry for 30 minutes.
PREHEAT OVEN to 400F degrees.
In a medium saucepan combine the figs, wine, sugar and thyme; bring to a boil.
Cover mixture and simmer for 10 minutes or until figs are soft.
In medium bowl, pour boiling water over couscous; let stand 5 minutes.
Using a slotted spoon lift the figs from the saucepan; stir figs into couscous.
RESERVE wine mixture; spoon couscous into cavity of duck and brush with wine mixture.
Place duck on rack in Dutch oven; roast for 30 minutes until duck is crisp and leg moves easily.
NOTE: While roasting baste with wine mixture every 10 minutes; serves 6.
---
FIGS AND CHEESE
How to cook figs and cheese.
1 Pound dried figs
2 Cups dry white wine
2 Teaspoons dried thyme
¼ Cup honey
½ Cup whipping cream OPTIONAL
¼ Cup chopped fresh mint
Slices of favorite cheese
Prick each fig several times with a fork.
Combine figs, wine and thyme in a medium bowl; cover and let stand at room temperature for 48 hours.
Add honey and stir well.
To serve spoon figs on individual dessert dishes and place slice of cheese on plate.
If desired, serve a dollop of whipped cream on fig and garnish with chopped mint.
---
STRAWBERRY FIG PRESERVES RECIPE
Learn how to cook figs in preserves.
3 Cups mashed fresh figs
1 ½ Cups sugar
1 Package (3 ounces) strawberry gelatin
Combine figs and sugar in a heavy saucepan.

Cook and stir over medium heat for 2 minutes; gradually stir in gelatin.
Cook over low heat for 15 minutes stirring constantly.
Spoon mixture into hot sterilized jars (1/2 pints) filling ¼ inch from top.
Remove air bubbles with knife and wipe jar rims; seal jars.
Process in hot water bath for 5 minutes; makes 4 half pints.
---
FIG PRESERVES
This is how to figs to enjoy through the winter.
3 ½ Cups sugar
2 Cups water
4 Thin slices lemon (Divided)
2 Pounds fresh figs (Stemmed)
In large Dutch oven combine sugar, water and 1 lemon slice.

Bring to a boil stirring constantly; cook 5 minutes stirring occasionally.
Add a few figs at a time keeping the liquid boiling.
Cook for 12 minutes until thermometer reaches 220F degrees.
Add remaining lemon slices and cook another 1 minute; remove from heat.
Pack figs in hot sterilized jars filling to ¼ inch from top.
Cover figs with hot syrup filling to ¼ inch from top.
Run knife down through mixture to remove air bubbles; wipe rims clean.
Cover immediately with metal lids and jar rims.
Process in hot water bath for 5 minutes; yields 5 half pints.
---
HOW TO COOK FIGS IN SYRUP
Learn how to cook figs in delicious syrup.
½ Lemon
¼ cup sugar
2 Tablespoons honey
1 Whole clove
18 Walnut halves
18 Fresh figs
½ Cup yogurt
¼ Teaspoon vanilla
Chopped walnuts
With vegetable peeler cut a thin strip of peel about 2 inches long from lemon; set aside.

Squeeze the juice from the lemon; add water to make ½ cup.
Combine lemon strip, lemon juice mixture, sugar, honey and clove in saucepan.
Bring the mixture to a boil, reduce heat; simmer stirring until syrup is bubbly and thicken.
Remove from heat and discard clove and lemon strip; cool slightly.
Insert 1 walnut half into each fig; place 3 figs in each individual serving dish.
Stir together the cooled syrup, yogurt and vanilla; spoon over the figs.
Cover dishes and chill until ready to serve; sprinkle with chopped walnuts.
Serves 6.
---
SWEET AND SOUR FIGS with sausages
Learn how to cook figs in a sweet sour sauce. This recipe is great when cooking sausages and many other types of pork.
1 Cup sugar
1 Cup red wine vinegar
1 Cinnamon stick
4 Whole cloves
1 Slice lemon
1 Pound fresh small green figs (Or 1 pound canned drained)
Combine sugar, vinegar, cinnamon, cloves and lemon slice in saucepan.

Bring to a boil and simmer 5 minutes; add figs, cover and simmer 20 minutes.
NOTE: For canned figs simmer only 5 minutes.
Cool figs to room temperature in liquid, cover and let stand at room temperature overnight.
TO SERVE FIGS WITH SAUSAGES
1 ½ Pounds large sausage links
1 Tablespoon olive oil
4 Tablespoons white wine
4 Tablespoons water
2 Teaspoons tomato sauce
Salt/ pepper
Cook sausages and 2 tablespoons of the wine in skillet with hot oil until wine evaporates.

Cook until sausages are thoroughly cooked and brown; remove to a warm platter.
Pour most of extra fat from the skillet.
Deglaze skillet with water and remaining 2 tablespoons of the wine.
Add the tomato sauce, salt and pepper; simmer 2 minutes uncovered.
DRAIN the figs discarding the syrup (Can use for other recipe).
Add figs to skillet along with the sausages; cover and cook until heated.
NOTE: This is great as appetizer. Cut sausages in 1 inch pieces and cut figs in halves or quarters. Spear on toothpicks and serve with sauce.