How to Cook Fried Potatoes
My entire family learned how to cook fried potatoes at very young ages. These are the most popular recipes in our family. As a child I remember having a skillet of fried potatoes on the stove several times a week. As adults, I and most of my siblings continued this habit of cooking fried potatoes.
I have so many memories of my older sisters and brothers stopping by Mom's and Dad's house to eat a plate of potatoes with only a piece of buttered bread.  I still have vivid memories of Sister Gloria and "fried potatoes".  She would call Dad and tell him to put on a skillet of fried potatoes because she was on her way down. Dad would peel the potatoes, add onions and cook to tender. Three hours would pass and finally she pulled into the drive.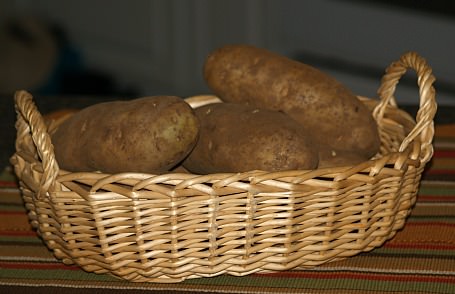 How to Cook Fried Potatoes
Needless to say, after three hours Dad would be extremely upset with Gloria; both had strong German characteristics so they squabbled all the time over things like this. By the time everyone enjoyed the deliciously fried potatoes tempers settled down but it did not prevent the very same thing from happening the next time my sister wanted fried potatoes. Great memories!
HOW TO COOK FRIED POTATOES LIKE DAD?
Dad would start by melting 2 or 3 tablespoons bacon grease in our old large iron skillet. You can use other fats such as solid shortening but bacon grease adds a wonderful flavor.
Peel and slice thinly 6 to 8 potatoes; however as many as you need or your skillet will hold. Peel and slice about 1 onion for each 2 potatoes.
Salt and pepper the potatoes and onions, cover with a lid and cook over medium heat until tender; stir about every 10 minutes.
NOTE: Sometimes I add chopped green peppers or toward the end of cooking I add more chopped fresh onion and chopped hot peppers.
---
HOW TO COOK FRIED POTATOES IN DEEP FAT?
I cannot remember the first time I ate French fries or where I ate them. Remember, back when I was very young, we had NO fast foods. Really we had ALMOST NO restaurants. The only one I can remember was the White Castle restaurant so I guess it must have been their French fries. Anyway, I was hooked!
I spent many of my young years starting about 10 years old, trying to figure out how to cook fried potatoes to taste like these French fries. Our family never cooked French fries because it was simply a waste of lard; we never had cooking oil, only lard from our hog butchering. I finally talked Mom into helping me cook French fries in hot lard.
CAUTION must be taken if you are learning how to cook fried potatoes in deep fat like French fries and have not done it before. Hot fat is very dangerous if it boils over into the fire and it is VERY EASY to boil over. THIS CAN CAUSE A SERIOUS FIRE! You must use a large kettle only filling it NO MORE than 1/3 full. Children should not be allowed to cook these on their own; Mom stayed right by my side when I was learning.
I learned very early that potatoes dropped into hot fat had to be dried. Wet potatoes cause the hot fat to splatter all over and it really burns your skin. When I started making French fries, I peeled and cut the potatoes; after rinsing them in fresh water I dried them with clean kitchen towels. These were OK but not crispy like I wanted them. I probably spent over thirty years trying to perfect my French fries including freezing the potatoes before frying and I DID SWITCH to oil instead of lard.
---
ALLUMETTES
Below is a good recipe for learning how to cook fried potatoes like French fries. These are called allumettes or a version of French fries; they are tiny crisp matchstick potatoes. This recipe is interesting because they are fried twice; like most commercially prepared French fried potatoes. You fry them in hot oil first at a lower temperature and then fry them again at a higher temperature.
2 Pounds potatoes peeled
Vegetable oil
Salt
Trim potatoes into neat rectangles about 2 ½ inches long; then slice the rectangles lengthwise into sticks about ½ inch wide and 1/8 inch deep.
Soak the potatoes sticks in cold water about 30 minutes; drain thoroughly and dry with clean kitchen towel.
Put about 3 inches of oil in a large heavy pot and heat to 350F degrees.
Place a handful of potato sticks in a wire cooking basket and lower into the hot fat; fry for 3 minutes shaking basket for even frying.
Lift basket from oil and empty on paper towels to drain; repeat until all potatoes are cooked.
RAISE TEMPERATURE to 375F degrees; refry all potatoes again (handful at a time) for 1 to 2 minutes or until golden brown.
Drain on paper towels and sprinkle with salt; serve immediately.
---
FRYING BAKED POTATOES
As I was learning how to cook fried potatoes, one of my favorite ways is making them with baked potatoes. This is really true when making French fried potatoes. I usually bake 7 or 8 potatoes if I only need 2; the extras are placed in the refrigerator for later use. It is amazing what great fried potatoes and French fries these make. Peel the cold baked potatoes and cut into strips; drop the strips into hot cooking oil and fry until golden brown. Drain the potatoes on paper towels, salt and serve.You can also cut these baked potatoes in chunks or slice and fry the same way or simply fry them in a skillet with a little melted fat.
---
LATKES RECIPE
These are very popular Jewish potato pancakes; they are usually served with salt beef or hot tongue.
6 Medium size potatoes peeled and grated
2 Large onions peeled and grated
2 Tablespoons flour
1 Teaspoon warm water
2 Beaten eggs
1 Teaspoon salt
½ Teaspoon black pepper
2 Tablespoons butter
2 Tablespoons corn oil
Drain all liquid from potatoes; place in a bowl with onion, flour, water, eggs, salt and pepper; mix well.
In a large frying pan melt half the butter with half the oil over moderate heat.
Drop in hot skillet the potato mixture by the tablespoonfuls; space apart to make small pancakes.
Fry three minutes on each side until latkes are brown and crisp adding more oil and butter if needed.
As latkes finish cooking place on warm platter and keep warm until all are cooked; serve hot.
---
MASHED POTATO CAKES
2 Cups cold mashed potatoes
¼ Cup finely chopped onion
2 Eggs
Flour
2 Tablespoons butter
2 Tablespoons oil
Combine potatoes, onion and eggs; shape into small patties.
Heat half of butter and half of oil in a large skillet.
Dip both sides of patties in flour; brown in hot skillet on both sides (Add more butter and oil if needed).
---
POTATO PUFFS
4 ½ Cups diced potatoes
2 Teaspoons salt divided
1 ½ Cups water
6 Tablespoons butter
1 ½ Cups flour
6 Eggs
Cooking oil
Boil potatoes in water with 1 teaspoon salt added; cook until soft.
Drain potatoes well; mash with potato ricer. DO NOT ADD BUTTER OR MILK.
N saucepan heat 1 ½ cups water, remaining 1 teaspoon salt and the butter until boiling and butter is melted.
Reduce heat; add flour all at once stirring until batter is firm and leaves sides of pan; remove from heat.
Turn batter into bowl of electric mixer; add eggs one at a time beating well after each.
Add potatoes and mix until well blended.
Heat 1 inch oil to 370F degrees; drop mixture by teaspoonfuls into hot oil.
Fry until puffed and golden brown; drain on paper towels and sprinkle with salt.
Serves 8 to 10.