How to Cook Garlic
I did not learn how to cook garlic until into my adult years. I say this even though when I was younger and still living at home, I did season with garlic. We always had garlic salt and garlic powder in our pantry, but we usually did not have fresh garlic. The powder and salt was cheaper, according to Mom, and it lasted forever in the pantry. After I became a teenager, Mom would sometimes pick up fresh garlic if she was planning to make a beef roast. I still remember how delicious that fresh garlic was in the roast and in the gravy made with the broth.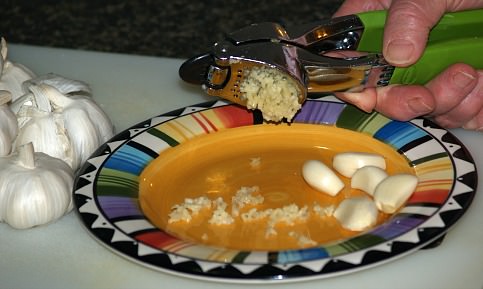 How to Cook Garlic
After I became "my own cook" is when I really appreciated cooking with fresh garlic. If you have learned how to cook with fresh garlic, you have probably noticed the different flavors you can get with garlic. To me, the garlic salt and powder is good and I do use it, but fresh garlic is amazing. Fresh garlic is used in recipes as whole cloves, minced, sliced, grated and juiced. Each of these ways varies the taste to some extent and each is added to a recipe to achieve that flavor.
As I said, Mom learned how to cook garlic mostly in the whole cloves. These roasted whole garlic cloves produce a mild wonderful garlic flavor. I have met many people from Greece who cook their garlic like this on a regular basis. They have specific bowls to place the cloves in and then they put the bowl in the oven until the cloves are tender. They do enough at one time to use it as a spread like butter. It is really delicious when spread on homemade bread. They have also told me that this garlic keeps their blood pressure down. I do not know this for sure but try it.
Most recipes have minced garlic listed in the ingredients. After learning a lot about how to cook garlic, I think this is my favorite. The garlic flavor is very strong and I love it. I use minced garlic in everything from simple brochette and salads to sauces and all kinds of dishes; and I use lots of it.
Sliced fresh garlic is something I started using in the more recent years of my life; maybe the last twenty years. The flavor of sliced garlic is a cross between the whole cloves and minced garlic. I use sliced garlic at least one time every day. I marinate the garlic in olive oil and then I stir in various vegetables. Every day I prepare spinach like this. Sometimes I will prepare other greens, broccoli, asparagus or green beans like this. This is a simple way to add wonderful flavor to these veggies.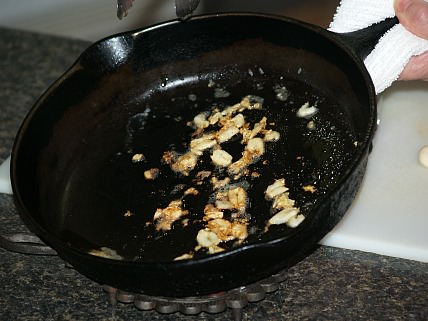 Garlic Marinated in Olive Oil
When I really got into learning how to cook garlic, I tried it finely grated and juiced. I can see this for dressings or other creamy smooth sauces where some may not like to get bits of the garlic (only the flavor) in their mouth. I love the taste so I rarely use it this way.  I have on occasion added a tiny bit of juice to some things when serving to others.

HOW TO COOK GARLIC in RECIPES
FORTY CLOVES OF GARLIC CHICKEN
If you are learning how to cook garlic, you have to make this recipe. You might think the chicken will be overwhelming and it is. It is overwhelming with the wonderful flavor of garlic!
1 Cut up chicken fryer
1 ½ Teaspoon salt divided
¼ Teaspoon pepper
Dash nutmeg
40 Cloves garlic
6 Tablespoons olive oil
6 Tablespoons melted butter
1/3 Pound chopped fresh kale
½ Cup whipping cream
½ Cup sherry
Preheat oven to 350F degrees.

Sprinkle pieces chicken with 1 teaspoon salt, pepper and nutmeg; set aside.
Place unpeeled garlic in boiling water; cook for 30 seconds.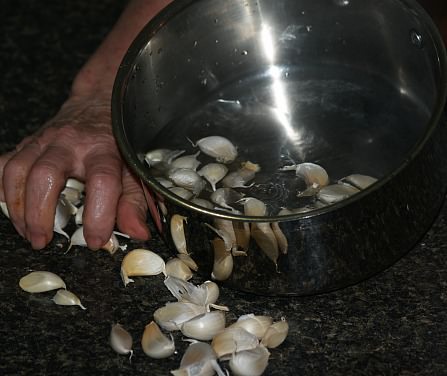 Placing Garlic in Boiling Water
Drain garlic, remove and discard skins.
Combine oil and butter; pour 2 tablespoon into a casserole baking dish coating bottom and sides.
Spread kale over bottom of baking dish.
Layer ½ of garlic over the kale; layer chicken on top of garlic and kale.
Place remaining garlic on top of chicken; drizzle remaining butter oil mixture over the top. 
Combine cream and sherry; pour mixture over the chicken.

Bake 90 minutes or until done basting occasionally.

---
GERMAN GARLIC SOUP RECIPE
Learn how to cook garlic in this delicious garlic soup.
12 Large garlic cloves chopped fine
2 Tablespoons olive oil
1 Teaspoon dried sage
8 Cups beef or chicken broth
8 Slices bread
4 Tablespoons butter
Salt/pepper
Sauté garlic and sage in the olive oil for 5 minutes; add broth and bring to a boil.

Turn down the heat and simmer for 15 minutes; season with salt and pepper to taste.
Spread the bread with butter; broil until golden brown.
Place slices of bread in soup bowls; ladle the soup over the bread. Serves 8.
---
BAKED TOMATO RECIPE with garlic
8 Red ripe tomatoes
1 ½ Cups fresh bread crumbs
6 Tablespoons chopped fresh parsley
8 Large garlic cloves cut in half
Salt/pepper
1/3 Cup olive oil
Preheat oven 400F degrees.

Cut the tops off of the tomatoes; with a sharp knife remove the hard cores from tomatoes.
Scoop out the seeds and juice in each tomato; arrange the tomatoes in a shallow baking dish.
Mix the breadcrumbs with the parsley, salt and pepper; stuff mixture loosely in tomatoes.
Press 2 halves of garlic into the stuffing in each tomato; sprinkle with olive oil.
Bake in the oven about 20 minutes until golden brown.
---
ROASTED GARLIC RECIPE
Learn how to cook garlic roasted in hot ashes or in your oven. Wrap AS MANY WHOLE BULBS as you want in foil. Place the garlic in the hot ashes of a fireplace or charcoal grill. You can also place the bulbs in a preheated oven at 375F degrees. Roast the bulbs until tender and remove from heat. Carefully separate the cloves and squeeze. The cloves will come out of the skins. I just smash the garlic with a fork adding a little olive oil, salt and pepper. This is so delicious to use as a spread like butter. 
---
ROAST GARLIC RECIPE FOR SPREAD
When you learn how to cook garlic this will be a staple in your kitchen.
2 Whole heads garlic

4 Sprigs fresh thyme

½ Teaspoon fresh rosemary

2 Cups grated Monterey Jack cheese

2 to 4 Tablespoons olive oil

Fresh ground black pepper to taste

Pink and green peppercorns for garnish

Preheat oven to 350F degrees.
Cut heads of garlic in half; place 2 sprigs thyme and ¼ teaspoon rosemary between garlic halves.
Wrap garlic in 2 thicknesses of foil and place in oven for 30 minutes.
Remove from oven, unwrap and cool; peel garlic.
Place grated cheese and herb roasted garlic in food processor and process briefly.
Add ground pepper and 2 tablespoons olive oil.
Process until smooth and creamy adding more oil if needed.
Garnish with pink and green peppercorns.
Serve in crock with toasted bread.