How to Cook Mushrooms
I learned how to cook mushrooms when I was very young. Every spring we would walk the woods to gather up the wild mushrooms. I only picked one kind. The "sponge" was the only kind I could recognize and many are poisonous. These were very delicious when cooked. Back then this was the only time and the only kind of mushrooms we ever had to eat. Today, we can purchase several different kinds fresh in our grocery produce section.
Mushrooms are available in cans, dried and fresh in our markets. Although I prefer cooking with the fresh ones, I do keep canned and dried mushrooms in stock for convenience and only for certain recipes. There are several types of fresh mushrooms readily available today in our supermarkets. This availability was not so in my younger years so I do enjoy this luxury. Even though I do love using the fresh ones, I have learned how to cook mushrooms to fit in all my recipes.

I say "cook" for all my recipes because I have found many people to be ALLERGIC to FRESH mushrooms. Many people love fresh mushrooms but as I have served to the public, I have seen people get very sick when eating them with no cooking. You must know your guests and take this CAUTION when serving uncooked mushrooms. For recipes including raw mushrooms, I learned how to cook mushrooms this way. I bring them to a quick boil, cooking about 1 minutes in broth or water and then cool them quickly before using. I have never had a problem with this method and the recipe has always been just as good.
When you are learning how to cook mushrooms, as I said earlier, there are many types available. Canned ones are convenient and your recipe will tell you either to use the juice or more often drain; this is quite easy. Dried mushrooms will require you to hydrate first which takes a little more time to do. Here I am using all fresh mushrooms in the following recipes.
In my local supermarkets or Sam's I can purchase Portabella, crimini, Shiitake and the white button. The white button is the most common and the cheapest to buy; this is what I use for all the recipes below. Portabella mushrooms are large tan or brown caps. They are delicious and I love them in many recipes like my gravy for stuffed pork roast. The crimini mushroom is a smaller version of the portabella; both have a firmer texture. I love these two blended in cream of mushroom soup; great flavor. The shiitake mushroom is also very good adding a great flavor in certain recipes; this also has a firmer mealy texture. I have learned how to cook mushrooms using the various types for different types of recipes.
As I said, I have learned how to cook mushrooms using the white button type more than any other kind, as do most cooks. There are several reasons for this besides being the cheapest of the types. This variety is more tender therefore it is easier to cook in most recipes. Because the portabella, crimini and shiitake are more firm and mealy they need more cooking time; you must consider this when adding to your recipes.  Because the white button mushroom is available in many different sizes, this type fits into many different types of recipes.
When you learn how to cook mushrooms, no doubt you will come across many appetizers made with them; a tremendous number of stuffed mushrooms. There is a giant white button mushroom which makes these stuffed appetizers with a beautiful presentation. The small size is great for recipes like the marinated, pickled and some salad recipes. In between these two sizes are other sizes which fit into almost any recipe so your selection is great.
I do not want to discourage you from learning how to cook mushrooms using all the different types. There certainly is a place for each one. You really need to try all the ones available, even the dried ones. There is a different flavor in each and each will add so much taste to your various recipes. Take note of the different flavors and the cooking time required for each. You can form your own opinion about which you prefer cooking with.
HOW TO COOK MUSHROOMS like this


SAUSAGE MUSHROOM TRIANGLES
1 Pound mild seasoned bulk sausage
1 Pound fresh mushrooms chopped fine
½ Cup minced green onions
1 Tablespoon olive oil
3 Tablespoons butter
Black pepper
8 Ounces softened cream cheese
¾ Pound filo dough
1/8 Cup melted butter
½ Cup breadcrumbs
Combine oil and 3 tablespoons butter in large skillet; sauté sausage, mushrooms and onion until sausage is done.
Drain off all excess drippings; season mixture with pepper and remove from heat.
Stir in cream cheese until blended.
To Assemble Triangles:
Remove Fillo dough from package; remove 1 sheet and keep remaining dough COVERED with a damp cloth.
Brush half of sheet (lengthwise) with melted butter; fold other half over the butter making it about 3x 12 inches.
Brush top with melted butter; sprinkle top with bread crumbs.
Place 1 teaspoon sausage mixture at lower end of the strip; fold strip diagonally over the filling making a triangle.
Continue folding to the other end of the strip; end with a triangle shape.
Continue with process for remaining Fillo and filling.
Place triangles on ungreased baking sheets; brush tops with butter.
Bake about 20 minutes or until triangles are golden brown.
Makes 28 triangles.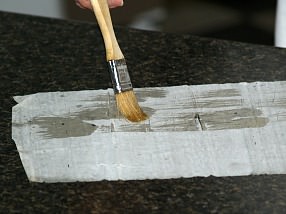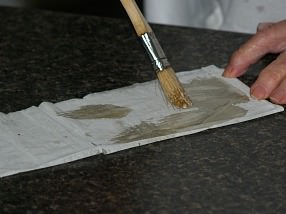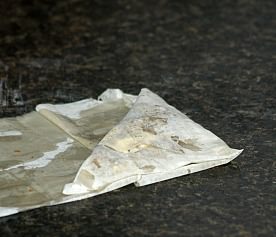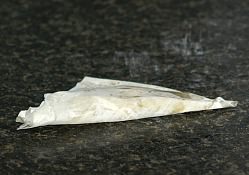 ---
STUFFED MUSHROOM RECIPE
6 Tablespoons butter
½ Pound mushroom caps
¼ Cup finely chopped green pepper
1/4 Cup finely chopped onion
1 ½ Cups small bread cubes
½ Teaspoon salt
½ Teaspoon black pepper
¼ Teaspoon Tabasco
Preheat oven to 350F degrees.
Sauté mushrooms in 3 tablespoons butter; transfer to a baking dish.
In remaining 3 tablespoons butter sauté pepper, onion and bread cubes; add salt pepper and Tabasco sauce.
Stuff the mushroom caps with this mixture; bake for 15 minutes.
---
MARINATED MUSHROOM RECIPE
1 Can consommé
½ Can water
3 Tablespoons wine vinegar
3 Tablespoon olive oil
½ Teaspoon salt
Clove garlic
1 Pound fresh small mushrooms (Cut large ones in quarters)
1 Tablespoon lemon juice
Bring all ingredients to a boil EXCEPT lemon juice; add mushrooms.
Cover pan and cook until tender about 3 minutes.
Put mushrooms in a clean jar, add lemon juice to the liquid and pour over the mushrooms.
Add a lid and store in refrigerator; serve at room temperature.
NOTE: This makes a nice gift for "mushroom lovers"; decorate with a pretty ribbon.
---
OYSTER STUFFED MUSHROOM RECIPE
20 Extra large mushrooms
¼ Cup melted butter
1 Pint small oysters
¾ Cup mayonnaise
¾ Cup horseradish
About 20 drops Worcestershire sauce
Wash and dry mushrooms; remove stems.
Dip each mushroom in melted butter; place in a pan.
Drain oysters and stuff one in each mushroom.
Combine in a small bowl mayonnaise, horseradish and Worcestershire sauce.
Cover each oyster in mushroom with about ¾ tablespoon of mayonnaise mixture.
Broil oysters and mushrooms 6 inches from the source of heat until tops begin to brown; serve hot.
Serves 8 to 10.
---
MUSHROOM CASSEROLE RECIPE
2 Cups cracker crumbs
½ Cup butter
1 Pint milk
3 Egg yolks
2 Tablespoon cornstarch
1 Can mushroom soup
4 Cups sliced mushrooms (clean and dry)
Preheat oven to 350F degrees.
Combine cracker crumbs with ½ cup melted butter; set aside.
Combine and mix milk, egg yolk and cornstarch; stir in soup and mushrooms.
Alternate mushroom sauce and crumbs layering in baking dish ending with crumbs on top.
Bake about 30-35 minutes until top is lightly browned.
---
MUSHROOM QUICHE RECIPE
1 ¼ Pounds sliced mushrooms
1 Clove minced garlic
5 Chopped green onions
3 Tablespoons butter
1 ¼ Teaspoons salt
¼ Teaspoon pepper
2 Teaspoons basil
1 ¼ Teaspoons oregano
¼ Teaspoon marjoram
¼ Teaspoon thyme
½ Teaspoon dry mustard
5 Eggs
¾ Cup milk
1 Unbaked 9 inch pie crust
Preheat oven to 375F degrees.
Melt butter in a large skillet; sauté mushrooms, garlic and green onions until tender.
Stir in salt, pepper, basil, oregano, thyme, marjoram and dry mustard; cook 2 minutes or until liquid evaporates.
Set mushroom mixture aside to cool 5 minutes.
Beat together the eggs with the milk; stir in the mushroom mixture.
Pour mixture into the unbaked pie crust; bake 35 to 45 minutes until the filling is puffed and slightly firm in center.
Serves 6
---
MUSHROOM AND BEAN SALAD RECIPE
Dressing:
¼ cup vinegar
¼ Cup olive oil
½ Teaspoon salt
1 Teaspoon basil
½ Teaspoon oregano
Salad:
1 Package (8 ounces) frozen lima beans
1 Package (8 ounces) frozen green beans
8 Large mushrooms sliced
4 Sliced green onions
2 Tablespoons fresh chopped parsley
Combine dressing ingredients; mix well and set aside.
Prepare lima beans and green beans according to package directions; drain well.
Combine beans, mushrooms and green onion; drizzle dressing over the bean mixture and mix.
Cover and chill for 4 hours before serving. Serves 6