How to Cook Pears
I found that learning how to cook pears is just like cooking apples. Even the taste is similar although I think the pears are a little milder in flavor. It is because of this mild flavor that they can be made into such a wide variety of recipes. We always think of pears as a sweet dessert and they do make those. Pear pies, cakes, cobblers, custards and simple poached pears are just to name a few.  Some may be surprised to know that they also are delicious when added to savory recipes like well seasoned salads, savory stuffing recipes and various entrée recipes.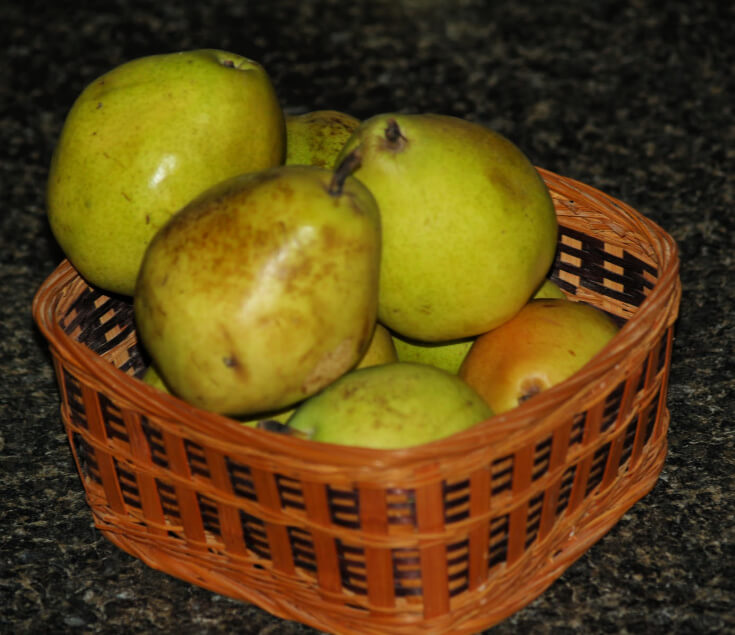 How to Cook Pears
When I was young, learning how to cook pears meant using canned Bartlett pears. Back then pears were not as easily available as they are today. Produce markets were not filled all year round with every fruit of the world like today. Mom bought fresh pears during the harvesting time of the year. They were not as plentiful like apples in our area so we might have had pears about two weeks of each year. If we wanted pears at other times of the year, we settled for canned pears. I am not complaining because I love canned pears also. 

Since I have spent more time learning how to cook pears, I mainly focus on cooking fresh pears. In recent years I happened to stumble upon Asian pears. I have never cooked any of these but they are delicious to eat raw. I really do not think they would be good for cooking, at least not near as good as eating raw. They are so sweet, crunchy and juicy to eat making a great delicious snack food.

As I mentioned earlier the Bartlet pear is most common for canning by commercial canners. It is a good tasting pear but I usually buy the Bosc pear since I have learned how to cook pears. This pear has been delicious in all my recipes and I also love the flavor when eaten raw. Occasionally I do purchase the Anjou pear when available but I prefer the Bosc pear. My choices of pears are still not as good like purchasing apples, even in peak harvesting season.

When purchasing pears, try to find firm ones which have no apparent blemishes. You will want to cook the pears when they are ripe but NOT overripe and they do ripen quickly. The skin of the pears will get tough and rough to the touch so remove the peeling before cooking (UNLESS OTHERWISE INSTRUCTED). Like apples, after removing the skins or when slicing, the pear will turn brown from the air if you let stand. To prevent this browning, coat the pears or slices with lemon juice and then drain well.

---
PEAR WITH PORK STIR FRY RECIPE
Learn how to cook pears in this Asian influenced recipe.

½ Cup plum preserves
3 Tablespoons soy sauce
2 Tablespoons lemon juice
1 Tablespoon grated horseradish
2 Teaspoons cornstarch
¼ Teaspoon crushed red pepper flakes
1 Tablespoon vegetable oil
1 Medium green bell pepper (Cut in strips)
2 Teaspoons grated fresh ginger
3 Gloves minced garlic
3 Medium ripe pears (Peel and slice)
1 Pound pork tenderloin (Cut in ¼ inch strips)
1 Can (8 Ounces) sliced water chestnuts (Drain)
1 ½ Cups fresh snow peas
1 Tablespoon sliced almonds (Toasted)

Combine in a small bowl the plum preserves and the next 5 ingredients; set aside.
Heat oil in a large skillet; stir fry the bell pepper, ginger and garlic about 2 minutes.
Add pears and stir fry 1 minute; remove from skillet and keep warm.
Add the pork strips and stir fry until no longer pink 2 to 4 minutes.
Return the pear mixture to the pan; add the water chestnuts and plum mixture.
Bring mixture to a boil stirring for 2 minutes; add peas and heat thoroughly.
Sprinkle top with almonds and serve with cooked rice; serves 4.

---
PEAR STUFFED PORK RECIPE
Learn how to cook pears with this stuffed pork recipe.

2 Cups chopped peeled ripe pears (Not over ripe)
1/2 Cup sliced almonds (Toasted)
1 Cup soft bread crumbs
1/2 Cup finely shredded carrot
1/4 Cup finely chopped onion
1 Teaspoon grated fresh ginger
4 Tablespoons chicken broth or water
1/2 Teaspoon salt
1/2 Teaspoon black pepper
2 Pounds pork loin roast
Vegetable oil
2 Tablespoons orange marmalade

1 Tablespoon brandy
Preheat oven to 425 F degrees.
Combine and mix in bowl the pears and next 8 ingredients; set aside.
Cut a slit in the loin lengthwise to ¼ inch at bottom.
Open the meat laying it flat; pound to flatten to an even ¼ inch thickness.
Spread the pear mixture evenly over the flattened tenderloin.
From the long side roll up tucking in the ends; secure with wooden picks (or string).
Place roll on a rack in shallow roasting pan; brush lightly with vegetable oil.
Bake 20 minutes; spoon brandy marmalade mixture over top.
Bake 20 minutes longer; REDUCE HEAT TO 375 F degrees.
Bake until meat thermometer  reaches 165 F degrees ( about 1 hour). 
Let stand 10 minutes and discard wooden picks; serves 6.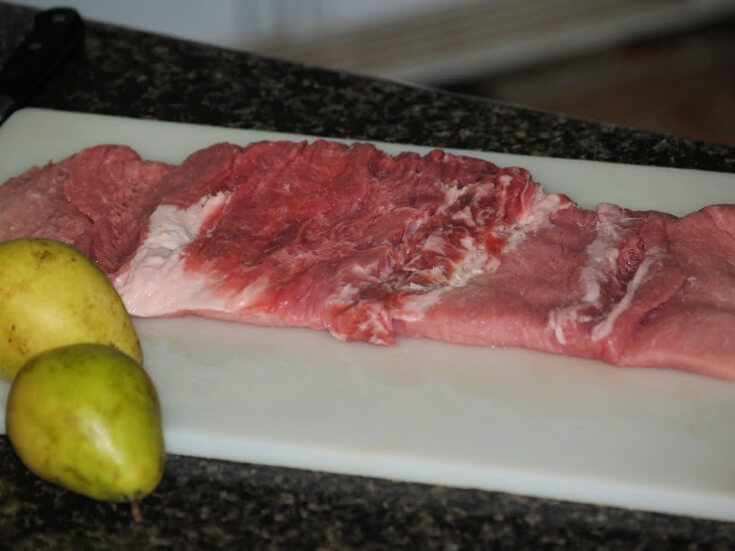 Slice and Flatten Meat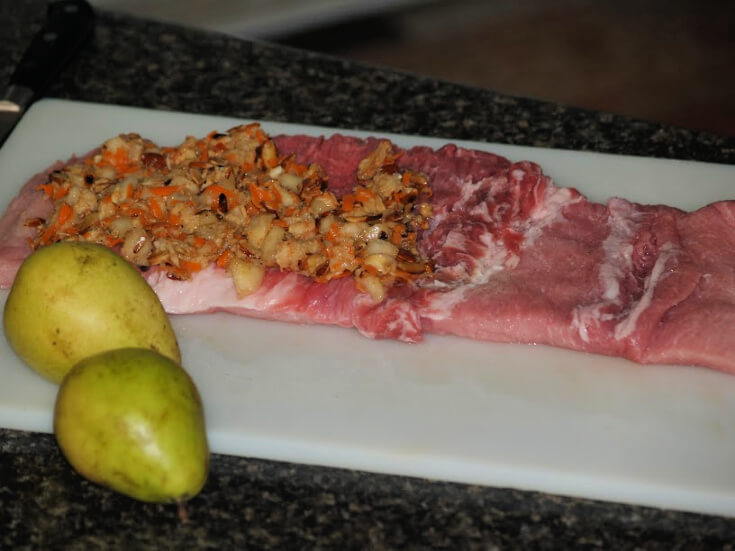 Layer with Filling
Brush with Oil
---
BLUE CHEESE PEAR GRATIN RECIPE
Learn how to cook pears with this flavorful gratin dessert.

¼ Cup sugar
1 Tablespoon flour
1 Teaspoon cornstarch
1 Egg
1 Egg yolk
1 Cup light cream
2 Tablespoons butter
½ Teaspoon vanilla
2 Tablespoons softened cream cheese
3 Tablespoons crumbled blue cheese
1 Can (8.5 Ounces) pear halves (Drain)
3 Tablespoons powdered sugar (Sifted)
¼ Cup chopped walnuts
¼ Cup gingersnap crumbs

In a small bowl combine the sugar, flour and cornstarch; set aside.
In a small mixing bowl beat with mixer the egg and egg yolk until thick.
Add the sugar mixture beating until well blended; set aside.
In a medium saucepan heat the cream until hot but do not boil.
Gradually whisk about a fourth of the hot cream into the egg mixture.
Whisk in the remaining hot cream; place mixture back in saucepan.
Cook and stir over LOW heat until thickened; remove from heat stirring 1 minute.
Dump mixture into a bowl; stir in the butter and vanilla.
Cover bowl with plastic wrap; refrigerate at least 2 hours or overnight.
Combine the cream cheese and blue cheese in small bowl; beat until smooth.
Fold cheese into the chilled mixture; divide evenly into 4 oven proof custard cups.
Place and inverted pear half in each; sprinkle top with powdered sugar.
Place dishes in larger pan or on a tray; place under broiler 1 ½ minutes or until light brown.
NOTE: Place about 5 ½ inches from heat source; leave oven door partially opened.
Combine walnuts and gingersnap crumbs; sprinkle evenly over gratin.
Broil another 30 to 40 SECONDS; serve warm.
Serves 4.

---
HOW TO COOK PEARS with HONEY
Learn how to cook pears into pear honey; great with hot biscuits or for gifts.

1 ½ Pounds pears (Peel, core and cut in quarters)
1 Can (8 Ounces) crushed pineapple (Drain)
1 Tablespoon grated lemon peel
2 Tablespoons lemon juice
4 Cups sugar

Place pears in a food processor; process ONLY until finely chopped.
NOTE: Pears should equal 4 cups.
Combine the pears, pineapple and remaining ingredients in saucepan.
Bring slowly to a boil; cook stirring frequently until sugar dissolves.
Simmer stirring frequently 40 minutes or until thickened.
Spoon mixture into hot sterilized half pint jars filling to ½ inch from top.
Wipe rim with a clean damp cloth; cover immediately with metal lids and rims.
Process in boiling water bath for 5 minutes; cool on wire rack.
Makes 3 jars.

---
TOSSED PEAR SALAD RECIPE
Learn how to cook pears by using this no cook salad recipe.
Dressing

2 Tablespoons fresh raspberries
¾ Cup vegetable oil
3 Tablespoons cider vinegar
2 Tablespoons PLUS 1 teaspoon sugar
½ Teaspoon black pepper

Salad

4 Medium ripe pears (Slice thinly)
2 Teaspoons lemon juice
8 Cups salad greens (Wash, drain well, tear in bite size)
2/3 Cup pecan halves (Toasted)
½ Cup fresh raspberries
1/3 Cup crumbled feta cheese

Press raspberries through a sieve reserving the juice; discard seeds.
In a jar combine the oil, vinegar, sugar, pepper and reserved juice; shake well.
In a small bowl toss the pear slices with the lemon juice; drain.
In a large salad bowl combine the greens, pears, pecans and raspberries.
Sprinkle the top with the cheese; drizzle with the dressing.
Serves 8.

---
PERSONAL PEAR PIES RECIPE
Learn how to cook pears in these tasty individual deep pies.

2 Tablespoons butter (Divided)
2 Tablespoons sugar
1 Tablespoon cornflake crumbs
1 Tablespoon brown sugar
½ Teaspoon ginger
2 Cups finely chopped pears (Peeled)
1 Tablespoon orange juice
½ Sheet puff pastry (Thawed)
1 Beaten egg

Preheat oven to 400F degrees.
With butter grease bottoms and sides (Not rims) of 4 (1 Cup size) ramekins.
Place ramekins on baking sheets; set aside.
Combine and mix in small bowl and sugar, crumbs, brown sugar and ginger.
In large bowl toss pears with orange juice; add crumb mixture tossing to combine.
Divide the pear mixture evenly among the prepared ramekins; dot with butter.
WITHOUT unfolding pastry cut crosswise into 14 strips (1/4 Inch).
Carefully unfold strips; cut strips to make lattice over top of ramekins.
Gently press ends of strips to the rims of ramekins; brush with beaten egg.
Bake 25 to 30 minutes until bubbly and lattice is golden brown.
Serve with ice cream; serves 4.

---
MARMALADE PEAR RECIPE
Learn how to cook pears by making a sweet marmalade.

1/3 Cup orange marmalade
¼ Cup orange juice
2 Cans (16 Ounces each) pear halves (Drain)

Combine all ingredients in a large skillet.
Cover and cook over medium heat until thoroughly heated.
NOTE: Stir pears very gently.
Spoon pears and syrup into individual serving dishes.
Serves 6.

---
BUTTERNUT SQUASH PEAR SOUP RECIPE
Learn how to cook pears in a delicious hot pear soup?

2 Slices bacon
1 Tablespoon olive oil
1 Medium leek
3 Pounds butternut squash
4 Cloves minced garlic
½ Cup finely chopped onion
1/3 Cup finely chopped celery
2 Firm ripe pears (Peel, core, cut in cubes)
2 Cups chicken broth
2 Cups water
1 Cup heavy whipping cream
Minced fresh parsley

In a large Dutch oven cook the bacon in the oil until crisp.
Remove pan  from the heat; drain the bacon..
Crumble bacon and set aside; reserve the drippings in the Dutch oven.
Remove the root, outer leaves and top of leek; rinse and slice thinly.
Peel the squash, discard seeds and cut into 1 inch pieces; set aside.
In the drippings in Dutch oven cook leek, garlic, onion and celery until tender.
Add the squash, pears and chicken broth; bring to a boil and cover.
REDUCE HEAT and simmer for 50 minutes or until squash is tender.
NOTE: Add up to 2 cups of water if needed to keep from sticking.
Process batches of the soup in a food processor until smooth; return to pan.
Bring soup to a boil, REDUCE HEAT and stir in whipping cream.
Cook and stir constantly until thoroughly heated.
Ladle soup into bowls; sprinkle with crumbled bacon and parsley.
Makes 8 cups.

---
CHILLED PEAR SOUP RECIPE
When learning how to cook pears you will find many recipes require no cooking.

32 Ounces diced canned pears (In juice NOT syrup)
2 Tablespoons honey
4 Tablespoons brown sugar
1 Teaspoon nutmeg
2 Teaspoons cinnamon
1 Cup heavy cream (Divided)
1 Tablespoon sugar
1 Teaspoon vanilla

Combine pears with juice, honey and brown sugar in food processor.
Add the nutmeg and cinnamon; process until smooth.
Add ½ CUP of heavy cream and process until blended; chill.
In a small mixing bowl beat ½ CUP of whipping cream until soft peaks form.
Add the sugar and vanilla beating until stiff peaks form.
Serve cold soup with dollops of whipped cream.

---
PEARS EN CROUTE RECIPE
Learn how to cook pears making this elegant dessert recipe.

2 Packages (15 Ounces each) refrigerated pie crusts
5 to 6 Firm ripe pears (Not peeled)
1 Egg yolk
1 Tablespoon water
Mint leaves for garnish

Caramel Sauce

1 Jar (12 Ounces) caramel ice cream topping
1 Can (14 Ounces) sweetened condensed milk
¼ Cup Grand Marnier
2 Tablespoons lemon juice

Unfold the piecrust one at a time on a lightly floured surface.
Roll each into a 10 inch square; cut each into 1 inch strips.
Starting at the bottom of the pear; begin wrapping with 1 strip.
With strip 2 wrap around pear overlapping ¼ inch.
Continue wrapping moistening strips with water.
Join strips at the ends wrapping until pear is completely covered.
Place pears on baking sheet as they are wrapped.
Combine egg yolk and water; brush evenly over the pastry.
Bake for 1 hour or until tender.
FOR SAUCE combine caramel topping and milk in top of double boiler.
Bring water in bottom to a boil; REDUCE HEAT to low.
Cook and stir until smooth; stir in Grand Marnier and lemon juice.
TO SERVE place each pear on serving dish; spoon 2 -3 tablespoons sauce over top.