How to Cook Pork Belly
When I learned how to cook pork belly, it was late in my life. At least I thought so! When I was growing up and we raised all our own pork, I never heard of cooking the belly of the pig. The belly is where our bacon comes from. Dad would smoke some bacon, salt some and some we ate fresh. This was all done in slabs or large pieces of the pork belly. When we wanted to cook some bacon we got the bacon out and placed it on the cutting board. With a sharp knife we cut however many slices we wanted to cook. By running the sharp knife close to the rind the slices would come loose.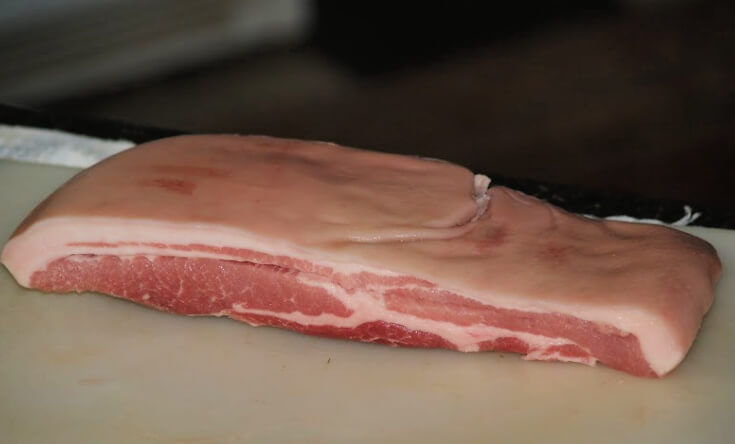 How to Cook Pork Belly
These thicker slices were so much tastier than the commercially cut thin slices. Much later when I learned how to cook pork belly, I realized my fresh bacon is exactly what the pork belly taste like.  If these fresh bacon slices are not overcooked, it is the pork belly without the rind. The reason so many people love the pork belly roasted is that the rind is roasted to a crispness which you do not have with the bacon. Large sections of the pork belly (Or roasts) can also be stuffed making great elegant dinners.


Learning how to cook the pork belly is very popular in many countries. The famous Italian pancetta is made from the belly of the pig. It is not only well known in Italy but here in the United States and around the world. Recipes for cooking the pork belly by slicing or as roasts emerge from France, Germany, China and throughout Central and South America. All these countries have different styles of cooking like broiling, grilling, boiling and baking. Various herbs and spices add to the great flavors of the different countries and regions.


One of my favorite pork snacks during and after butchering season was the cracklings. These also come from the pork belly. When you roast the belly crisply, the crust is like pork cracklings. After I learned how to cook pork belly, making small crisp pieces like cracklings became my favorite. When I was young I use to work at the National Cash Register Company in the factory. All the buildings were heated with hot water registers. I would take a large bag of cracklings in when I went to work at seven o'clock. The men would distribute the cracklings placing them on the heaters. By ten o'clock you could smell them all over the buildings and everyone was starving. We sprinkled them with a little salt and they were delicious.


If you are learning how to cook pork belly, you make find it hard to purchase them in your supermarket. A whole pork belly could weight from about eleven pounds to thirteen pounds. Most of the time what you have available in the supermarkets are roasts cut into three to four pounds. You can order the whole pork belly if you are feeding a larger crowd. Also for crowds, you can PURCHASE TWO PORK BELLIES. Place one on top of the other sewing them together with a trussing needle. Leave one end open for stuffing. After stuffing loosely then sew up the opening.

NOTE: If you are learning how to cook pork belly stuff it loosely to prevent splitting. Punch the trussing needle over the roast to let air escape.


When learning how to cook pork belly, a BASIC WAY is to roast a 2-3 pound pork belly first PREHEAT OVEN to 425F degrees. Place the roast in a shallow pan adding about ¾ cup of water. Place roast in the oven until brown about 15 minutes. LOWER THE HEAT to 325F degrees. Add more water (About ½ cup), cover with foil and return to oven. Roast for another 60-75 minutes adding more water if needed.

STUFFED PORK BELLY RECIPE
Learn how to cook pork belly with bread stuffing and raisins.

2 ½ Pound pork belly roast
2 Crusty rolls (Crumble, soak in milk and squeeze out excess)
2 Tablespoons butter
1 Tablespoon chopped fresh parsley
1 Tablespoon marjoram
¼ Teaspoon ground cardamom
1/4 Teaspoon onion powder

Salt/ pepper
1 Beaten egg
2/3 Cup golden raisins (Soaked in warm water 15 minutes; drain)
2/3 Cup hot water
1 Cup chicken stock
½ Cup sour cream

Preheat oven to 425F degrees.

With a pointed knife open up the natural layer of the meat for stuffing.
NOTE: I cut leaving a layer of fat next to the skin and most of the meat in the other layer.

Melt butter in a large skillet; fry bread in hot butter stirring for 4 minutes.

Stir in parsley, marjoram, cardamom, onion, salt and pepper; remove from heat.

Blend in the egg and raisins; loosely fill the opened pocket of the belly.

Sew up the opening and place in a shallow roasting pan; add hot water.

Place in hot oven (rind and fat side up) for 15 minutes or until brown.
REDUCE HEAT TO 325F degrees.

Pour some of the stock into the pan; cover and return to oven.

Roast for about 1 ½ hours adding more stock if needed.
NOTE: If you like a crispier crust place under the broiler about 5 minutes; do not let it burn.

Transfer to a warm platter; cover and keep warm.

Pour pan drippings into a saucepan; place over medium heat.

Stir the sour cream into the saucepan; stir until hot and smooth.

NOTE: Do not boil sauce.

Serve sauce with sliced meat; serves 6.
Cut Pocket in Pork Belly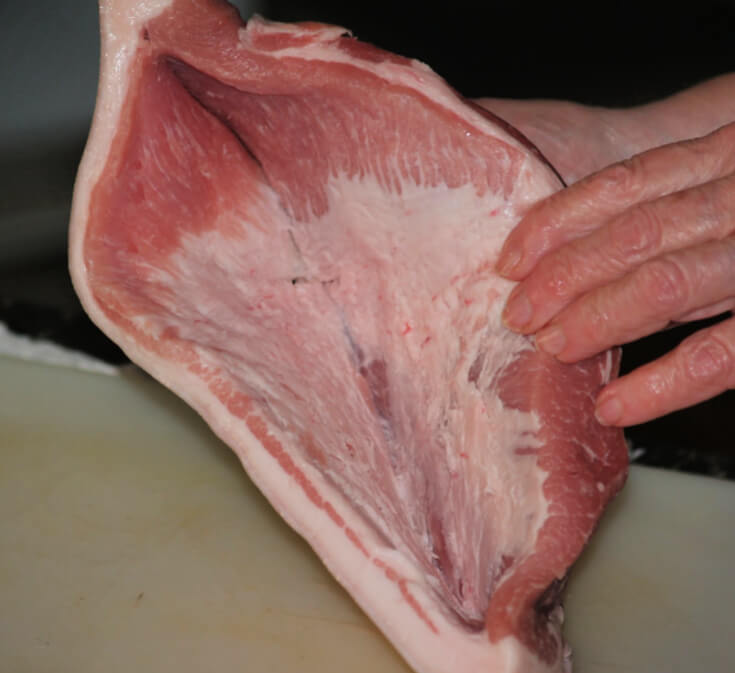 Pork Belly Pocket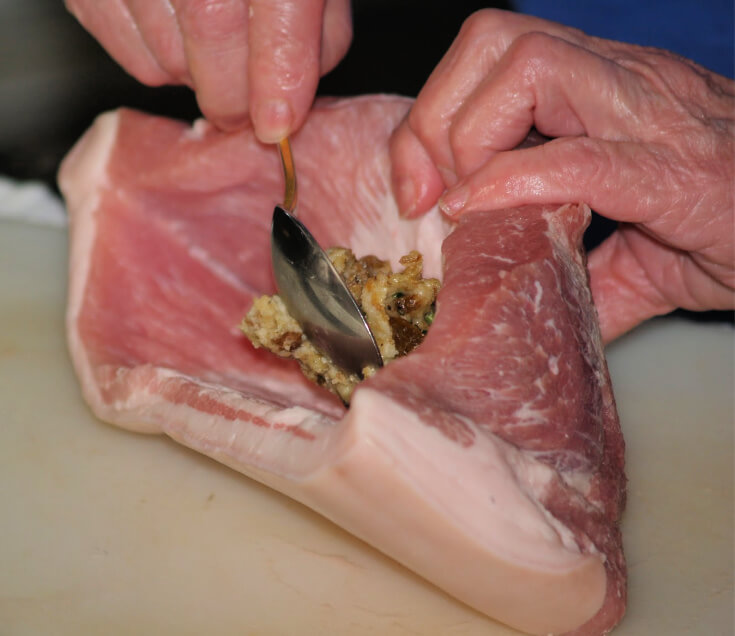 Fill Pocket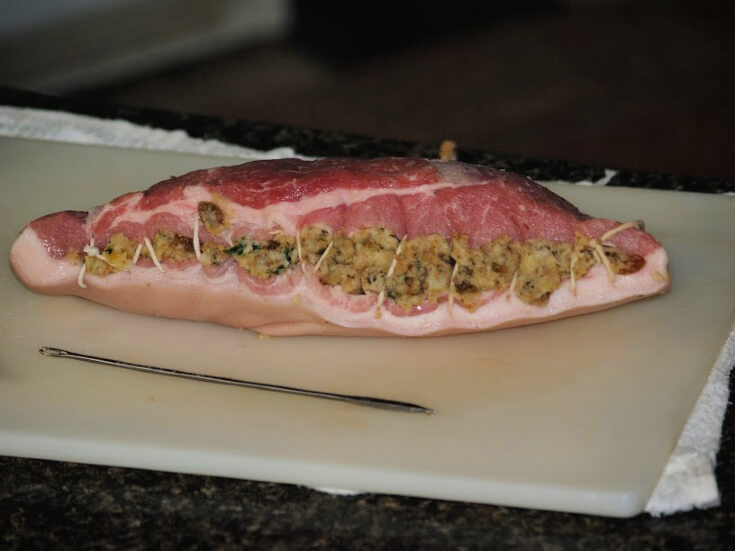 Sew Up Stuffed Belly
---
SPICY PORK belly
Learn how to cook pork belly with sweet potatoes and spice.

1 Whole head garlic
2 Tablespoons ground annatto (achiote)
2 Teaspoons ground cumin
Salt/ fresh ground pepper
1 Cup white vinegar
3 Pounds pork belly (Cut into 1 ½ inch cubes)
2 Tablespoons vegetable oil
¼ Cup orange juice
1 ½ Pounds sweet potatoes
¼ Teaspoon salt
Water

Peel garlic cloves; combine with annatto, cumin, salt and pepper in food processor.
Add vinegar and process mixture until smooth marinade.
Place the pork pieces in a large bowl; pour marinade over the pork.
Mix pork well with marinade, cover tightly and refrigerate overnight.
Strain the pork and reserve the marinade; dry pork on paper towels.
Heat the oil in a large skillet; add pork and sauté until golden brown.
PREHEAT OVEN TO 250F degrees.
Place meat in casserole dish from; pour reserved marinade over top.
Add the orange juice, cover and place in oven until tender 1 ½ - 2 hours.
NOTE: If meat dries out add a little water.
Peel the sweet potatoes and cut in ¾ inch slices.
Cover with water; add salt and bring to a boil.
Boil 15 to 20 minutes or until potatoes are tender; drain.
Serve potatoes on platter with meat; drizzle meat juices over potatoes.

---
BOILED DINNER RECIPE
Learn how to cook pork belly boiled with chicken and vegetable.
1 Pound pork belly
1 Chicken (Cut into pieces)
1 Large onion (Peel and cut in half)
1 Stalk celery (Cut in half)
1 Bay leaf
2 Sprigs thyme
1 Teaspoon coarse salt
8 Black peppercorns
2 Leeks (Cut into slices)
2 Large carrots (Peel; cut in slices)
1 Cabbage head (Cut in quarters)
4 Large potatoes (Cut in quarters)

Combine the pork and chicken in a large Dutch oven.
Cover with cold water and bring to a boil; skim top as it comes to top.
When liquid is clear add the onion, celery, bay leaf, thyme, salt and peppercorns.
Simmer mixture for 1 ½ hours; add leeks, carrots, cabbage and potatoes.
Return mixture to a boil; cover and simmer 45 minutes.
REMOVE and discard bay leaf, onion, celery and herbs.
Remove the chunk of bacon to cutting board; cut into small pieces.
Have some serving bowls heated and ready.
Place a chicken piece and bacon pieces in each of the bowls.
Add leeks, carrots, cabbage and a potato to each of the bowls.
Spoon broth over the mixture and serve; serves 6.
---
STUFFED PORK BELLIES

Learn how to cook pork belly with a soft tender crust.

2 Pork belly (4 Pounds each)
About ½ cup butter (Divided)
2 Cups finely chopped onion (Divided)
1/3 Cup finely chopped shallots
3 Pounds potatoes (Peel, dice and blanch in salt water)
1 ¾ Pounds ground pork loin
1 Pound diced pork tenderloin
2 Eggs
5 Sprigs finely chopped parsley
1 Teaspoon dried sage
Salt/ pepper to taste
Bouquet of garni
NOTE: For bouquet of garni use your favorite combination or combine in a cheesecloth bag 1 clove chopped garlic, 1 bay leaf, 1 tablespoon fresh chopped parsley, 1 teaspoon dried thyme and ½ teaspoon black peppercorns.

Place one pork belly on top of the other (Rinds on the outside).
With large trussing needle sew bellies together on three sides.
PREPARE STUFFING by melting ¼ CUP of butter in a large skillet.
Add 1 CUP onions and shallots to the skillet; sauté until tender.
Add potatoes; cook for 5 minutes over low heat tossing to prevent sticking.
In a bowl combine the ground pork and diced pork with the eggs.
Add the parsley, sage, salt and pepper; mix well to combine.
Add the potato mixture to pork mixture; mix lightly.
Stuff pork bellies lightly with stuffing; sew up opening with trussing needle.
NOTE: May have extra stuffing; bake in greased casserole baking dish and serve as side for extras.
Place stuffed pork bellies in a large Dutch oven; cover with warm water.
NOTE: By starting with warm water it will prevent the rinds from toughening.
Combine
Add salt, bouquet of garni and remaining 1 CUP onion to the pot.
Bring liquid to a simmer; cover and simmer for 4 hours.
Carefully lift the stuffed bellies from the pot; drain.
NOTE: I have found that the large heavy slotted spoons are best for lifting out the pork belly.
Melt remaining ¼ CUP of butter in a large skillet.
Add poached pork belly to the skillet and brown on both sides.
Cut into slices; serve with thickened poaching broth.
Serves 10.

---
HOW TO COOK PORK BELLY WITH IRISH WHISKEY
Learn how to cook pork belly with potatoes and cabbage.
2 Pounds pork belly
2 Tablespoons Irish whisky
5 Tablespoons honey
7 Tablespoons apple cider (Or apple juice)
12 Whole cloves
2 Tablespoons butter
7 Tablespoons olive oil
1 Pound potatoes (With peel)
¼ Teaspoon salt
1 Egg yolk
¼ Cup flour PLUS
Salt/ pepper to taste
8 Small Savoy cabbage leaves

Place the pork belly in a large pot and cover with cold water.
Bring the water to a boil; REDUCE HEAT.
Cover and simmer for 3 hours or until completely tender.
Place potatoes in saucepan and cover with water; add ¼ teaspoon salt.
Bring to a boil; simmer until tender about 20 minutes.
Drain potatoes well; set aside to cool completely.
Peel away potato skins; grate into a bowl.
Add the egg yolk; sprinkle in the ¼ CUP flour.
Season well with salt and pepper; mix well.
Shape into four (4 Inch) patties dusting with extra flour.
Place patties on a flat plate; cover with plastic wrap.
Chill patties until firm 1 to 2 hours.
PREHEAT OVEN TO 350F degrees.
Place Irish Whiskey, honey and apple cider in a pan.
Heat and stir over medium until blended; set aside.
Remove the pork belly from the liquid, drain and cool to handle.
With sharp knife slash through the rind in a crisscross pattern.
Press cloves in the slashes; place in a small shallow roasting pan.
Brush the Irish whiskey over the pork belly; pour all over.
Bake about 20 minutes or until completely heated and well glazed.
NOTE: Baste with pan drippings 2 to 3 times.
Remove from oven and place in a warm place at least 10 minutes.
FOR POTATOES heat oil in heavy skillet; add 1 TABLESPOON butter.
When hot add the potato cakes; cook 2 to 3 minutes on each side.
NOTE: Potato cakes should be golden brown and thoroughly heated.
Blanch the cabbage in boiling salt water just until tender.
Drain cabbage; toss with 1 TABLESPOON butter; season to taste.
TO SERVE slice pork belly; arrange potato cake on warm plate.
Add cabbage leaves and sliced pork belly; serves 4.