How to Cook Rhubarb
My taught me how to cook rhubarb when I was young. Our family has been cooking it for generations. Long before I ever thought of taking up cooking, I would look forward to Mom's rhubarb recipes. We had a big clump of rhubarb growing in the back yard. Every year we had more and more rhubarb. As soon as warm weather arrived we would see those dark green shoots come up out of the ground. As soon as the long red stalks grew up topped with those green leaves we began eating delicious desserts.


Although rhubarb is considered a vegetable, I learned how to cook rhubarb always for desserts. It is very sour and needs lots of sugar or sweetener in preparation for desserts. In some countries, people will cut the rhubarb stalks and eat them with salt like we do green onions or tomatoes. As a child, this is not a plant that we were allowed to pick on our own. The large green leaves and the roots are known to be poisonous so we were not allowed to touch them as kids.  We never ate uncooked rhubarb, only cooked in desserts.


I learned how to cook rhubarb every spring when it is plentiful; but it can also be preserved for the rest of the year. After the second year of planting, you can harvest some of the stalks. Keep in mind that the leaves and roots are toxic so you want only the stems. The stems (or stalks) should be at least 12 inches long and no longer than 24 inches (After this growth, the stems will be too tough). To harvest, pull the stems and twist sideways from the root base (or crown).

How to Cook Rhubarb
I not only learned how to cook rhubarb in the spring and early summer but also how to preserve it for the rest of the year. Freezing is a great way to store it. Remove the leaves and any "woody" ends. Cut the stalks into 1 inch pieces and blanch for 1 ½ minutes in boiling water; drain and pack dry. Hot pack canning is another option; cut stems into ½ inch pieces. Toss each 4 cups with 1 cup sugar OR ¼ cup honey and let stand 4 hours to draw out juice; then bring to a boil. Pack into hot sterilized jars ½ inch from the top and place lids on top. Process quart jars for 15 minutes in hot water bath.
HOW TO COOK RHUBARB to make


STRAWBERRY RHUBARB PIE

Pastry for 9 inch double crust (My pie crust recipe on how to make a pie page)
1 Cup sugar

1 Tablespoon cornstarch

¼ Cup flour

½ Teaspoon ground nutmeg

4 Cups fresh rhubarb cut in ½ inch pieces

2 Cups strawberries thickly sliced

1 Tablespoon orange juice

2 Tablespoons butter

Preheat oven to 425F degrees; Roll out pastry and line 9 inch pie pan.
In large bowl combine sugar, cornstarch, flour and nutmeg.
Add rhubarb, strawberries and orange juice; mix well.
Dump into pastry lined crust; dot with butter.
Roll out remaining pastry into an 11 inch circle; cut into ¾ inch wide strips.
Make a woven lattice top.
Bake until fruit is tender and crust is browned; about 50 minutes.

Preparing a Strawberry Rhubarb Pie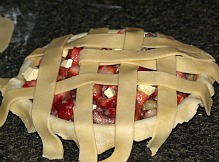 Preparing a Strawberry Rhubarb Pie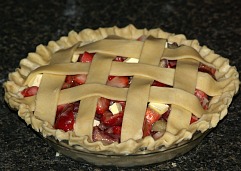 Preparing a Strawberry Rhubarb Pie
---
STRAWBERRY RHUBARB FOOL RECIPE

a favorite recipe for cooking rhubarb



I learned how to cook rhubarb to make this cold fruit fool recipe. This English dessert made with cooked pureed rhubarb and fresh pureed strawberries is simple but so delicious.
1 ½ Pounds rhubarb cut into 2 inch pieces

¼ Cup packed brown sugar

2 Tablespoons butter

2 Pints strawberries

1 Tablespoon grated orange zest

½ Teaspoon orange extract

1 ½ Cups heavy cream

¼ Cup powdered sugar
Cook rhubarb, brown sugar and butter in heavy saucepan over medium low stirring until tender.
Puree strawberries in blender and place in large bowl; set aside.
Drain cooked rhubarb in colander; cool slightly and puree in blender.
Add rhubarb puree to strawberry puree in bowl; add orange zest and orange extract to bowl; blend well.
Cover bowl and refrigerate about 2 hours.
In small bowl beat heavy cream slowly adding powdered sugar to soft peaks.
Stir whipped cream into cold puree.
Cover bowl and refrigerator another 2 hours; serve in 4 to 6 parfait glasses.
---
RHUBARB CRISP RECIPE
4 Cups chopped rhubarb

1 Cup sugar

3 Tablespoons flour

Oatmeal Topping:

½ Cup packed brown sugar

½ Cup rolled oats

1/2Cup butter

1/3 Cup flour
Preheat oven to 350F degrees.
Combine sugar and flour in a small bowl; mix well.
Place rhubarb in a large bowl; add sugar and flour mixture tossing until all pieces are coated.
Place in 9 X 9 inch baking pan; set aside.
In small bowl combine all topping ingredients mixing until crumbly.
Sprinkle topping evenly over the rhubarb; bake for 45 minutes.
Rhubarb should be tender when done; juices are thick and bubbly. 4-8 servings.

---
RHUBARB BARS RECIPE
3 Cups chopped rhubarb

1 ½ Cups sugar

1 Teaspoon vanilla

3 Tablespoons cornstarch

¼ Cup water

1 ½ Cups oatmeal

1 ½ Cups flour

½ Teaspoon baking soda

1 Cup brown sugar

1 Cup butter

½ Cup chopped nuts

Cook rhubarb, sugar, vanilla, cornstarch and water until thick and let cool.
Mix together oatmeal, flour, soda, brown sugar, butter and nuts; reserve aside about 2 cups.
Pat remaining crumb mixture into 9 X 13 inch baking pan; pour rhubarb mixture over top of crust.
Top with reserved crumb mixture; bake at 375F degrees for 30 to 35 minutes.

---
STEWED RHUBARB RECIPE
Mom learned how to cook rhubarb when she was young and it was a common occurrence during the springtime in Ohio. The most common way was stewing it with sugar; simply combine rhubarb and sugar in saucepan with a little water. This was often served over hot biscuits. 
---
RHUBARB DUMPLINGS
These dumplings go well with Mom's stewed rhubarb.
2 Tablespoons softened butter

1 ½ Cups flour

½ Cup milk

½ Cup sugar

2 Teaspoons baking powder

½ Teaspoon vanilla

1 Egg

Combine all dumplings ingredients until well blended.
Bring stewed rhubarb to a boil (may need to add extra water).
Drop dumpling batter by teaspoon into boiling stewed rhubarb.
Cook until dumplings are cooked through and serve.

---
RHUBARB CAKE RECIPE
Cake:
2 Cups chopped rhubarb

2 Tablespoons flour

1 ½ Cups sugar

½ Cup solid shortening

1 Egg

2 Cups flour

1 Teaspoon baking soda

½ Teaspoon salt

1 Cup buttermilk

1 Teaspoon vanilla
Topping:

¾ Cup sugar

1 Teaspoon ground cinnamon

¼ Cup softened butter

Preheat oven to 350F degrees.
Combine rhubarb and 2 tablespoons flour in a medium bowl; toss until rhubarb is coated.
Combine sugar and shortening in a large mixing bowl; beat well.
Add egg and beat until well blended.
Sift together 2 cups flour, baking soda and salt; add alternately with buttermilk to creamed mixture.
Stir in vanilla and rhubarb; spread into greased and floured 9 X 13 inch baking pan.
In small bowl combine topping ingredients; mix until crumbly.
Sprinkle evenly over cake; bake 35 to 40 minutes or until cake springs back when touched lightly.

---
RHUBARB SAUCE RECIPE
Since I learned how to cook rhubarb, I found this recipe can be made and frozen and small containers; great for serving on ice cream or sponge cake.
2 Cups orange juice

1 Cup honey

½ Teaspoon ground cinnamon

4 Cups (1/2 inch) sliced rhubarb

½ Cup currants

Combine in saucepan orange juice, honey and cinnamon; add rhubarb and currants.
Cook and stir mixture until rhubarb is tender and liquid is syrupy about 5 to 10 minutes.
Pour into small freezer containers and freeze.