How to Cook Salmon 
When you learn how to cook salmon or other fish, you will be able to skip the part of scaling, cleaning, skinning and boning unless you do the fishing yourself. Today most of this is done before you see it in your local fish market. If you can purchase seafood at the coast when it first comes in, this is at its best. 
As you learn how to cook salmon you will see the difference in the quality. If you live inland it is best to purchase the quick frozen (As soon as it is pulled from the water it is cleaned and frozen.). I find this has the best flavor next to the very fresh. Most of what we purchase in our supermarkets have been frozen. It is thawed after delivery to the market and often passed on as "fresh". 

Salmon which has been frozen and then thawed and placed in a sales case is usually mushy. It definitely does not have a good flavor.  Even when I purchase frozen salmon from the grocery store, after thawing I soak it in salted water before cooking. This removes some of the "fishy" taste. When I order from a supplier, like from Alaska, I do not get that taste.

If you are learning how to cook salmon you should know that the fish from the seas are called "wild salmon". Today you have the option of also purchasing "farm" salmon. This enables us to purchase it at a little more economical price. However this is, I prefer the quality of the wild salmon over the farm salmon. You may not agree so try it. 
Fish have no tough connective tissue and therefore require a very short cooking time. It is easy to overcook which will dry out and toughen the delicate fish proteins. Unlike many other fish, salmon has a high fat content but is still very healthy in our diet. As a whole fish it is often baked or poached. Salmon steaks and fillets can be fried, broiled or cooked over a hot grill.
Many of us who learn how to cook salmon, it is because we love the firm flesh of this fish. The flesh can be a pink color to a deep red color. Salmon can be also salted, canned or smoked and is available for purchase like this. Canned salmon is also very popular and convenient to purchase and store. I use to love canned salmon but not fresh until I was able to eat good fresh salmon. I love the fresh salmon but there are times to use all the salmon products.
GINGERED TERIYAKI SALMON
Salmon filet (3-4 pounds)
Ginger teriyaki sauce

3 Tablespoons fresh grated ginger
1 Cup water
1/4 Cup soy sauce
3 Tablespoons brown sugar
3 Cloves minced garlic
2 Tablespoons cornstarch
1/4 Cup cold water
FOR BEST RESULTS place salmon filet in shallow dish (Like a casserole dish)
Sprinkle salmon with salt; cover with cold water.
Cover dish with plastic wrap and refrigerate overnight.
TO PREPARE place ginger and next 4 ingredient in a sauce pan.
In a small bowl blend the cornstarch with the cold water; set aside.
Bring ginger mixture in saucepan to a boil; stir in the cornstarch.
Continue stirring mixture until slightly thickened.
PREHEAT OVEN TO 350F degrees.
Line bottom of broiler pan with foil; lightly oil the rack.
Drain the salmon filet and rinse with cold water; pat dry with paper towels.
Place salmon on prepared broiler rack with the skin side down.
Brush salmon generously with ginger teriyaki sauce; place in oven.
Cook salmon until flaky when tested with fork (30-45 minutes depending on thickness).
NOTE: Brush sauce generously over salmon about every 10 minutes during cooking. To make a nice glaze on top increase oven temperature to 425F degrees for a few minutes at the end of cooking. Sometimes I turn the broiler on briefly at the end just to glaze the top.
---
SALMON WITH MUSTARD CAPER SAUCE
4 Salmon steaks (4 to 6 ounces each)
1 Tablespoon olive oil
1 Tablespoon butter
½ Cup dry white wine
1/3 Cup heavy whipping cream
2 Teaspoons Dijon mustard
2 Egg yolks (Beaten)
1 Tablespoon capers (Drain)
Salt/ white pepper
2 Pounds spinach (Steam briefly)
Combine beaten yolks, heavy cream, mustard and capers; mix well.

Add salt and pepper; blend well and set aside.
Heat oil and butter in skillet; Pat salmon dry and sauté until done turning one time.
Move salmon to a warm platter, cover and keep warm.
Over medium heat add wine to the skillet.
Whisk in the yolk mixture; whisk until hot and smooth.
To serve line plate with steamed spinach, place salmon on top and spoon sauce over salmon.
Serves 4.
---
CITRUS SALMON AND SHRIMP RECIPE
Learn how to cook salmon with the wonderful flavoring of lemon, lime and spices.
1 ½ Pounds salmon fillets (Cut in pieces 2X1 inch)
¾ Pound uncooked shelled shrimp
½ cup lemon juice
¼ Cup lime juice
¾ Teaspoon salt
1 Teaspoon paprika
1 Teaspoon coriander 
1 Teaspoon cardamom
Parsley sprigs
Place salmon and shrimp in a glass baking dish; set aside.

Combine and blend remaining ingredients EXCEPT parsley.
Pour citrus mixture over the seafood; refrigerate 30 minutes stirring 2 times.
Transfer salmon and marinade to a large skillet; cover and simmer 4 minutes.
UNCOVER, stir and simmer fish 2 minutes longer.
Add shrimp to the skillet, cover and simmer about 3 minutes until shrimp is done.
Arrange salmon and shrimp on a serving plate; spoon pan juices over the top.
Garnish with parsley sprigs; serves 6-8.
---
SALMON IN PARCHMENT PAPER
a very flavorful cooking method when you learn how to cook salmon
When learning how to cook salmon, this is a nice recipe to give as a gift. A friend passed this on to me many years ago and people who like to eat salmon love this special gift. It serves 2 people but can easily be multiplied for many servings.
Herb butter:

2 Tablespoons softened butter
1/4 Teaspoon dried thyme
Combine and mix in a small bowl.
Preparing Recipe:

Parchment paper
2 Salmon steaks
Juice of 1 lemon
Lemon pepper to taste
½ Teaspoon crushed rosemary
Salt/ pepper to taste
1 Small zucchini, thinly sliced
4 Thinly sliced baby carrots
¼ Small thinly sliced red onion
¼ Thinly sliced red bell pepper
Twine for tying parchment paper
Cut a piece of parchment paper for each salmon filet 12 X 16 inches; place each fillet in center.
Drizzle fresh lemon juice over salmon; sprinkle lightly with lemon pepper, crushed rosemary, salt and pepper.
Layer sliced vegetables on top of each salmon filet; top each with 1 tablespoon of herb butter.
Wrap the entrée with the parchment paper and tie the twine in a bow.
Place salmon in parchment on a cookie sheet and bake at 400F degrees for 15 to 20 minutes or until cooked through.
---
SALMON LOAF RECIPE
When learning how to cook salmon, try this recipe and many others using canned salmon. The cans are so convenient to keep on your shelves for quick fixing and make many delicious recipes.
1 Pound can of pink or red salmon
¼ Cup mayonnaise
2 Tablespoons lemon juice
1 Tablespoon dill weed
2 Eggs
½ Cup bread crumbs
¼ Cup chopped onions
¼ Cup chopped celery
¼ Cup chopped green or red bell peppers
Preheat oven to 350F degrees.

Combine and mix all ingredients thoroughly; season with salt and pepper if desired.
Turn into a well greased loaf pan; place in a larger pan and pour water half way up sides of loaf.
Bake 1 hour; serve with tartar sauce.
---
SALMON STEAKS
6 Salmon steaks (3/4 inch thick)

Mayonnaise

Salt and pepper

Rub all surfaces with mayonnaise; salt and pepper.
Broil over hot coals or in oven 3 minutes on first side and 2 minutes on other side or until salmon begins to flake.

Sauce:

4 Tablespoons butter

2 Tablespoons Worcestershire sauce

3 Tablespoons chopped parsley

Juice of 1 lemon

Dill

Melt butter until brown; add remaining ingredients and bring to boil.

Serve steaks with hot sauce, lemon slices and sprinkle of dill.

---
HERB BAKED WHOLE SALMON RECIPE
¾ Cup dry white wine
½ Teaspoon basil
¼ Teaspoon rosemary
½ Teaspoon tarragon
½ Teaspoon thyme
4-5 Peppercorns
3 Minced shallots
2 Slices lemon
1 Stalk celery (Leaves only)
1 Whole salmon (7 to 10 pounds)
Salt to taste
Preheat oven to 350F degrees.

Combine wine, rosemary, basil, tarragon, thyme, peppercorns, shallots, lemon and celery in saucepan.
Bring mixture to a simmer (DO NOT BOIL); simmer 10 minutes.
Line roasting pan with heavy aluminum foil; season salmon with salt and place on foil.
Pour herb mixture over the fish and wrap fish with the foil.
Bake about 10 minutes for each pound; remove skin before serving.
Serves 8 to 10.
---
SPICED COLD SALMON RECIPE
Learn how to cook salmon with a spicy pickled flavor.
6 Salmon steaks (6 ounces each)
4 Cups water
2 Teaspoons salt (Divided)
1 ½ Teaspoons whole black peppercorns
1 ½ Teaspoons whole allspice
½ Cup white wine vinegar
Combine water and 1 teaspoon salt in a fish poacher or large skillet.

Add salmon; cover and cook over low heat 30 minutes until fish flakes.
Remove steaks from poaching liquid; reserve liquid.
Drain fish on paper towels; place in a 13X9 inch glass shallow baking dish.
Combine 1 ½ cups of poaching liquid, 1 teaspoon salt and remaining ingredients in saucepan.
Bring mixture to a boil: REDUCE HEAT and simmer 5 minutes.
Pour vinegar mixture over the salmon steaks; cover and chill for 8 hours.
Remove steaks from liquid to serve discarding the liquid; serves 6.
---
SALMON STEAK RECIPE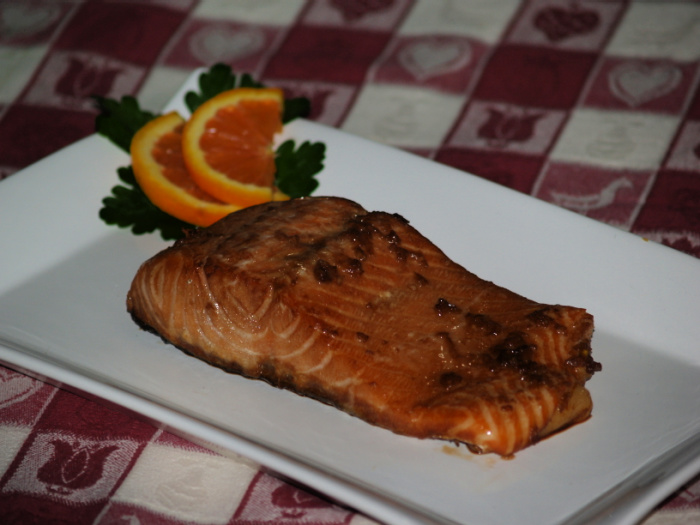 Salmon Steaks
Learn how to cook salmon in a marinade of orange and soy.
4 Salmon steaks
2 Tablespoons orange juice
¼ Cup soy sauce
1 Clove minced garlic
1 Tablespoon butter
Combine orange juice, soy sauce, garlic and butter in small saucepan over medium heat.
Cook until mixture begins to thicken enough to coat back of spoon.
Wash salmon and pat dry; rub soy mixture on both sides of salmon.
Refrigerate salmon 1 to 2 hours before cooking.
Preheat oven to 450F degrees.
Bake 10 to 15 minutes until fish flakes when touched with fork.