How to Grow Sprouts
When I first learned how to grow sprouts it was more for an experiment. I really never realized how much I would enjoy them and finding them so important to have in my kitchen. They are so easy to grow, they require very little space on the kitchen counter top, they taste so good and have "massive" health benefits. 

Although you can purchase equipment for sprouting it is not necessary. Sprouting can be as simple as putting seeds in a glass jar (I use wide mouth canning jars.) and covering it with cheesecloth secured with a jar band, rubber band or string. Sprouts can be added to any salad, used to garnish soups and other dishes, used on sandwiches and multiple other ways. For a wonderful mid-day "pick-me-up" snack try a piece of buttered homemade grain bread topped with a hand full of sprouts. You have to taste this to believe it!
When I learned how to grown sprouts I was totally amazed at the health benefits of sprouts. They vary some according to the different types you grow but all multiply the nutrients as in their original state. By sprouting, these seeds unleash the full potential nutritional value! Most beans increase their Vitamin A by eight times when sprouted. Sprouts also contain Vitamins C, B1, B6 and K.  They are also rich in iron, phosphorous, magnesium, potassium, manganese and calcium.
What I also learned, when I learned how to grow sprouts, is how high they are in protein and how abundant they are in enzymes. Sprouts can contain as much as 35 percent protein. Most of us count on animal meat for our necessary protein. Sprouts give us protein without the fat and cholesterol. This is a great ingredient for vegans, vegetarians and for weight lost diets. The easy digestion of sprouts makes them a good food for people with digestive problems.
NOTE: You can buy sprouts in the produce section of your supermarket. The types of sprouts are limited but I used to buy them before I learned how to grow sprouts. When you grow your own, they are always fresh. The ones I would purchase often went bad before I used them up.
When I learned how to grow sprouts, I found it is a great way to supply you with fresh crunchy "vegetables".  Any time of the year, even on snowy winter days I have fresh sprouts on much of my food.  I love them so much that I keep at least four types growing all the time. Most vegetable, grain, herb and beans can be sprouted. I recommend that you ONLY SPROUT seeds which are recommended FOR SPROUTING. These can be purchased at natural food stores which are especially for "sprouting".

Some seeds are simply "not good" and others are really dangerous. Ones from the "nightshade family", potatoes and tomatoes grow TOXIC sprouts. We have such a large selection of good sprouting seeds to choose from there is no reason to waste time on others. Many regular seeds sold in stores have been treated with chemicals. Stay away from these! Stay safe and stick with "sprouting seeds" especially when you start learning how to grow sprouts! 
Below I am listing many seeds which I sprout. In recipes you can use them interchangeably. You will discover your favorites! I always start all my seeds out the same way. The first step is to place 1 to 2 tablespoons of seeds in my jar. When I learned how to grow sprouts, I decided to measure a cap (bleach bottle capful; 1 cap per each tablespoon of seeds) of bleach and pour over the seeds. I swish the seeds around and let them stand 5 minutes. For me, this kills any mold which might have gotten on the seeds. I then rinse the seeds very well; about three times with fresh water.
NOTE: When you are learning how to grow sprouts, you will find out that it is easy to lose very tiny seeds down the drain. For the first couple of days, I hold a very fine strainer under the lid of the jar. After the third rinse, I scrape the seeds in the strainer back in the jar. When the seeds sprout, you will not have a problem with this.
After a thorough rinsing, removing all bleach, I fill the jar half full of clean fresh water and let it stand on my countertop for 24 hours. After this, each day I rinse the seeds 2 to 3 times during the day. End with draining all water off and turn the jar upside down on a plate to continue draining. (I fold a paper towel on the plate under the jar). Most sprouts are ready to eat in 3 to 4 days. When they are big enough, I rinse thoroughly, drain thoroughly and place in a plastic bag or containers and store in the refrigerator.
GROWING CONDITIONS

 when learning how to grow sprouts.
After soaking the seeds, place in a convenient place (Due to rinsing) at a temperature of about 70F degrees. Bright sun light or too high a temperature will cause the seeds to dry out too quickly. A temperature too high will promote mold and too low of a temperature will discourage sprouting.
TYPES OF SPROUTS

 for learning how to grow sprouts.
ALFALFA SPROUTS are light in taste and one of the favorites. Allow 3 to 5 days for sprouting rinsing 2 times each day; the last day place in the sun. They should be 1 to 2 inches in size with tiny green leaves appearing. 3 Tablespoons seeds equals about 4 cups sprouts.

ALMOND SPROUTS have a crunch nutty flavor similar to nuts. Allow 3 to 5 days for sprouting rinsing 2-3 times a day. Size of sprout is ¼ inch; 1 cup seeds equals about 1 ½ cup sprouts. 
AMARANTH SPROUTS smell like corn silk with a mild taste. Allow 2 to 3 days for sprouting rinsing 3 times a day.  They should get to about ¼ inch in size; 3 Tablespoons seeds equals 1 cup sprouts.
ANISE SPROUTS has a strong anise flavor; great when used sparingly. Allow 2 days for sprouting rinsing 6 times a day. At 1 inch in size 3 tablespoons of seeds will equal 1 cup sprouts.
CLOVER SPROUTS are mild and similar to alfalfa. Allow 3 to 5 days for sprouting rinsing 2 times a day. Should be 1 to 2 inches in size; 1 ½ tablespoons equals 4 cups.
FENUGREEK SPROUTS have a spicy taste and good in curry dishes (I like them on buttered bread or anything). Allow 3 to 5 days for sprouting rinsing 2 times a day. Allow ¼ cup seeds for 1 cup sprouts.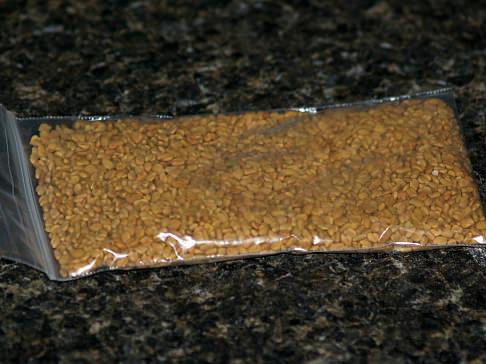 Fenugreek Seeds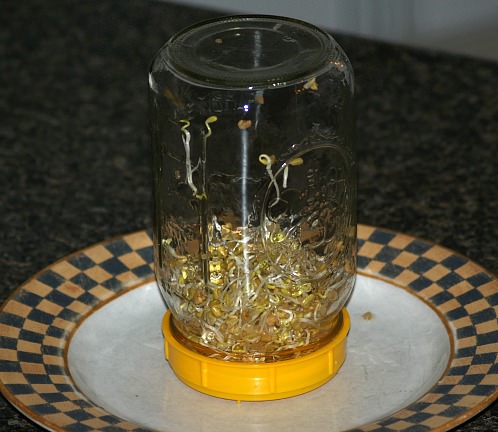 Sprouting Fenugreek
MUNG BEAN SPROUTS when I learned how to grow sprouts these became my favorite and very easy to sprout. They are popular in Asian foods but I like them in everything. Allow 3 to 5 days for sprouting rinsing 3 to 4 times daily. At 1 to 2 inches in size 1 cup will equal 4 to 5 cups.

MUSTARD SPROUTS have a delicious spicy taste rather like mustard. Allow 3 to 4 days for sprouting rinsing 2 times a day.  At 1 to 1 ½ inches in size 2 tablespoons should equal about 3 cups sprouts.

RADISH SPROUTS are also great tasting like the vegetable "radish". Allow 2 to 6 days for sprouting rinsing 2 times a day. Place in sun the last day; tiny leaves will appear. At about 1 inch in size 1 tablespoon of seeds equals about 1 cup.
OTHER BEANS besides ones listed, BARLEY, BROCCOLI, BUCKWHEAT, CHIA, CHICK PEA, CORN, CRESS, FLAX, LENTIL, MILLET, OAT, PEA, PUMPKIN, RICE, RYE, SESAME, SOYBEANS, SUNFLOWER, TRITICALE, VEGETABLES SEEDS and WHEAT are some of the other sprouting seeds you might want to try. When you purchase, most of the time specific instructions for growing will be included.
BLENDING SPROUT SEEDS
Since I learned how to grow sprouts I prefer to grow each one separately. I also keep them separately after growing in the refrigerator because of the different flavors.  I do mix them often when using in recipes. If you want to try growing a mixture of seeds, the following are some good combinations: Mung beans, clover and mustard; amaranth, anise and wheat; radish and wheat; barley and sunflower; lentil, alfalfa and almond; mung bean, rye and mustard.

SPROUTS AND QUINOA SANDWICH RECIPE
When you learn how to grow sprouts you will enjoy including them in sandwich recipes like this one.
2 Large pita bread with pockets
1 ½ Cups cooked quinoa (Cool)
2 Cloves minced garlic
2 Tablespoons fresh lemon juice
2 Tablespoons olive oil
3 Tablespoons chopped fresh dill
1 Large grated carrot
½ Red onion (Slice thinly and cut into quarters)
4 Tablespoons crumbled feta cheese
½ Cup alfalfa sprouts
1 Chopped plum tomato Salt/ pepper
Combine and blend in medium bowl the lemon juice, garlic, olive oil and dill.

Add quinoa, carrot, onion, cheese, sprouts and tomato; toss to blend.
Season with salt and pepper.
Warm pitas slightly; cut a small piece off the edge of each.
IMMEDIATELY before serving fill pitas with quinoa mixture (To soon will make them soggy).
---
FRIED RICE RECIPE with sprouts
2 Teaspoons dark sesame seed oil
2 Teaspoons peanut oil
2 Cloves minced garlic
2 Teaspoons minced fresh ginger
1 Cup peeled sliced carrots
1 Cup yellow sweet pepper thinly sliced strips
1 ½ Tablespoons soy sauce (Low sodium)
2 Tablespoons rice vinegar
4 Ounces trimmed snow peas
2 Cups brown rice cooked
2 Cups cooked lentils
1 Cup bean sprouts (Wash and drain thoroughly)
Heat oils in a large skillet over medium high heat until hot.

Quickly stir fry garlic and ginger for 30 seconds.
Add carrot and pepper; stir fry to coat for 1 minute.
Add soy sauce and vinegar; REDUCE HEAT TO LOW
Cover skillet and cook 2 minutes until tender crisp.
Add snow peas, rice, lentils and bean sprouts.
RAISE TEMPERATURE TO MEDIUM HIGH.
Stir and cook 2 minutes until mixture is hot; serve immediately.
Serves 4.
---
SPROUTS SALAD RECIPE
When you know how to grow sprouts you will start adding them to all your favorite salads.
2 Cups cottage cheese
4 Tomatoes cubed
2 Sliced cucumbers
½ Cup mung bean sprouts
1 Cup alfalfa sprouts
½ Cup sesame seeds
Favorite dressing (Italian or other herb)
Arrange scoop of cottage cheese in center of 4 plates.
Arrange tomatoes, cucumbers and mung bean sprouts around cottage cheese.
Top salad with alfalfa sprouts and sesame seeds; serve with dressing.
Serves 4.
---
SPROUTS AND HAM SALAD RECIPE
2 Cartons radish sprouts
1 Cup alfalfa sprouts
½ Pound cooked ham thinly sliced
4 Hard cooked boiled eggs
Dressing:
½ Cup plain yogurt
2 Tablespoons capers
1 Tablespoon chopped sweet pickle
1 Tablespoon chopped olives (pimiento stuffed)
1 Tablespoon chopped fresh parsley
Garnish:
1 Carton radish sprouts
½ Cup alfalfa sprouts
Combine 2 carton radish sprouts and 1 cup alfalfa sprouts in a large bowl.

Cut ham into 2 inch strips; add to sprout bowl.
Chop eggs and toss with sprout mixture.
TO MAKE DRESSING combine all ingredients in a medium bowl; pour over salad and toss to blend.
Spoon mixture into center of 4 plates; surround salad with 1 carton of radish sprouts and ½ cup of alfalfa sprouts.
Serve with warm whole grain rolls. Serves 4.
---
MUNG BEAN SPROUT SOUP RECIPE
1 Cup water
4 ½ Teaspoons cornstarch
6 Cups chicken broth
2 Cups mung bean sprouts
Soy sauce to taste
2 Beaten eggs
2 Green onions finely chopped 
Combine and blend cornstarch with water; set aside.

Heat broth in a large saucepan to boiling; add sprouts.
Reduce heat and simmer for 3 minutes; season with soy sauce.
Stir blended cornstarch mixture into hot broth; stir until slightly thickened.
Slowly pour in beaten eggs stirring with a fork.
IMMEDIATELY remove soup from the heat and ladle into bowls; garnish with green onions.
Serves 6.