How to Make a Sticky Buns Recipe
Before learning how to make a sticky buns recipe let us first look as to what "sticky buns" are exactly. These buns are made with sweet dough; most often with a yeast recipe but there are some recipes using a quick dough. 
A true test to determine if you are eating a "sticky buns" is to try eating it with your fingers. The real thing will leave your fingers a gooey mess or you might say "finger linking good".  I recommend eating the "real thing" with a fork and knife (I am not in to finger licking!)
When learning how to make a sticky buns recipe, I am sure you will find your favorite recipe. These delicious buns can be made either with yeast dough or with quick dough such as biscuits. The "goo" can be made with different kinds of sugar like powdered, brown or even syrups. For this I like a variety depending what my taste buds are ready for at the time. Recipes for these buns also might contain various nuts, seeds and other ingredients especially cinnamon.  I love cinnamon!
You will come across many different recipes as you learn how to make a sticky buns recipe. Without doubt, you will also hear and read many stories about the history and origination of this sweet roll like coming from Germany. Being of German descent and having many original recipes I must say I do not agree with this.
I believe that this delicious extra sweet delicacy must be an American idea. From my experience sweet rolls (and other sweet products) are not nearly as sweet in other countries like here in the United States. This is not to say that the flavor is not good but only that we use a lot of sugar in this country.
HOW TO MAKE A STICKY BUNS RECIPE like these


STICKY BREAKFAST ROLLS RECIPE
2 Cups milk
1 Cup butter
1 Cup sugar
3 Teaspoons salt
4 Beaten eggs
3 Packages dry yeast
1 Cup warm water (about 112 F degrees)
1 Teaspoon sugar
12 Cups flour
2/3 Cup Brown sugar
1 1/3 Cups of butter DIVIDED

Cinnamon
Heat milk and 1 cup of butter over medium low until butter melts.
Measure out 12 cups of flour; set aside.
Combine and mix 1 cups sugar, salt and eggs; add to milk and butter mixture and cool to lukewarm.
In a 2 cup bowl stir together yeast, warm water and 1 teaspoon sugar; set about 5 minutes to rise.
Add yeast mixture to the milk mixture; add enough of the measured flour to make soft dough.
Let dough set 5 minutes; knead in rest of flour until smooth and elastic.
Grease a very large bowl with olive oil; place dough in bowl turning to grease to,
Let rise until double in bulk in a warm spot about 1 ½ hours.
Punch down dough and divide in half; roll each half to 15"X 27".
Melt 2/3 cup of butter for each half and spread over rolled dough.
Sprinkle brown sugar and cinnamon over the butter (I like lots)
Roll dough up jelly roll style; cut into 1 ½ inch slices (Should be 18 rolls for each half of dough).
Place 12 rolls in three 9 X 13 inch greased baking pans; let rise until double in bulk.
PREHEAT OVEN TO 350F degrees; bake 15 to 20 minutes.
Top with a powdered sugar frosting. Makes 36 rolls.
---
EASY OVERNIGHT STICKY BUN RECIPE
I learned how to make a sticky buns recipe which is refrigerated overnight; I have found this recipe very convenient to serve for early breakfast.
1 Cup pecan pieces
½ Cup raisins (OPTIONAL)
1 Package frozen white dinner rolls
2/3 Cup brown sugar
1 Package (3 ounces) vanilla pudding and pie filling (NOT INSTANT)
1 Teaspoon cinnamon
¼ Teaspoon nutmeg
1/3 Cup butter cut into small pieces
Sprinkle pecans and raisins in bottom of a greased 9X13 inch baking pan.
Arrange the frozen rolls over the nuts and raisins.
In a small bowl combine pudding mix, cinnamon and nutmeg; sprinkle over the rolls and top with butter.
Cover pan with plastic wrap and store in refrigerator overnight.
Early in morning uncover pan and let rise in warm place 1 ½ to 2 hours.
PREHEAT OVEN TO 350F degrees.
Bake for 25 minutes or until golden brown; cool in pan 2 to 3 minutes.
Turn out onto wax paper lined tray. Makes 24 buns.
---
EASY CARAMEL CHOCOLATE STICKY BUNS
You can learn how to make a sticky buns recipe the easy way using cans of refrigerated biscuits.
1 Can (15 ounces) coconut pecan frosting
1 Cup pecan halves
2 Cans (10 ounces each) refrigerated buttermilk biscuits
20 Chocolate Kisses
Preheat oven to 375F degrees.
Spread frosting in the bottom of a greased 9 inch square baking pan.
Arrange pecan halves over the frosting; set aside.
Separate biscuits; flatten each to about ¼ inch thickness.
Place a chocolate Kiss to the side of the center of each biscuit; fold in half and press edges to seal.
Arrange folded biscuits over the pecans with flat sides down; bake about 30 minutes or until browned.
Cool in pan for 5 minutes; invert onto a serving platter and serve immediately.
---
PECAN STICKY ROLLS
Learn how to make a sticky buns recipe in an iron skillet.
Dough:
3 ½ Cups flour divided
1 Package dry yeast
½ Cup whole milk
½ Cup sour cream
1/3 Cup butter cut in cubes
1/3 Cup sugar
½ Teaspoon salt
1 Teaspoon vanilla
1 Beaten egg
Filling:
¼ Cup softened butter
¼ Cup sugar
2 Teaspoons cinnamon
1 Teaspoon orange zest
1 Teaspoon flour
1/8 Teaspoon salt
Glaze:
½ Cup brown sugar
1/3 Cup butter
1/3 Cup light corn syrup
1/8 Teaspoon salt
¾ Cup chopped toasted pecans
TO MAKE DOUGH combine 1 ½ cups flour and yeast in a large bowl; set aside.
In a medium saucepan combine milk, sour cream, butter, sugar and salt.
Cook mixture over medium heat stirring occasionally until a thermometer reads 120 to 130F degrees.
Pour cooked mixture over flour mixture; add vanilla and egg stirring well.
Gradually stir in remaining flour (about 1 ½ cups) entail a soft dough forms.
Turn dough out onto a lightly floured surface; knead until smooth and elastic5 to 7 minutes.
Add remaining flour if needed 2 teaspoons at a time; place dough in a large bowl.
Spray top of dough with cooking spray; cover and let rise in a warm place until doubled in bulk.
Punch dough down, cover and let stand 5 minutes; roll dough into a 10X14 inch rectangle.
FOR FILLING combine in small bowl sugar, cinnamon, orange peel, flour and salt.
Spread butter over rolled dough; sprinkle sugar cinnamon mixture over the butter.
Start at one long side and roll up jelly roll style; cut into 12 rolls and place in 10 inch iron skillet (or pan).
PREHEAT OVEN to 350F degrees.
Cover and let rise until doubled about 45 minutes; uncover and bake about 25 minutes.
Cool 30 minutes; mix glaze.
FOR GLAZE combine in saucepan brown sugar, butter, corn syrup and salt; bring to a boil.
Cook mixture 1 minute stirring frequently; stir in pecans and let stand 3 minutes.
Pour mixture over rolls.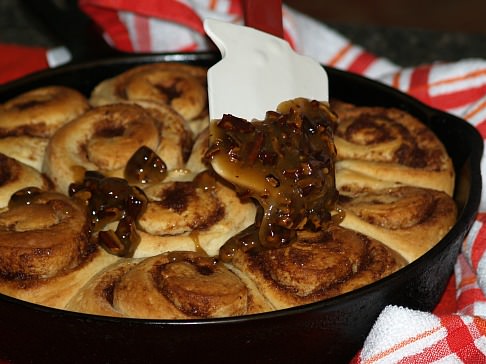 Pecan Sticky Rolls
---
COCONUT GLAZED STICKY BUNS
Learn how to make a sticky buns recipe with coconut frosting and marshmallows.
10 Teaspoons coconut pecan frosting (Pillsbury)
½ Cup miniature marshmallows
½ Cup sugar
1 Teaspoon cinnamon
¼ Cup melted butter
1 Can refrigerator biscuits
Preheat oven 375F degrees; grease 10 muffin cups.
Spoon 1 teaspoon frost in each muffin cup; place 5 marshmallows in each cup pressing down slightly.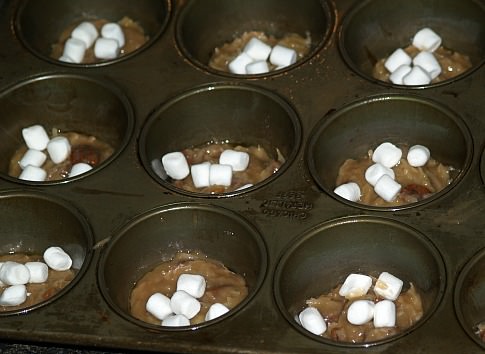 Layer Coconut Glazed Sticky Buns with Frosting and Marshmallows
Combine sugar and cinnamon; separate dough into 10 biscuits.
Dip each biscuit in melted butter, then in sugar cinnamon.
Place biscuits in prepared muffin cups pressing down slightly.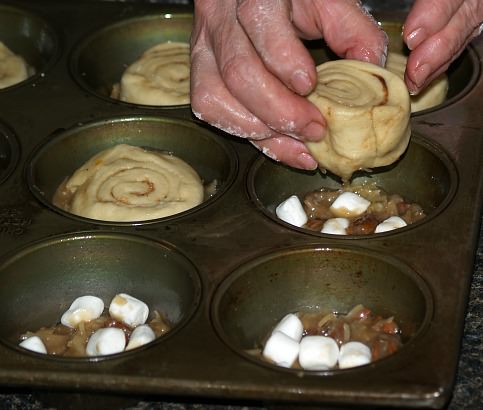 Place Bun for Coconut Glazed Sticky Buns on Top of Frosting and Marshmallows
Place muffin pan on another baking pan in oven or on foil to prevent spilling over.
Bake 15 to 18 minutes or until golden brown; immediately invert onto serving platter. Makes 10.