How to Make a Trifle
I knew I had to learn how to make a trifle after seeing a picture only one time. The beauty of this dessert can be overwhelming without even considering the taste. At first sight I thought "what a great dessert to take to carry in dinners and other get-togethers". What I did not consider at the time was how easy and quick these are to assemble.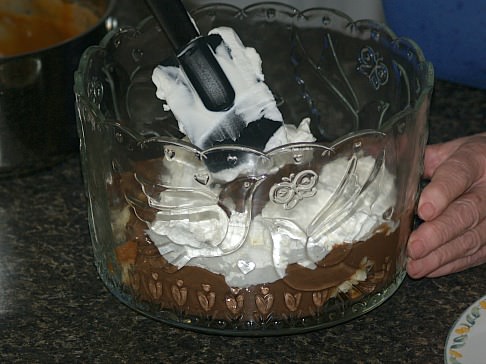 How to Make a Trifle
I have known people from other countries like Hungary and Germany who love this dessert but it seems the origination takes us to England during the eighteenth century. Many of the other countries have very similar desserts only with different names. Since I have learned how to make a trifle and I call "trifle" are not exactly like the original ones from England.

As I was learning how to make a trifle, I found the English original versions (AS THE FIRST RECIPE) were made with a very thick cream which did not need to be whipped.  Although I almost always include a heavy cream in mine, I found it was not the same thickness of cream used originally. Supposedly, that type of cream was much richer in the butterfat. That cream was fresh and did not receive all the processing which we have when purchasing now from the supermarket. Possibly, you can get this fresh cream from an organic store or a farmer. This is why when using cream, it now needs to be heavy and stiffly whipped before layering in this dessert.  I think heavy whipped cream is absolutely delicious and a necessity when making trifles.
I mentioned that this dessert had such a pretty presentation and so easy to assemble. When you learn how to make a trifle you will find that alternating colors in this layered dessert is what makes the beauty. I love making this dessert because it can be so easy to put together. I have assembled a trifle on a "whim" when I needed a quick dessert for a gathering. People always "rave" over it like I spent all day making it. 
When you learn how to make a trifle you will learn, as I did, it helps to save all your leftover cookies and cake. I cut leftover angel food, pound and other types of cakes in small pieces. I put them in plastic bags and place in the freezer. I do the same with cookies. All this makes a great base for making trifles. You can assemble trifles with so many different ingredients which can achieve wonderful blends of flavor and colors. Use your creativity when assembling these layered desserts. Below I have listed many easy available ingredients to use in the making.
NOTE: TRIFLES may also be called by other names such as layered desserts, bowl cake etc. When you learn how to make a trifle you will know they are essentially layered desserts requiring no baking unless you choose to bake a cake.
INGREDIENTS TO USE IN TRIFLES:
All types of cakes cut in small pieces; cookies broken in pieces, crumbs or whole; graham crackers in pieces or crumbs.
Puddings in all flavors either homemade or boxed mixes and canned puddings are very convenient.
Different flavors of gelatin (gelled and cut in squares are nice with angel food or sponge cake.
In baking suction: butterscotch, caramel, chocolate mint, peanut butter, white chocolate, chocolate chips, crushed candy.
In candy section: mini peanut butter cups, mini candy bars, M&Ms, candy corn and jelly candy.
All types of jams and preserves; spread between slices of cakes and then cut into squares, spread between cookies and graham crackers.
Custards and other cake fillings, especially those made with cream cheese.
All types of nuts; salted peanuts sometimes make a great addition to ultra sweet trifles.
Canned plain fruit, maraschino cherries and fruit pie fillings; these are convenient and the selection is endless.
Fresh fruit; strawberries, blueberries, blackberries, raspberries, seedless grapes; bananas and apples should be coated with lemon juice and drained.
Various cheeses are a great addition to trifles; usually shredded and spread in a light layer. 
Liquors and other alcohols: usually small amounts can be added for flavor.
Stiffly whipped cream; for me this is a necessity for taste and presentation.
For garnish; shredded chocolate, chopped nuts, cherries, berries and other small fruit or pieces, mint or other edible leaves
---
OLD FASHIONED TRIFLE RECIPE
Learn how to make a trifle the "Old English" way. (I have not tried this recipe because I cannot buy the fresh cream).
6 Small sponge cakes (Or 6 slices)
12 Almond macaroon cookies
24 Ratafias (Or additional macaroons) (*SEE NOTE BELOW)
1 ¼ Cups sherry
6 Tablespoons brandy
2 Teaspoons finely grated fresh lemon peel
½ Cup slivered blanched almonds
Raspberry or strawberry jam
2 Cups "pouring" custard (See recipe below)
Whip
1/3 Cup superfine sugar
2 Stiffly beaten egg whites
3 Tablespoons sherry
2 ½ Cups heavy cream (Either the very heavy fresh cream or whipped)
MAKE WHIP the day ahead of serving. It improves the flavor and is firmer.
Combine sugar, beaten egg whites, sherry and the cream in a large mixing bowl.
Whisk these ingredients in a cool place.
Remove froth as soon as it rises with a skimmer; put froth in a sieve to drain.
Continue whisking until there is sufficient froth in the sieve to drain OR WHIP.
This WHIP must be covered and placed in cool place to drain overnight.
TO ASSEMBLE TRIFLE place the sponge cakes, macaroons and ratafias in bottom of 5 cup dish.
Mix the sherry with the brandy and pour over the cakes; cakes should be well soaked. 
NOTE: You can add more mixture if desired.
Sprinkle the lemon peel and almonds over the soaked cakes; spoon the jam over top.
Pour the custard on top of jam; heap the WHIP all over top standing as high as possible.
Garnish as desired
NOTE: What are RATAFIAS? Small (1 inch) almond biscuits made with "bitter" almond paste.
POURING CUSTARD for above recipe
6 Egg yolks
1/3 Cup superfine sugar
2 ½ Cups milk (Scald and cool slightly)
Beat egg yolks and sugar together in mixing bowl until pale and thick.

NOTE: Will form a ribbon when dribble from the spoon.
Beat slowly while slowly adding the scalded milk.
Transfer mixture to a heavy saucepan; set over very low heat.
Cook custard stirring constantly until thick enough to coat spoon.
NOTE: Do not let custard boil.
Set custard off heat and continue stirring with whisk for 5 minutes to keep smooth.
NOTE: For quicker cooling place pan in ice water stirring to cool.
---
HOW TO MAKE A TRIFLE with TRUFFLES
Learn how to make a trifle with my easy recipe. I made my own coffee cream cheese truffles but you can buy them. 
4 Cups (About) pound cake cubes
2 Small boxes chocolate pudding (instant)
4 Cups milk
3 Cups heavy cream (Whipped)
About 15 Truffles (Or mini peanut butter cups or other small chocolate candies)
Caramel Syrup (Recipe below)
Mix pudding as directed on package with the 4 cups of milk; set aside.
Place half of cake cubes in bottom of dish and drizzle half of caramel syrup over cake.
Cover with half of pudding; cover pudding with about a THIRD of the whipped cream.
Reserve 5-6 truffles for the top; place remaining truffles on the whipped cream.
Continue with a second layer of remaining cake cubes, caramel syrup, pudding and whipped cream.
Top with reserved truffles; refrigerate.
TO MAKE CARAMEL SYRUP melt ½ CUP BUTTER in medium saucepan. Stir in 1 ¼ CUPS BROWN SUGAR and 2 TABLESPOONS LIGHT CORN SYRUP. Bring mixture to a boil over medium low heat stirring constantly about 1 minute until sugar melts. Slowly stir in ½ CUP HEAVY WHIPPING CREAM and return to a boil. REMOVE IMMEDIATELY from heat and cool completely before using in trifle.

Drizzle Cake with Caramel Syrup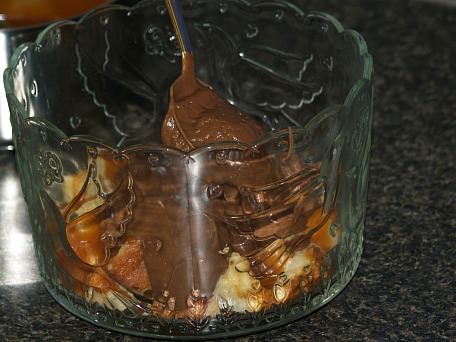 Layer Pudding Over Caramel Syrup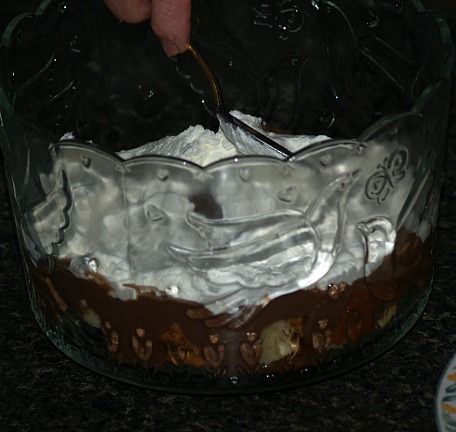 Place Whipped Cream Over Pudding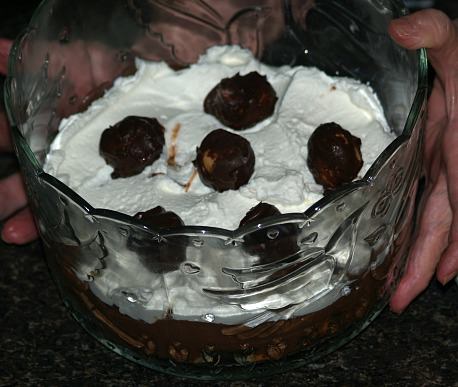 Place Truffles on Whipped Cream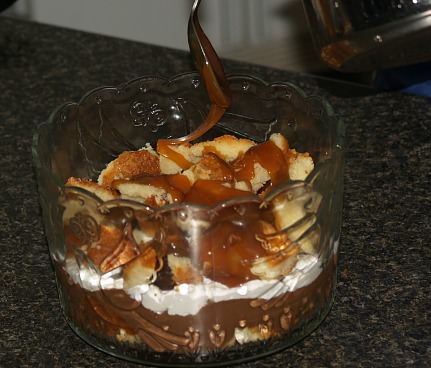 Add Another Layer of Cake, Caramel Syrup, Pudding, Whipped Cream and Top with Truffles
---
PUNCH BOWL CAKE RECIPE
Learn how to make a trifle in a punch bowl.
1 Angel food cake (Cut in small pieces)
1 Can (16 ounces) slice peaches (Drained)
1 Can (16 ounces) fruit cocktail (Drained)
1 Can (16 ounces) crushed pineapple (Drained)
1 Box instant vanilla pudding (Mixed according to directions)
1 Box instant strawberry pudding (Mixed according to directions)
1 Medium jar maraschino cherries (Drained)
1 Cup chopped pecans
1 Cup sliced strawberries
1 Small package shredded coconut
1 Carton (12 ounces) Cool Whip
Layer 1/3 of the cake pieces in bottom of punch bowl.

Spread prepared vanilla pudding over the cake.
Add a layer of pineapple and peaches.
Top with ½ of Cool Whip. ½ jar of cherries, ½ cup nuts, ½ package coconut in layers.
Crumble rest of cake in layer; spread layer with strawberry pudding.
Add a layer of fruit cocktail and a layer of strawberries.
Add in layers Cool Whip, coconut, nuts, cherries; refrigerate overnight.
---
BLUEBERRY TRIFLE PARFAITS
Learn how to make a trifle with blueberries.
1 Package (3.3 ounces) instant white chocolate pudding mix
1 ½ Cups milk
¼ Cup sugar
2 Teaspoons cornstarch
Dash nutmeg
¼ Cup water
2 Cups fresh blueberries
4 Slices (3/4 inch thick) pound cake (In ¾ inch cubes)
¼ cup frozen whipped topping thawed
Prepare pudding as directed by package using the 1 ½ cups of milk; refrigerate.

In medium saucepan combine and mix well sugar, cornstarch and nutmeg.
Add water and 1 CUP of blueberries to the mixture; stir to blend.
Bring mixture to a boil; reduce heat to medium low.
Simmer mixture 5 minutes or until slightly thickened stirring occasionally.
Refrigerate 10 minutes or until slightly cooled; stir in remaining 1 cup blueberries.
Refrigerate until cold at least 30 minutes.
Layer in 4 parfait dishes cake cubes, pudding and blueberry mixture; repeat layers.
Top with whipped topping; store in refrigerate.