How to Make Apple Turnovers
I learned how to make apple turnovers years ago because they are one of my favorite apple recipes. These are so great for breakfast, as an apple snack with coffee or just any time of the day. Sometimes I make simple and easy turnovers by using prepared ingredients that I keep in stock.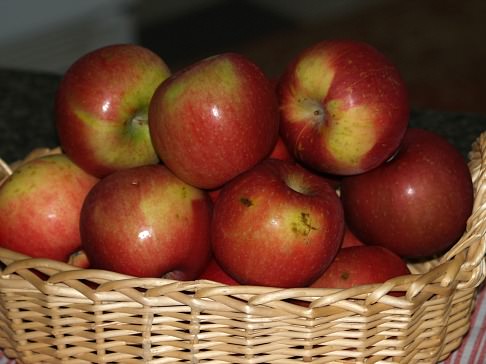 How to Make Apple Turnovers
Frozen puff pastry along with some of my canned apple pie filling makes this a very quick project. Another idea I use is to put together turnovers made with croissants; stuff croissants with apple pie filling and bake on low heat about 25 minutes.


According to the history of apples cooks learned how to make apple turnovers back in the eighteen hundreds. This can be no surprise considering that apples were one of the first fruits that the pilgrims planted when arriving in America. Most of our apple recipes originated in the new colonies.


I learned how to make apple turnovers with various recipes using different types of pastry dough from pie pastry to homemade puff pastry. Many people call these apple turnovers or mini apple pies if they are baked or fried; I call the fried apple turnovers "fried apple pies". No matter how you make them or what you call them, they are very delicious. 


Much of choosing how to make apple turnovers is the convenience of the recipe. As I said above I often use frozen puff pastry. I also like a good tasting apple filling. This can be made with canned apples or fresh apples. The sugar and spices which you add to the filling will enhance the apple flavor and make the turnovers delicious. By adding ingredients like raisins, cherries and other fruits the same recipe can be altered from time to time.

EASY APPLE TURNOVERS
I keep puff pastry in my freezer for quick and easy turnovers. Use canned apple pie filling or other fruits or a combination. In this picture I combined leftover apple pie filling and leftover cream cheese filling from making Danishes . I was still short on the filling so I added a can of dark sweet cherries, drained well. You will love this recipe when you are learning how to make apple turnovers.
1 Package puff pastry (2 sheets)
1 Large can pie filling
1 Egg
2 Tablespoons water
Powdered sugar glaze (if desired)
Preheat oven to 400F degrees.
Roll each sheet of puff pastry to an 11 X 11 inch square; cut 4 squares 5 ½ X 5 ½ inches.
Brush edges of each square using finger with water.
Place 2 tablespoons filling in center. (I used 1 tablespoon apple/cherry and 1 tablespoon cream cheese mixture.)
Fold 1 corner of dough to opposite corner; pinch around edges to seal; place on baking sheets covered with parchment paper.
Using a small sharp knife make 3 slits for air vents; brush each with egg wash (1 egg beaten with 2 tablespoons water)
Bake until golden brown about 15 to 20 minutes; drizzle glaze over tops if desired.
Makes 8 turnovers.
Cutting and Filling Turnovers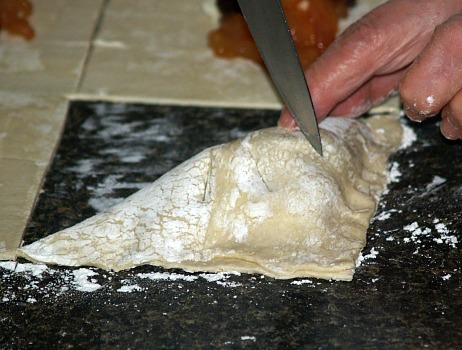 Slicing Steam Vents in Turnovers
Placing Powdered Sugar Glaze on Warm Turnovers
---
HOW TO MAKE APPLE TURNOVER RECIPE
4 Medium size tart apples peeled, cored and sliced

2 Cups flour

½ Teaspoon salt

½ Tablespoon baking powder

¾ Cup solid shortening

5 Tablespoons milk

1/3 Cup packed brown sugar

1 Teaspoon ground cinnamon

¼ Teaspoon ground nutmeg

2 Tablespoons butter cut into small pieces

Preheat oven to 450F degrees.
Sift together flour, salt and baking powder; cut in shortening until crumbly.
Stir in milk to moisten dough; roll out on floured surface to ¼ inch thick.
Cut dough into six 5 inch squares; divide apple slices equally in center of each pastry square.
Combine and mix brown sugar, cinnamon and nutmeg; Sprinkle over each pile of apples.
Dot top of each with butter; fold one corner of each square over to form a triangle.
Press edges of triangle together with a fork to seal; cut a couple of slits in top to let steam escape.
Place turnovers ½ inch apart on baking sheet; place in hot oven.
IMMEDIATELY REDUCE OVEN TEMPERATURE TO 375F degrees.
Bake turnovers for 35 minutes or until golden brown.

---
APPLE TURNOVER RECIPE
These easy fruit turnovers are great for breakfast; they can be made with any flavor of Pillsbury's refrigerated turnovers.
2 Packages (3 ounces each) softened cream cheese

3 Tablespoons sugar

12 Ounce package Pillsbury refrigerated flaky turnovers

Preheat oven to 400F degrees.
Combine in small bowl cream cheese and sugar until smooth.
Unroll dough and separate into 6 squares; place on ungreased cookie sheet.
Spread about 2 tablespoons cream cheese mixture in center of each square.
Top with fruit filling; bring two opposite corns together in the center and seal tips together.
Bake 8 to 12 minutes or until golden brown; drizzle with icing.

---
APPLE CRANBERRY RECIPE
I learned how to make apple turnovers with this recipe which a great for a crowd making sixteen turnovers; double it for a larger crowd. They can be prepared 8 to 10 hours in advance.
Pastry:

2 1/3 Cups flour

1/3 Cup sugar

1 Cup chilled butter cut into small pieces

2 Egg yolks

1 to 2 tablespoons heavy cream

Combine flour and sugar; cut in butter until resembles fine meal.
In separate beat together egg yolk and 1 tablespoon cream.
Add egg mixture to flour mixture; blend together adding remaining cream as needed.
Blend dough until smooth, divide in half, wrap in plastic wrap and refrigerate until needed.

Filling:

2 Cups dried cherries

1 Cup walnuts

¾ Cup water

¾ Cup sugar

¼ Cup fresh cranberries

1 Cinnamon stick

Zest of 1 orange

¼ Teaspoon fresh grated nutmeg

1 Tablespoon butter

2 Medium apples peeled, cored and cut in thin slices

Combine cherries, walnuts, water, sugar, cranberries, cinnamon stick, orange zest and nutmeg.
Cook over medium heat until cherries are plump and tender about 15 minutes stirring occasionally.
NOTE: Most of the water will evaporate; do not let scorch.
Melt butter in medium skillet; sauté apples until lightly caramelized and tender.
Remove from heat and scrape into cherry mixture during last couple minutes of cooking.
Remove cinnamon stick; place mixture in food processor until coarsely chopped.
Assemble:
Roll out dough ½ at a time keeping other half wrapped; roll on floured surface to 12 inch square.
Using 4 ½ inch round cutter cut 6 circles; press scraps together and cut 2 more circles.
Repeat process with other half of dough totally 16 circles.
Divide filling into 16 equal portions in center of each circle.
Beat 1 EGG; brush edges of each circle with egg.
Fold circle of dough over in half; gently pinch edges together.
Brush tops with egg wash and sprinkle with sugar; with sharp knife cut slits in top for steam to escape.
NOTE: At this point they can be refrigerated overnight.
Arrange semi circles on lightly greased baking sheets; place in center of preheated oven at 350F degrees.
Bake 30 to 35 minutes or until golden brown; cool on rack.