How to Make Bean Soup
Have you learned how to make bean soup? Here I am focusing on making these recipes with dried beans. Most all dried beans cook much quicker, have a better texture and taste by soaking them first. I wash them thoroughly and then cover them completely with fresh cold water. After covering the container, (sometimes I simply place a large plate over it) I let it set overnight on my kitchen counter.

If you are leaning how to make bean soup, use this method of soaking for many types; navy, kidney, great northern or black beans. Add a piece of salt pork, bacon, ham or a ham bone. You could also add some chopped onion or green pepper for flavor. Bring slowly to a boil and simmer over low heat for 2 to 3 hours or until beans are tender. Season to taste with salt and pepper after cooking and before serving. NEEDED SALT will vary depending on type of meat used.
If you are leaning how to make bean soup you will find that most countries of the world have some recipes of this type. Because dried beans are so cheap and readily available they are a staple in the cuisine as they once were here in the United States. When I was young, I did not know of any homemaker who did not cook a pot of soup beans quite often; most on a weekly basis. Not only do soup beans provide a filling meal but the leftovers can be used in a variety of recipes like baked beans.

HOW TO MAKE BEAN SOUP like this
NAVY BEAN SOUP RECIPE
1 Pound soaked navy beans
3 Chopped medium onions
4 Tablespoons butter
1 Clove minced garlic
5 Sprigs of parsley
½ Teaspoon thyme
1 Bay leaf
1 Chopped carrot
1 Pound smoked ham hocks
¼ Teaspoon black pepper
1 Teaspoon salt
Drain beans, place in a heavy pot and cover with 3 quarts of cold water. In a frying pan cook onions and garlic in butter until tender. Add to the beans. Add remaining ingredients. Cover and cook for 2 ½ to 3 hours until beans are tender. Remove bay leaf from pot and discard. Remove ham hock and cut off any meat. Remove 2 cups of beans and liquid and puree in the blender. Add pureed beans and cut meat back into the pot of beans. Mix together and heat before serving.
---
LIMA BEAN SOUP RECIPE

 
3 Cups cooked Lima beans drained

2 Cups chicken broth
4 Cups cream sauce (below)
1 Cup half and half
½ Teaspoon herb mixture (parsley, chives, tarragon, chervil)
Salt/ pepper to taste
Cream sauce
6 Tablespoons butter
6 Tablespoons flour
4 Cups half and half
Combine beans and broth; process 1/3 at a time in blender until a puree.

Stir mixture into hot cream sauce; add half and half, fine herbs and salt and pepper.
Stir until well blended and serve.
To make cream sauce
Melt butter in saucepan; blend in flour.
Add milk and stir over low heat until smooth and slightly thickened.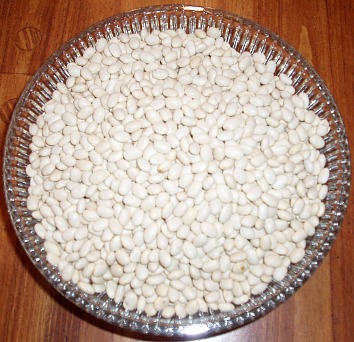 Navy Beans
MEXICAN BEAN RECIPE FOR SOUP WITH SHRIMP
¾ Cup black beans soaked overnight

1/8 Teaspoon ground cumin

¼ Teaspoon dried oregano

1 Bay leaf

3 Cups water

2 Tablespoons olive oil

1 Medium finely chopped onion

1 Clove minced garlic

1 Medium peeled and chopped tomato

Salt/pepper

2 Cups chicken stock

½ Pound peeled raw shrimp cut in pieces

4 Tablespoons dry sherry

Combine in saucepan over medium heat beans, cumin, oregano, bay leaf and water.
Bring mixture to a boil, reduce heat and simmer until beans are tender about 1 hour.
Cool slightly, remove bay leaf; process beans and liquid in blender and return to saucepan.
Heat oil in skillet; sauté onion and garlic until soft.
Add tomato and simmer for 3 minutes; season with salt and pepper.
Process in blender until smooth and place in saucepan with bean puree.
Stir in chicken stock; bring mixture to a simmer over medium heat.
Add shrimp and cook for a couple of minutes; stir in sherry and serve immediately.

---
GREEK SOUP RECIPE (called Fasolatha)
If you are learning how to make bean soup you will find many recipes in the Greek cuisine. 
1 Package (12 to 16 ounces) dried Great Northern beans

2 Diced potatoes

2 Chopped onions

3 Sliced carrots

2 Stalks celery with leaves

1 Cup fresh chopped parsley

2 Cups stewed tomatoes or 1 (8 ounce) can tomato sauce

½ Cup olive oil

Cover beans with water and soak overnight; cook for 1 hour or until tender.
Add vegetables and oil and cook until done; about 30 minutes.
Season to taste.