Cabbage Rolls for New Years Day
How to Make Cabbage Rolls with Recipes
I learned how to make cabbage rolls many years ago from my sister Gloria. She learned from her mother-in-law, Rose, who was from Hungary. I remember as a kid when I would stay with my sister we would walk down the street to Rose's house. She would always be cooking cabbage rolls as well as many other great foods. I always loved cabbage rolls since way back then.

Years later, when I first learned how to make cabbage rolls from my sister, I thought that they were strictly a Hungarian recipe. I now know that stuffed cabbage recipes are very popular in many countries of the world. Over the years I have collected from many people who knew how to make cabbage rolls their favorite stuffed cabbage recipes.


Some of the stuffed cabbage recipes which I have collected besides my Hungarian recipe are a Bohemian recipe, Jewish stuffed cabbage, a kasha recipe and one titled easy stuffed cabbage. These are only a few; some are very different but most are similar with maybe changing the spices or a couple ingredients. All that I have tried when learning how to make cabbage rolls have been very tasty.


Since I learned how to make cabbage rolls they seemed to have settled in my traditional foods in the winter season. Mine are a little time consuming to make and the oven warms the house; they are also great to warm the body during the cold months. My sister's Hungarian recipe has also become one of my traditional foods to make between Christmas and New Years.


It has always been the tradition of my German background to have sauerkraut and pork for New Years. Since I have both of these in my stuffed cabbage recipe they have become part of my traditional foods for my New Years Eve buffet. I almost always have ham for Christmas so I grind about one pound of the ham leftovers for my cabbage rolls.


Since I mostly prepare appetizers for my New Years Eve buffet, I only wrap two tablespoons of the filling in the cabbage; normally I use one fourth cup of the filling. This year I made some for New Years Eve and made the larger ones to go in the freezer for later use. They are delicious even after being frozen.

How to Make Cabbage Rolls
PREPARING CABBAGE: If you have not learned how to make cabbage rolls yet, let me warn you that the biggest job is preparing the cabbage leaves. I heat my stock pot with water to a boil. On the cutting board, I cut out the core of the cabbage head. Place the head in the hot water (BE CAREFUL) to wilt the leaves. With a large fork and tongs, I remove the leaves to a strainer as they wilt.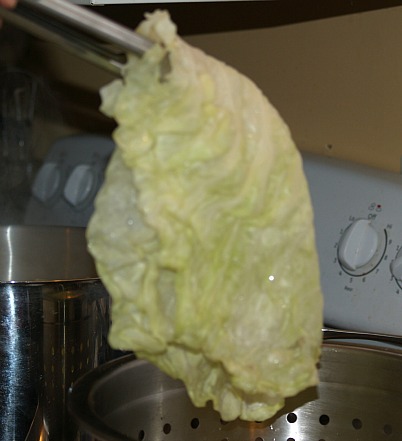 How to Prepare the Cabbage to Make Cabbage Rolls
From time to time I stick the large fork in hole of the core and move the head back to the cutting board to remove some more of the core so the leaves work loose. When you have separated all the leaves it is time to stuff the second step in learning how to make cabbage rolls. When I make the appetizers I can use the smaller leaves but for the larger rolls I use larger leaves. The big heads of cabbage are best because if the leaves are real big you can always cut them in half.

NOTE: I always have pieces of cabbage left and small leaves; I chop and fry or package in freezer bag for when I make a pot of vegetable soup.
HUNGARIAN RECIPE FOR CABBAGE ROLLS
This first recipe that I am giving you is how I learned to make cabbage rolls from my sister Gloria.
1 Very large head cabbage or 2 smaller heads

3 Cans (13 ounces) tomato sauce

3 Cloves garlic sliced

1 Teaspoon salt

½ Teaspoon black pepper

2 Bay leaves

3 Large cans sauerkraut

2 Pounds hamburger

1 Pound ground bulk sausage

1 Pound ground ham

½ Cup white rice

1 Large finely chopped onion

1 Medium finely chopped green bell pepper

1 Can (14 ½ ounces) diced tomatoes

3 Cloves finely chopped garlic

1 Teaspoon salt

½ Teaspoon black pepper

½ Teaspoon nutmeg

2 Eggs

Prepare cabbage as instructed above.
Combine tomato sauce, 3 cloves sliced garlic, 1 Teaspoon salt, ½ teaspoon black pepper and bay leaves in saucepan; simmer 15 minutes and set aside.
Drain sauerkraut in strainer pressing out excess liquid.
In a large bowl or pan combine all meats, rice, onion, green pepper, diced tomatoes, eggs, chopped garlic, 1 teaspoon salt, ½ teaspoon black pepper and nutmeg.
With hands mix until all ingredients are thoroughly blended.
Measure mixture in balls of 2 tablespoons for appetizer size or ¼ cup for regular size.
Shape balls into rolls and wrap with wilted cabbage leaves.
In a roasting pan place a layer of sauerkraut, then a layer of the cabbage rolls.
Top the cabbage rolls with another layer of sauerkraut and another layer of cabbage rolls.
After all have been layered pour the simmered tomato sauce mixture over the top.
Place cabbage rolls in preheated oven at 350F degrees and bake about 2 hours.
NOTE: I lay a piece of foil lightly over the top so they don't brown too much then remove it the last 30 minutes.
Remove bay leaves before serving.
---
EASY STUFFED CABBAGE RECIPE
If you do not care to learn how to make cabbage rolls nor do not want to spend the time but still love the flavor try this recipe.
4 Cups shredded cabbage

1 ½ Pounds hamburger cooked and drained

3 Tablespoons minced onion

1 ½ Teaspoons salt

¼ Teaspoon black pepper

½ Teaspoon paprika

1/8 Teaspoon garlic powder

1 Jar (8 ounces) sauerkraut drained

1 Can (8 ounces) tomato sauce

1 Cup sour cream

Spread a layer of shredded cabbage and then hamburger in the bottom of baking dish.
Sprinkle onion, salt, pepper, paprika and garlic over top of the hamburger.
Top with sauerkraut and then pour tomato sauce over the top.
Bake in preheated oven at 300F degrees for 1 ½ hours.
INCREASE OVEN TEMPERATURE TO 400F degrees.
Spread sour cream over top of stuffed cabbage; return to oven for 10 minutes.

---
RUSSIAN STUFFED CABBAGE - KASHA RECIPE
There are so many recipes to learn how to make cabbage rolls this one is very flavorful.
1 Large head cabbage

2 Tablespoons butter

1 Large finely chopped onion

½ Pound chopped mushrooms

½ Teaspoon marjoram leaves

¼ Teaspoon ground nutmeg

1/8 Teaspoon black pepper

2 Cups kasha    (See below what is kasha)

1 Lightly beaten egg

Salt

Sour cream

Sweet and sour sauce (recipe below)
Prepare cabbage leaves as instructed above.
Prepare sweet and sour sauce.
Melt butter in large skillet over medium heat; add onions, marjoram and mushrooms.
Cook stirring frequently until onions and mushrooms are browned and liquid evaporates.
Remove from heat and blend in nutmeg, pepper, kasha and egg; season with salt.
Pour 2/3 of the sweet and sour sauce in lightly greased 9 X 13 inch baking pan.
Roll about ¼ cup of kasha mixture in a wilted cabbage leaf; place seam side down in sauce.
Continue making stuffed cabbage rolls and layering them in the pan.
Drizzle remaining sweet and sour sauce over the rolls; cover tightly with foil.
Bake in preheated oven at 350F degrees for 1 ½ hours.
Spoon some of the sauce over each serving and serve with sour cream.
Sweet and Sour Sauce:
2 Cans (8 ounces each) tomato sauce
1 Cup water
½ Cup fine gingersnap crumbs
¼ Cup raisins
3 Tablespoons firmly packed brown sugar
¾ Teaspoons crushed sour salt (substitute with ¼ cup lemon juice)
Combine all ingredients in saucepan over medium high heat and bring to a boil.

Reduce heat and simmer uncovered stirring occasionally for 5 minutes.
Cover and let cool. NOTE: Can be made ahead and stored in refrigerator.

NOTE: WHAT IS KASHA? Kasha is cooked buckwheat groats; buckwheat is not a true grain although we tend to treat it as one. It is available untoasted or toasted and has a strong distinct flavor. It is used in many casseroles or with sauces and has been very much a part of the Eastern Europe culture and Jewish cuisine. Cook 1 ½ parts water to 1 part buckwheat; bring water to boil and buckwheat and simmer 10 to 12 minutes.