How to Make Caramels
Do you know how to make caramels?
There is just no comparison with the commercially made ones. They are just so delicious, but besides the taste this recipe has special memories for me. When I was very young and all through high school and beyond, I had a very good friend named Marileen. We were friends in school but also went to the same church in town. She was very sweet and had such a nice family.
Marileen's grandmother made a homemade caramel recipe every year at Christmas time. She would also make old fashioned butter toffee and taffy but neither compared to her caramels. When we went Christmas caroling with the church, we always went to her house so she would give us all some of her famous caramels. She lived close to the church so sometimes Marileen and I would run over there between Sunday school and church or before our youth meeting on Sunday evenings just to get these cramels.

Marileen and most of her family have passed on but their names lives on through the church. Every year the church now produces those caramels with the family recipe.
When you learn how to make caramels, you will find the consistency of a recipe is determined by the finish temperature and the amount of fat which you use. The higher the temperature the chewier the caramel; the more fat used the less chewy the caramel. The main danger to avoid when making homemade caramels is crystallization. Shortly after cooling or a day or two later, the caramels may lose their chewy consistency. They may become soft and sugary caused by one of several reasons.
Not enough corn syrup; in this case crystallization begins several days after the candies were made.
Stirring too much after the cooking period is over; stir only enough to distribute thoroughly any ingredients added after cooking like nuts and flavoring.
Scraping the last of the syrup from the pan in which it was cooked or drippings in an effort to get the last drops from the pan; stop pouring when it no longer flows in a stream.
NOTE:  If you make your own corn syrup, DO NOT use it in candy recipes. I tried it in making caramels and the recipe was a FLOP. This was the first time my caramels failed in fifty years; also the first time I used homemade cooked corn syrup.
IMPORTANT TIPS FOR LEARNING HOW TO MAKE CARAMELS:
When learning how to make caramels and other cooked candies, do so when you can spare the time to remain at the stove overseeing it the entire time. A "boil over" makes a mess. Also, take caution to prevent hot syrup from getting on you; it really burns. NEVER let children cook candy without adult help.
Since I learned how to make caramels, I found many times the syrup will boil up. Often I think it is going to boil over. As soon as I see this I start lifting the top of the syrup with a spoon over and over allowing the syrup to flow back. I do not stir and never touch the bottom. This process cools the syrup and makes it lower in the pan. After a while it will cook down and stop rising.
When making caramels and other cooked candy, it is so important to get out and measure all ingredients before starting. Most of the time (Exception is waiting to reach the right temperature.) you will be working quickly. Even if you are not instructed to heat added milk, let it set to room temperature. I usually set it on my stove while bringing the mixture to a boil.
Never use a smaller pan than the recipe tells you to use. For most regular size recipes I use a 4 quart pan. Even though the ingredients might fit into the pan, when bringing to a boil, the ingredients will boil UP before they cook down. 
Combine caramel ingredients in the pan OFF the heat. Stir well to blend all ingredients. Set pan on the heat and bring to a boil. After boil starts reduce heat to low and DO NOT STIR any until finished and you are instructed to stir in (Only to blend) butter, chocolate, nuts, etc. Even for these ingredients, do not scrape anything from the sides of the pan.
Once the caramel syrup starts to boil, never let it stop boiling. When you are instructed to add milk after the syrup reaches a "certain temperature", do not add it too quickly allowing the boil to stop. I drizzle the milk with a tablespoon and when the boil slows down, I wait until it resumes as it was before adding any more milk. When adding the milk you DO NOT need to stir it in.
After I learned how to make caramels, I found some things work better than others when cutting cooled caramels. Lining the pan with foil allowing foil to overlap to form handles works well. Press the foil firmly in the pan as smoothly as possible. Butter the foil. After the caramels are cold, you can lift them out onto the cutting board.
Letting the caramels set overnight instead of simply cooling allows them to set up better. If they stick to the pan, heat slightly on a range burner. Run knife around edges of pan and turn the pan upside down on a parchment lined tray.  I immediately slip the tray into the freezer for a couple minutes to firm. This makes it so much easier to cut the caramels into nice square pieces.
CREAMY SOFT CARAMELS
(Caramel and optional chocolate flavors; both are delicious.)
Since I have learned how to make caramels, I have tried many recipes. The following one is a favorite for delicious creamy soft caramels. I want to give you some STEP BY STEP instructions which are really some basics for most recipes. 
Ingredients:
2 Cups heavy whipping cream
1 Cup half and half cream
2 Cups sugar
1 ½ Cups light corn syrup
¼ Teaspoon salt
1 Cup chopped pecans
1 Tablespoon vanilla
¼ Cup softened butter PLUS for buttering pan
1 Cup semi sweet chocolate chips OPTIONAL
Butter an 8 inch square cake baking pan.

In a 4 quart saucepan combine 1 cup heavy cream, half and half, sugar, corn syrup and salt; stir well to blend.
Place on medium heat and bring to a boil stirring occasionally ONLY until boil. (This takes about 3 to 4 minutes)
REDUCE HEAT TO LOW. (Do not stir during cooking.)
Hook candy thermometer on side of pan and cook over low until thermometer reaches 234F degrees. (This takes about 32 minutes)
Gradually add remaining heavy cream; do not stir. (This takes me about 7 to 8 minutes).
NOTE: Temperature usually drops to about 225F degrees after adding cream.
Continue cooking over low heat until thermometer reaches 245F degrees. (This takes about 40 to 45 minutes).
Remove pan from heat; immediately stir in ¼ cup butter, pecans and vanilla (And optional chocolate chips) until butter is blended.
Immediately pour into buttered pan; let set until cool. (READ MY LAST 2 TIPS ABOVE)
Turn out onto cutting board; cut into 1 inch squares and wrap each in small pieces of wax paper.
Allow 90 minutes from mixing to pouring into pan.
Creamy Soft Caramels Wrapped
OPTION: TURTLE CANDIES
I use this caramel recipe to make turtles. Arrange three pecan halves in groups on buttered trays. Spoon about 1 tablespoon of cooked caramel on top of each group. After spooning all the caramel over the pecans, then go back and cover with melted chocolate.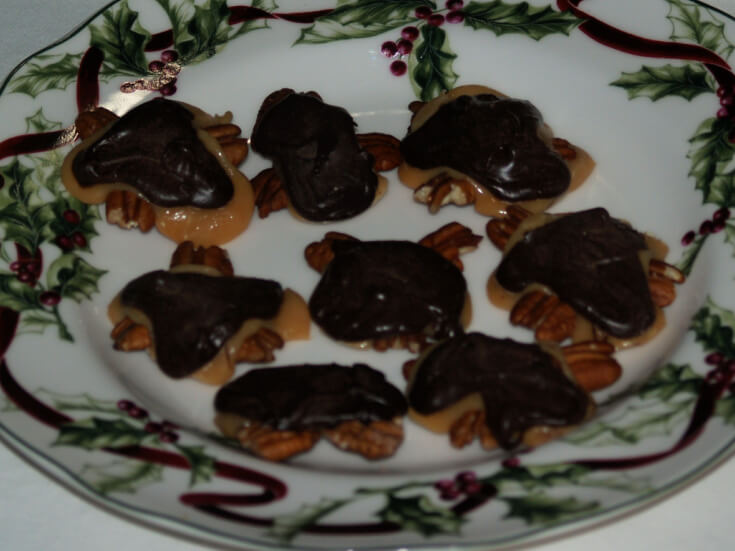 Creamy Soft Caramel Turtles
---
HOW TO MAKE CARAMELS 
2 Cups light cream (half & half)
2 Cups sugar
1 Cup Light corn syrup
½ Teaspoon salt
1/3 Cup butter
1 Teaspoon vanilla
½ Cup chopped nuts
Heat cream to lukewarm in a large heavy saucepan.
Remove 1 Cup of the cream and reserve.
Add the sugar, corn syrup and salt to the saucepan.
Cook over moderate heat about 10 minutes stirring constantly.
Add the reserved 1 cup cream very slowly so mixture does not stop boiling.
Cook 5 minutes longer stirring constantly.
Stir in the butter, one teaspoon at a time.
Reduce heat to low and cook slowly stirring constantly until candy thermometer reaches 250F degrees.
Remove from the heat; add vanilla and nuts. Mix gently.
Allow to stand 10 minutes.
Stir only enough to distribute the nuts.
Pour into one corner of lightly buttered 8 inch square pan letting mixture flow to one level.
Do not scrap pan.
Cool to room temperature.
Turn candy out of pan onto candy board.
Cut into 3/4 inch squares and wrap in wax paper.
---
VANILLA CARAMEL CANDY RECIPE
1 Cup sugar
1 Cup light corn syrup
1 Cup heavy cream
¼ Teaspoon salt
2 Tablespoons butter
6 Tablespoons evaporated milk
2 Teaspoons vanilla
Combine sugar, corn syrup, cream and salt in a heavy saucepan.
Stir mixture over medium heat until sugar is dissolved and it starts to boil.
Cook without stirring until mixture reaches a temperature on candy thermometer of 232F degrees.
Add butter and evaporated milk a little at a time; continue cooking until temperature reaches 244F degrees.
Remove from heat and add vanilla; stir only enough to blend.
Pour into lightly buttered 8 inch square pan; do not scrape bottom of cooking pan.
When caramels are firm cut into ¾ inch squares and wrap individually in wax paper.
---
CARAMEL NUT ROLL RECIPE
Learn how to make caramel and make a nut roll with it. When vanilla caramel recipe is slightly cooled, shape into a long roll about 1 ½ inches in diameter; roll in chopped nuts. When firm slice in ½ inch slices.
---
MARSHMALLOW RECIPE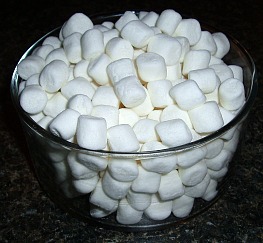 Marshmallows
Learn how to make caramel with this delicious marshmallow layered recipe.After cooking vanilla caramel candy recipe, pour half of mixture into a buttered 8 inch pan. Top with a layer of miniature marshmallows; then pour in the other half of the caramel candy evenly over the top. Let cool and cut in squares.
---
HOW TO MAKE CARAMELS 
CREAMY
1 ½ Cups half and half
1 ½ Cups whipping cream
2 Cups sugar
¼ Teaspoon salt
1 1/3 Cups light corn syrup
2 Teaspoons vanilla
1 Cup toasted walnuts
Butter a 9 inch square pan.

Combine half and half and whipping cream.
Combine and mix sugar, salt, corn syrup and 1 cup of the combined cream in a heavy 4 qt saucepan.
Cook over medium heat stirring constantly until syrup reaches 234F degrees on candy thermometer.
Add 1 more cup of the cream and stir again until mixture reaches 234F degrees.
Add remaining cream and stir until mixture reaches 250F degrees.
Remove mixture from heat; add vanilla and nuts and pour into prepared pan to cool completely.
---
CREAMY CARAMELS RECIPE
3 Cups whipping cream
2/3 Cup SWEETENED CONDENSED can milk
2 Cups sugar
2 Cups light corn syrup
¼ Teaspoon salt
1 Cup coarsely broken walnuts
2 Teaspoons vanilla
Line 8 inch square baking pan with foil extending over the edges; butter foil.

Combine whipping cream and milk in top of double boiler; heat over hot water NOT BOILING.
REDUCE HEAT to low just to keep cream warm.
Combine sugar, corn syrup and salt in a heavy 3 quart saucepan; mix well.
Cook sugar mixture over medium high heat to boiling stirring constantly with wooden spoon to dissolve sugar.
Cook sugar mixture 1 minute longer; REDUCE HEAT to medium.
Clip candy thermometer to side of pan; slowly add ¼ cup at a time (Total about 15 minutes) of warm cream mixture.
NOTE: For creamier caramels take 45 minutes to add all cream; STIR WELL after each addition of cream.
Continue to cook mixture stirring frequently until candy thermometer reaches 242F degrees.
Remove from heat (remove thermometer); immediately stir in vanilla and walnuts.
Quickly pour mixture into prepared pan without scraping pan.
Allow caramels to stand a few hours to set; IF TOO SOFT refrigerate to firm.
Lift caramels out of pan with overhanging foil; peel away foil to cutting board.
With buttered knife cut into small caramels; wrap each in wax paper.
---
HOW TO MAKE CARAMELS for a crowd
NOTE: Use large kettle to make this recipe so it does not boil over. IMPORTANT Use a larger candy thermometer because the hot syrup will burn your hands. If you do not have a large candy thermometer you can tie a string around it so you will not get your hand close to the syrup.
When you learn how to make caramels it is important to know that most recipes for caramels cannot be doubled so this one is nice to make more in one batch.
12 Cups sugar
4 Cups light corn syrup
2 Quarts heavy whipping cream
1 ½ Pounds butter (room temperature)
¼ Cup vanilla extract
NOTE: I poured mine into a large sheet pan 17 inches by 26 inches. I found this more difficult to handle so I recommend using the 8 inch square pans; they will also set up quicker.
Oil SIX 8 inch square pans; set aside.
Combine sugar, corn syrup and cream in a heavy pan on low heat.
Stir CONSTANTLY until sugar has dissolved.
WITHOUT STIRRING, boil mixture to a firm ball stage about 247F degrees.
Add butter stirring until it is well mixed into syrup; remove pan from heat.
Stir vanilla into syrup; pour mixture into 6 prepared pans.
Let caramel set before marking in 1 inch squares.
When caramel is cold cut into squares and wrap each piece in wax paper.
Cooling Carmel