How to Make Ceviche Recipes 
How to make ceviche? When I first heard of ceviche recipes, I was in Costa Rica. I had never heard of them before but everywhere I went, on every menu there it was listed.
I must say I was getting interested in this item and was thinking just what is it? My friend described it as being like our shrimp cocktail only with more spices.
A basic way was described to me as how to make ceviche recipes. These delicious recipes (also spelled seviche and cebiche) are seafood dishes made in the Central and South American countries. Fresh raw shrimp, scallops and other seafood are marinated in citrus juices and seasoned with a lot of spices.
How to make ceviche from various countries? The recipes of the countries vary but have the same basic ingredients of raw seafood and citrus with spices. I am not fond of eating raw seafood but I had to try it; very good. When I make it at home I still choose to quickly cook the seafood before I marinate it.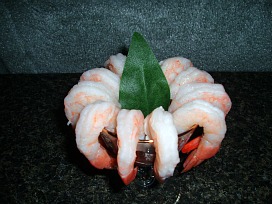 Simple Shrimp Cocktail
There is no definite proof as to where ceviche recipes originated but people from many different Spanish countries will say they started it. When you learn how to make ceviche you will realize today this dish is served all over the world. Sometimes it is served as a main salad but more often it is served as an appetizer. This past year I was able to order ceviche in a restaurant in a small rural town in Tennessee. It tasted the same as I get in Ecuador. Can you believe it! The strange thing is that I never heard of this dish until I went to Costa Rica and then I see it served everywhere; even all over the United States.
CEVICHE

RECIPE 

(from Mexico)
1 Pound scallops
1 Cup lime juice
¼ Cup chopped onion
1 Tablespoon chopped parsley
¼ Cup chopped green chilies
½ Cup chopped peeled tomatoes
Salt to taste
Fresh ground black pepper
1 Tablespoon olive oil
1/8 Teaspoon oregano
Few grains cayenne pepper to taste
Put all ingredients in a glass bowl; stir to blend.
Cover and refrigerate for 4 to 5 hours before serving.
---
HOW TO MAKE CEVICHE

(from Ecuador)
NOTE: Most ceviche is made with raw fish. I prefer to add the shrimp to the boiling sauce for 2 to 3 minutes or until shrimp turns white.
3 Pounds fresh cleaned shrimp or prawn
1 Bay leaf
1 Stalk chopped celery
1 Clove minced garlic
1 Medium red onion, thinly sliced
½ Cup lemon juice
4 Cups orange juice
¾ Cup tomato juice
Hot pepper sauce to taste
1 Teaspoon sugar
Salt and pepper to taste
In a small sauce pan bring to a boil the bay leaf, chopped celery, onion, minced garlic, lemon juice and tomato juice; reduce heat and simmer 2 minutes.
Remove mixture from the heat and cool; add the orange juice, hot pepper sauce, sugar, salt and pepper.
Put shrimp in a glass bowl and pour mixture over the shrimp.
Cover and refrigerate for several hours.
Serve with bread, toasted corn or banana chips.
---
CEVICHE

(from Cuba)
1 Cup lime juice
½ Cup finely chopped onion
4 Cloves minced garlic
1 Green bell pepper seeded and chopped
½ Teaspoon sea salt
1 Teaspoon sugar
1 Teaspoon chopped fresh basil
½ Teaspoon chopped fresh parsley
2 Tablespoons chopped fresh cilantro
¼ Cup olive oil
2 ½ Cups fresh raw white fish in chunks
Cilantro sprigs for garnish
Combine all the ingredients except the fish.
Pour mixture over the fish in a glass bowl.
Cover and marinate overnight. Turn several times while marinating.
Garnish with cilantro sprigs.
---
CEVICHE RECIPE
Ceviche recipes can be made with most types of seafood; shrimp, crab, grouper, snapper, etc.
2 Pounds grouper or snapper filets
2 Small thinly sliced onions
¾ Teaspoon salt
3 Hot peppers, seeds removed and sliced in circles
3 Cups fresh lemon juice
Olive oil
½ Cup chopped fresh parsley
Cut fish filets in ½ inch cubes and place in glass bowl.
Add onions, salt and hot pepper slices.
Cover with lemon juice, drizzle with olive oil and sprinkle with parsley; stir to blend.
Cover tightly and chill for 24 hours or more; if desired add more hot peppers and salt to taste.
---
SPICY SEVICHE DE PESCADO
How to make seviche with fish?
1 Pound fresh white fish skinned
¾ Cup fresh lime juice
1 Medium tomato peeled seeded and chopped
1 to 3 Fresh jalapeno peppers seeded and finely chopped (Depends on hot you like it)
2 Tablespoons olive oil
1 Tablespoon capers drained
½ Teaspoon salt
¼ Teaspoon dried oregano
Avocado slice garnish
Thinly sliced red onion garnish
Lime wedges garnish
Cut fish into ½ inch squares; combine with lime juice in a glass bowl and mix well.  
Cover bowl and refrigerate; occasionally stir gently until fish becomes firm and opaque art least 4 hours.
NOTE: The acid from the lime juice will "cook" the fish.
After 4 hours but 1 ½ hours before serving add tomato, jalapeno, oil, capers, salt and oregano.
Mix gently, cover and refrigerate until serving time; divide evenly among 4 individual serving plates.
Garnish with avocado slices, red onion and lime wedges.
Painless Cooking

›
Appetizers
› Ceviche