How to Make Chili 
When you ask how to make chili, you will get a variety of different answers for chili recipes depending on who you ask. My favorite chili recipe is one of the beef chili recipes made with coarsely ground beef, lots of onions and garlic, tomatoes and lots of spices. I do like kidney beans in it, but I like half of them smashed or pureed making the sauce thicker. If you ask people from my home state, in the Cincinnati area, they would say it has to have spices like cinnamon, allspice, cloves and some would say chocolate. Some would also tell you that it has to be served over cooked spaghetti.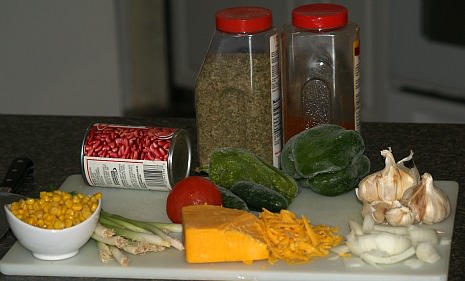 How to Make Chili
If you ask most people from Mexico or of Mexican ancestry how to make chili they would say they like a con carne recipe or chili with meat. As I have mentioned before, Mexico did not want to claim the origination of chili recipes. They looked at it as a "cheap" recipe so if they are going to eat it they want it with meat and lots of seasoning. I can't blame them, so do I! However, I do have friends who only like a vegetarian recipe; they tell me you can still have a lot of flavor without meat.
There are so many different types which have moved up in popularity. The chicken chili recipe has become famous in recent years because many people are choosing to eat chicken over red meats. Although I generally do not make mine with chicken, it can have just as good taste as beef chili. Adding the spices and other ingredients with the chicken and some of the broth can make very good chili. I must tell you since we are talking about how to make chili, I have a very flavorful and easy chili casserole recipe. It is so good to make to take to a church carry in, pot luck dinner, any type of gathering or even at home for the family.
If you ask how to make chili and want quick and easy chili recipes, there are a lot of those. Some people think it is impossible to cook chili quick and easy thinking that it has to be cooked for a long period of time. I have tasted some which actually have a very good flavor. They are usually thickened by adding flour to the cooking instead of cooking it until it thickens.
Don't forget when you learn how to make chili, chili con queso or chili with cheese might win you over as it has done to me. Of course, a bowl of chili topped with grated cheese but when I think of chili con queso, I want lots of cheese. I consider this starting with a very thick spicy hot chili then add a lot of cheese, stir it in and heat in the oven or microwave. This is absolutely delicious served with taco chips.
It usually is made in a large pot and there is usually enough for many leftovers. Some people ask how to make chili for two. If there are only two in your home, I can understand only wanting to make a little and not have leftovers; this is possible to do simply by cutting the ingredients. The spices and different types of chili peppers determine a hot recipe. These also are what make the delicious flavor in chili and they do not add much to the bulk in the pot so it still can be very tasty.
Learning how to make chili in a Crockpot is also very easy. In most recipes you brown the chili first then add the remaining ingredients. Depending on the recipe, then you would place the meat and remaining ingredients in the Crockpot, heat on high, then reduce the heat and cook for several hours. This is great for those of you who have a busy schedule. While you work the chili will cook. I am listing below ingredients which can be found in chili recipes; combine some of these and make your own chili recipe.
MEATS

GROUND BEEF
STEWING BEEF
ROAST BEEF
STEAK
BACON
GROUND CHICKEN
GROUND TURKEY
SEAFOOD/FISH

FATS

BACON

FAT
BUTTER
COOKING OIL


VEGETABLES


JALAPINO PEPPERS
WHOLE KERNAL CORN
GREEN BELL PEPPERS
TOMATOES
CELERY
CANNED CHILI PEPPERS
TOMATO SAUCE
TOMATO PASTE
TOMATO PUREE
FRESH GARLIC 

BEANS

KIDNEY BEANS
BLACK BEANS
GARBANZO BEANS
PINTO BEANS

ALCOHOL


CONDIMENTS


GRATED CHEESE
FRESH ONION
SOUR CREAM
CRACKERS/ CHIPS

SEASONINGS

WORCESTERSHIRE SAUCE
CHICKEN BOUILLON
BEEF BROTH/BOUILLON
BEEF CRYSTALS
CHICKEN CRYSTALS
JALAPENO POWDER
CHILI SPICE MIX
CHIPOLTE SAUCE
ANCHO POWDER
CURRY
RED PEPPER
BAY LEAF
SALT
BLACK PEPPER
WHITE PEPPER
BROWN SUGAR
SUGAR
MSG
MOLASSES
VEGETARIAN BURGER CRUMBLES
GREEN CHILI SALSA
CILANTRO
SERRANO PEPPER
LIGHT CHILI POWDER
DARK CHILI POWDER
MILD CHILI POWDER
CINNAMON
UNSWEET CHOCOLATE
ALLSPICE
CUMMIN
OREGANO
THYME
CORRIANDER SEEDS
GROUND CLOVES
ONION POWDER
GARLIC POWDER
GARLIC SALT
SAZON GOYA
PAPRIKA
LOUISIANA HOT SAUCE
---
BLACK CHILI
a favorite when you learn how to make chili
A friend passed this chili recipe on to me from a Cuban community in the United States. It is different from most types of chili as it calls for black beans and cilantro. It is very good; I love the flavor of cilantro.
1 Pound dried black beans
4 Tablespoons olive oil
1 Pound ground pork
1 Pound ground beef
1 Large chopped green bell pepper
1 Large chopped red bell pepper
2 Medium chopped onions
4 Cloves minced garlic
2 Tablespoons chopped parsley
2 Tablespoons chopped fresh cilantro
2 Tablespoons chili powder
Hot pepper sauce or chopped jalapeño peppers (Optional for hot chili recipe)
1 Teaspoon cumin seed
1 Can (16 ounces) diced tomatoes
1 Cup V-8 juice
Salt/ pepper to taste
1 Cup chopped onion for garnish
1 Cup shredded Cheddar cheese for garnish
Clean and soak beans in fresh water overnight.
Pour beans and water into a large cooking pot; add enough fresh water to cover beans.
Bring beans to a boil, cover and simmer until beans are tender; about 1 ½ hours.
Heat two tablespoons of olive oil in large skillet.
Add onions, green peppers, red peppers, garlic, parsley and cilantro to oil and sauté until onions are tender.
Add vegetable mixture to pot of beans.
Heat remaining olive oil and brown meat until done; remove excess fat and dump meat into pot of beans.
Add chili powder, cumin seeds, canned tomatoes, and V-8 juice to pot; cover and simmer 1 hour.
Uncover pot and simmer another 30 minutes; season with salt and pepper.
Serve with cheese and chopped onions.