How to Make Chinese Appetizer Recipes
I learned how to make Chinese appetizer recipes even before I called them"appetizers". The following recipes are so delicious that you can eat them as a meal, as a snack or as an appetizers. Appetizers have become popular all over the world. This is something I never heard of as a young person. Years ago we had our meals; not appetizers or snacks. Today, I know many families who only cook appetizers for their meals.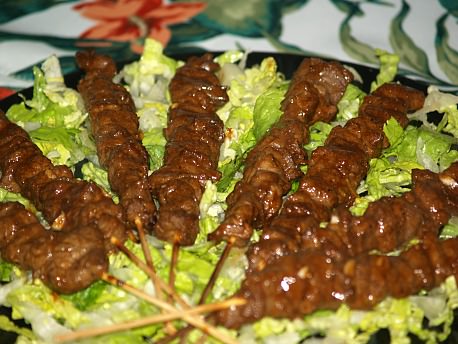 How to Make Chinese Appetizer Recipes
I learned how to make Chinese appetizer recipes because I love the flavors in all Asian food. I never even tasted Chinese food until I was a mature adult. I always tell my daughter, Kelly, that her grandmother would be shocked at our cooking. Mom would never believe all the different cuisines which we cook from around the world. From the first bite which I tasted of Asian food until now, I have not had anything which I did not like.

When learning how to make Chinese appetizer recipes, I found a lot of the ingredients I already had in my pantry and refrigerator. Ones like dry sherry, sesame oil, soy sauce, fresh ginger, green onions, chili sauce and wine vinegar were already common place in my cooking. I found other ingredients very necessary to have for Asian cooking. Even these were easily located at the local supermarkets Asian section. 
All the Asian wrappers are so much easier to purchase than to make. Our grocery keeps them in a cooler in the produce section.  Other ingredients I found I could not be without are sake, hoisin sauce and I love wasabi paste. Chinese pea pods and Napa (Or Chinese) cabbage are available in most supermarkets. I grow my own sprouts because they are so easy and only take about 3 days. With these ingredients and common ones in your kitchen, you can learn how to make Chinese appetizer recipes.
How to Make Chinese Appetizer Recipes

EMPRESS CHICKEN WINGS
1 ½ Pounds chicken wings (Disjointed)
3 Tablespoons soy sauce
1 Tablespoon dry sherry
1 Tablespoon fresh minced ginger
2 Cloves minced garlic
2 Tablespoons vegetable oil
¼ to 1/3 Cup cornstarch
2/3 Cup water
2 Green onions (White and green sliced diagonally)
1 Teaspoon fresh ginger (Thinly sliced)
Combine soy sauce, sherry, minced ginger and garlic in plastic zip top bag (Gallon size).

Place chicken wings in bag and seal; refrigerate 1-2 hours turning bag over occasionally.
Remove wings from marinade; reserve marinade.
Heat oil in a large skillet over medium heat; coat wings lightly with cornstarch.
Brown wings on all sides in skillet; remove chicken and drain excess fat from skillet.
Stir water and remaining marinade in same skillet; add chicken wings.
Sprinkle green onions and sliced ginger over the wings.
Cover and simmer 5 minutes or until chicken is tender.
Makes about 4 appetizer servings.
---
MARINATED GINGERED SHRIMP RECIPE
1 ½ Pounds shrimp (Shell, devein and cook)
¼ Cup soy sauce
3 Ounces finely chopped ginger root
¼ Cup vinegar
2 Tablespoons sugar
2 Tablespoons sweet sake (Or sweet sherry)
3 Tablespoons thinly sliced green onion
Arrange shrimp in a single layer in ungreased baking dish (8X12X2 inches).
Heat soy to a boil; add ginger, reduce heat and simmer uncovered about 5 minutes.
Stir in sugar, vinegar and sake; pour over the shrimp.
Cover dish and refrigerate for at least 2 hours,
Remove shrimp from marinade and arrange on a dish (On lettuce leaves if desired)
Garnish tops of shrimp with sliced green onions.
Makes about 60 appetizers (depending on shrimp size).
---
ORIENTAL STYLE NUTS RECIPE
Try theses simple nuts when you are learning how to make Chinese appetizer recipes.
10-11 Ounces blanched whole almonds
7 Ounces dry roasted cashew nuts
1 Teaspoon soy sauce
1 Teaspoon water
2 Tablespoons butter
1 Teaspoon 5-spice powder
1/8 Teaspoon garlic powder
Preheat oven to 350F degrees.

Place all nuts on a "jelly roll" pan (15 ½ X 10 ½ X 1).
Mix soy sauce and water; drizzle over the nuts tossing to distribute evenly.
Dot nuts with butter; bake for 10 minutes.
Mix 5-spice powder and garlic powder; sprinkle over the nuts.
Bake uncovered stirring occasionally until golden brown about 8-10 minutes longer.
Makes about 2 cups.
---
FRIED BEEF BUNDLES
When learning how to make Chinese appetizer recipes, people learn to use the many spices like in these beef bundles.
1 Small onion cut into wedges
3 Red chili peppers seeded
1 Clove garlic
1 Thin slice gingerroot
½ Pound ground beef
1 Large shredded carrot
1 Shredded turnip
¼ Teaspoon salt
2 Beaten eggs
10 Egg roll skins
Vegetable oil (For frying)
Chinese mustard (sweet and sour sauce or chili sauce)
Combine in food processor the onion, chili peppers, garlic and ginger; process until smooth.

In a skillet combine beef, carrot, turnip and salt; cook and stir over high until meat is browned.
Drain off any excess oil from skillet; add onion mixture and stir to blend.
Remove from heat and stir in eggs.
Place egg roll skin with point toward you; spoon ¼ cup of the filling across just below center.
Fold bottom point over the filling tucking point under filling.
Fold side corners over forming "envelope"; roll up toward remaining corner.
Moisten last corner and press to seal; repeat process for remaining filling.
Fry bundles a few at a time in deep hot oil (365F degrees) about 2 minutes until golden brown.
Drain on paper towels; serve with favorite sauce; makes 10.
---
CORKSCREW SHRIMP RECIPE
When you learn how to make Chinese appetizer recipes, you will learn how many are made with seafood.
32 Jumbo shrimp (Peel leaving TAILS ON), devein, split to tail)
1 Large diced onion
4 Teaspoons green Thai curry paste (Can be purchased at Oriental food shops)
12 Ounces coconut milk
Several sprigs of fresh basil chopped
Minced green onions for garnish
Olive oil
Heat oil in a large saucepan over medium high heat.
Add onions; sauté and stir until they begin to brown; mix in curry paste.
Add shrimp, several at a time tossing with mixture.
Pour in coconut milk and bring rapidly to a boil.
Remove shrimp to a plate; continue cooking liquid until it thickens.
Stir basil and green onions into the mixture; return shrimp to the pan and stir to coat.
REMOVE FROM HEAT; place shrimp on a bed of lettuce to serve.
Appetizers for 8 servings.
---
WONTONS with Sweet and Sour Sauce
You will find, when learning how to make Chinese appetizer recipes, that these wontons are always a favorite! 
1 Can (14 ounces) pineapple tidbits
½ Cup brown sugar
1 Tablespoon cornstarch
1/3 Cup cider vinegar
1 Tablespoon soy sauce
½ Cup chopped green pepper
½ Pound ground pork
2 Cups finely shredded cabbage
¾ Cup finely chopped fresh bean sprouts
1 Small finely chopped onion
2 Lightly beaten eggs
½ Teaspoon salt
¼ Teaspoon pepper
2 Packages (12 ounces each) wonton wrappers
Vegetable oil for frying
Drain pineapple (Reserve juice); set aside.
Combine sugar and cornstarch in a saucepan.
Gradually stir in pineapple juice, vinegar and soy sauce until smooth.
Bring to a boil; cook and stir for 2 minutes or until thickened.
Reduce heat; stir in green pepper and pineapple; cover and simmer 5 minutes.
Set saucepan off heat and keep warm.
In a bowl combine pork, cabbage, sprouts, onion, eggs, salt and pepper.
Place about 1 tablespoon of the pork mixture in center of each wrapper.
Moisten edges with water; fold opposite corners of wrapper over the filling and press to seal.
Heat 1 inch of oil in an electric skillet to 375F degrees.
Fry wontons about 2 ½ minutes until golden brown turning one time.
Drain on paper towels and serve with sauce; makes about 100.
---
CHINESE MEATBALLS with plum sauce
These Chinese meatballs are perfect when you are learning how to make Chinese appetizer recipes.
2 Cans (20 ounces each) water chestnuts (Drain and finely chop)
3 Bunches chopped green onions
5 Pounds lean ground pork
¼ Cup soy sauce
6 Lightly beaten eggs
1 Tablespoon salt
2 ½ Cups fine dry breadcrumbs
Cornstarch for coating
Vegetable oil for frying
Plum Sauce:
1 Jar (18 ounces) plum sauce
1 Lemon (Juice and peel)
2 Tablespoons wine vinegar
Combine in large bowl water chestnuts, green onion and ground pork.

Add soy sauce, eggs, salt and breadcrumbs; mix thoroughly with hands.
Shape into bite-size meatballs; roll lightly in cornstarch.
Fry balls in deep hot (370F degrees) oil until well brown.
TO MAKE PLUM SAUCE combine preserves, lemon juice and peel and vinegar in saucepan.
Heat preserves mixture and serve with meatballs; makes about 350 meatballs.
---
MONGOLIAN BEEF STICKS RECIPE
Learn how to make Chinese appetizer recipes on a stick.
2 ½ Pounds flank steak
½ Cup hoisin sauce
2 Tablespoons peanut oil
2 Tablespoons sesame oil
2 Tablespoons dry sherry
2 Tablespoons soy sauce
½ Teaspoon sugar
½ Teaspoon pepper
½ Teaspoon grated fresh ginger
1 Clove crushed garlic
NOTE: Soak wooden skewers in water before threading to prevent burning.
Slice steak diagonally across the grain into 1/8 inch thick strips.
Place strips in a large heavy zip top plastic freezer bag; set aside.
Combine hoisin sauce and remaining 8 ingredients in a bowl; blend well.
Pour hoisin marinade over steak in the bag; seal bag securely.
Refrigerate steak and marinade for 8 hours turning occasionally.
Thread steak strips onto 32 wooden skewers; discard marinade.
Broil 3 inches from heat element 2 to 3 minutes on each side; LEAVE OVEN DOOR PARTIALLY AJAR.
Makes 32 appetizers. 
---
HACKED CHICKEN RECIPE
Learn how to make Chinese appetizer recipes using canned chicken.
1 Can (13 ½ ounces) chicken broth
2 Pounds boneless skinless chicken breast
¼ Cup smooth peanut butter
¼ cup soy sauce
3 Tablespoons wine vinegar
2 Tablespoons sesame oil
1 ½ Teaspoons Tabasco pepper sauce
1 Teaspoon sugar
Cucumber slices, red pepper strips, sliced green onion for garnish
Bring chicken broth to a boil in a large skillet.

Add chicken breasts to the skillet; simmer 5 to 7 minutes on each side until done.
Remove chicken from the skillet reserving broth; cool chicken and shred.
In a medium bowl stir together the peanut butter, soy sauce, ¼ cup reserved broth, vinegar, sesame oil, Tabasco and sugar.
Add the chicken to the sauce tossing to coat; cover and chill.
To serve line a plate with sliced cucumbers; pile chicken on top.
Garnish with red pepper strips and sliced green onions.
---
ASIAN FISH ROLLS in Rice Paper Wrappers
Learn how to make Chinese appetizer recipes using rice paper wrappers.
2 Cups bean sprouts
2 Cups shredded Napa cabbage
2 Cups Chinese pea pods (Cut julienne style)
18 Rice paper wrappers (6 inch size)
2 Cups finely chopped cooked sea bass (or white fish) 
1/3 Cup chopped fresh cilantro
3 Tablespoons finely chopped roasted peanuts
Tomato ginger dipping sauce (Recipe below)
Prepare tomato ginger dipping sauce.

Heat 1 inch of water in bottom of steamer to boiling; (DO NOT let water tough basket)
Add bean sprout in basket; cover and steam 2 minutes.
Immediately submerge sprouts in cold water; drain.
Repeat steaming process for cabbage and pea pods.
Place rice paper wrappers (2 AT A TIME) in bowl of hot water for 45 seconds.
Remove wrappers and place on a plate; when COMPLETELY SOFT separate wrappers.
Place on each wrapper about:
 2 tablespoons of fish
1 tablespoon of EACH bean sprouts, cabbage and peapods
1 teaspoon cilantro
½ teaspoon of peanuts 
Fold one end of wrapper up about 1 inch over the filling; fold right and left sides in.
Fold remaining end down wrapping around the roll.
Arrange rolls on plate and serve with sauce; serves 6.
Tomato Ginger Dipping Sauce 
¾ cup tomato puree
2 Tablespoons lime juice
1 Teaspoon grated ginger root
1 Teaspoon soy sauce
½ Teaspoon sesame oil
½ Teaspoon chili paste (OR 1 teaspoon finely chopped hot chili)
TO MAKE SAUCE combine and blend well; cover and refrigerate.