Croissants and Crescent Rolls
How to Make Croissants and Crescent Rolls
How to make croissants? How to make crescent rolls? You might ask why combine these two together. There has always been a lot of discussion in bread baking as to the difference between croissants and crescent rolls. I have many recipes which are titled "croissants" and I consider them to be crescent rolls. Even in much of my research, there is not a "clear cut" difference.

The original croissant from Vienna Austria appears to me to be more like a heavier "bread cookie". It is not like the light flaky bread roll which we now can get. This roll spread throughout all of Europe; all having different versions and known by different names. The French bakers learned how to make croissants using this idea. They created this bread to have a more refined taste and appearance. This creation swept throughout Europe and eventually the United States. Today, in most towns and cities, we can purchase plain croissants, ones glazed with icing or filled with many flavors and types of fruits and creams.
So where do the crescent rolls fit into this picture? Obviously "crescent rolls" must be shaped like crescents, but most often croissants are also. Both of the names of these rolls are used so interchangeably that I am going to give you my take on this subject. Although I think of the crescent roll as a small dinner roll and I like my croissants much larger, they can be the exact same size.
When I learned how to make croissants and crescent rolls, the biggest difference I find comes after the "first rise". I can use the same recipe for the dough but it ends there. Even this point has been contradicted by some recipes titled "croissants" but I consider those to be crescent rolls. After the first rise, for crescent rolls, you punch down the dough and roll into a circle. Cut the dough in pie shapes, roll up and let rise before baking.
When learning how to make croissants, you will still punch down the dough after rising. The dough is usually rolled in a rectangular shape. Layer this rectangle with butter. Sometimes recipes will instruct you to roll the butter between wax paper and freeze or refrigerate before using. After applying the butter, you will fold the dough and place it in the refrigerator for a certain length of time. You could be instructed to do this process of applying butter and refrigerating three or more times. To me, this is what makes a "croissant" and not a crescent roll.
I do love good crescent rolls if made correctly. I have tasted many homemade ones which were too heavy. This was because too much flour was added or they were not allowed to rise long enough. (Many recipes do not instruct you to rise before baking; even 10 to 15 minutes make them lighter). They should be very light and flaky, and they are much easier and quicker to make than croissants. As much as I love good crescent rolls, when I learned how to make croissants, I found them to be heavenly. The layers of butter make layers of flaky dough when these croissants are baked. The "bottom line", I say the difference is the layers of butter and the amount of time required in the making. Croissants are much richer in taste and flakier. I make crescent rolls to serve for dinners. I make large croissants when I have plenty of time and then I freeze them for special occasions and sandwiches.
NOTE: When I learned how to make croissants I found that the dough needs to be kept cold all through the process.
NOTE: When I learned how to make croissants, I found that the unbaked croissants do not freeze well. After cooling croissants completely, place them in a large plaster freezer bag and place in the freezer. They thaw quickly or place them in the oven briefly. I like to make them ahead and freeze for special occasions.
HOW TO MAKE CROISSANT ROLLS or CRESCENT ROLLS
I use this first recipe to make croissants and for crescent rolls. This is a large recipe; you could cut it in half. 
3 Cups warm milk (112 to 115F degrees)
6 Package dry yeast
¾ Cup sugar
¾ Cup melted butter
6 Beaten eggs
12 Cups flour
¾ Cup melted butter (To do all dough in crescent rolls)
3 Cups softened butter (To do all dough in croissants) 
Sprinkle yeast and 6 tablespoons of the sugar over warm milk; stir and let stand about 10 minutes until foamy.
Measure about 6 cups of flour into a large bowl; pour yeast mixture over the flour.
Add melted butter and beaten eggs; add remaining sugar and salt and stir to blend.
Continue to stir in flour until it makes a dough ball; turn dough out onto floured surface.
Knead dough adding enough of remaining flour to make a soft dough.
Knead dough until smooth and elastic about 10 minutes.
Place dough in a clean greased bowl; turn to coat all sides.
Cover bowl with plastic wrap and a clean towel; let rise in refrigerator overnight.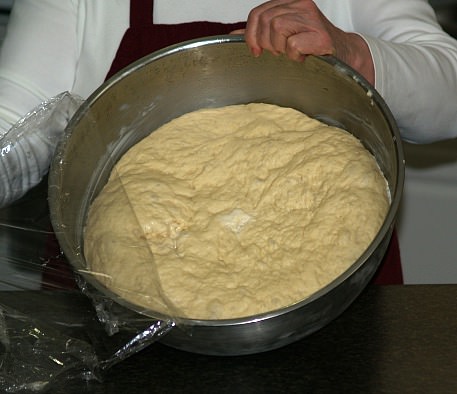 Croissant and Crescent Roll Dough
NOTE: After this rising, divide dough in 3 parts. I use 1/3 to make crescent rolls and 2/3 for croissants.

FOR CRESCENT ROLLS divide 1/3 into 2 parts; roll each part in a 9 inch round circle and cut in 12 wedges.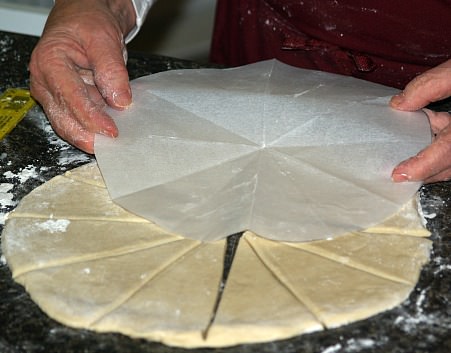 9 Inch Round Circle Pattern for Crescent Rolls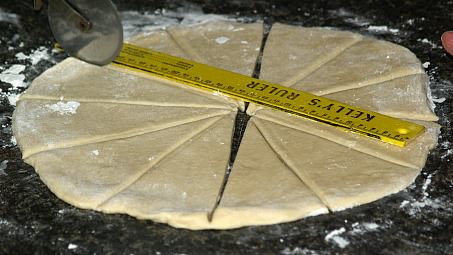 Crescent Rolls Cut
Brush each wedge with melted butter; roll up beginning at the larger end to the point.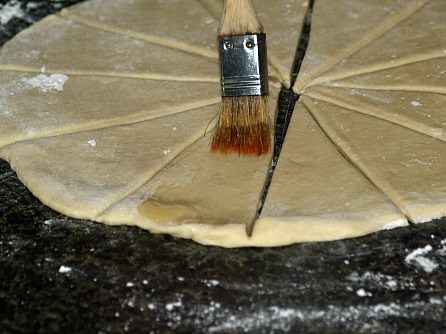 Brushing Crescent Rolls with Butter before Rolling
Curve each into a crescent shape; place on a lightly greased baking sheet.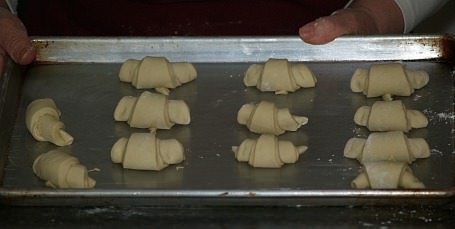 Rolled Crescent Rolls Set to Rise
PREHEAT OVEN TO 375F degrees.

Let stand in a warm place about 20 to 30 minutes. NOTE:  If dough is directly from refrigerator it will need to set about 30 minutes; this also depends on your temperature.
Bake about 10 minutes until golden brown.
FOR CROISSANTS after overnight rising, punch dough down.

ROLL EACH 1/3 of dough to a rectangle about 15X 8 inches; spread butter on rolled dough.

SPREAD BUTTER 1 inch from edge on 3 sides leaving 5 INCHES at the bottom clear.

FOLD IN THIRDS folding the unbuttered dough over first making size of 8X5 inches.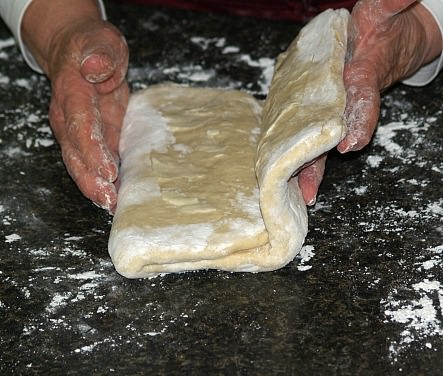 Folding Croissant Dough After Buttering
WRAP AND REFRIGERATE for 1 hour.

REPEAT THESE STEPS roll, butter, fold, refrigerate 2 more times (Total 3 times)
AFTER THE LAST BUTTER WRAP AND REFRIGERATE at least 4 hours.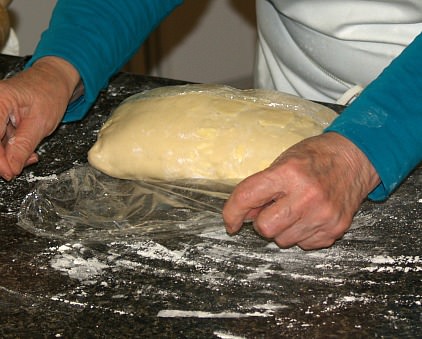 Wrapping Croissant Dough to Refrigerate
NOTE: Because of the long "cool rising period" (4 hours) needed before baking, at this point I refrigerate overnight

NOTE: You can make large or small croissants. I make the large ones rolling each part to 10 X 14 inches making 4 croissants with each part. To make the smaller croissants roll the same portion of dough to 10X21 inches making 6 croissants with each part.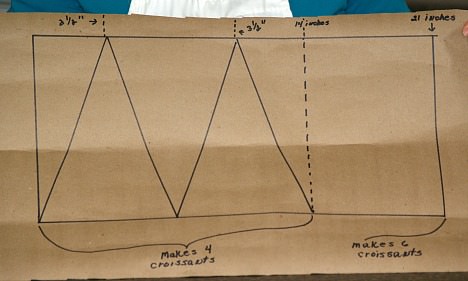 Diagram for Cutting Croissant Rolls
LARGE CROISSANTS:  roll each of the 4 parts of dough to rectangle 10X14 inches. (NOTE: KEEP DOUGH IN REFRIGERATOR UNTIL READY TO ROLL AND CUT EACH PART)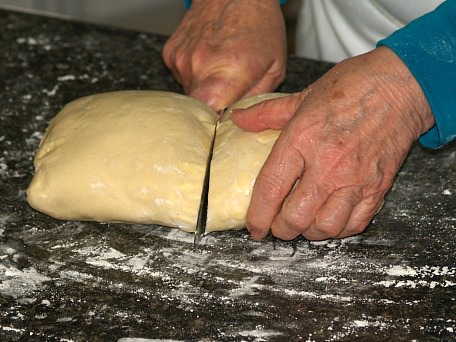 Cutting Croissant Dough in Half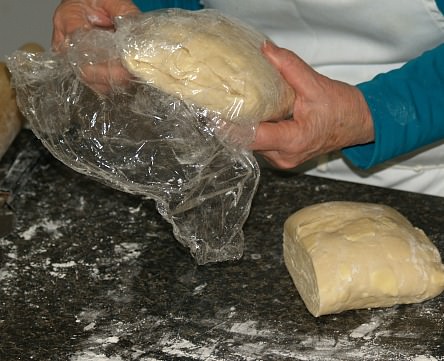 Wrap the Other Half of Dough and Keep Refrigerated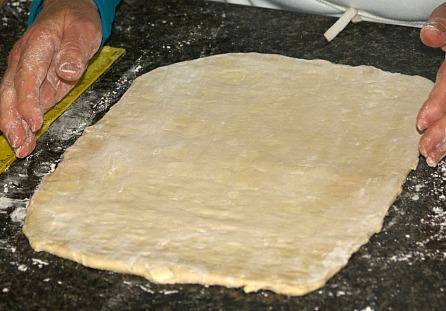 Rolling Out Croissant Dough to Cut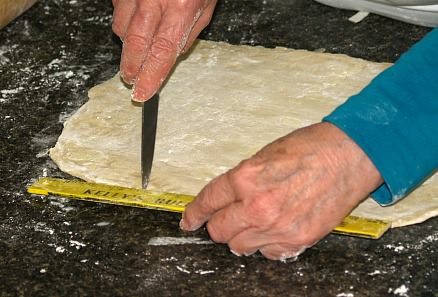 Measuring Dough for Cutting
Cut each part into 4 triangles with bases of 7 inches. 

Cutting Large Croissants
Cut Croissant Dough to Roll
Roll triangles from base to point. (Join odd pieces to make triangles)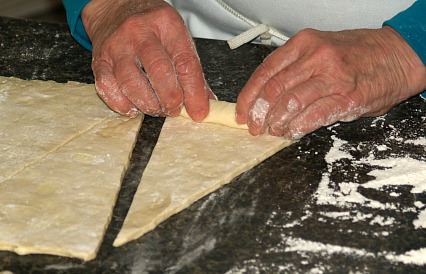 Rolling Croissant Triangles from Bottom to Top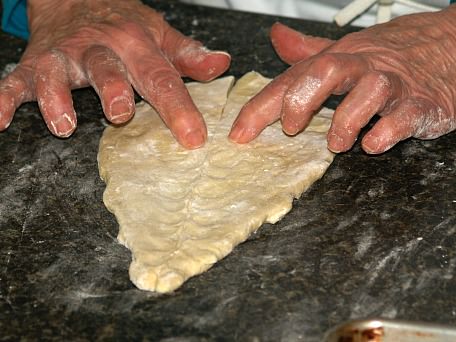 Joining Odd Pieces to Form a Triangle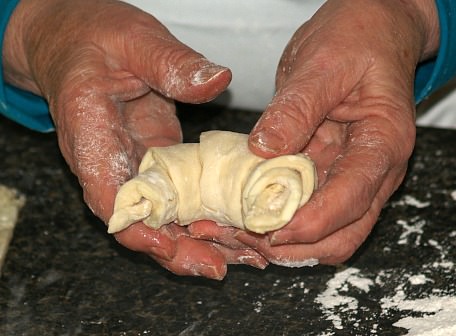 Bend Croissant in Shape of Crescent
Place croissants on ungreased baking sheets; curve ends slightly in.
Lightly cover and let rise in a cool place (Room temperature) 2 ½ to 3 hours.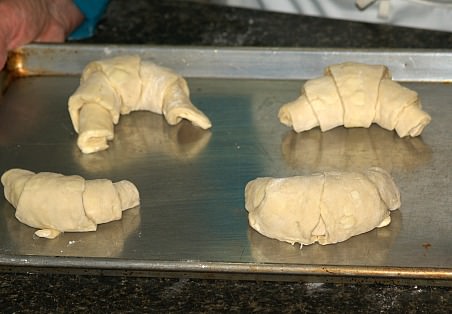 Set Croissants to Cool Rise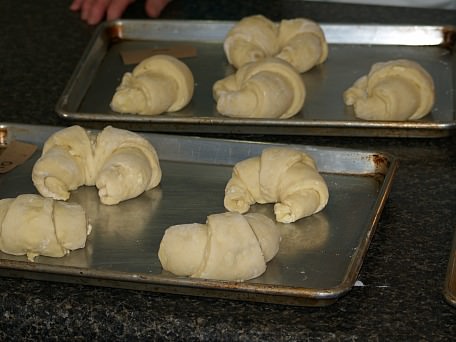 Risen Croissant Rolls
PREHEAT OVEN TO 400F degrees.

Bake about 10 minutes until golden brown.
NOTE: I make 24 crescent rolls from the 1/3 part and 16 croissants from 2/3 of the recipe.
---
CRESCENT ROLL RECIPE
1 Package dry yeast
1 Cup warm water (112 to 115F degrees)
¼ Cup sugar plus 1 teaspoon
1 Tablespoon salt
1 Cup warm milk (112 to 115F degrees)
7 to 8 Cups flour
3 Eggs
¼ Cup melted butter
Sprinkle yeast and 1 teaspoon sugar over warm water; let stand 5 to 10 minutes until foamy.
Dissolve ¼ cup sugar and salt in the warm milk; add 2 to 3 cups of the flour.
Mix in the eggs and yeast mixture; stir in enough of remaining flour to get a soft but stiff dough.
Place dough in a greased bowl, cover and let rise until double in bulk; let rise again.
PREHEAT OVEN TO 400F degrees.
Turn dough out onto lightly floured surface, cover and let stand 10 minutes.
Divide dough in 3 parts; roll each part to a 9 inch circle.
Cut each circle into 12 wedges; brush each wedge with melted butter.
Roll up into crescent rolls; place on lightly greased baking sheets.
Bake 10 to 15 minutes until golden brown.
---
HOW TO MAKE CROISSANTS the easy way
People who are learning how to make croissant for the first time might like this recipe.
1 Package dry yeast
1 Cup warm water (112 to 115F degrees)
¾ Cup canned evaporated milk (room temperature)
1/3 Cup sugar
1 ½ Teaspoons salt
1 Egg beaten
5 ½ Cups flour
¼ Cup vegetable oil
1 Cup cold butter
Dissolve yeast in warm water in mixing bowl; let stand 5 minutes.

Add milk, sugar, salt, egg, oil and about 1 ½ cups flour to yeast mixture beating to a smooth batter.
In a large bowl cut the butter into the remaining flour until crumbly.
Pour in yeast mixture into butter mixture; fold in until flour is all moist.
Cover with plastic wrap and refrigerate overnight.
Move dough to a lightly floured surface; press and knead to release all air bubbles.
Divide into 4 parts; roll each part into a 16 inch circle.
Cut each circle into 8 pie shaped wedges; roll each wedge to the point curving to form a crescent.
Place on ungreased baking sheet leaving room to expand.
Let rise (NOT EXTRA WARM BUT DRAFT FREE) 2 TO 4 hours until doubled in size.
PREHEAT OVEN TO 325F degrees.
Bake about 18 minutes. Serves 8 (2 each)
OPTIONS: Learn how to make croissants by spreading jams on the wedges before rolling. Dust with powdered sugar after baking or drizzle with thin glaze.