How to Make Dessert
When I learned how to make dessert, I found it can anything from a simple little cookie to something as elaborate as bananas foster. Because the range is so wide we typically break the desserts down into many categories; cakes, pies, cookies, pudding, etc.
As I was learning how to make dessert I was think it should be something more than just "plain"; a dish with a combination of two ingredients like custard, pudding, whipped cream, fruits, chocolates, nuts, caramel and many others. Sometimes these desserts are made up of packaged foods like cake mixes and pudding mixes.
People from around the world look for the best desserts. Although chocolate is the favorite flavor all over the world, the people do not limit their desserts only to chocolate. I use to think that only Americans had the love for rich sweet desserts but I am finding that not to be true. What is true is that people everywhere want recipes for anything sweet; cakes, pies, cookies, all kinds of candy, puddings, custards and they have a real interest in all types of cheesecake recipes.
NOTE: How to make desserts with chocolate dipped strawberries? To dip strawberries in chocolate stick toothpicks in the stem end of the berry. Coat berry with chocolate shaking off excess. Turn berries upside down and stick the toothpick into a block of Styrofoam until chocolate sets. If only dipping one side of berry, you can also place the chocolate side up in an egg carton.
HOW TO MAKE DESSERT like an ENGLISH TRIFLE RECIPE
Learn how to make dessert with this favorite recipe from England; once you try it you will see why.
1 Angel food cake
2/3 Cup strawberry preserves
2/3 Cup sherry
3 Cups strawberries
Custard sauce (recipe is below)
¾ Cup whipping cream
2 Tablespoons confectioners' sugar
1 Teaspoon vanilla
Sliced toasted almonds
CUSTARD RECIPE
3 Tablespoons cornstarch
1 Cup milk
3 Cups milk
½ Cup sugar
5 Beaten egg yolks
1 Teaspoon vanilla
Mix cornstarch with the 1 cup milk and set aside. In a heavy saucepan, blend the 3 cups of milk with the ½ cup of sugar and bring to boiling point. Remove from heat and stir in the cornstarch/milk mixture until smooth. Cook over moderate heat, stirring constantly, until slightly thick. Remove from heat and put half of the mixture into the egg yolk, quickly mixing while pouring. Return egg mixture back to other half in saucepan. Mix all together and return to heat for about 2 minutes, stirring constantly. Stir in vanilla. Chill
ASSEMBLE TRIFFLE
Slice cake into 4 horizontal layers. Spread 2 layers with the preserves, and top each with a layer making 2 cakes. Cut cakes into small cubes.
Arrange half of cubes on the bottom a clear glass trifle bowl. Sprinkle cubes with ½ of the Sherry. Save a few of the whole strawberries for garnish. Slice the rest of the strawberries. Spread ½ of the sliced strawberries over the cake cubes. Pour ½ of the cold custard over the berries.
Arrange the remaining cake cubes over the custard. Sprinkle cubes with remaining sherry. Layer cubes with remaining berries. Then spread layer of remaining custard.
Beat whipping cream to soft peaks. Add sugar and vanilla and beat until stiff. Spread over top of desert and garnish with saved strawberries and toasted almonds. Chill. Makes a very pretty presentation.
Watch Me Assemble a Trifle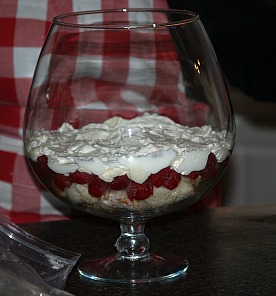 English Trifle Assembly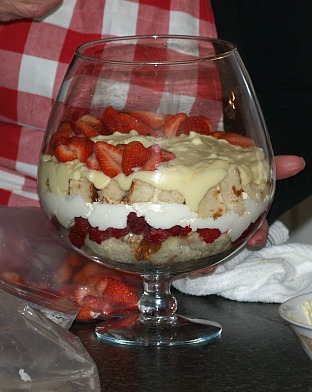 English Trifle Assembly
---
IVORY CREAM DESSERT RECIPE
Learn how to make dessert recipe using this recipe made with gelatin and sour cream; it is very delicious.
1 Cup coffee cream
½ Cup sugar
1 Envelope plain gelatin
¼ Cup cold water
½ Teaspoon almond extract
1 Teaspoon grated lemon rind
1 Cup sour cream
Heat cream and sugar in double boiler. Cook and beat until sugar is completely melted. Soak gelatin in cold water for 5 minutes. Stir softened gelatin into hot milk mixture and stir until dissolved.
Remove from heat, add almond, and grated lemon rind. Let mixture cool until syrupy, and then fold in sour cream. Blend thoroughly and pour into lightly oiled ring mold. Chill until firm.
Unmold on platter and garnish with fresh fruit.
---
STRAWBERRY DESSERT RECIPE
Learn how to make dessert the easy way with packaged ingredients. 
1 Box yellow cake mix (Prepare as directed)
1 Quart fresh clean strawberries
1 Cup sugar
(3 ounce) package strawberry gelatin
½ Bag miniature marshmallows
Preheat oven to 350 degrees. Cover the bottom of a 9x13 inch cake pan with the strawberries. Sprinkle the berries with the gelatin and sugar. Layer the marshmallows over the top of berries, sugar and gelatin. Next, pour the prepared cake over top.
Bake for 50 minutes. Remove from oven and when cake has cooled, turn upside down on a tray. Serve with whip cream.
---
BANANA SPLIT DESSERT RECIPE
2 Cups graham cracker crumbs
½ Cup soft butter
2 Eggs
1 Cup soft butter
1 Teaspoon vanilla
1 Box confectioners' sugar
4 bananas
1 Can (20 ounces) crushed pineapple-drained
1 Container Cool whip
Nuts, cherries, chocolate slivers
Preheat oven to 350 degrees. Mix well, the graham cracker crumbs and ½ cup soft butter. Press into a 9x13 inch baking pan. Bake 10 minutes. Remove from heat and cool.
Mix the eggs, 1 cup soft butter, vanilla and confectioners' sugar. Spread mixture over cooled crust. Slice the bananas and lay over the sugar mixture. Spread drained pineapple over the sliced bananas. Top with the Cool Whip. Garnish with the nuts, cherries and chocolate. Refrigerate until serving.
---
BLUEBERRY WHISKEY SABAYON RECIPE
Learn how to make dessert with this French recipe named for the fluffy Italian dessert zabaglione. Sabayon has three main ingredients; egg yolks, sugar and alcohol. The alcohol used might be Marsala, bourbon, white wine, champagne, etc. The choice of alcohol would depend on what other ingredients are included in the making of it, how it is being served and ones' personal taste.
½ Cup fresh blueberries

4 Tablespoons sugar divided

2 Egg yolks

2 Tablespoons bourbon whiskey

½ Cup heavy cream whipped

Cook blueberries with 2 tablespoons sugar in a stainless steel (non corrosive) saucepan over low heat.
Stir mixture until sugar is dissolved; continue cooking until berries are soft and juicy 5-8 minutes.
Place the berries, juice, egg yolks, remaining 2 tablespoons sugar and whiskey in top of double boiler
Place over gently boiling water without touching bottom of pan with the water.
Cook, whisking often, until the custard has thickened and reaches 160F degrees about 10 minutes.
Pour mixture into stainless steel mixing bowl and next bowl in another larger bowl of ice.
Whisk the mixture until it is cold.
Beat whipping cream until stiff; fold cold blueberry mixture into the whipped cream.
Makes 1 ½ cups; 2 servings.