How to Make French Bread
Before learning how to make French bread, it helps to understand the characteristics of this famous bread. Typically these are shaped into long slender loaves and are recognizable by diagonal marks across each loaf made by cutting slashes before baking. Although French bread is typically thought of as long slender loaves, it is often baked in long "thicker" loaves or in round loaves.
The term French baguettes will become very familiar as you learn how to make French bread. This term meaning a wand or baton was used to describe the original long loaves of French bread. These loaves are often made in various lengths; 26 inches, 36 inches and some have been made six feet long.
When you get into how to make French bread, you will find the test is in the taste and texture and not so much the appearance.  What we purchase in our supermarkets for the most part are not true French breads. My homemade bread has a wonderful flavor and texture, nothing like I have bought.
When you learn how to make French bread, it should have a crust which is crisp and chewy. This is accomplished by the right ingredients, a hot oven and the right baking pan. I decided to buy a pan specifically for baking French bread; by USA Pan.  I used to think this pan was to shape the bread but I found it is made to bake the bread more evenly from all sides; it makes a big difference.
Even the center of French bread is more moist and chewy than most other breads. This is important when you are learning how to make French bread. In bakeries these long loaves are sold in paper bags to retain the crispness of this crusty bread; plastic will make the crust much softer especially if it is wrapped when still warm. I do wrap mine in plastic after it has completely cooled and it still has a chewy and pretty crisp texture. The taste, no matter when you eat it, is so good it is hard to stop and we will not mention the calories.
FRENCH BAGUETTES 
This is the recipe that came with the pan I purchased. It is a good recipe to learn how to make French bread and it is really good. Have lots of good butter ready!
2 Packages (1/4 ounce each) active dry yeast
1 Tablespoon plus 2 teaspoons sugar
2 Cups warm water (about 110F degrees)
1 ½ Teaspoons salt
1 Tablespoon olive oil
5 Cups flour
NOTE: The following directions are how I mixed the bread.
Using an electric mixer combine yeast, sugar and warm water.
Mix 2 minutes to dissolve yeast; add salt and a little flour until dough starts to come together.
Add remaining flour and beat in with a wooden spoon. 
NOTE: Dough is quite sticky and loose.
Grease a clean bowl with the olive oil; dump dough into oiled bowl.
Cover with plastic wrap and let rise in a warm place until doubled in bulk.
Stir dough down and dump out onto a surface covered with heavy flour.
NOTE: Do not knead but you need the flour to keep it from sticking.
Divide dough into 3 equal parts; pat each part with hands into rectangle ¾ inch thick.
Roll up rectangle to a long narrow roll; tuck ends in to seal the seams.
Place loaves into the well of a baguette pan; cover with clean towel and let rise.
Preheat oven to 375F degrees;
With a sharp knife cut diagonal slashes across each loaf 1 inch apart.
Bake 35 to 40 minutes or until bread is golden brown; cool on rack
---
FRENCH PESTOU (Pesto) BREAD RECIPE
This is a delicious to make when you are learning how to make French bread; serve with olive oil and you have a meal!
3 ½ to 4 ½ Cups flour
2 Envelopes instant yeast
1 Tablespoon sugar
1 ½ Teaspoons salt
½ Cup olive oil
1/4 Cup minced fresh parsley
1/4 Cup finely chopped fresh basil
1/2 Cup grated Parmesan cheese
4 Cloves minced garlic
1 1/3 Cups hot water (120 to 130F degrees)
1 Tablespoon cornmeal
1 Egg lightly beaten
1 Tablespoon water
Combine 3 ½ cups flour with the yeast, sugar and salt.
Add the oil, parsley, basil, cheese and garlic; stir until blended.
Add the hot water and beat with a mixer on medium speed until blended.
Turn dough out on a floured surface and knead until elastic 5 to 10 minutes; add more flour as needed.
Place dough in a well greased bowl turning to grease top.
Cover and let rise in warm place free from drafts 1 hour or until double in bulk.
Punch dough down; knead on lightly floured surface 4 to 5 times.
Divide dough in half; shape each half into a round loaf.
Place loaves on a greased baking sheet sprinkled with cornmeal.
Let loaves rise until double in bulk about 1 hour.
Preheat oven to 400F degrees.
Set a rack for baking loaves in middle of oven; place shallow pan of water on bottom shelf.
Make ½ inch deep cuts in tops with a sharp knife.
Combine and blend beaten egg and 1 tablespoon water; brush tops of loaves.
Bake loaves 25 to 30 minutes until loaves sound hollow when tapped.
Remove from pan and cool on rack.

French Pestou or Pesto Dough Shaped and Ready for the Oven
---
HOW TO MAKE FRENCH BREAD
½ Cup warm milk (105 to 115 F degrees)
2 Teaspoons sugar
2 Packages dry yeast
1 Cup boiling water
2 Tablespoons sugar
2 Tablespoons butter
2 Teaspoons salt
1 Cup cold water
6 ½ to 7 Cups flour
Vegetable cooking spray
1 Beaten egg white
2 Tablespoons water
2 Teaspoons sesame seeds
Combine milk, 2 teaspoons sugar and yeast in a small bowl; let stand 5 minutes.
Combine boiling water with 2 tablespoons sugar, butter and salt in a large mixing bowl.
Stir mixture until butter melts; add 1 cup cold water and cool to warm (105 to 115F degrees)
Stir yeast mixture into water mixture; add 2 ½ cups of flour and beat with mixer until blended.
Gradually stir in enough flour to make soft dough; let dough stand in bowl 10 minutes.
Stir dough gently a few seconds and cover; repeat gentle stirring every 10 minutes for 40 minutes.
Turn dough onto a lightly floured surface; divide into 4 parts and roll each to a 17 inch rope.
Tuck ends of loaves under to seal; place in lightly oiled French bread pans.
Cover and let rise in warm place until doubled in bulk; make diagonal slits ½ inch down across each loaf.
Preheat oven to 400F degrees.
Blend egg white and 2 tablespoons water and brush each loaf; sprinkle with sesame seeds.
Bake 20 minutes or until loaves sound hollow when tapped.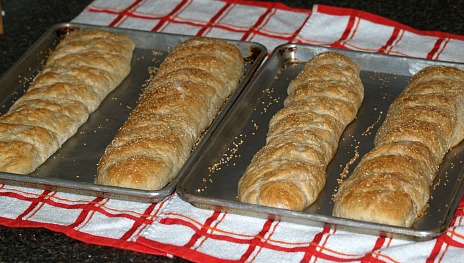 Fresh Baked French Bread
---
EASY FRENCH BREAD RECIPE
A simple recipe to make when you are just starting to learn how to make French bread.
1 Package dry yeast
1 ¼ Cups lukewarm water (110 to 115 F degrees)
4 Cups sifted flour
1 Tablespoon sugar
2 Teaspoons salt
Dissolve yeast in 1 cup warm water; set to soften.
Stir together flour, sugar and salt in a large bowl; stir in dissolved yeast.
Add just enough of remaining warm water to form a soft sticky dough.
Cover bowl with a clean towel; let rise in a warm spot until doubled in bulk about 2 hours.
When dough is high and spongy, punch it down all over with fist.
Divide dough in two parts; place each in a greased round 6 inch baking dish (like glass casserole dishes).
Cover and let rise again to top of baking dish.
START OVEN AT THIS POINT 400F degrees.
Brush loaves with butter and bake for 1 hour or until loaves sound hollow when tapped.
Remove from pans and cool on racks.